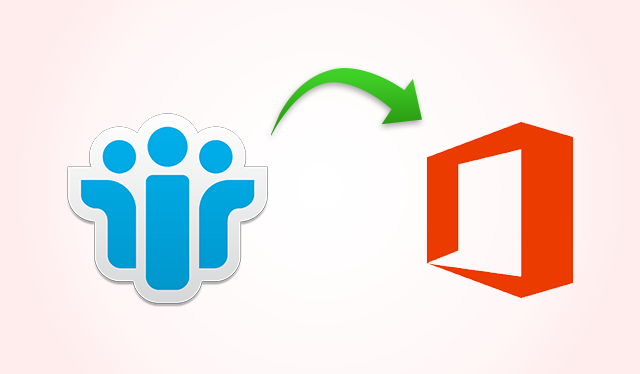 Are you facing difficulty using the Lotus Notes application because of its complex interface? Willing to migrate your Lotus Notes data to Office 365 account? Then, the ultimate solution to seamlessly migrate NSF to Office 365 has been thoroughly elaborated in this write-up.
With the increasing popularity of Office 365, most of the users are transferring from their default email client to Office 365 because of its advanced features. MS Office 365 is a web-based version of Microsoft Office suite for enterprise-grade productivity programs. The services of Office 365 is delivered to users via the cloud and it includes Exchange Online for emailing, SharePoint Online to collaborate, Lync Online for integrated communications, and Microsoft Office suite of applications.
In order to migrate NSF to Office 365 account, one needs to follow an adequate procedure for the same. However, the sad part which is commonly seen among Lotus Notes uses is that they fail to find a reliable solution to implement the migration process. One of the major reasons is that IBM Notes users have to bear complex operating procedures and high maintenance cost, hence NSF to O365 migrator tool is the apt solution. As a result, we have come up with this post to help users know the best ever tactic to instantly export Lotus Notes NSF files to the respective Office 365 profile.
Go Through the User-Query Mentioned Below for a Broad Understanding!
User Scenario
"Our organization has been using Lotus Notes application over the last few decades. However, due to increasing maintenance cost and complex operating procedure of Lotus Notes, we are thinking to migrate NSF to Office 365. As our company comprises of more than 320 + employees, how is it possible to migrate multiple NSF files to Office 365 without causing any data loss issue?"
Top Reasons to Migrate Notes NSF File to Office 365
Exchange Online provide highly secured cloud that prevents users from data loss
Office 365 provides a deep searching facility for content in mailboxes
Office 365 benefits redundancy and high availability of mailboxes and public cloud
Always emerging maintenance pricing of Domino Server
OWA offers Data Protection and Backup features that allow accessing data anytime
Lotus Notes needs a great level of technical expertise
Office 365 offers many productive features for business
Fewer chances of data corruption in Office 365
IBM Notes takes more space on the local system to stock mailbox data
Migrate NSF to Office 365 – A Proven Approach!

SysTools Lotus Notes to Office 365 Migration Tool is an ultimate solution to implement NSF to Office 365 conversion process. This software is efficient enough to easily import multiple NSF files to Office 365 mailboxes. It supports the conversion of multiple Lotus Notes mailboxes into O365. One can import emails, contacts, calendars, and all other data items from single or multiple NSF files to Office 365 account. Also, it supports for mapping CN values of Names.nsf file and Office 365 Admin Account credentials are required to execute the transfer procedure. The Live Server environment is necessary to migrate NSF to Office 365. Non-technical users who do not have much technical expertise can also use this software as it offers simple and user-friendly interface.
Simple Steps to Migrate NSF File to Office 365
Step 1: Launch Notes to Office 365 Migrator Tool and select Export option to start the Migration
Step 2: Now choose the option to export NSF to MS Office 365 and click on Next button
Step 3: Navigate to Add File or Add Folder, for adding multiple NSF files. After that, Enter the login ID and password of Office 365 account and hit Next button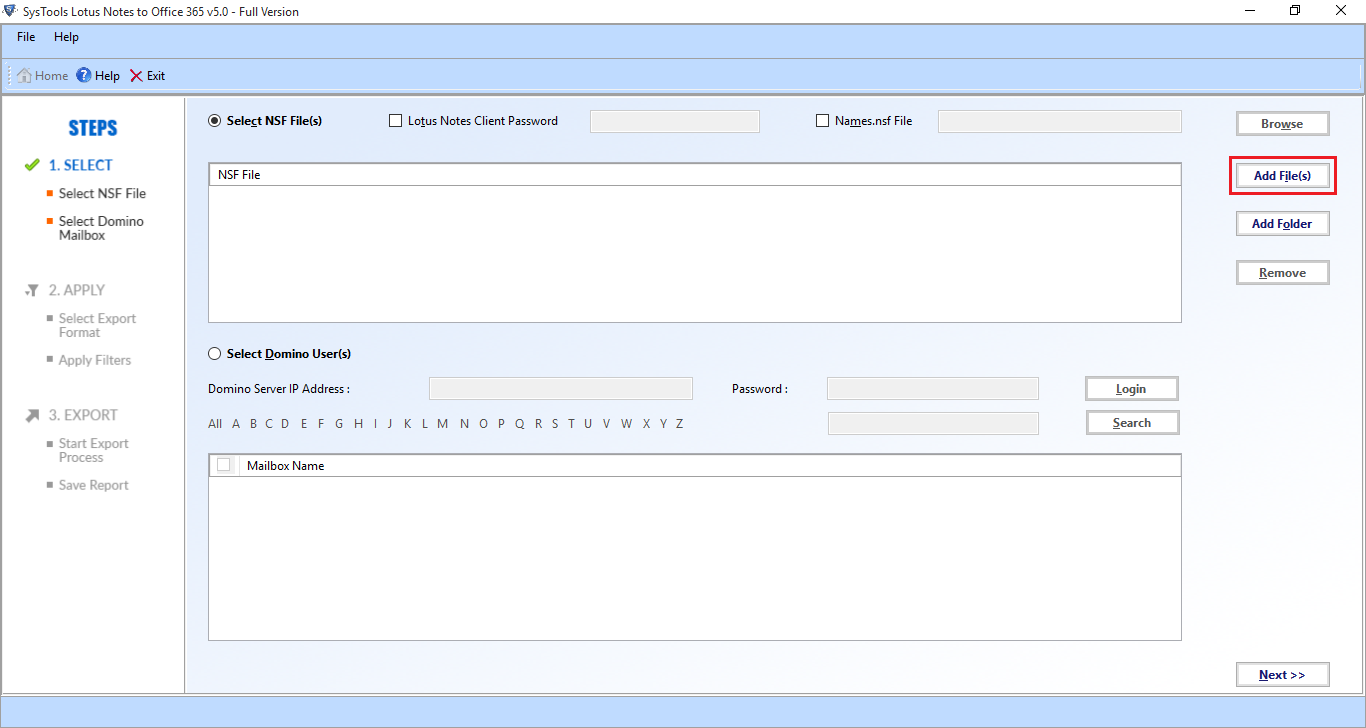 Step 4: Apply the desired set of filters and click on the Export option
Step 5: The software will generate the progress report of operation via which user can evaluate the conversion procedure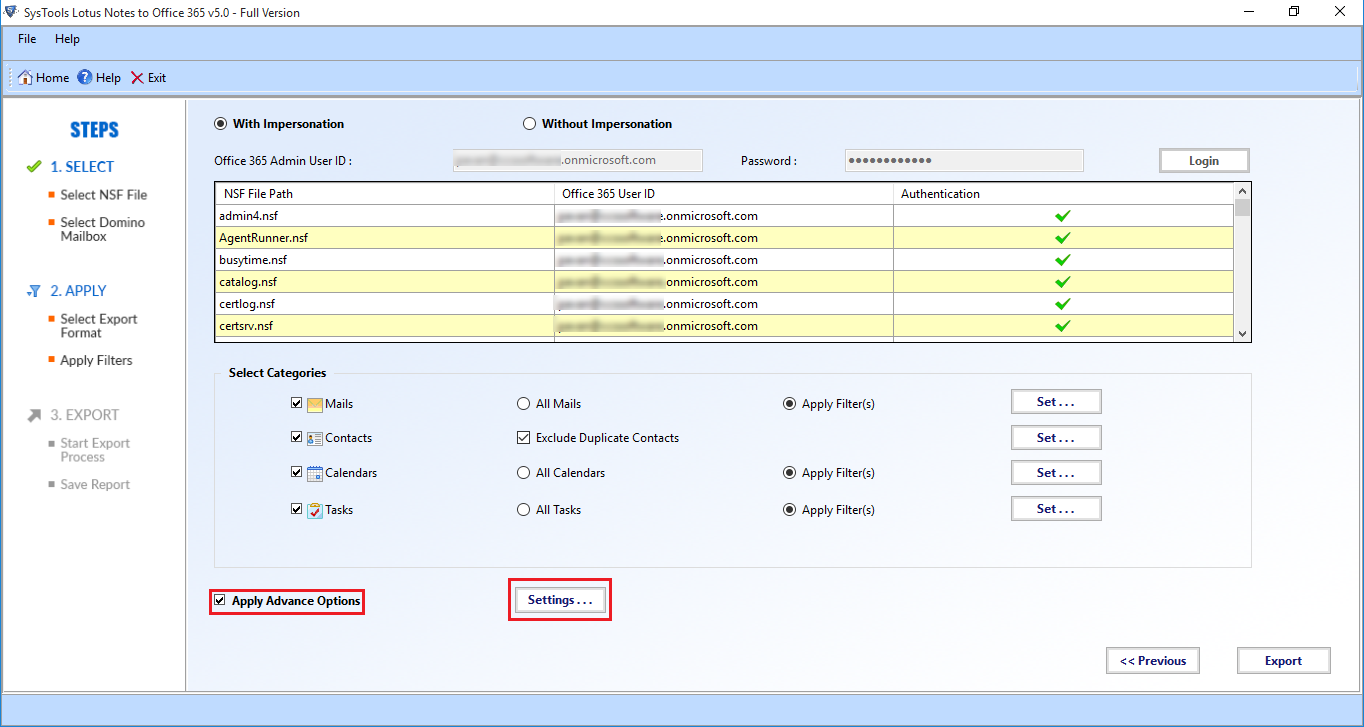 Step 6: Once migration will complete successfully, a notification will pop up on the display Here, click on OK button
Finally, with the execution of the guidelines that are mentioned above, users can easily convert the NSF data files to Office 365 with the help of NSF file to Office 365 Migration tool.
Concluding Lines
With the rapid increase to migrate NSF to Office 365 among Lotus Notes users, we have described a risk-free yet ultra-quick solution through this blog. There is a manual method to convert the NSF file to O365 yet, that can arise a lot of problems for users having less technical expertise. Moreover, in a severe instance, it could also lead to loss of data.
As a result, this operation can be easily executed via NSF to Office 365 Converter. If a user is having a large size IBM Lotus Notes mailbox or multiple NSF files, then utilize this software for an effortless and effective Lotus Notes to Office 365 migration process.