Move Files from OneDrive to OneDrive for Business – Complete Guide
OneDrive is a cloud-based file hosting service of Microsoft that allows users to store personal files. Microsoft also offers an OneDrive service for small businesses. Sometimes, necessity occurs to move files from OneDrive to OneDrive for Business. As these two are completely different services, users find it difficult to migrate OneDrive files to OneDrive for Business. This write-up aims at making the export process easy. Here, you will know the techniques to transfer files between OneDrive and OneDrive will be discussed.
Techniques to Move Files from OneDrive to OneDrive for Business
There is no manual method to transfer OneDrive files to OneDrive. To perform file transfer between two OneDrive accounts, people use third-party tools like OneDrive for Business Migration Tool. This program can seamlessly perform OneDrive for Business Tenant to Tenant Migration. Some of the highlighted features of this program are:


Transfers OneDrive documents & files to another OneDrive Account in quick steps.
Provides Stop options during migration.
Migrates permissions from OneDrive to OneDrive.
Provides a Date filter option to export OneDrive data files.
Generates & saves complete report of export process in CSV file.
Compatible with Windows 10 OS and all lower versions of it.
OneDrive Impersonation configuration is needed to run this tool.
Apply OneDrive Impersonation
Users must note that to use this program, they have to configure impersonation in OneDrive. Here is the step-by-step method to enable OneDrive impersonation.
Prerequisites of OneDrive Impersonation
In order to perform impersonation, OneDrive users must fulfill these prerequisite conditions.
Go to Microsoft Windows Download Center. Using PowerShell, download and install SharePoint Online Management Shell (SOMS).
Also, download AdminRights.ps1 script on the same machine.
Process of OneDrive Impersonation
OneDrive impersonation can be divided into two main parts. Both the parts are described in detail here.
Part A: Create Service Account for OneDrive Access Management
1. To begin, log in to Office 365 Management Panel with an account having Admin Privilege. On the left pane, click Users and groups.
2. To create a new account, click on the + icon.
3. A detail page will open. Enter all necessary information for the new service account and click Next.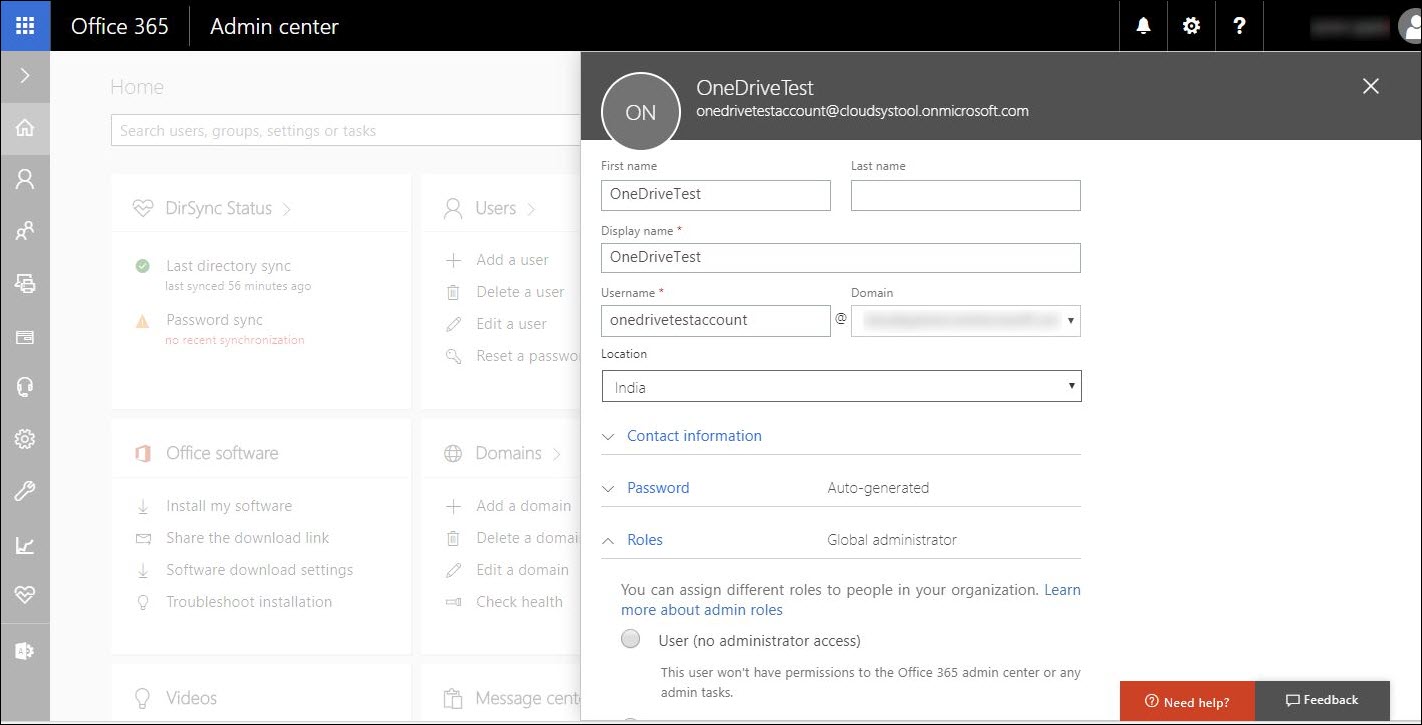 4. From the Settings page, choose Yes for the 'Admin Permissions' option. Choose Global Admin from the drop-down menu and click Next. Users can also include an additional email id and location.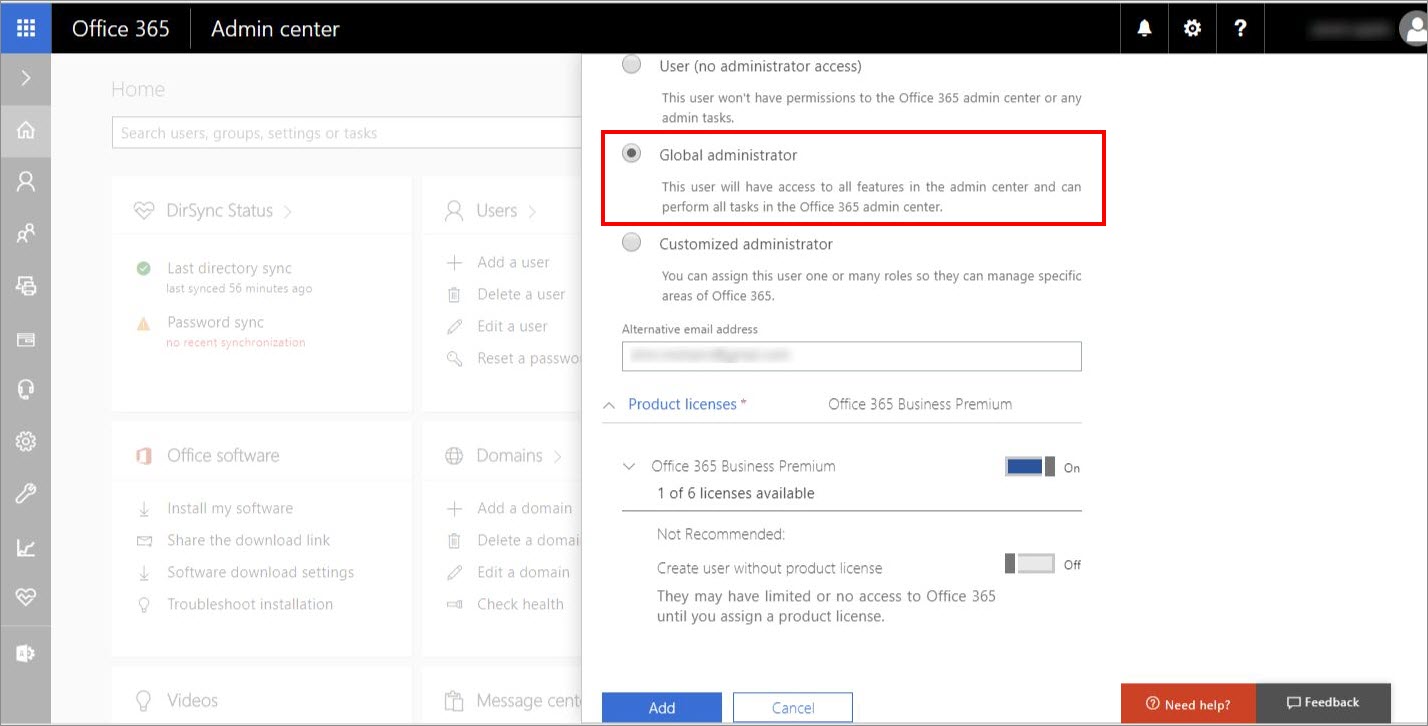 5. From the email page, click Create in send results. The information of the service account should not be sent to Admin.
6. Log in to O365 Management Panel with the new service account. Update its password to activate the new account.
Part B: Configure OneDrive Impersonation
Now, proceed with the method to move files from OneDrive to OneDrive for business. The next step is to configure permission for current users, apply this part of the process. There are two options for the users to execute this part.
Provision #1: Users can apply for automatic permission for all user accounts by running the SOM Shell script. This method should be implemented in case of multiple users.
Provision #2: Users can manually configure the user account via SharePoint Admin Center. This method is best when you have only a handful of users.
Users can choose from any of the following options according to their needs.
Option #1
1. Use SharePoint Online Management Shell script to configure Permission.
2. Download admin rights.ps1 script and open in Notepad or any other text editor.
3. Browse and edit the four variables given below. All four options must be filled in order to make the SOMS script run.

Use the domain name you used for O365 login in both AdminURL and MyURL.
$o365login: Replace with the username of the O365 administrator account or service account.
$o365pw: Replace with the password of Office 365 server account or admin account
$spAdminURL: Replace with your organization's OneDrive URL, but suffixed with '-admin.'
$spMyURL: Use the OneDrive URL of your organization suffixed with '-my.'
Option #2
1. First, Save and shut down the entire script.
2. Find out the location of SOMS that you have installed during Part A of the process. Right-click on it and run as Admin.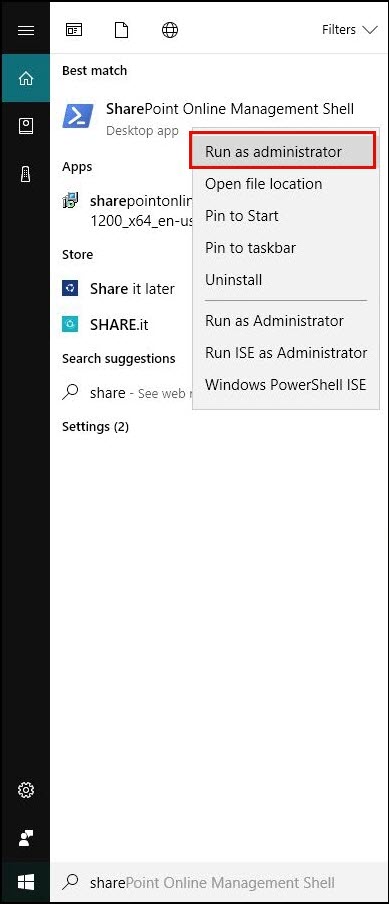 Note: If you do not run this script with Admin rights, you will face this error:

Therefore, it is always suggested to run the Shell script as an Admin.
3. Move the working directory in SOMS to the same location where AdminRights.ps1 script is stored.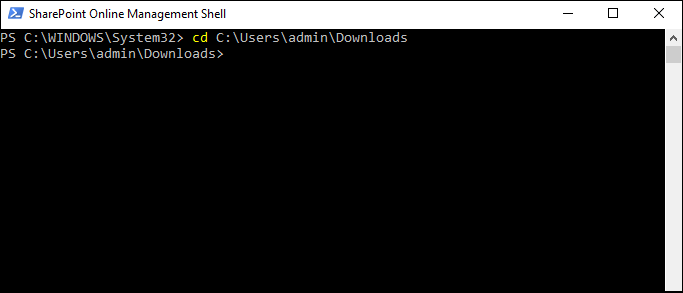 4. Now, run this command:
Set-ExecutionPolicy Unrestricted

5. A question will appear saying "Do you want to change the execution policy?" Enter Y to proceed.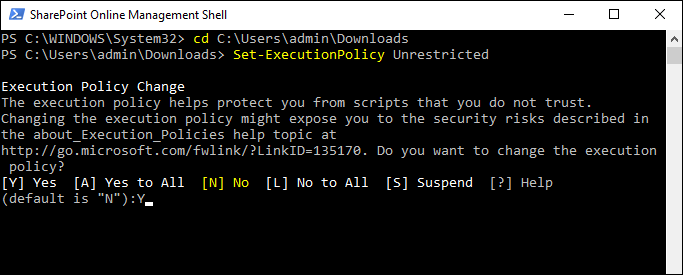 6. for AdminRight.ps1 script, run this command:
.\AdminRights.ps1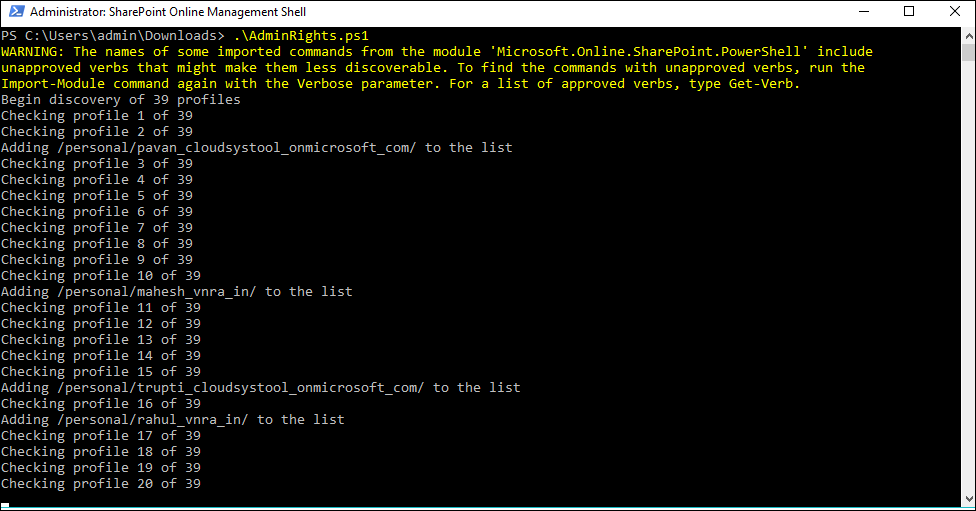 7. To exit the script, hit Enter.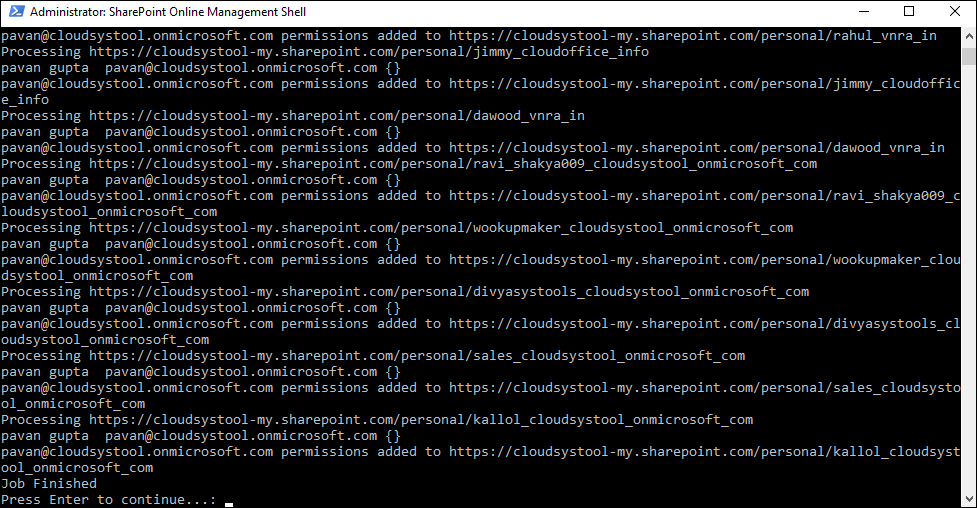 8. To finish, exit SharePoint Online Management Shell.
Once you have successfully configured OneDrive impersonation, you can use the mentioned application to transfer OneDrive files to OneDrive for Business.
Steps to Transfer OneDrive Files to OneDrive for Business
Follow these steps to migrate OneDrive to OneDrive for Business using this software.
1. Download and Install the program on your system. Select Office 365 as the source and the destination.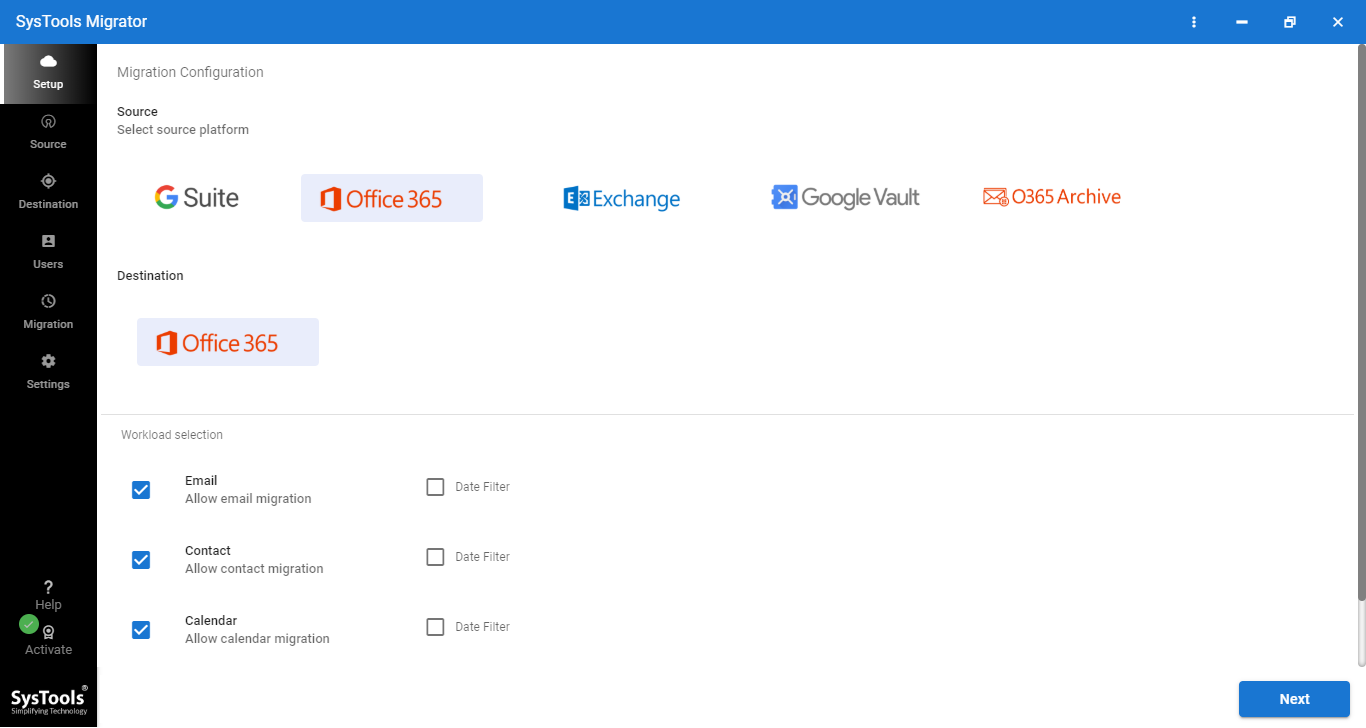 2. In this step check the document migration option and also enable document migration and group mapping option.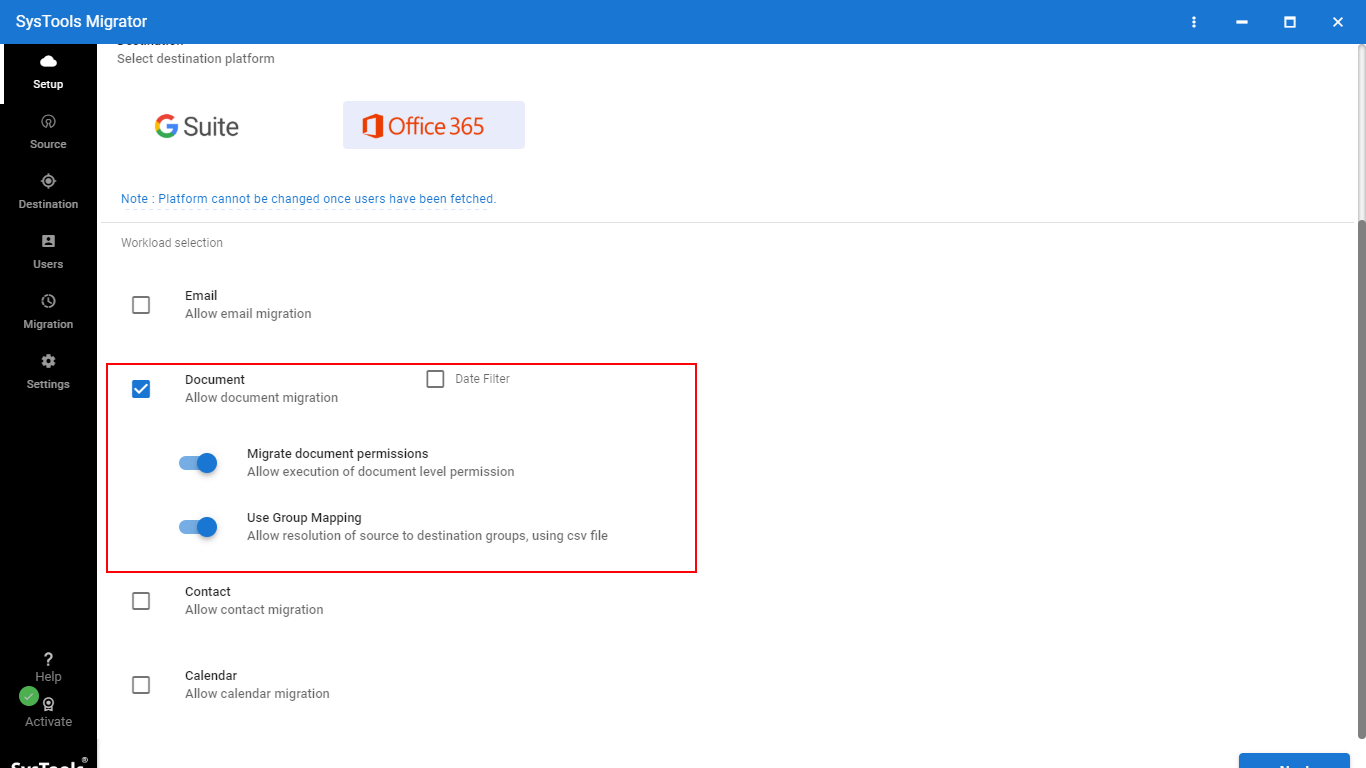 3. Enter Admin Credentials of source and destination. Confirm validation by clicking on the validation button.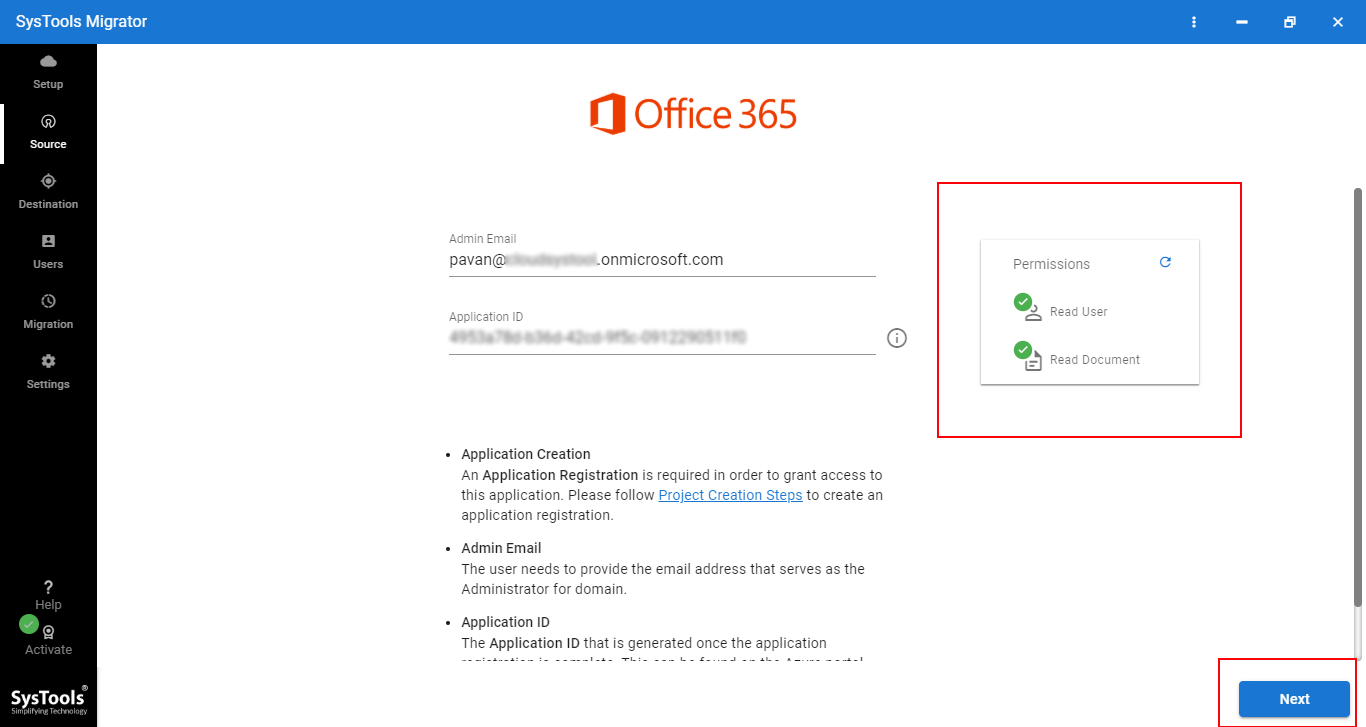 4. Now create user group mapping by choosing any of these options given in this software such as: Fetch Users, Import Users, and Download Template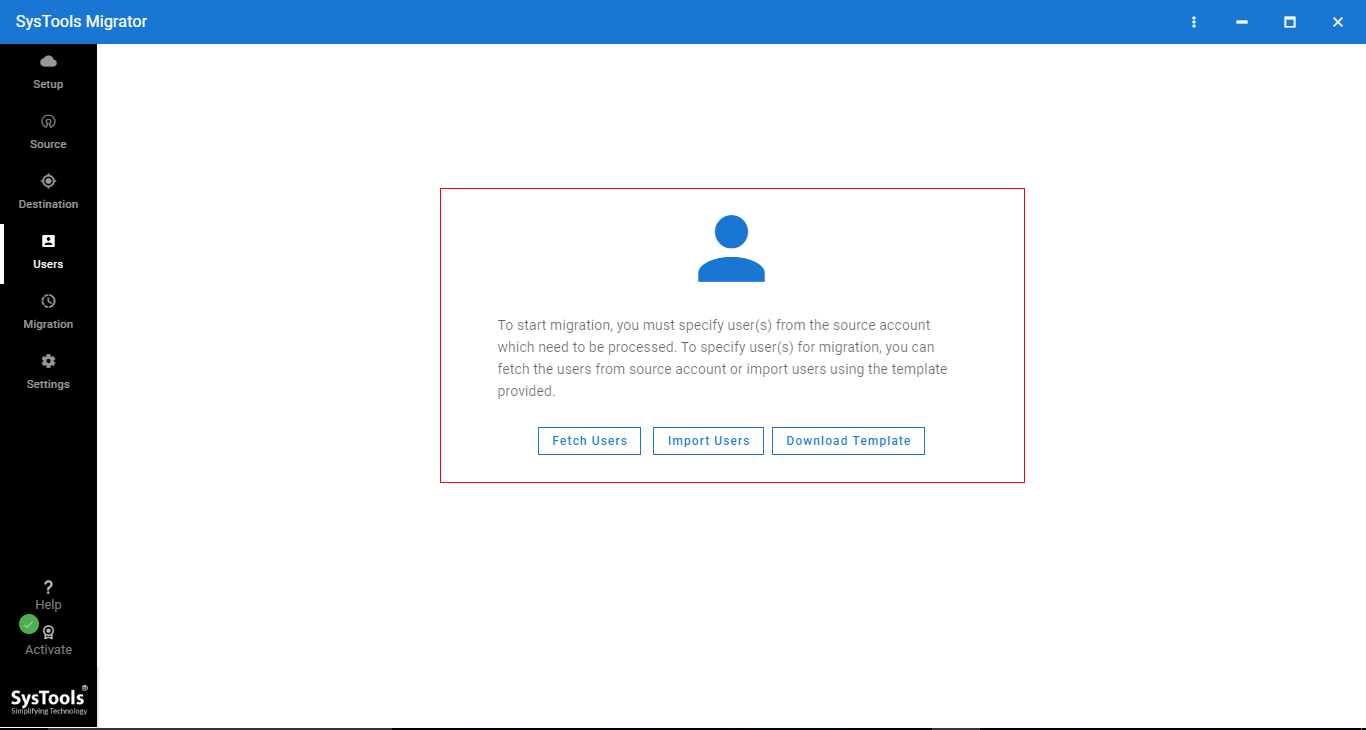 5. Now click on the validate button and then, click on the Start Migration button to move files from OneDrive to OneDrive for Business.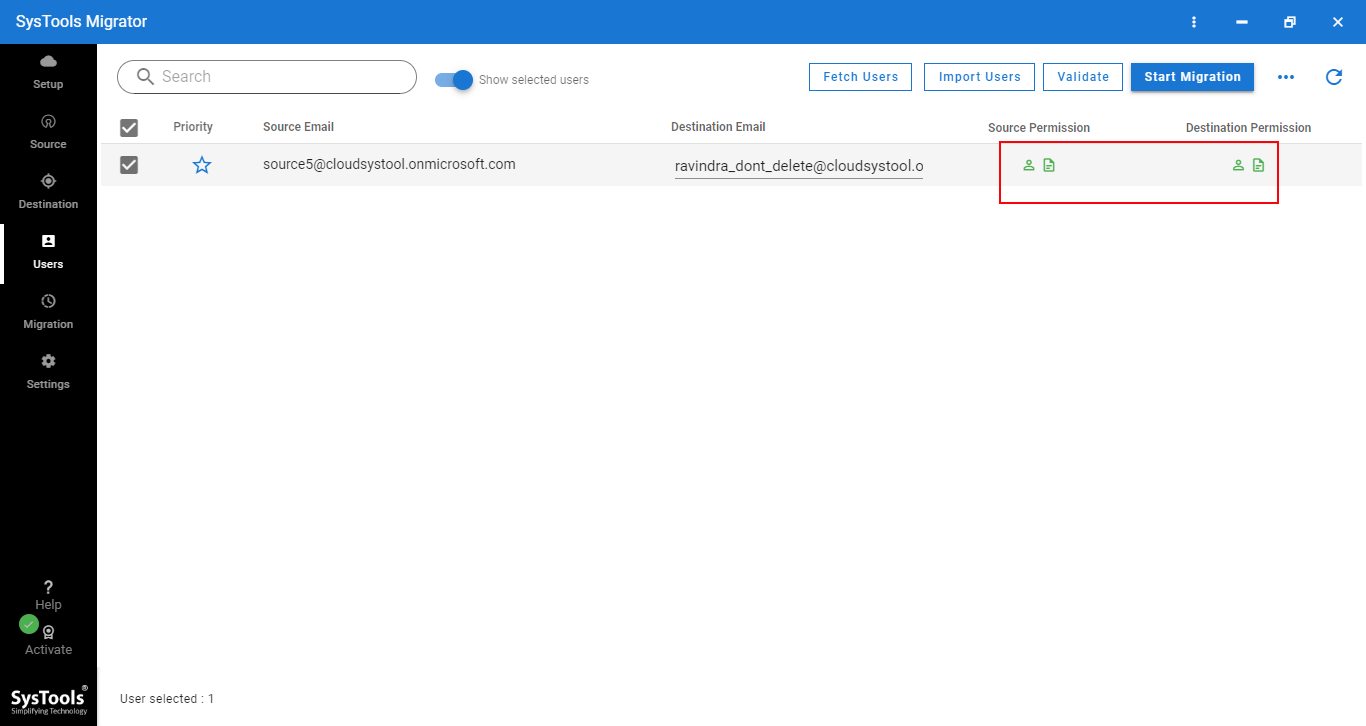 Conclusion
No manual method is available to perform the migration. But user's necessities cannot be constrained by such situations. To solve this problem, third-party applications have been invented. Here we discussed how to move files from OneDrive to OneDrive for Business using such a tool. We expect the users to successfully implement this process on their own.