Learn How to Perform OneDrive for Business Tenant to Tenant Migration Quickly
Overview: This blog covers the smart yet simple solution for the user query i.e. how to perform OneDrive for Business tenant to tenant migration. Go through the guide to know the working steps of the professional tool described here along with the manual method to migrate OneDrive for Business to another tenant.
Let's have a quick sneak peek at OneDrive in Microsoft 365.
An Overview of OneDrive 
OneDrive is a free cloud storage provided by Microsoft to its users. That can be used to edit, save, and share your documents and other files. It's an online cloud storage space hence, can be accessed by smartphones, computers, and any other devices, connected to the internet. Microsoft provides 5GB of free cloud storage after that users will need to upgrade to paid subscriptions, which include different plans according to their use.
Brief introduction of OneDrive for Business In Microsoft 365
As it is clear from the name, OneDrive for Business is designed for business organizations. It allows organizations to provide their employees with a cloud storage facility and they can easily manage its usage from a central location. When a user saves a file in OneDrive it automatically synchronizes to all other devices. That gives us the facility to work on the same document from multiple locations.
Why Do Users Need to Migrate OneDrive for Business to Another Tenant?
There may be various reasons why users of Microsoft 365 need to migrate their OneDrive data.
Some of them are listed below:
Due to the merger acquisition and divestiture activities within the business organizations.
Due to the organization's name change activities.
Due to Storage and backup scenarios in Microsoft 65, etc.
How to Perform OneDrive for Business Tenant to Tenant Migration?
As Microsoft did not provide any direct solution or tool for OneDrive data transfer. Hence, there is no direct method to perform this task in Microsoft 365. Therefore users have to opt for automated solutions. Many industry experts suggest OneDrive to OneDrive Migration Tool, a brilliant, tried, and tested tool to migrate OneDrive for Business to another tenant in Microsoft 365. This utility ensures a seamless data transfer experience for its users.


Automated Solution to Migrate OneDrive for Business to Another Tenant
This is an advanced utility to perform this migration project safely. Only Admin credentials are required to execute. With this tool, users can easily migrate data from single or multiple user accounts. Also, the priority option allows users to easily set the priority for the early migration of specific users. This utility provides the facility to transfer all or selective data by providing a date filter option.
It also gives the option to migrate document-level permissions from source to destination.
Easy Steps to Perform OneDrive for Business Tenant to Tenant Migration
With a few clicks, the user can perform this task with maximum data security and integrity.
Step 1. Download the tool & open it. Now choose the source and the destination as Office 365 from the home screen.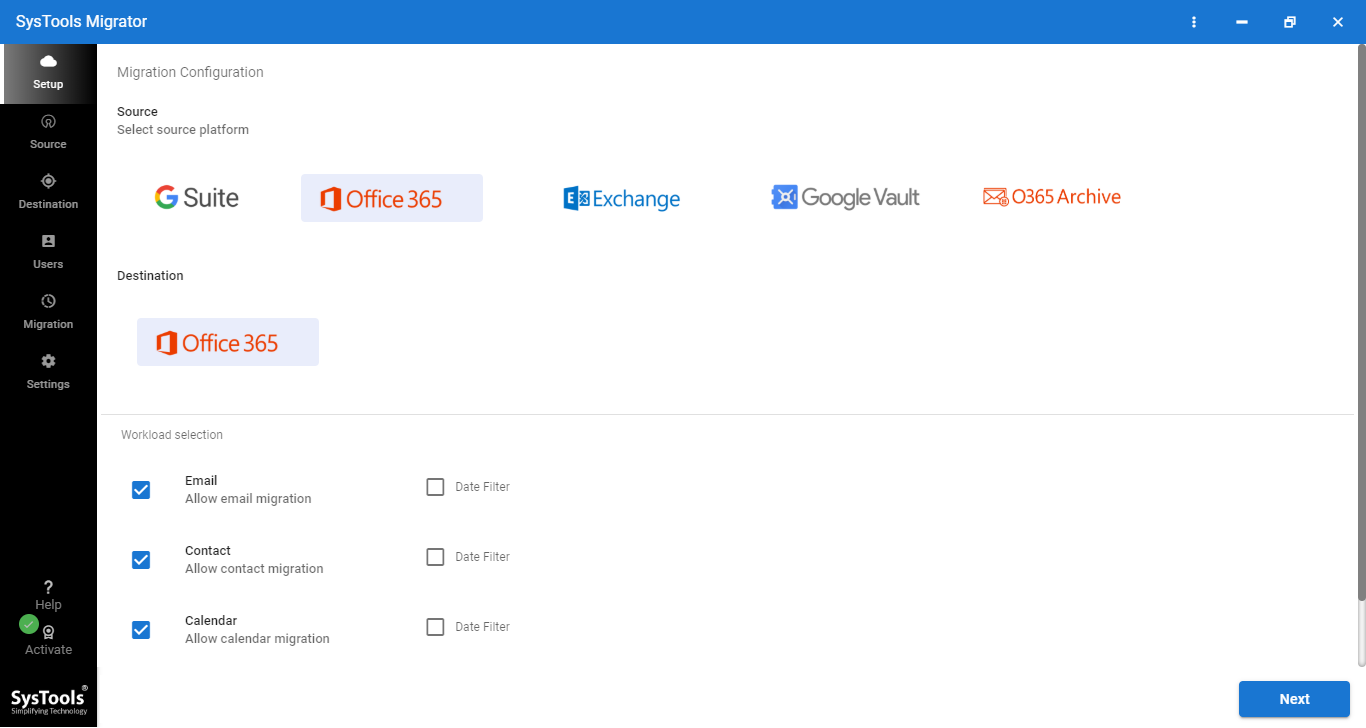 Step 2. In order to migrate only OneDrive data, users have to check the document option, which will allow document migration, and also they have to enable migrate document permission.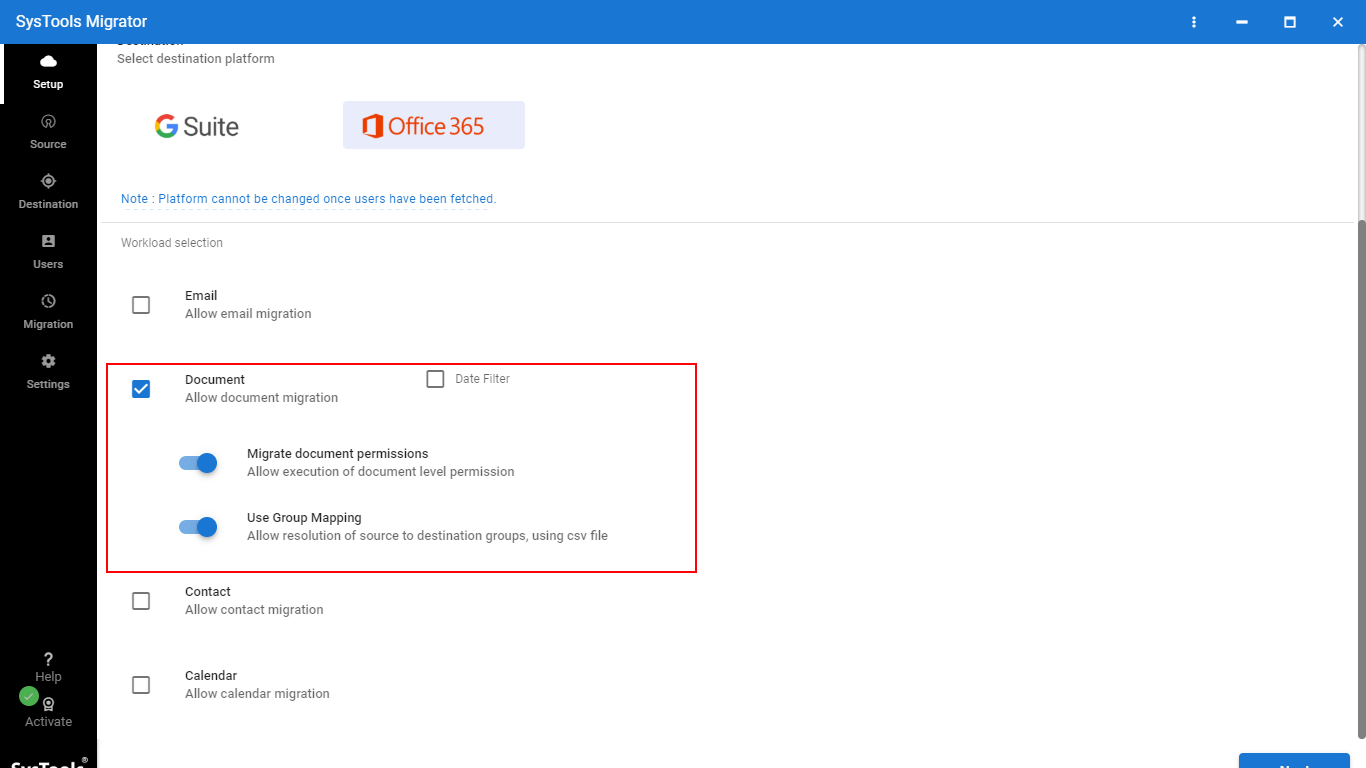 Step 3. In this step, users have to log in with Admin ID and Application ID and then click on validate button.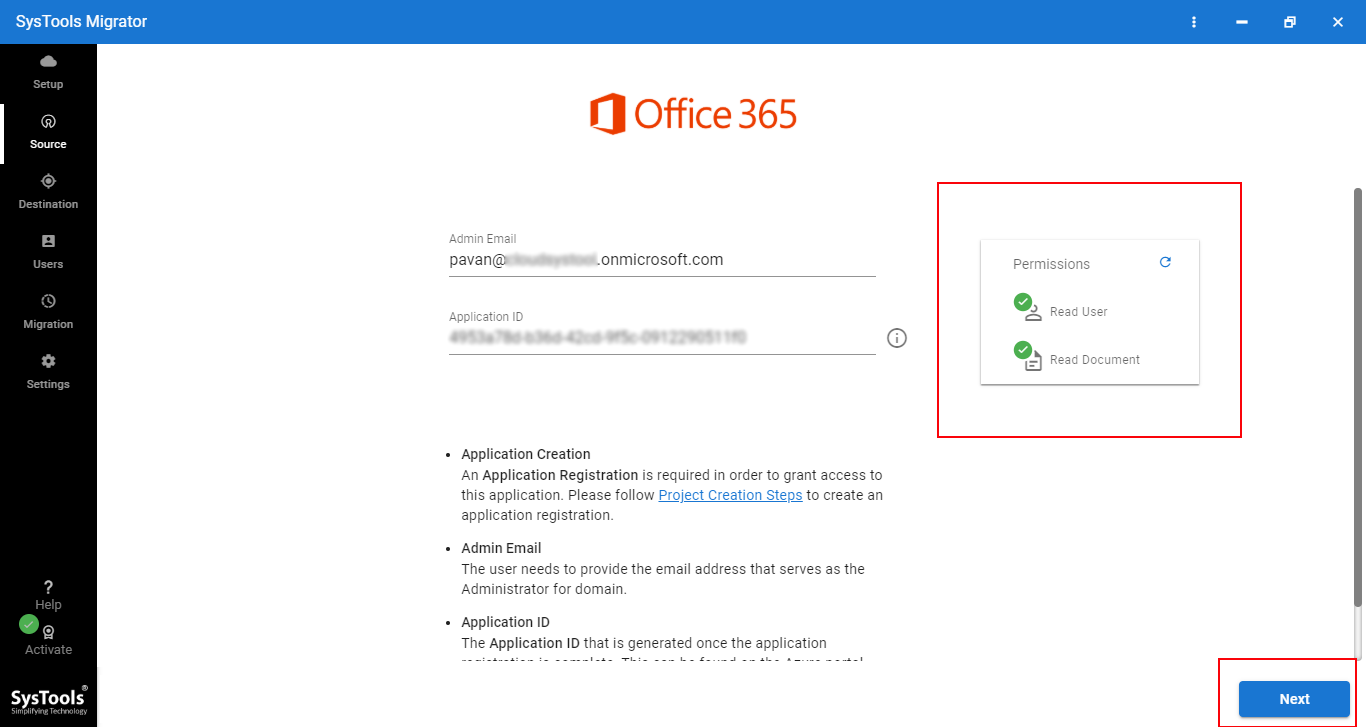 Step 4. In this step, they have to create user group mapping by choosing any of the three options facilitated in this software: Fetch Users, Import Users, and Download Template. Fetch users & after performing successful user mapping click on Validate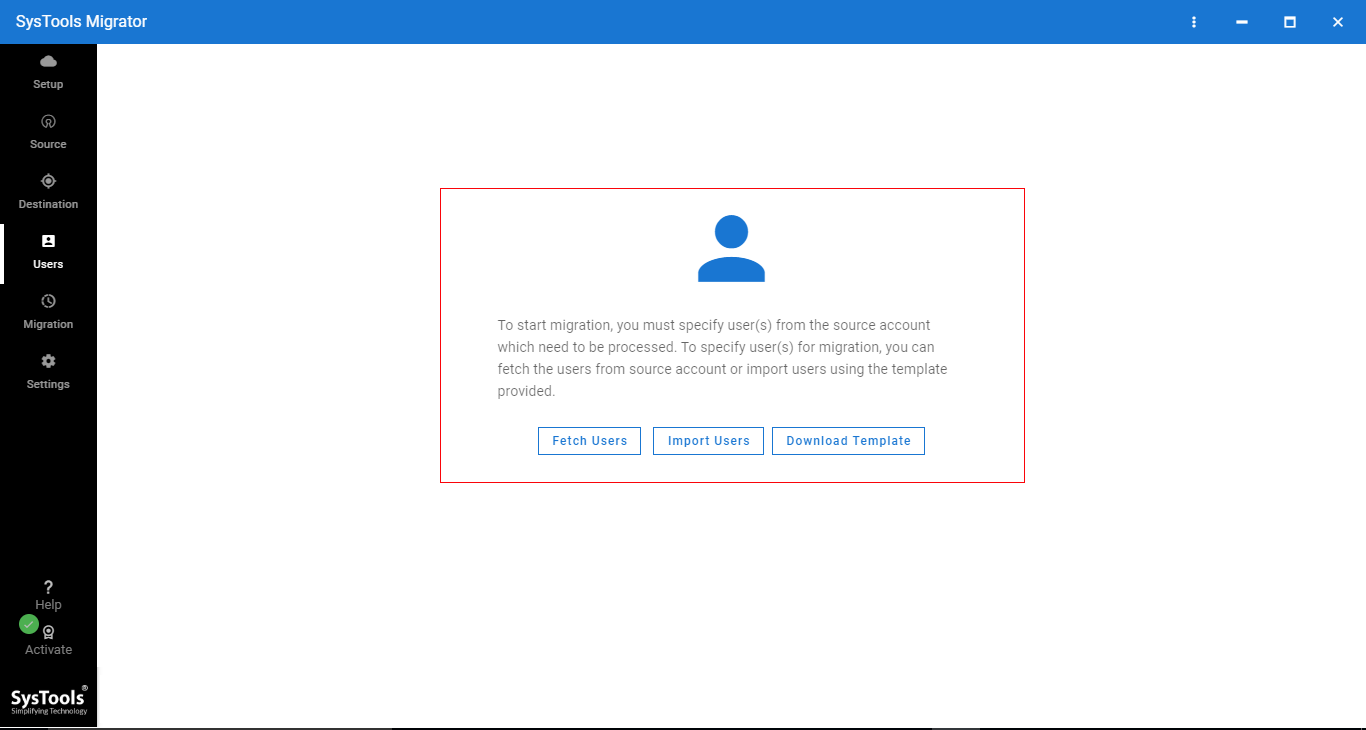 Step 5. Now, click on the Start Migration button to perform OneDrive for Business tenant to tenant migration.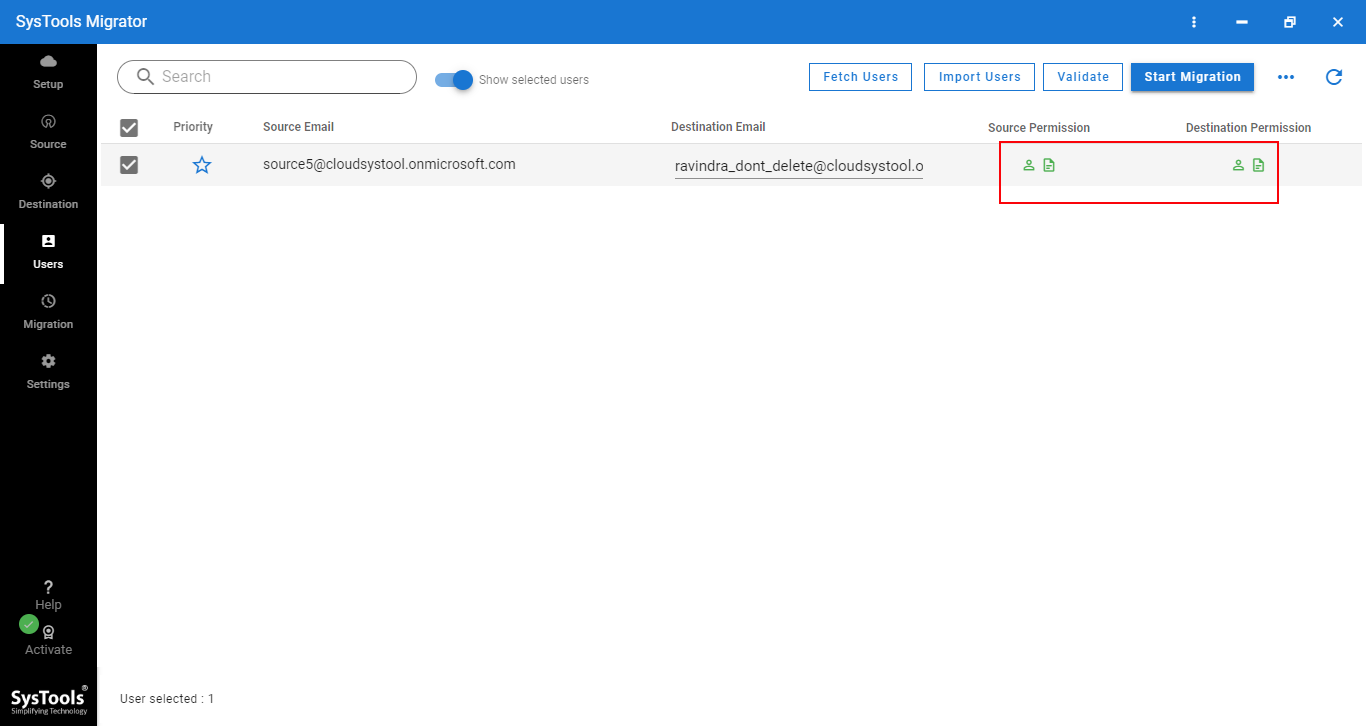 Is There Any Manual Approach to Migrate OneDrive for Business to Another Tenant?
Yes, users can download OneDrive files from the source account and then upload them to the destination OneDrive account. But, this approach is not suitable for bulk OneDrive data transfer. It is really a time-consuming and daunting process for OneDrive data migration. Also, there are no filter options as given by the professional tool. Hence, this makes users switch to some professional tools as mentioned above.
Manual Steps to Perform OneDrive for Business Tenant to Tenant Migration
The manual method consists of manual download and upload. Let's discuss the step-by-step procedure for it.
Step 1. Browse onedrive.live.com/about/en-us/signin on your computer.
Step 2. Now sign in with your source OneDrive account using the respective credentials.
Step 3. Create a folder and name it "Backup" Now copy all the desired files, and documents to this folder.
Step 4. Download this folder on your local computer.
Step 5. Now sign in to your destination OneDrive account and upload the folder to this account.
Limitations of Manual Method of Downloading & Uploading 
There are various limitations and drawbacks to using the manual method for this operation. However, below listed are some of the most common limitations.
It can Take Time to Complete –  
Manually migrating data involves downloading files from the source tenant and then uploading them to the target tenant one by one. This process can take a considerable amount of time, especially when dealing with large amounts of OneDrive data.
There could be Chances of Human Error –

 
Since manual migration heavily relies on human interaction, there's a higher chance of making mistakes during the transfer process. Selecting the wrong files, incorrectly naming them, or accidentally deleting them can happen, leading to data loss or inconsistencies.
Network and Bandwidth limitations can be Seen –
If you're dealing with a significant volume of data, the migration process can strain your network bandwidth. This can result in slower migration speeds and may even impact other network-dependent activities.
You can Feel a Lack of Automation – 
The manual method lacks automation capabilities, meaning there's no efficient way to migrate file structures, metadata, permissions, and other related settings. Each file needs to be manually recreated or modified in the target tenant, which can be time-consuming and prone to errors.
Limited scalability Can Make it Impractical – 
As the scale of the migration increases, the manual approach becomes more challenging to handle. Managing thousands or millions of files individually becomes impractical and significantly extends the migration timeline.
Downtime and Disruption can be Seen – 
During the manual migration process, users may need to stop accessing their files temporarily. This downtime can disrupt normal business operations and result in productivity loss.
Compliance and Security Risks are There – 
Manually migrating files may introduce compliance and security risks if not handled carefully. Ensuring proper data encryption, maintaining access controls, and meeting regulatory requirements can be challenging without automated migration tools.
So There You Have It
Users must make sure to analyze the methods on how to perform OneDrive for Business tenant to tenant migration and select one that best serves their needs. If they are willing to spend more time on the migration then they can choose the manual approach. But, in order to save manual efforts and time, then it is suggested to try the professional tool as we discussed in this post.