Open NSF File in Outlook 2019, 2016, 2013, 2010, 2007, 2003 Safely
Akshay Vats
| Modified: October 1st, 2022 ~ 4 Minutes Reading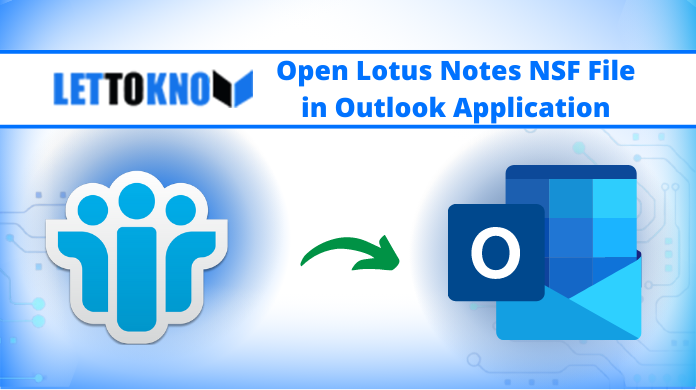 The enterprises are now continuously preparing to be quick in their communications. In that way, if users are still using the IBM Notes email client, then it's time to give it a thought. While corporate nowadays prefer Microsoft Outlook due to its popularity amongst users, Lotus Notes trails way behind. Seevral users have even tried to open NSF file in Outlook. The reason may be the complex structure of Lotus Notes. The Outlook profile can be easily accessed with multiple machines, but IBM Notes can only be accessed through the configured machine only.
Hence, the rising popularity & ease of work have forced users to Open Lotus Notes File or to migrate from one platform to another. Now, the only problem the users face is how to import the files in Outlook 2019, 2016, 2013, 2010, 2007, and 2003. The reason is they are very much aware of Lotus Notes but they lack information about Outlook PST.
Let's understand the entire article & be a master of this topic with ease. We are sure that users can easily get their desired results without any difficulties.
Methods to Open NSF File in Outlook? – Know the Anatomy
Over the past few years, Microsoft Outlook has gained popularity among users & non-users due to its user-friendly interface & multiple-machine configuration. Though the migration is very easy; the users get stuck migrating NSF files. Uncountable reasons result in data corruption & deletion during the file import process. The process to import NSF files in Outlook manually is divided into two main steps:
Step-1. The solution to Export NSF Files
Open Lotus Notes email client.
Click & Open Mail Tab.
Choose File option from Menu Bar.
Now, select the Export option to continue with Export Wizard.
Select the location in the system to save newly created file & then select a file format to save Lotus Notes into "Tabular or Structured Text". With structured text, select the options to export in PST file format. CSV file should be exported by defining the requirements in CSV export dialog box.
Click Export to complete the process.
Step-2. Method to Migrate NSF File
Install Microsoft Outlook on your system.
Click File Menu >> go to "Import & export" option & select it.
From the drop-down menu, choose "Import from another program or file" in that wizard. Click on next to proceed further.
Then, a pop-up will appear, choose Comma Separated Values from that option. Click Next.
After that, choose the desired file using the Browse option to open NSF file in Outlook. Click Next to proceed.
Next, choose the file by using the browse option to import the file. Click Next.
Finally, click the Finish button to start the process. The files will be imported to the required Outlook Mailbox Folder.
The files will consume some time to get imported. You have to wait until the process is completed under the processing unit of the system.
Automated Tool to Open NSF File in Microsoft Outlook
Technically sound users have the capability & knowledge to Open and read Lotus Notes NSF file in Outlook manually. Also, the mailbox items face data integrity conflicts during the migration process. The professionally trusted tools are also available to migrate files from one platform to another. One such utility is NSF to PST Converter. The tool is very much efficient & provides many features to save emails as per the need.
Features of the software:
The software supports to bulk export of NSF emails to PST file format.
Maintains the exact Folder Hierarchy while converting to PST.
Provide users with 7+ Preview modes to analyze NSF Files.
Converts the files without any file size limitation.
The tool support Windows OS & Microsoft Outlook (32 & 64- bit).
Steps to Import NSF Files to Outlook
Step 1: Click "Add File" to import NSF file.
Step 2: Select NSF categories.
Step 3: Apply "Advance Options" for Outlook.
Step 4: Click "Export" to import NSF to Outlook.
Your task is completed.
End Note
As an email client Lotus Notes is losing its popularity due to various reasons, thus users are migrating toward other clients. However, to open NSF file in Outlook manually is complex & time taking the task. Data conflicts, time-factor & complexity while converting are all the drawbacks that create a problem at each & every step. Using a professional tool like the one discussed above will migrate files to Outlook in one attempt.