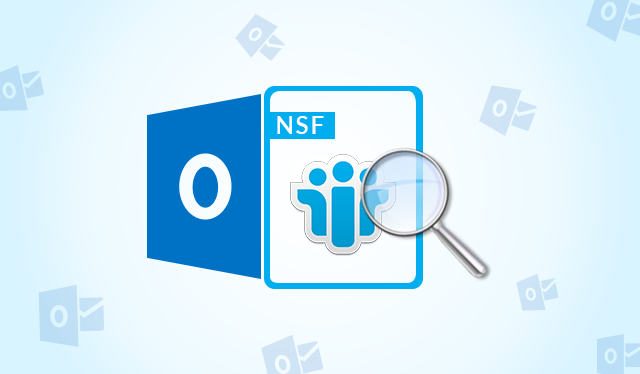 IBM Notes & Microsoft Outlook are two email clients prevailing in the computing world. Whilst Lotus Notes can be virtuously said as the legendary email client, its users are decreasing because of other email clients that are emerging. This is because the users are finding it convenient to work with, unlike other email clients. IBM Notes & Outlook both stores there all data items in NSF & PST file format respectively. And due to that if you want to read Lotus Notes NSF files in Outlook, then it is quite a difficult task.
Because as we said earlier that, both of these files do not support any other email client other than its own. Thus, to read Lotus Notes NSF file in Outlook 2019, 2016, 2013, 2010, 2007, 2003, the users cannot directly migrate the Lotus Notes files into Microsoft Outlook. Therefore manual techniques, as well as the automated solution like NSF to PST Converter Tool, is needed to perform the desired migration.
Know How to Read Lotus Notes Archives in Outlook?

Considering a real-time scenario in which I want to access NSF data into Outlook PST & one fine day my organization wants to migrate data to Outlook. Now the email client which I will be using gets changed to Microsoft Outlook. Since Outlook is very fine email client to work with. Thus, users don't have to manually search for emails, just typing a keyword brings up all the related emails. The user interface is also very good. Also, there are many features which let users migrate to Outlook.
"Then one day something happened & my manager asked me to for the details of the project that I was handling from past 1 year. I had to rush because all the details were stored in NSF file. I tried to migrate Lotus Notes emails to Outlook 2016 so as to facilitate my boss to read Lotus Notes NSF files in Outlook. But then I realized that direct migration is not possible as NSF files are not supported by Microsoft Outlook email client. The number of emails was few in my IBM Notes account, so I decided to mail my archive file to my manager from Lotus Notes to my manager's Outlook account. Will my boss easily access those archive files in his Outlook profile?"
How to Read Lotus Notes Emails in Outlook?
As it is discussed earlier, both email clients i.e Lotus Notes & Microsoft Outlook supports different file formats. So for that users need to export Lotus Notes files into Outlook. This can be done in two steps:
Step 1: Export Lotus Notes Files
Open IBM Notes application
Navigate to "File" option on the Menu Bar
Click Export option, Export Wizard Window will appear
As the Export Wizard gets to start, Choose the format as PST
Now select "Tabular Text" or "Structured Text" supported by Microsoft Outlook
Hit Continue to process the action
Click Export to export the mail file
Step 2: Import the Exported PST file in Outlook
Open Microsoft Outlook Application
Go to File Menu >> Click "Import & Export" option
Hit Next in the following screen
Now Choose the format. Either choose "Comma Separated Values" or "Tab Separated Values"
Click Next
Now, Continue through the Export Wizard, select & Browse the file exported from IBM Lotus Notes
After that, click Finish
Now, the users can open or read Lotus Notes NSF files in Outlook.
Note: Before performing the manual method to import or export Lotus Notes emails keep in mind to take a backup of all the emails, so as to avoid losing emails in case of any mishap.
Automated Solution to Read NSF File with Outlook
The manual methods are very helpful to access IBM Notes data in Outlook. But, when it comes to export or import bulk documents, it becomes difficult to use manual ways. As they consume unnecessary efforts & time of the users & can also lead to data loss if in case an interruption occurs.
Thus, to avoid all these glitches, the user can switch over to third party utility which can easily do the same for them. No extra time & efforts are consumed one can export all the data items & can enable to read Lotus Notes NSF files in Outlook easily. For this Try Lotus Notes to Outlook Migration, this third-party tool to forward emails from Lotus Notes to Outlook.
Also the tool help users to maintain the data integrity intact & the users will not face any data loss also. Thus using them will be a smart move.
Conclusion
The above article provides the method to read Lotus Notes NSF files in Outlook using various manual methods. To open NSF files in Outlook the users can go for manual technique but as these methods have some limitations so they can also refer a third-party utility to perform the task when & where required.