Quickly Recover Deleted Emails from Exchange Server 2013 / 2010 / 2007
Email deletion is a convenient way to reduce the space of your Exchange Mailbox from unnecessary messages. However, accidental or intentional deletion of Exchange emails can cause a problem. If users want to access any deleted email messages, they have to recover those emails. To guide the needy users, this write-up will discuss how to recover deleted emails from Exchange Server 2013/2010/2007.
This recovery can be done using manual technique or users can try Exchange Recovery Tool as the advanced solution. Before the discussion about the recovery approaches, we will read relevant user queries and know about the situations when this requirement arises.
Query 1: "One of our employees has deleted some emails from his Exchange Mailbox. Though the deletion was not intentional, we need to get hold of those emails on an urgent basis. Kindly suggest any easy way to recover deleted email from Exchange Server 2010 Mailbox."
Query 2: "A few months ago, my Exchange 2013 Outlook email was almost overflowing with numerous emails. The situation was so severe that I could not navigate properly in my Mailbox. That is when I decided to delete some emails. During the deletion process, I have accidentally deleted some important emails too. Now that I have noticed it, I do not know how to recover them. Please tell me any way of recovering the deleted Exchange 2013 email."
Situations When Users Need to Recover Deleted Emails from Exchange Server 2013/2010/2007
As we have just mentioned, email deletion can be done both accidentally or intentionally. Now intentional deletion may occur in two cases. In one case, emails are deleted by some hostile insider with malicious intent and this deletion usually happens in case of important emails. For this reason, the requirement of recovering these emails is also higher than any other category.
In the second case, people delete emails without considering the future importance of the messages. When they find out the necessity of those deleted emails, they have to recover the messages. Apart from these, accidental email deletion also happens in case of important emails also that need retrieval.
How to Recover Deleted Emails from Exchange Server 2013
Now that we are fully aware of the situations, let's focus on the techniques of recovering deleted Exchange mails emails. There are two different approaches to recover deleted items from Exchange 2007 Mailbox. One is by using manual technique and another one is through SysTools Exchange Recovery Tool which helps to repair Exchange mailboxes and recover deleted mails from Exchange Server. Let's discuss in detail both the approaches:
1.Manual Approach
Live Exchange Server: If your emails get deleted from Live Exchange Server, users can check the "Deleted Items folder" and retrieve deleted email from there. If the items are not available there, it is possible that the emails have been hard deleted.
In that case, Exchange admins can access "Recoverable Items Folder" and restore permanently deleted emails to Exchange Mailbox. But users must be careful about the retention policy. According to this policy, hard deleted email can be recovered within a fixed period of time. After this, deleted emails are completely unrecoverable.
By default, the deleted Exchange mailbox data items remain for 14 days and you can increase the number of days up to 30 and after that, your Exchange data will be permanently deleted. Also, there is no manual solution that recovers purged Exchange mailbox and items. You can use the advanced solution to recover the permanently deleted Exchange EDB data.
Offline or Dismounted Exchange Server: To apply this approach, users need to restore the .edb file into the Exchange Server 2010 at first. Then they can apply this recovery method by using "Exchange Management Shell". The implementation of this method also requires obtaining certain permissions.
This is the Search-Mailbox command that users need to apply in Exchange Management Shell. Here the recovery is being done from the Mailbox of Ana James while James Francis is the sender and "policy" is the keyword.
Search-Mailbox "Ana James" -SearchQuery "from: 'James Francis' AND policy" -TargetMailbox "Discovery Search Mailbox" -TargetFolder "Ana James Recovery" -LogLevel Full
2.Alternate Method
Manual Approach to recover deleted emails from the Exchange database is a complex one, as it requires various levels of permissions. To avoid all these steps and recover deleted mails from Exchange Server 2013 Mailbox, users can opt for Exchange Recovery Tool.
This tool can recover even permanently deleted emails from loaded offline/dismounted Exchange database file without any hassle. Any size of .edb file can be processed through this application.
The utility provides dual scanning option (Quick and Advance scan) that recover & retrieve emails from Exchange server and remove corruption from EDB file. According to the level of corrupted Exchange database file, you can select the scan mode option.
Users can use the Advance Scan option to recover Exchange deleted emails. After recovery, the emails can be exported directly into Live Exchange Server, Office 365, and different file formats. You can easily convert EDB to PST, EML, PDF, MBOX, MSG, HTML format in a most simplified way.
Note: If the user wants to recover permanently deleted email from the edb.log file. Then they can use the Exchange Log Analyzer tool to recover deleted emails from dismounted Exchange database file only.
Working Steps to Recover Deleted Mails from Exchange Server
Step 1: Download and launch the software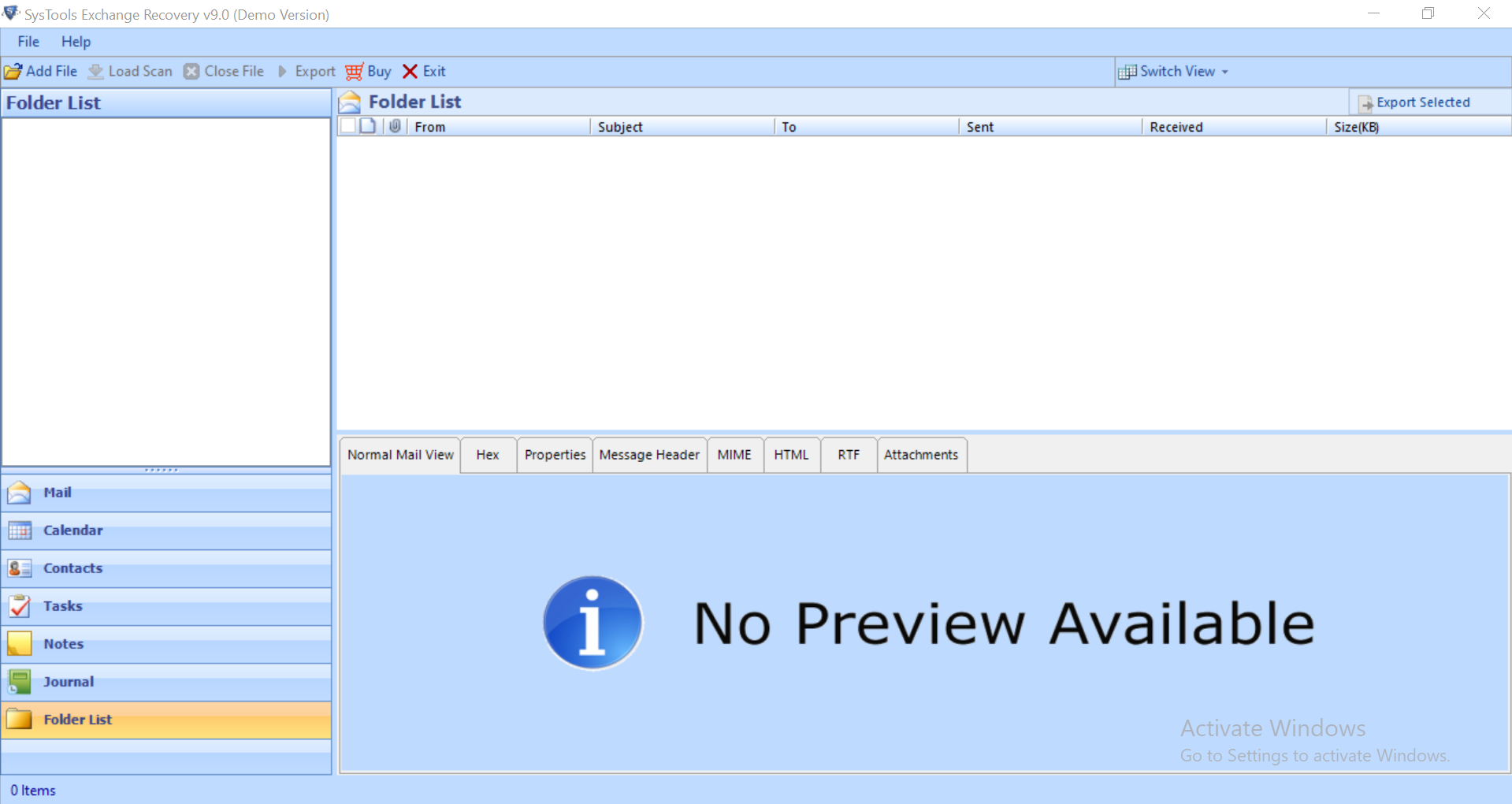 Step 2: Click on Add file button and add offline Exchange Database file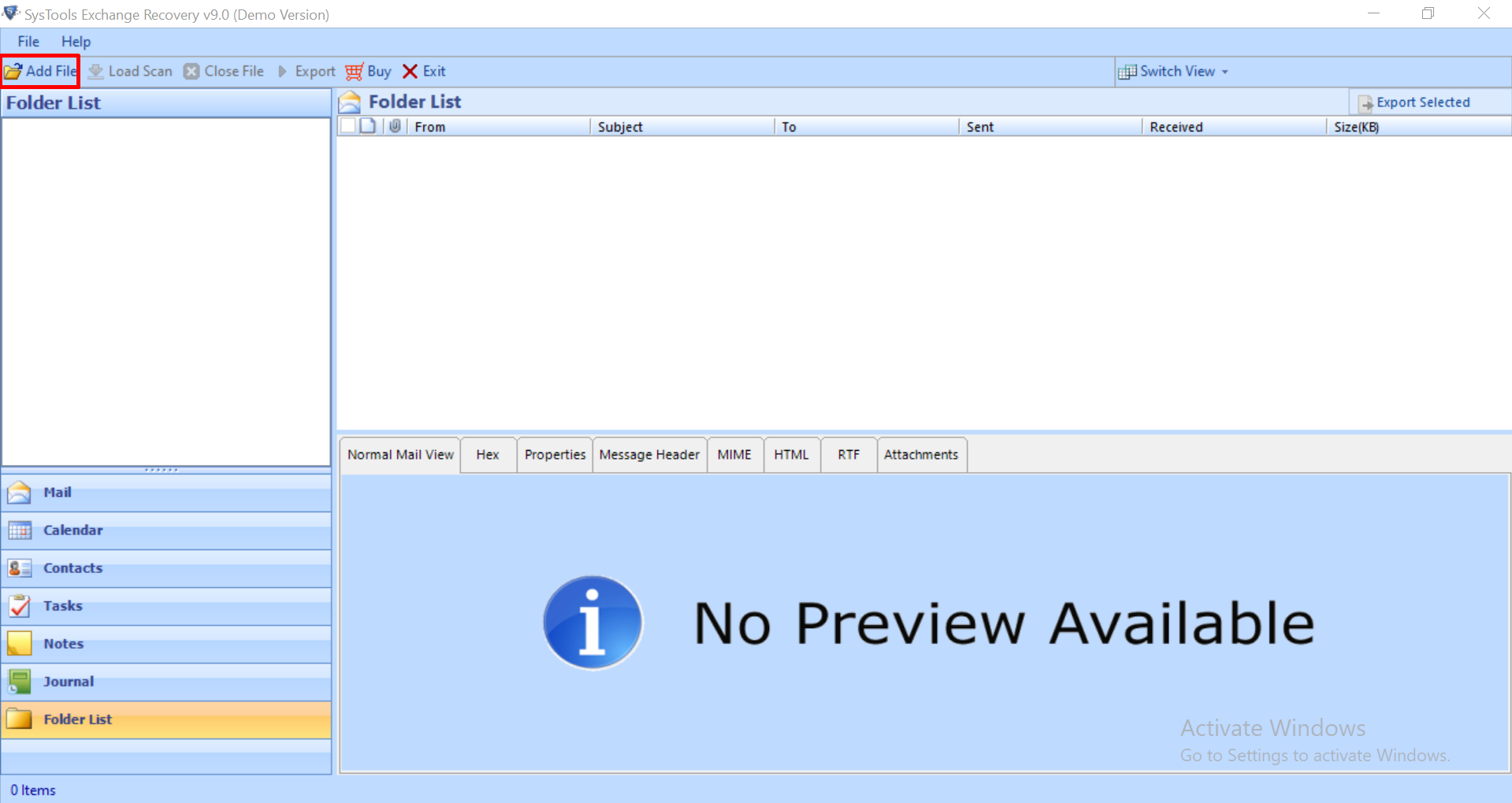 Step 3: Click on Advance Scan option to recover deleted emails from Exchange database file  > Click Add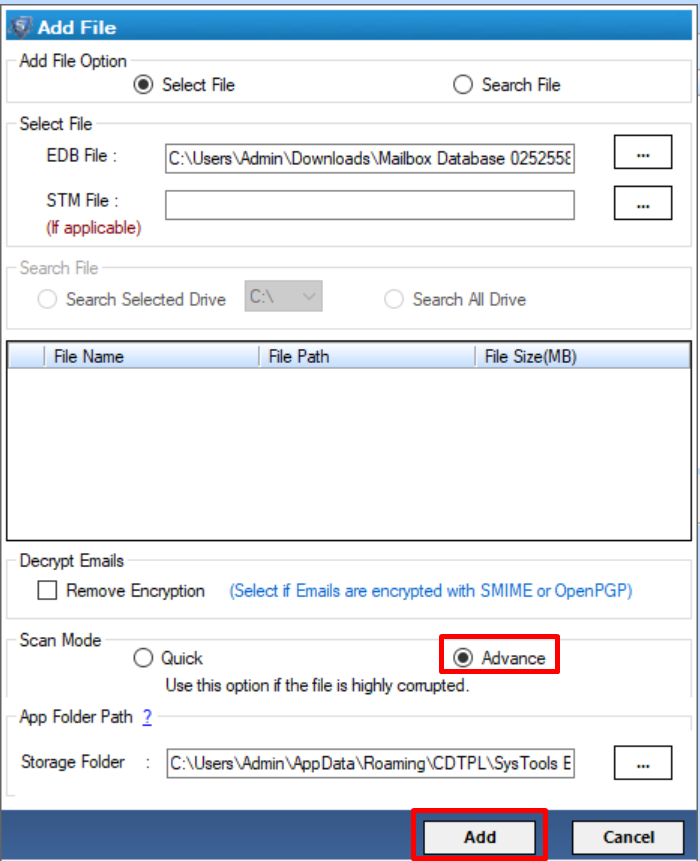 Step 4: Now user deleted email has been recovered > Select all the emails > Click Export Selected button
Note: Click on the export button to convert entire Exchange Database file or Mailbox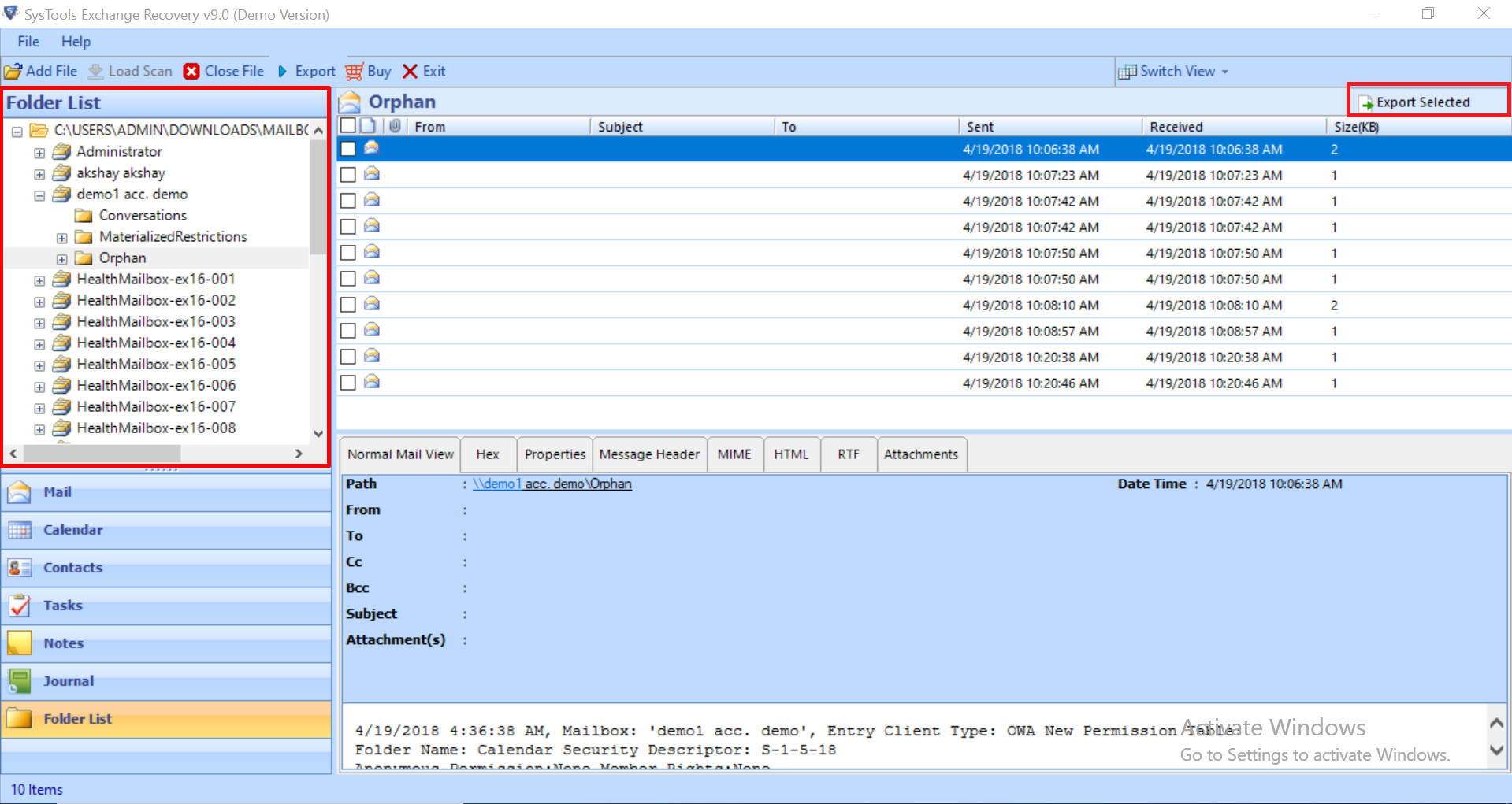 Step 5: Select the required file format  > Click on Browse to set target file location > Click export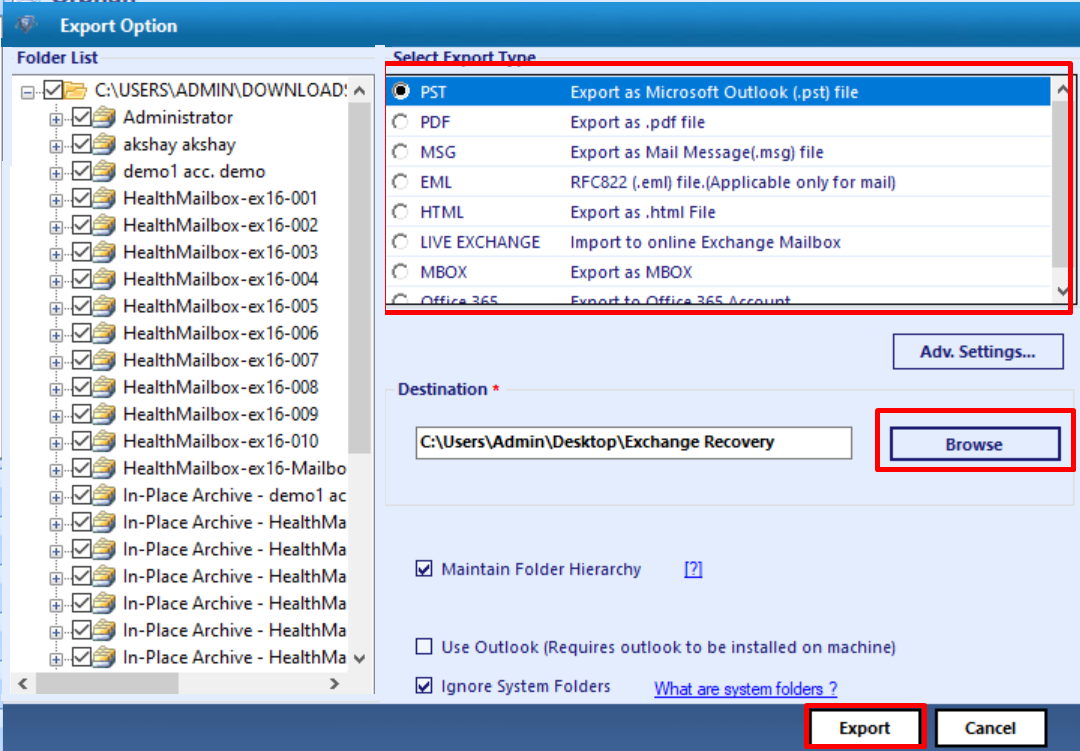 User recovered email is been exported to the chosen file format or Live Exchange Server, Office 365.
Why Should You Choose Exchange Recovery Tool
Users should go for this software because it –
Recovers deleted Exchange Server emails from Offline Exchange database
Recover permanently deleted mailboxes from Exchange Database file
Exports recovered emails into Live Exchange Server, Office 365, PDF, HTML, EML, MSG, MBOX, PST file formats
Also, repairs corrupted .edb files of Microsoft Exchange Server
Conclusion
The necessity of recovering permanently deleted emails from Exchange Server  2013/2010/2007 may appear to anyone in different circumstances. To inform the users about the recovery techniques, this post provides detailed information to recover permanently deleted Exchange mailbox emails. The manual method only recovers the deleted email when it is in the retention period. That is why professionals prefer using the cited application for the smooth and swift recovery of the permanently deleted emails of Exchange Mailboxes.