Know How to Repair Exchange Mailboxes 2003, 2007, 2010, 2013, & 2016
This write-up guide users to repair Exchange mailboxes 2016, 2013, 2010 & below versions in an efficient manner by using the advanced solution and also know about the root cause behind corruption.
Numerous Microsoft Outlook users have their MS Exchange accounts, and when they connect their Outlook with Exchange server then, all their mailbox items get automatically synchronized. If any organization utilizes Exchange Server then, there are hundreds of mailboxes that are stored on it.
If any technical issues arises in Exchange server such as: corruption or any other error then, it will take time and effort to find and resolve the issue. However, even after putting various effort hours over it, numerous of issues fail to be fixed, as they are too complex.
One can use the advanced solution to repair Exchange mailboxes 2016, 2013, 2010, 2007, 2003 in a simplified way without any data loss. But before running towards the professional method first let's see the reason behind corrupted EDB file.
Cause Behind Exchange Mailbox Corruption
The issue is mainly due to the corruption of EDB files. The damage of MS Exchange data file is due to:
Various users errors
Virus infections
Improper shutdown of system
Malfunction of application
Missing objects of database
Read More: Recover Deleted Emails from Exchange Server
Techniques to Repair Exchange Mailboxes 2003, 2007, 2010, 2013, 2016
Three approaches are there that helps to resolve & repair corruption from Exchange database mailboxes
Approach 1: Automated Wizard to Repair Exchange 2016, 2013, 2010, 2007, 2003 Mailboxes
SysTools Exchange Recovery software is one of the prominent software of our syndication and has the potentiality to recover and repair corrupted EDB files for the users. This utility provides dual scanning mode (Quick & Advance Scan) which removes corruption from offline/dismounted Exchange database file without losing any single bit of data.
To remove minimal corruption from Exchange database file select the quick scan and to recover highly corrupted EDB file opt the Advance scan. This option also recovers permanently deleted Exchange mailboxes and data items from loaded .edb file
The software export the recovered Exchange mailboxes directly to the Live Exchange Server, Office 365, and multiple file formats in no time. It support public and private Exchange database file. So, users can easily convert pub1.edb to PST along with private mailboxes.
User doesn't need any technical skills and in-depth knowledge to use the utility. It provides an interactive graphical user interface and user performs their job easily and save their precious time and effort too.
You can export entire or selective Exchange mailboxes – shared, disconnected, archive, legacy, user and data items such as: journals, notes, calendars, mails, tasks, notes to PST, PDF, EML, MBOX, HTML, MSG. After conversion, the software auto-generate export report in CSV file format that save the success and fail count of exported Exchange data.
Key Features Of Automated Software
Repair & Recover multiple corrupted EDB file
Preview recovered and healthy mailbox items before conversion
Remove (SMIME/OpenPGP) email encryption from Exchange mailboxes in batch
Export selective Exchange mailbox data using date and categories filter option
Preserve actual folder hierarchy and keep metadata intact after conversion
Convert Exchange EDB to PST, HTML, MSG, EML, PDF, MBOX file formats
Suitable with all versions of Windows OS, MS Outlook, and Exchange Server
Steps to Repair Exchange Mailboxes 2003, 2007, 2010, 2013, 2016
Step 1: Download the professional software and Lunch it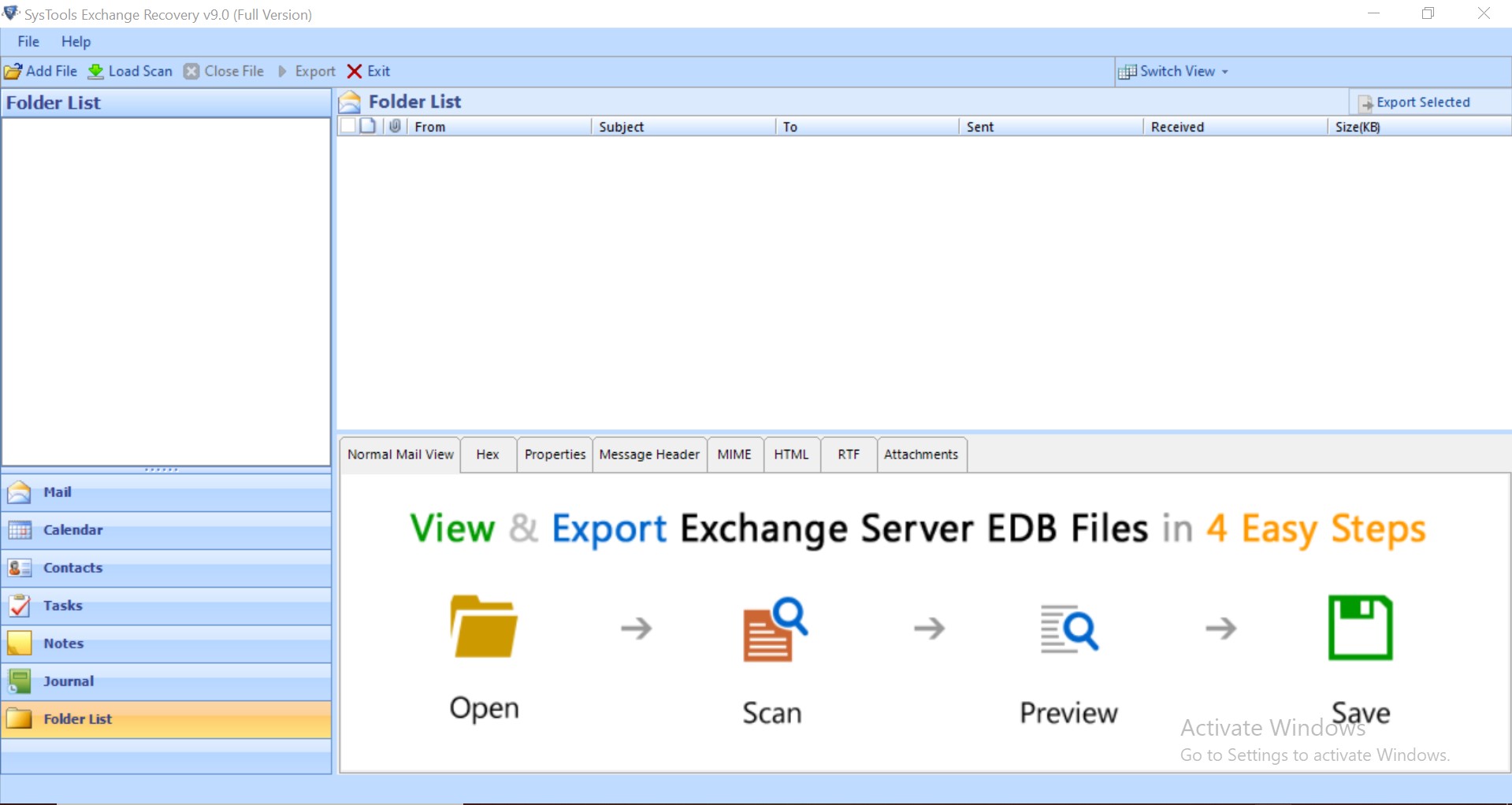 Step 2: Select the add file button > Load offline/dismounted Exchange database file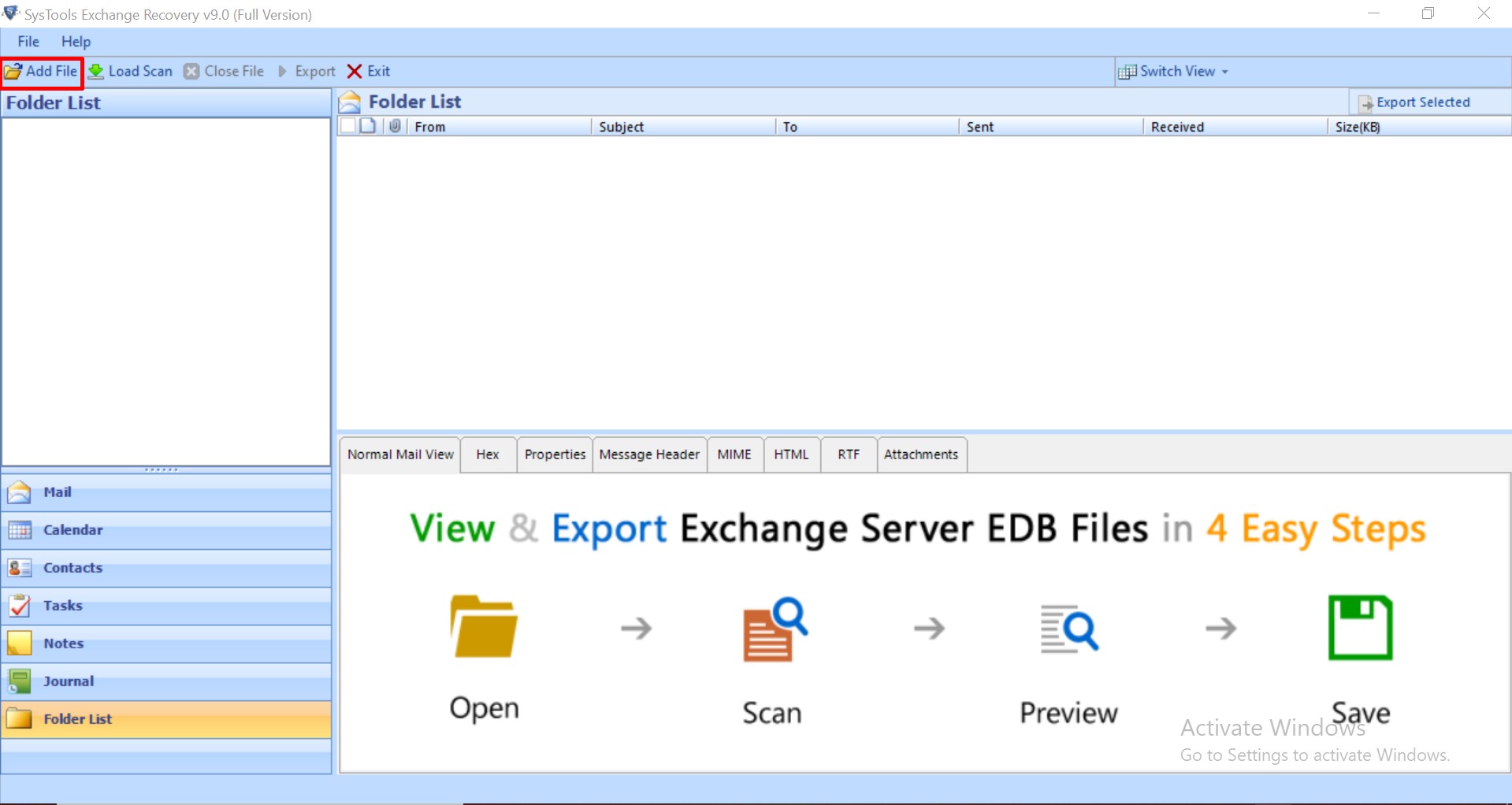 Step 3: Click on Advance scan mode option > Click on the Add button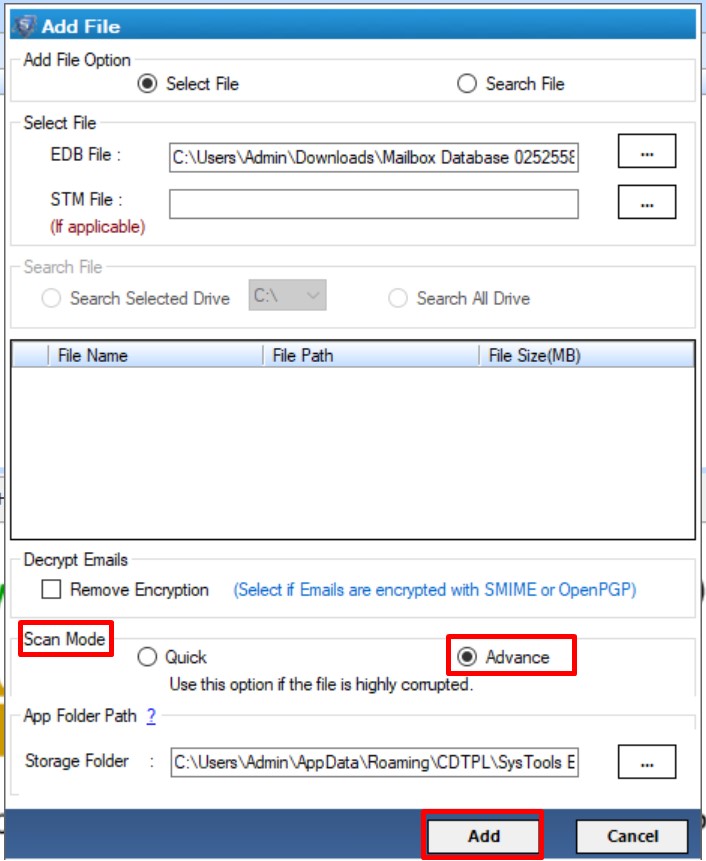 Step 4: Preview recovered EDB mailboxes > Click on Export button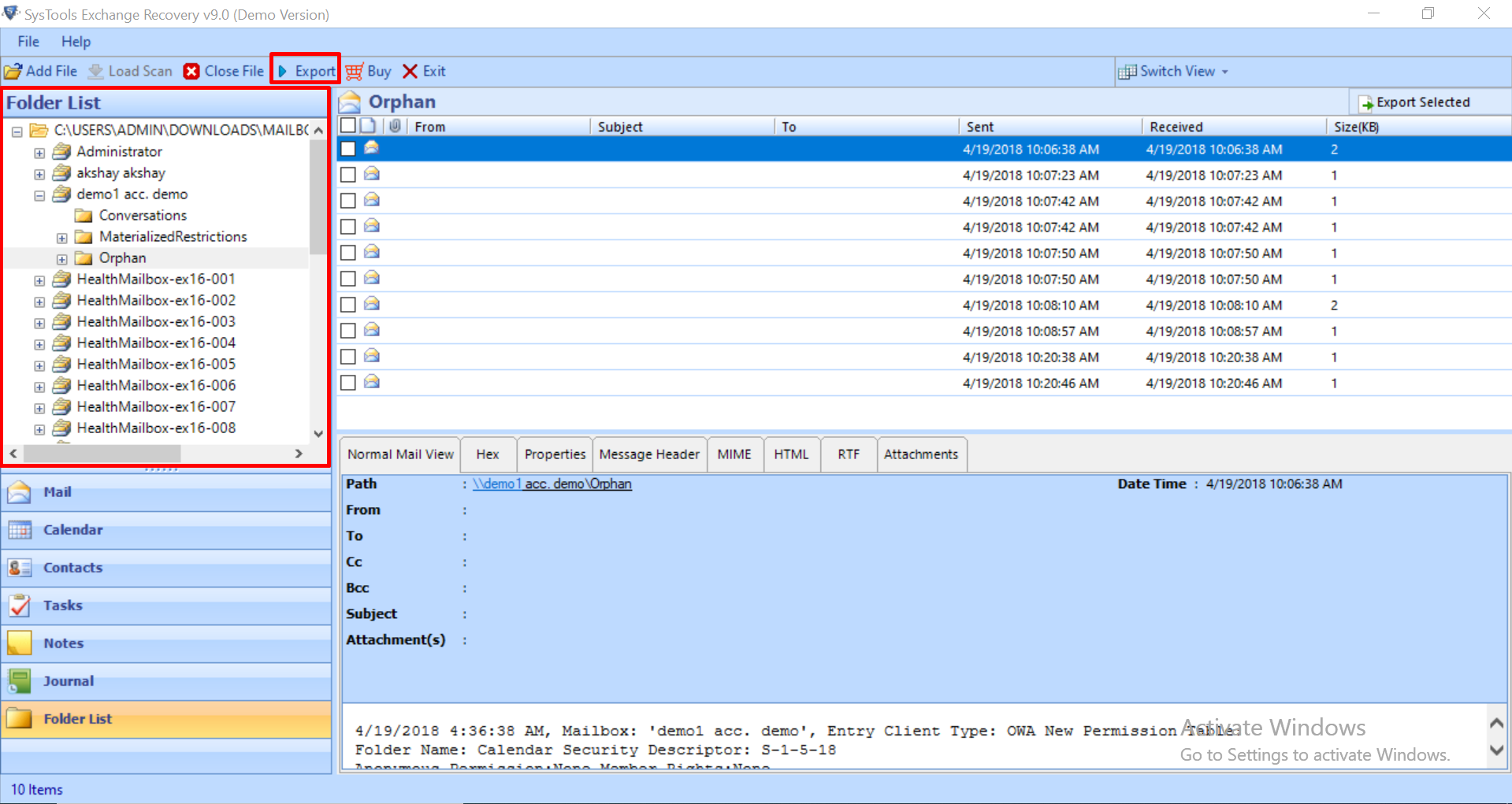 Step 5: Select the Exchange database mailboxes > Click on export option > Select the browse button to set target file path > Click on the Export button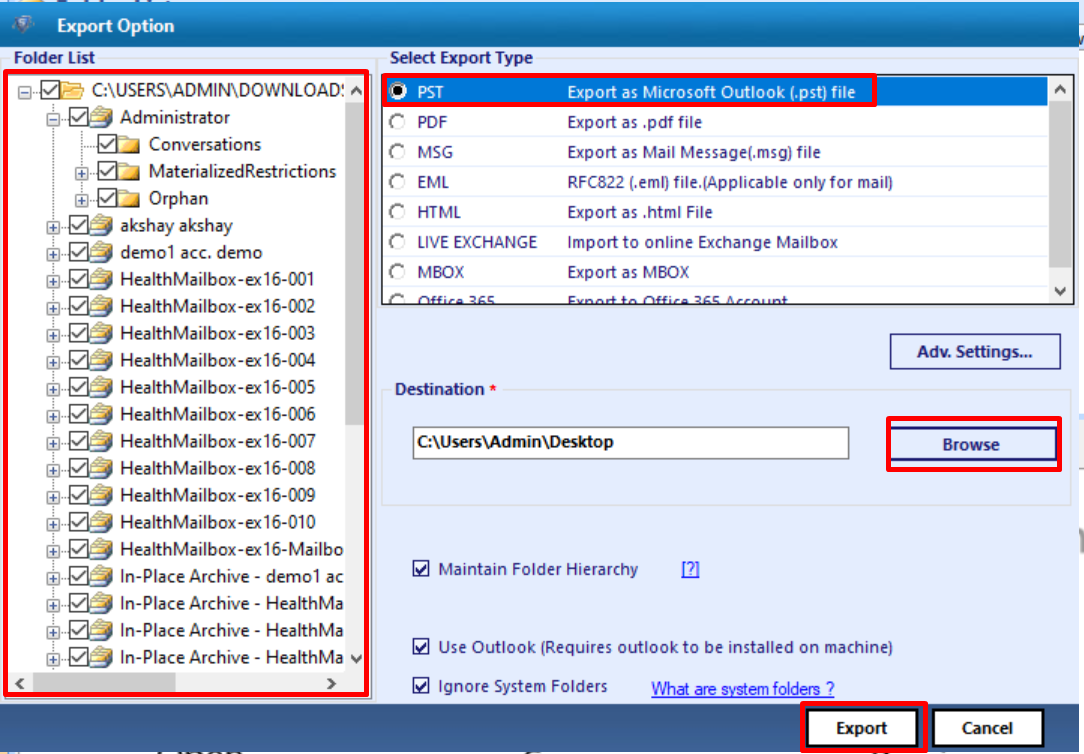 The recovered & healthy Exchange mailboxes are successfully exported to the select export option
Approach 2: Use PowerShell Command to Repair Exchange 2016, 2013, 2010 Mailboxes
With Exchange 2010, Microsoft introduced a new method to repair mailboxes of EDB file known as new-MailboxRepairRequest. This Exchange PowerShell cmdlet is a replacement of isinteg utility.
The command detects and repair corrupt mailboxes of Exchange 2010, 2013, and 2016. Execute the following command:

Approach 3: Run ESEUTIL to Repair Exchange 2007, 2003 Mailboxes
Microsoft provides MS Exchange Mailbox Repair Tool, which is known as ESUTIL. It helps to execute the mailbox recover of MS Exchange 2007 and 2003. Mainly, it stands for Exchange Server Database Utility. It is an executable utility, which discovers as well as repairs errors in the MS Exchange mailbox along with the database of public folder, transport server queue.
The application can be implemented with various switches, in which everyone is executing diverse functions. The present case of setting corruption in database lies within possibility of ESEUTIL repair mode, i.e. ESEUTIL /p. This mode repairs corrupted as well as damaged databases at page and table levels. However, not at application level.
Insert the ESEUTIL command for damaged file
ESEUTIL /P databasefilename.edb
Enter the 'Eseutil\d' cmdlet to defrag the recovered file

Once the fixing procedure is completed, it is suggested to run the integrity check on database to make sure that it is reliable. For this, tool known as 'ISInteg' is utilized.
ISInteg –fix

Limitations Of Manual Method
There are some limitations associated with this manual approaches as follow:
Consumes huge time to repair data
Proper technical knowledge is important to execute this process
Permanently deletes the data, it cannot repair
Note: The recovery process of a corrupted Exchange database must be done with such an efficient tool only because one wrong step can lead you to regretting your whole life. The Exchange mailbox recovery process is completely understandable after being from technological at backend.
Related: Recover Permanently Deleted Emails from Exchange
Bringing It All Together
To repair Exchange mailboxes 2016, 2013, 2010, 2007& 2003, we have come up with the advanced and manual solution that makes easy to fix the issues faced by the users. However, it is recommended to utilize the profession method, as it is a quick solution to recover & repair the Exchange database mailbox in a hassle freeway without any loss of data and export the recovered mailboxes to Live Exchange Server, Office 365, and various file formats.