Expert Recommended EDB to PST Converter with Free Demo Version
It is always a good practice to keep a backup copy of your crucial data in a secure place. When we talk about Exchange DB files, then what can be a better option than storing that data in a PST file? But there are certain complexities that make it a cumbersome process. Thus, we are here with an expert recommended EDB to PST converter.
This is one of the best tools with all the latest features to make the entire job seamless. Many Exchange administrators use this software to convert EDB files into PST format due to its wide range of features and simple usability.
Go through the following section and find out the advanced features of the tool and how it works. You can also download the software for free and check out all its features of it.
Noteworthy Features of EDB to PST Converter Software
Enables to Convert Exchange EDB Files to Unicode PST File
The Software Does Not Pose Any File Size Restriction
Provides a Complete Preview of the EDB Files Before the Conversion
Apply Date-Based Filter to Convert Selective EDB File to PST Format
Export Mailbox from Offline Exchange Database to Outlook data file
Option to Split Large Outlook PST File into Smaller Parts by Size
Provides Dual Scanning Mode options to Repair Corrupt Exchange EDB Files
A Detailed Overview of All the Features
1. Easy and Quick Conversion: With the help of this EDB to PST converter software, now it become easy for the users to perform a flawless conversion process. By default, it converts public folders and Exchange EDB files to Unicode PST file format. As a result, a user can easily create and import the Unicode PST file of more than 2 GB to the Outlook email application.
2. No File Size Restriction: Free Download EDB file to PST Converter that is developed by the best technocrats. Thus, it ensures to provide a sophisticated interface to the users. This utility does not impose any limitations with regard to the size of the EDB file to convert. Moreover, a user can convert EDB files of more than 1.5 TB Size to PST format.
3. Complete Preview of the EDB Files: Once the EDB file is uploaded to convert into PST format, it provides a quick preview of the Exchange mailbox items such as emails, contacts, calendars, etc. before the conversion process. Furthermore, this efficient utility does not compromise to maintain the metadata.
As all the email formatting along with its attachments are well-maintained without worrying about any loss of data. So, this helps users to export Exchange mailbox to PST format after previewing all its email messages.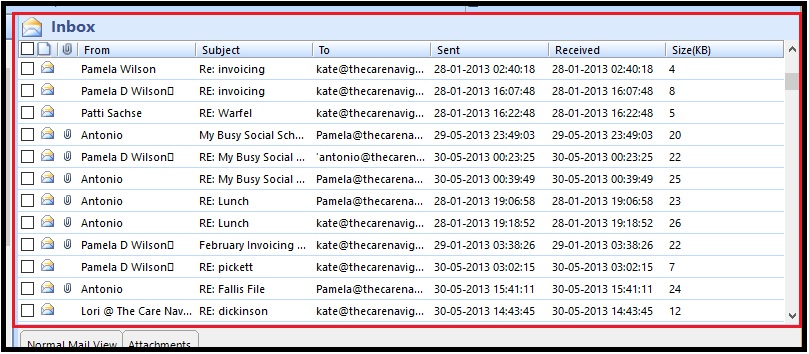 4. Date-Based Filter to Export Selective EDB File to PST: This is safe and secure software, which can be smoothly downloaded on your system without facing any technical discrepancies. While performing the conversion, it offers an advanced option i.e., Date Filter Option. Here, users can convert selective data items simply by specifying the date and time under the "From" and "To" fields.

5. Option to Split Output File: During the file conversion process, this EDB to PST software provides an option i.e., PST Split Option. It is an optional feature, hence if you need to split the large size PST into small sizes, you can avail of it. For that, check the option corresponding to PST Split Option and specify the resultant PST file size in MB. This will ensure to generate a manageable output PST file.

6. Dual-mode Scan Options: The utility is not only a converter, but it is also capable enough to recover and repair Exchange mailbox from corruption. Before converting the file from EDB to PST format, the application provides an option to scan the file. Based on the corruption level in the EDB file, users can avail either of the scan options i.e., Quick and Advanced scan to recover corrupt Exchange database files.

Software Specifications of EDB to PST Converter
Software Size: 34.6 MB
Software Version: 3.0
Trial Limitation: User can export only 25 items per mailboxes from Exchange Database File.
Support Edition: The tool supports Microsoft Windows OS (7 / 8 / 8.1 / 10 (32-Bit & 64-Bit)), Windows Server (2003 / 2008 / 2012, 2016), MS Outlook (2003, 2007, 2010, 2013, 2016, 2019 (32-Bit & 64-Bit)) and Exchange Server (2003, 2007, 2010, 2013, 2016 & 2019 (32 & 64-bit)).
System Requirements
RAM: 4 GB is recommended
Processor: Intel® Core™ 2 Duo CPU E4600 @ 2.40GHz 2.39GH
Hard Disk Size: Around 100 MB of free space for installation
Operating System: The tool supports Microsoft Windows 10, 8.1, 8, 7
Working Guide of EDB to PST Conversion Software
1: Download, Install and Launch the automated software.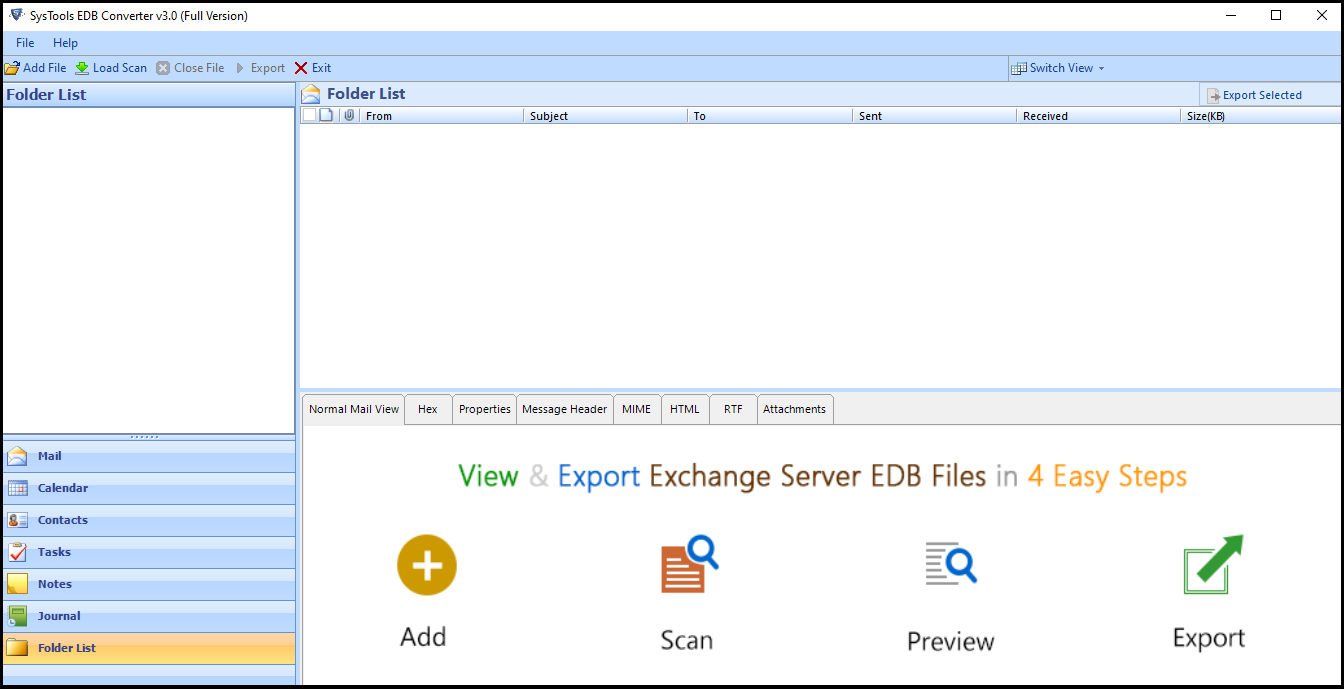 2: Click on Add file button and Load Exchange Database File.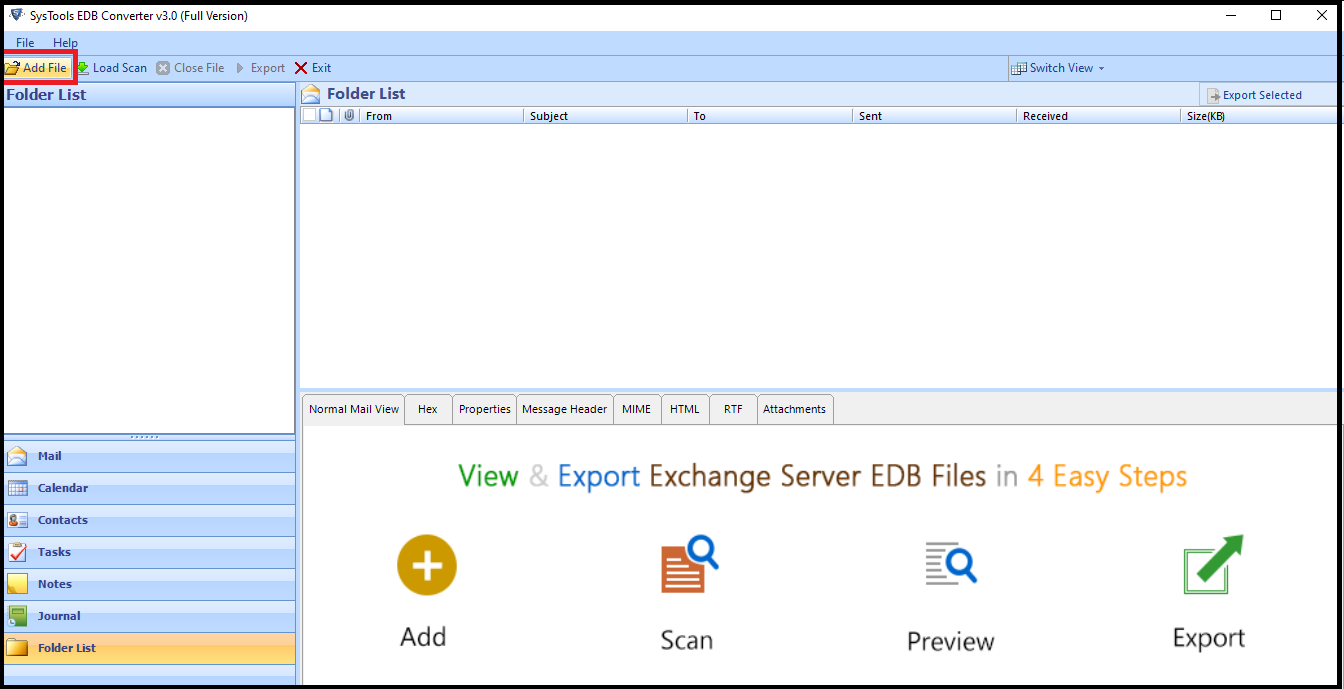 3: Preview Exchange Mailboxes, Database & Data items > Click Export.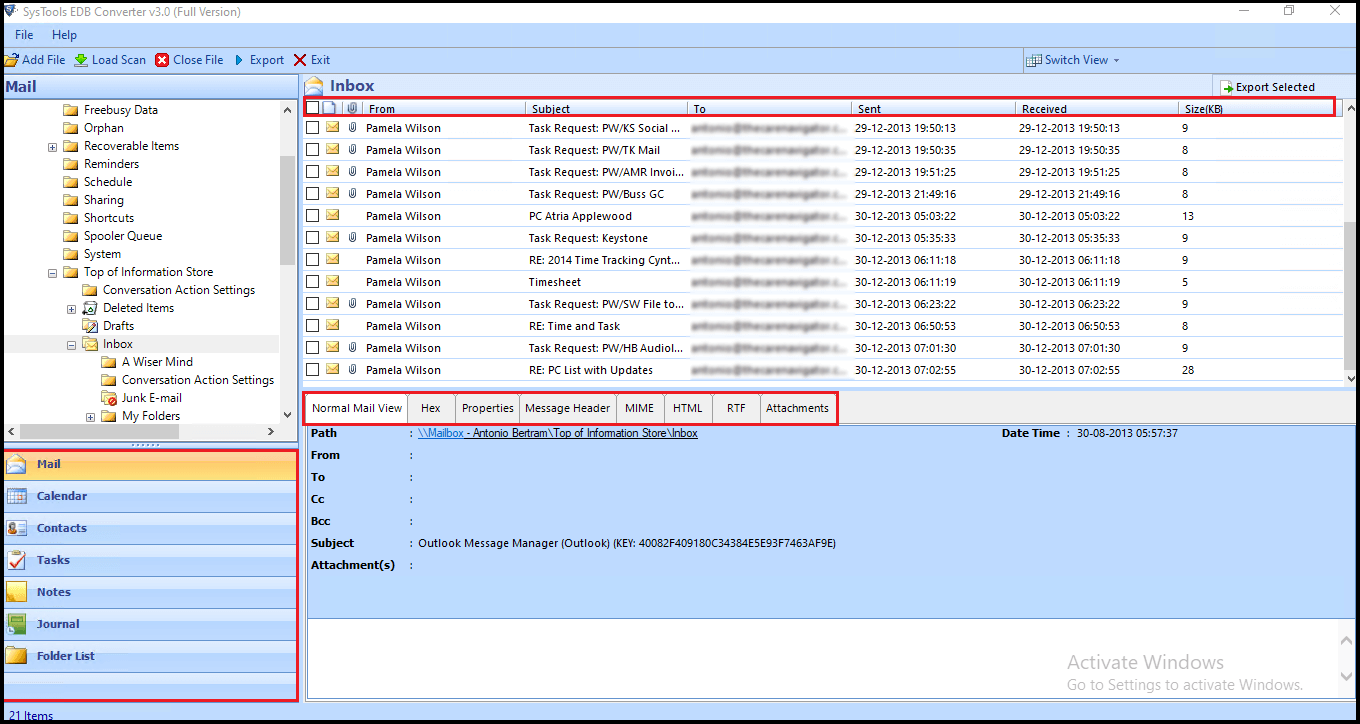 4: Select Mailboxes > Click on PST > Then click on browse to set target location > Click on the Export button.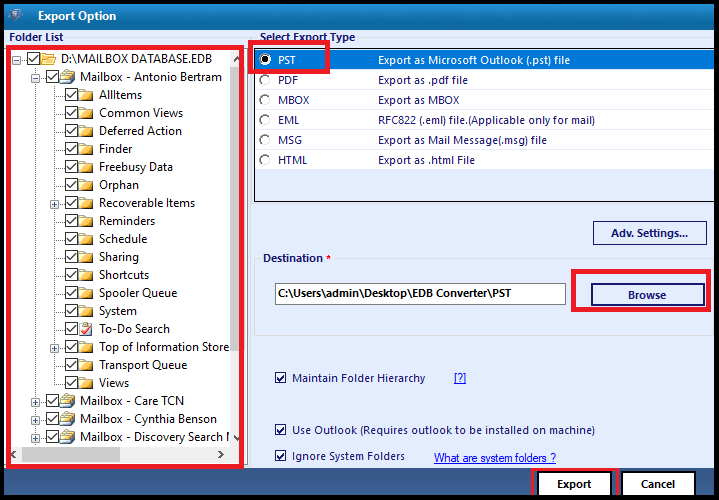 Questions that Users Usually Ask
Q. Do I need to have Microsoft Outlook installed on my system to perform conversion?
A. No, it is not mandatory to install Outlook on your system to run this software. However, there is an option to convert EDB files to PST with Outlook mode. This mode helps users to carry out the entire task in a seamless manner.
Q. Is there any option in this application to convert only emails from Exchange EDB files?
A. Yes, the software has an option for selective category conversion. Users can choose any specific mailbox category (Emails, Calendars, Contacts, Tasks, etc.) and transfer only emails from EDB files.
Q. Is it mandatory to have a Live Exchange Server on the system to run this application?
A. No, you can easily use this EDB to PST converter to carry out the export process without having Live Exchange Server.
Q. What if I face any issue with the software while performing the conversion process.
A. This is a tried and tested utility that has gone through numerous quality checks. However, if you still face any issues, then you can contact the technical support team which is available 24X7 for you.
Author's Suggestion
In this blog, we have described the ultimate solution to convert Exchange EDB file to a reliable file format like PST using the most efficient software by SysTools EDB to PST Converter. It is one of the recommended utilities suggested by the experts for a safe and smooth file conversion without facing any trouble while converting the files.