How to Recover Shift Deleted Files from USB – Instantly
It's heart-aching to see an important project or thesis get deleted. All your mistake was to press shift with the delete key. Being human we all are vulnerable to human instinct. But we can definitely improve our mistake by learning how to recover shift deleted files from USB.
When the user deletes the USB drive using the shift key, this will prevent anyone from recovering the files. However, in the USB drive "Delete" and "Shift-Delete" both commands perform the permanent deletion. What if user wants to know how to recover deleted files on USB memory stick? This blog will demonstrate an instant solution to recover deleted files from USB irrespective of the command chosen to delete the files.
Cautionary Steps for Successful Data Recovery
Do not install programs and recovery programs on the same drive from where files have been deleted.
Do not perform write/delete activity on the drive that contains the deleted files.
Properly close all other running programs to avoid the conflict between applications.
Do not save the recovered files in the drive from where it has been deleted.
Reminder – No matter if you pressed shift while deleting the files. USB drive does not have any associated recycle bin that is the reasons deleted or shift deleted, none of the files can be restored directly in any manual method.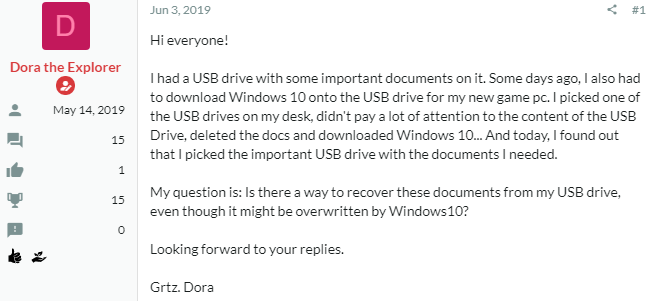 "I had a USB drive with important documents in it. A few days back, I also downloaded Windows 10 version to the same drive for my new game PC. Actually, I picked one of the USB drives from my desk, didn't pay much attention to the content of the data of the USB drive and deleted the docs, and downloaded Windows 10… And today, I found that I picked the wrong drive. Is there any chance to recover deleted files from USB flash drive?"


The idea of deleting irrelevant files is a common scenario for users. But deleting important files can be a traumatic experience.
Recover Shift Deleted Files from USB via Data Recovery Solution
Users can use the SysTools USB Recovery Software to achieve this task which is a far more elegant solution with self-explanatory steps. It recovers deleted items from USB drive.
This solution does not require technical knowledge and recovery of files can be performed by any user regardless of technical expertise.
Step 1: Download and Install Data recovery solution from the official page.

Step 2: Now it's time to attach the USB drive and click on Refresh View.
Step 3: Now you can see the USB drive on the Recovery software home page. Click on the USB drive and select Scan Mode.
Step 4: It will start the scanning and recovering process simultaneously. All the shift deleted files will be showcased in the preview panel.
Step 5: Choose the files which you want to export to your system location and click on the Save button. It redirects you to a navigation prompt, asking you to choose a location to save the recovered files.
Step 6: Avoid selecting the USB drive for the destination location to save the recovered shift deleted files from USB drive. After selecting the system location press on OK to start the export process of recover files from USB deleted by antivirus.
That's it. In this way, you learn how to recovers files infected by shortcut virus from USB pen drive.
This is a multi-recovery solution that works for multiple storage devices including HDD, USB flash, pen drive, and SD cards.
So user no longer has to roam here and there for different file formats in case of deletion and corruption issues arise.
Backup and Recovery Goes Hand In Hand
The backup main purpose is to create a copy of system files that can be recovered in the event of data failure and deletion. Data deletion can occur due to various reasons. Unfortunately, users cannot control each facto of data deletion. In that case, backup is your true friend.
But nothing is error-proof nor is backup utilities. Technical issues can sabotage your backup process and leave you nowhere. At that moment the recovery solution is your data rescuer.
So keep both functions in your hand to manage the data regularly and recovery in case of unfamiliar conditions.
Concluding Lines
In its reasoning, the Windows system understands that when the user clicks the Shift key with the delete key then the user wants to delete data permanently.
But what can a user expect when they search how to recover shift deleted files from USB drive. This blog depicted the easiest method which makes the recovery process cakewalk for any user regardless of user technical background.