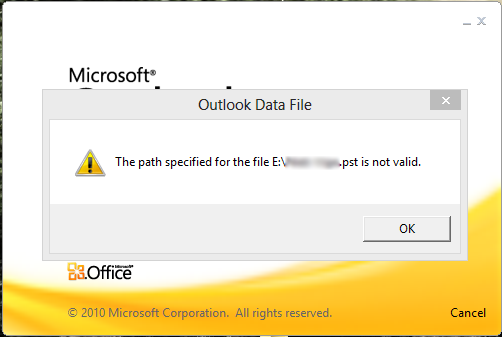 Hi, I am an Outlook user for the past six months and until yesterday it was really fine without any issue. But currently, while I am opening my Outlook 2010 files it is encountering an error message like "The path specified for the file .pst is not valid" in Outlook 2010 or "PST is invalid" or like "Outlook data file cannot be found". I have searched a lot but I couldn't find any reason to occur this error message. Can anybody please help me out in this case to overcome this issue?
The encountering of error like "Outlook file is not found" while opening PST file the users might be thinking that it's impossible to access those file again. But in reality, this error is really simple to eliminate, to do so just make use of SysTools Outlook Recovery utility.
Main Reasons to Encounter Error "Outlook Data File Cannot be Found"
When your server gets virus infection then the file gets corrupted and at that time the error message will pop up like "It's not valid or cannot be found".
Sharing information with multiple users over the network will result in the damage and display error message "PST is invalid".
The error message will be appeared due to inappropriate export and import of PST files.
There may be encountering another kind of error messages but the resolution for this will be the same. To identify those the pop-up messages are listed below:
Outlook.pst is not a valid pst file.
Not a valid .pst.
This .pst file is not a valid personal folders file.
The .pst is not an Outlook data file (.pst).
Method#1: Eliminate "The Path Specified for the File .pst is Not Valid" in Outlook 2010 Issue
However, I could locate the PST file manually but when we use Outlook 2010 to locate it may lead to some issue. After that when I have researched on this I could found it may not be occurring due to the corruption in PST file but to do this we should opt the manual procedure and set path by moving or navigating to the PST file on your system where Outlook client is installed. Therefore, remember that no go for a manual procedure if your PST file is not corrupted.
If you have an issue regarding with the specified PST file, not valid error, and if you have given a new path for the Outlook PST file. Also, one or more folder path that you have mentioned is not existing. Then, to resolve this you should give a path where there is an existing folder or make a folder by navigating before going with Windows Messaging Setup Wizard.
After this copy your Outlook PST to another location and then choose PST file by opening your Outlook. To do follow the below-mentioned steps:
** Firstly, navigate File >> Open >> then Open Outlook Data File and browse the location of the Outlook .pst files.
This will resolve the error "The path specified for the file .pst is not valid" in Outlook 2010. Anyway, the import and export option is not necessary.
Method#2: How To Fix "Outlook Data File Cannot be Found" Error
There is another method to avoid this error that is by creating a new profile in Outlook and after that assign the newly created Outlook PST file into it. By making a new profile really fix this issue and also it will help to avoid another problem too. If you tried a method and its not working then normally it will be fixed with this method. But you must remember not to upgrade your Outlook version that already has an issue.
Automated Methodology
The two common method to fix this error "PST is invalid" is discussed above. If the issue still persists then it is recommended not to delete your file which will cause extra burden but to repair the PST file with the use of a professional tool for this you can use the Outlook Recovery utility. Even though there is Scanpst.exe this inbuilt option won't really works well so it is really recommended to use this software. This software will really help you out to eliminate "Outlook data file cannot be found" error messages.
Conclusion
The error "The path specified for the file .pst is not valid" in Outlook 2010 is creating so much burden for the Outlook users. To recognize the reason for occurrence and the resolution methods are discussed above using manual methods and as well as by using an automated method. Also, users might also go on a wrong path to avoid this issue. Therefore, here we have discussed the best suggestion to avoid the "Outlook data file cannot be found" issue.