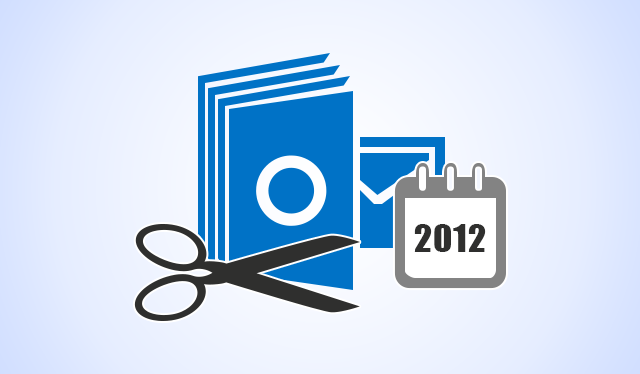 Many users of Microsoft Outlook are searching a solution to split Outlook archive by year limit. This happens because the Outlook users keep on storing all the incoming data items into same Personal Storage Table file for years. And this may lead to an increase in the size of that PST file considerably. Therefore it's essential to know that, storing files up to a specified limit makes it corrupted and becomes inaccessible. Thus the users won't be able to access any of the data items in his/her email client. This article discusses the manual as well as an automated solution for breaking PST files by yearly manner.
Instant Solution: You can try SysTools Split PST software to divide Outlook PST files in just few simple steps.

"For many years, I have been using the same the .pst file with MS Outlook. Now my email client started working slow. One of my friends told me that, it is because the PST file has now grown quite big and suggested to break large PST file into small size. Currently, the file is 5.7 GB, so in-order to speed up the Outlook and restore the performance, I need a perfect solution that does not affect any data in it. Also is there any way that could divide Outlook PST files into yearly archives?"
Why We Need to Break PST File by Year
One need to split Outlook archive by year when his account's file size goes beyond the below discussed size limit. There are now various techniques available to separate Outlook PST file into smaller parts.
When a Microsoft Outlook PST file is referred to as too large, then it is clearly relative to the version of the Outlook account. That is because each version is having different size limitations. The PST file that can be stored in Outlook 2002 is 2 GB. Where in Outlook 2003 and 2007, it is 20 GB. When it comes to the case of Outlook 2010, 2013, and 2016 it is 50 GB.
Split Outlook Archive by Year Manually
Before starting the process, one must configure the Outlook account to archive it based on the Received date rather than Modified date. By this way, one can prevent the emails which have been modified or imported after the archive date from the remaining file in the main PST file.
Once the Outlook account is configured as per the recommendation, one can follow the steps proposed below to break/divide Outlook PST file by year.
Open Archive dialogue box as per the instruction that depends on the version of the Outlook account.
In Outlook 2007 and all previous versions, Click File >> Archive.
For Outlook 2010 and 2013, Click File >> Info >> Clean-up Tools >> Archive.
In Outlook 2016, Click File >> Info >> Tools >> Clean up old items.
In Archive interface, select Archive this folder and all sub-folders and choose the folder to be stored from the list.
Enter a date in the Archive items older than drop-down menu i.e. the 1st of January of the year after which that you need to create the first archive for (say, if you need to split Outlook archive by year for 2010 and previous, then set the date to 1st January 2011).
Check the option, Include items with "Do not Auto Archive" checked to backup items from automatic archiving.
Give name and location of the Archive file i.e. an Outlook PST file by clicking on the Browse tab.
Click OK button to complete the backup process.
Once all the steps in the above-mentioned section are completed, the user can repeat the process for split Outlook archive by year by executing the same steps again. The only thing to be done is to alter the date and location of the saving file which is to be created.
Limitations of Manually Dividing Large Size PST Files Yearly
However, the above-described manual process of archiving is also having many demerits. Because an advanced technical knowledge is required for performing this steps without any errors. But the average Outlook users are not even aware of its complete working. It also leaves white-space in the PST files and therefore its size does not get completely reduced. A small error in the proper execution of the process may lead to failure.
How to Archive Email by Year in Outlook Using an Automated Solution
SysTools Split PST is an advanced software which provides options to split Outlook archive by year into multiple files without losing any data. It overcomes all drawbacks of the manual method described above. After analyzing the different paid tools available in the market, this application is found to be one of the best utility for this purpose. The main advantage of the tool is that it can break/split large PST file into smaller parts using various options. i.e there is the date, size, year or folder option for dividing your MS Outlook PST files. Other important characteristics of the product are mentioned below:
It can perform division on newly created PST file and backup the PST file.
Provide option to cut the items like emails, contacts, calendars, tasks etc.
It has no file size restriction for fragmenting UNICODE and ANSI PST files.
Microsoft Outlook installation is necessary for the process.
The tool supports Outlook 2000, 2002, 2003, 2007, 2010, 2013 and 2016 versions.
Bottom Line
This article is meant to provide an information about how to split PST file by year. This provides various techniques to split Outlook archive by year. The manual method discussed is the only available direct method, but it is having some limitations. Therefore in-order to overcome its demerits a third party application called SysTools Split PST is discussed. The major factor that makes this utility worth using is its advanced features to separate/divide large PST files into smaller parts without errors.