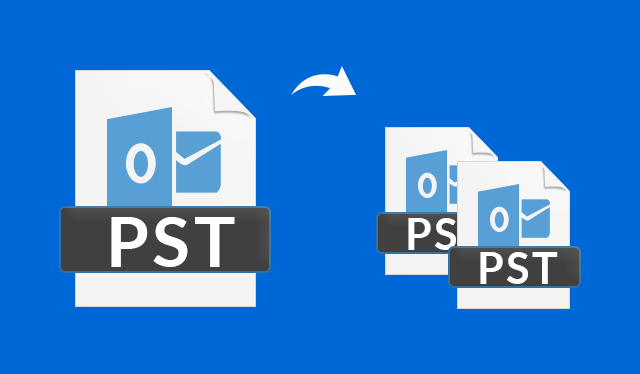 There may be performance issues while working with a huge volume of PST files in Outlook 2010. Sometimes there are scenarios when Outlook starts working abnormally & then you can notice the sudden shutdown or the email client in the hang state. Since the PST files are prone to corruption, thus any damage will ultimately result in the loss of entire data from the mailbox.
Quick Solution: Use SysTools Split PST software to split PST file by Date, by Size, by Year & by Folder. The software does not impose any file size limitations to separate PST files.
Thus, to prevent the Outlook file from getting corrupted, you can cut PST file as it can help increase the Outlook performance to a substantial extent.
Know What is Outlook PST Files!
All the mailbox messages & the corresponding Outlook data is stored in PST files (Personal Storage files). The files are of two types ANSI & UNICODE PST files. The ANSI PST file comes with the 2 GB storage limit & is supported by Outlook 2003 & all below versions with extraordinary increased storage capacity.
MS Outlook does not provide any inbuilt utility or any PST file divider software to divide PST files into smaller parts. But, you can cut PST file using various features that are offered by Outlook such as Archive, Import & Export & move to the folder. Let us understand the process in detail using various manual techniques:
Free Methods to Separate PST Files in Outlook 2010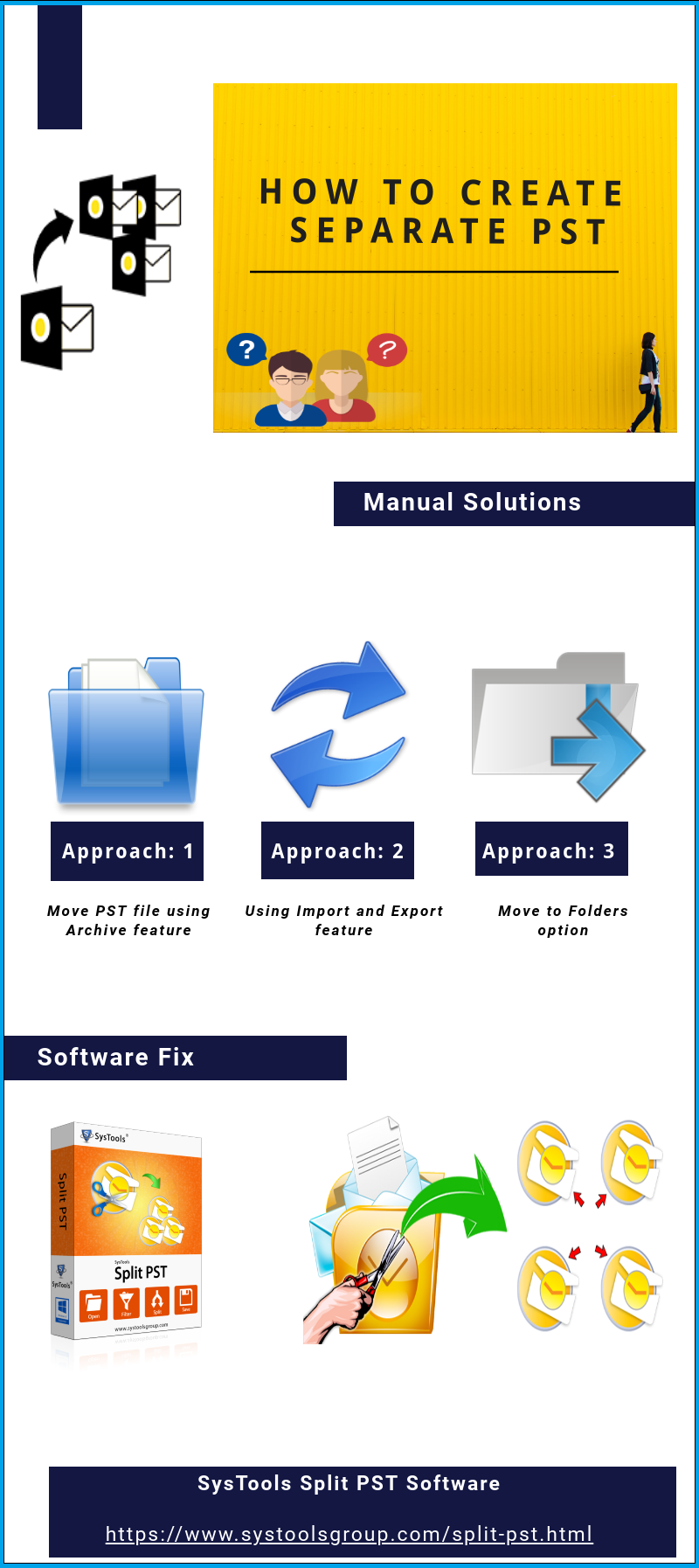 #1: Archive Older PST File & Folders
Archiving the older data will not only help minimize the volume of the mailbox but also divide PST files into smaller sections. You can easily archive the Outlook mailbox older components by following the below-mentioned steps:
Launch MS Outlook
Select PST file which is large in size & need to be divided
Now, click on "File Tab" & then on "Info"
Select Cleanup Tool
From the available option Choose Archive
An archive dialog box will appear, now select the option "Archive this folder & all the subfolders"
Select the folder from the mentioned list that needs to be moved
The option will appear with Archive item folders.
Next, Click Browse button to choose the destination for the new file
Note: The default name for the resultant file is archive.pst
Once the storage location is given, click OK
Note: You can now easily access the new PST file by following the destination path which is defined in Step 9
#2: Import & Export PST Files
This is an inbuilt feature of Outlook, you can easily separate PST files or the oversized Outlook PST files for the more systematic storage & management over the mailbox data.
Launch Outlook
Create a new Outlook data file
Click on File tab & select More items, then click on Outlook data file & next click on File tab
A "Create or open Outlook data file" window will appear, provide a destination path to the PST file
Click OK
You can now easily access the newly created Outlook data file in the following application window
Then, click on file tab >> open >> Select Import
Now in the Import & export window, Select export a file option & click Next
After that, choose Outlook data file (.pst) & click Next
Choose the folder which you need to export data from. Click Next
Click on Browse button to choose the folder in which you want the exported data
Now, open Outlook data file, select the file for saving the exported data, then Click OK
Choose an appropriate option from the alternatives & click Finish
#3: Using Move to Folder Option
Another option to separate PST files is mentioned below:
Open MS Outlook
2. Click on "New Items" & from their select More items & then select Outlook data files
3. Now, create or open Outlook data file window will be displayed, provide a name to the new Outlook data file & click OK
4. A newly created data file (.pst) will appear in the window
5. Now, expand the Outlook PST file from where you want to move the folders or the mailbox items. You can select one item at a time
6. Click "Move tab" & select Copy to folder option
7. The copy items window will appear, select file into which you need to transfer the selected items & then click OK
Use PST File Divider to Separate PST files into Smaller Chunks
The methods & the procedures which are discussed above helps to divide PST files in Outlook 2010, 2007 & 2003. All the mentioned methods save data to a PST file & move to another related file after that. But the manual methods sometimes create a challenge for non-technical users with only basic knowledge of Outlook.
You can Separate PST files using SysTools Split PST software. The tool is very efficient & gives the option to divide pst files by size, date, folder & year. Split PST software gives an option to cut all items of PST including emails, contacts, calendars, tasks etc. With the help of the tool, the resultant data is stored in a new PST file, while the original Outlook file remains intact.
Conclusion
After considering the importance to separate PST files, we have discussed 3 manual solutions in order to achieve the process. Apart from this, we have also discussed a third party utility i.e. SysTools Split PST software to divide PST files into smaller parts without any trouble.