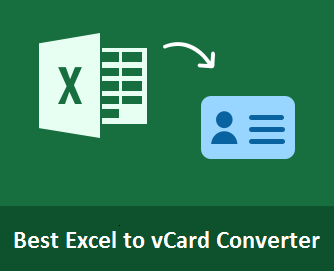 If you are still using an Excel spreadsheet to store and manage a large number of data? Do you want to convert Excel contacts to vCard file format? But confused which is the best tool for it. If so, then this post will help figure out the best Excel to vCard Converter 2020.
There are plenty of Excel to VCF converter software available in the market. However, it is very difficult to decide which one is best for you. To make this task easier for you, we are here with the full research and offer you the best conversion tool. In the best XLSX to vCard converter, the users are looking for some features like simple user interface, virus-free, no file size limitations, accurate & quick conversion, and compatible with Windows OS. To keep an eye on all these features, we recommend the best software with all these functions. So read the following section for further information.
Best Excel to vCard Converter 2020

SysTools Excel to vCard converter is the best program that fulfills all user's needs to convert excel contacts to vCard file format. This software is 100% secure from virus attack and gives the user an accurate result. The working of the tool also very simple, a non-technical person can also use it without any trouble. Using this tool, one can able to convert Excel xls, xlsx to vCard vcf file format. It provides support to preview Excel data with rows and columns. The best part of this tool, it works with all Windows OS platforms and also supports all MS Excel versions including Excel 2019, 2016, 2013, 2010, 2007, etc.

Once the conversion process is complete, the vCard file can be easily accessed on all supported platforms like MS Outlook, Thunderbird, Gmail, Yahoo, iPhone, Android, Office 365, and so more. Users can easily import contacts from Excel to Android, iPhone, Gmail, iCloud, Outlook, etc., using vCard file format. Now, let's go with the working of this Excel to VCF converter.
Read: Export Excel Contacts to vCard
Steps to Convert Excel Contacts to vCard With SysTools Software
Following the steps that you can follow to export excel contacts to VCF file format.
Step 1: Download the best Excel to vCard converter, run and launch it on your system.
Step 2: Click on the Browse button and select Excel files.
Step 3: After adding files, you can see the preview of all data. Click Next to continue.
Step 4: Now, choose the Excel Fields from the left side.
Step 5. Then choose vCard Fields from the right side and click on the Add button.
Step 6: Next, select the required export options and also select the vCard version 2.1, 3.0, 4.0.
Tip: If you want to import vCard file into iCloud, then select vCard version 3.0 or 4.0 for hassle-free results.
Step 7: You can choose the desired location to save the output on your machine.
Step 8: Click on the Convert button and the software will start the process instantly.
The Excel to VCF converter will create separate vCard files for each contact. You can view them from the selected location. That's it. Now import the vCard file into the required email clients, devices, etc. For eg., you can Import Contacts from Excel to Blackberry, or Import Contacts to GMX Account.
Notable Features of SysTools Excel to vCard Converter
You can see how easy this tool convert excel contacts to vCard file in just a few clicks. It also offers multiple beneficial features for users' ease. Some of the highlighted features are-
Easy UI: The software has a simple user interface that enables all inexperienced users to easily export excel contacts to VCF file.
Supports All Excel File Formats: The tool allows the user to convert Excel xls, xlsx to vCard vcf file. One can also export XLT, XLSM, XLSB, XLTX Excel workbook to the vCard file.
No File Size Limitations: The software has no file size and file number limitations, user can easily export unlimited contacts without any hassle.
Compatible all vCard Supported Platforms: After converting Excel contacts to the vCard file format, you can easily access the vCard file on all vCard supported platforms like Outlook, Gmail, Android, iPhone, and more.
Windows Compatible: The tool can be easily installed on each and every version of Windows OS such as Windows 10, 8.1, 8, etc.
Related: Export Excel Contacts to vCard
Concluding Lines
In this blog, we discussed the best Excel to vCard converter 2020 to convert Excel contacts to vCard file format. Here we have described the working and functions of SysTools Excel to VCF converter. You can also download a free trial version of the tool that allows you to export only 15 items. Once you are satisfied with the software, buy the full version for unlimited conversion.