How to Split VCF File to Multiple Contacts Easily ?
If you are searching for the solution to split VCF files into multiple contacts. Then you are on the right page. In this write-up, we are going to provide you the best VCF splitter software for windows 10 and the below version to easily split multiple vCard files into single or multiple contacts.
"Hello I need to import my VCF files into Outlook Mail but there are tons of unnecessary contact include on my vCard file which I don't want. So Is there any simple way to split VCF file to multiple contacts for Windows OS ?"
VCF files are also known as vCard files which are virtual business cards. These files include information consist of the email ID, phone number, name, address, photographs, and other information of the user.
This file can be attached with the email application or programs such as Yahoo, Outlook, Microsoft Excel, IBM Notes, etc. to share the contacts information.
There are various situations that arise where users want to split the VCF files and wanted to separate them from required contacts.
In that case, the user needs professional software to safely split multiple vCard files into a single as well multiple contacts.
Despite, there are other manual available online to carry out this process but have many limitations or have higher chances of losing your crucial data.
Hence to implement this process to split vCard files format in a safe and secure way, we have mentioned a perfect utility to split VCF file to multiple contacts.
Best VCF Splitter Software for Windows 10
SysTools VCF split & merge tool is the perfect solution to split multiple VCF files without any hassle.
The software is designed with advanced mechanisms that are capable to maintain all contact information after splitting VCF files.
The software support vCard files from different platforms with any version of vCard files such as vCard 2.1, vCard 3.0, and vCard 4.0.
The tool provides the option to split required vCard files from selected contacts and run on Windows 10 and below versions.
Eminent Features of the Software
Break vCard Files- The software allows users to split or break down the entire VCF files into single VCF files easily.
Split Required VCF files- The user can selectively split VCF file to multiple contacts and can create or save single vCard files.
Maintain Contact Data– It is the best VCF splitter software for Windows 10 OS that able to maintain contact information like Name, Address, Phone Number, Email-ID, Images, Description, etc.
Steps to know How to Split vCard File on Windows
Step-1 Download and install the software to split VCF files.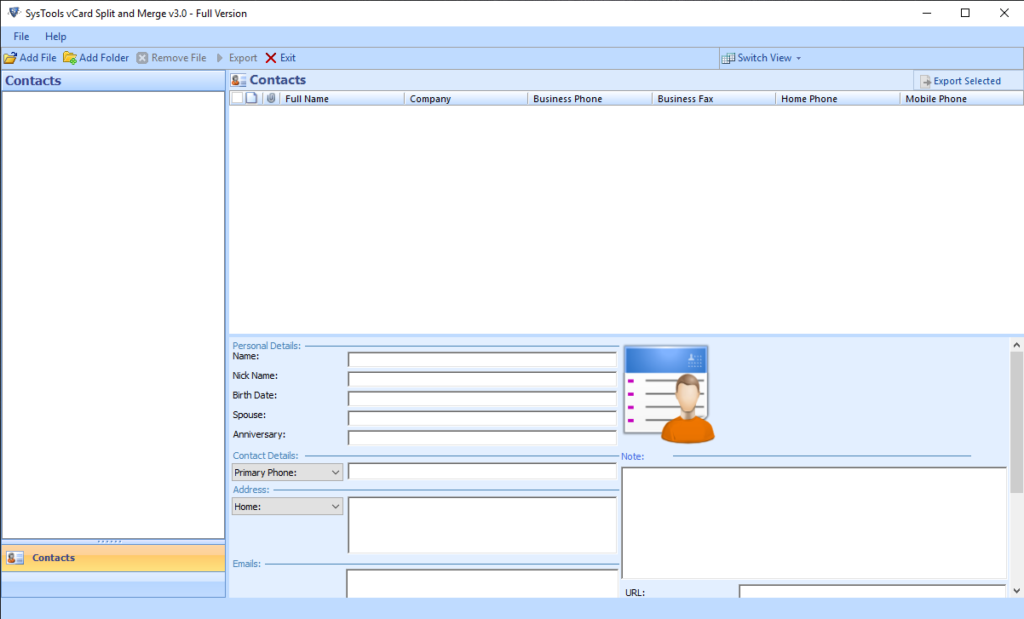 Step-2 Now select the "Add File" or "Add Folder" options to add VCF files.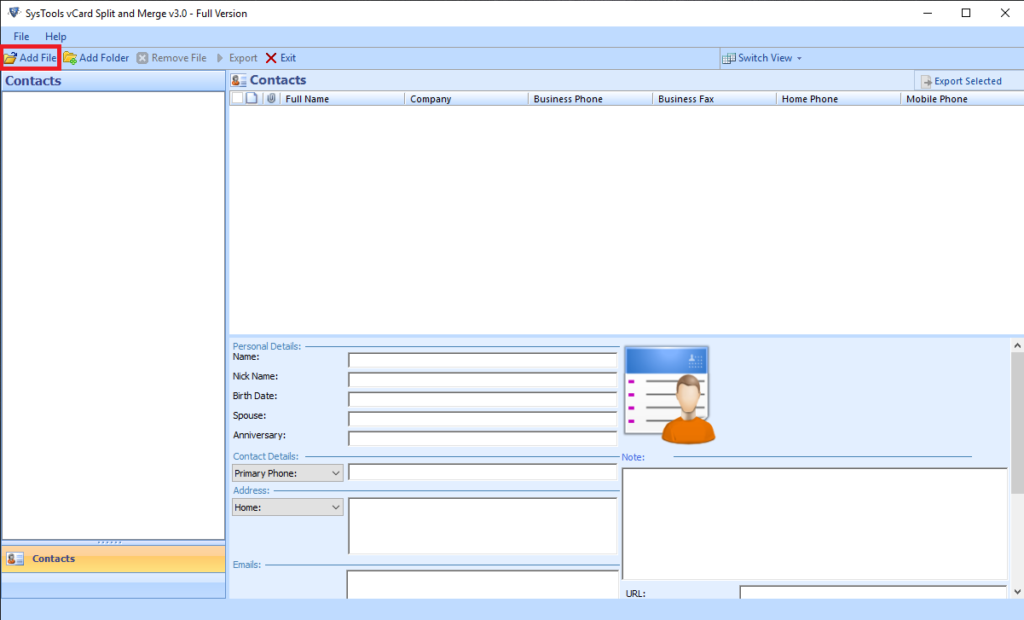 Step-3 Then the software will scan all vCard files.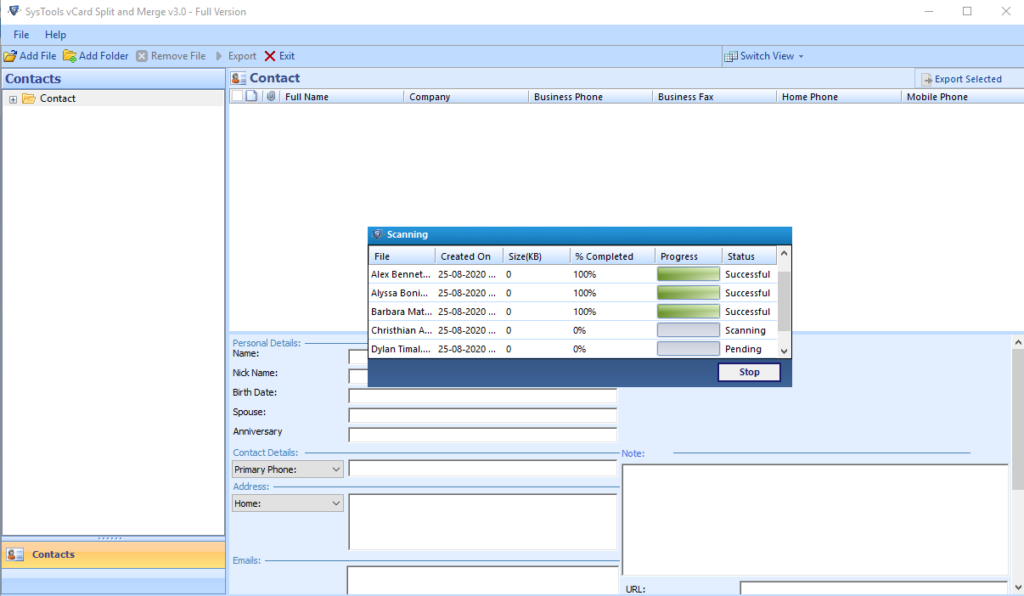 Step-4 Now click on the "Ok" button and the tool will display the preview of the added files.

Step-5 Click on the "Export" or "Export Selective" button to start the process.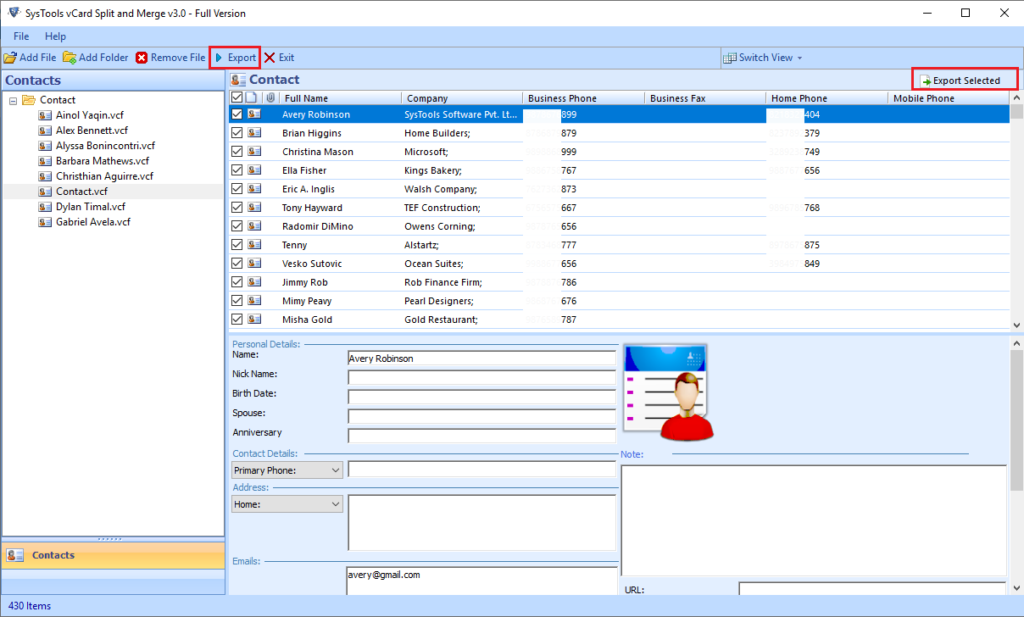 Step-6 Then the tool will provide you the two options, select the Split vCard file option or merge multiple VCF files.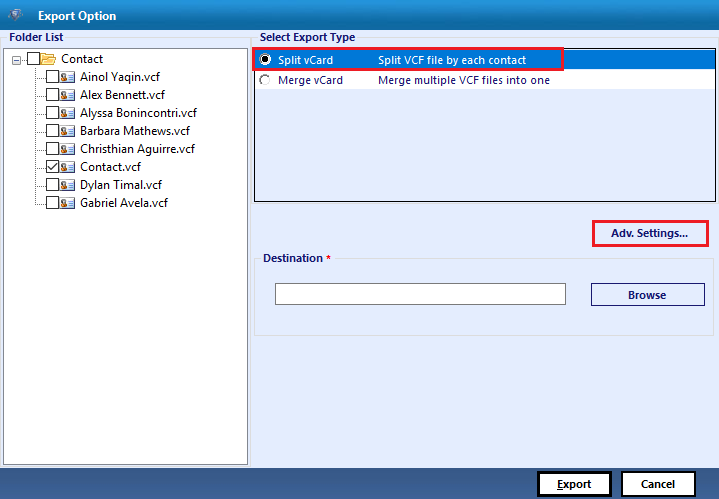 Step-7 Now select the suitable version of the VCF file from "Advanced Settings ".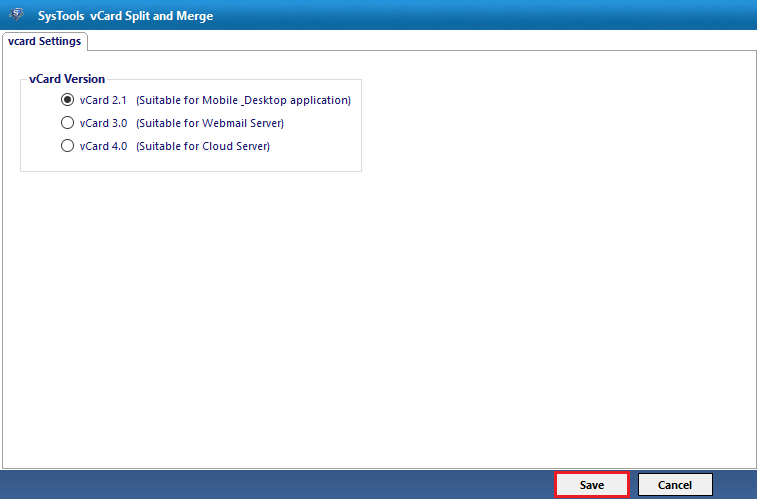 Step-8 Choose the destination path of the exported files.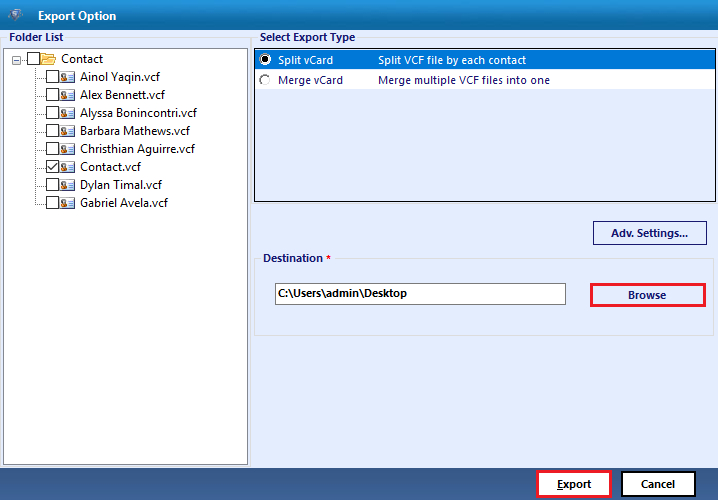 Step-9 Now the process is complete successfully. Then click on the "OK" button

Final words on Best VCF Splitter Software for Windows 10
In this blog, we are trying to provide the solution on how to split vcard files on Windows devices easily. This perfect utility can easily split VCF files to multiple contacts without losing any single data.
Users can go with manual ways to split vCard files on Windows but we suggest you go with using a professional tool to know how to split vCard files to multiple contacts for the safety and security of VCF's data.