How to Split vCard into Multiple Files with Ease?
Riya Mathew
| Modified: September 22nd, 2023 ~ 5 Minutes Reading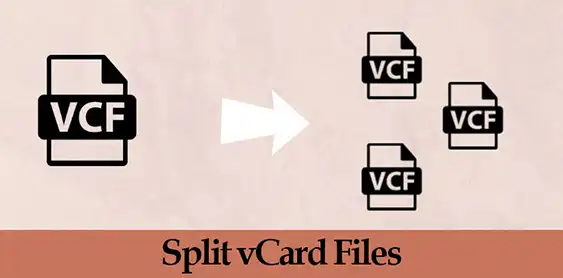 Are you searching for the best way to split multiple VCF files easily? Then you are on the right page. In this blog, we talk about the third-party application that helps you to understand the procedure to split vCard into multiple VCF files without losing or deleting a single piece of information. 
The vCard file is an electronic business card also known as a VCF file that includes important details like contact, name, phone number, email address, company name, and other information about a person. These files are widely used to move contact information between address books and saved data in a text format so that users can easily check or read the all information in a text editor. 
Query –Hello, I want to transfer my VCF file to my mobile phone but my vCard file contains a large amount of unnecessary contact information. So is there any easy way to split my VCF file into multiple contacts? That will make me easy to import my required contacts data.
Now let's get into the procedure to split multiple VCF files and split the VCF file into multiple contacts in Windows OS without any hassle.
An Instant Way to Split VCF into Multiple Contacts
1 →

Download

and

Launch

the smart tool.

2 → Select the

"

Add File

" tab.

3 → Hit "

Browse

" to select the file for splitting.

4 → Next, check the

Split vCard

option.

5 → Finally, click on

Export

to split into multiple contacts. 
Manual Solution to Split One VCF into Multiple vCard Contacts
Here is the manual method to split single vCard file into multiple contacts. Make sure to follow the entire process carefully to get the precise results. If you get stuck at any step then start from the beginning. With that being known, let's dive in.
Firstly, navigate to

C:\Users\%username%\Contacts

. Then, choose the

Import

option.

Next, under the "

Import to Windows Contact

" wizard. Choose the

VCF

option, and tap on

Import

. 

After that, select the vCard contacts file for splitting.

Now, click on the

OK

option to Split one VCF to multiple VCF files.

At last, the

Properties

window will appear for each contact simultaneously. Make necessary if you like and hit on the

OK

option. 
Shortcomings of Manual Approach Split VCF File to Multiple VCF Files
Time consuming and arduous task to split a VCF file into multiple contacts.

Chances of missing or data loss during the contacts transfer. 

Need to have a complete understanding of the split process.
Smart Solution to Split Multiple VCF File Extension
SysTools vCard Split Tool is the software to split VCF file to multiple contacts. The software supports the option to spill only the required contact information from all versions of VCF files created by different platforms. The tool is capable to maintains all the contact information during the process. It can also merge multiple VCF files. The tool also provides to preview of all the VCF file contacts in horizontal as well as vertical view options.
Step-Wise Guide to Split vCard File Format
Install and run the application on your device to split multiple VCF files.
To add vCard files to the software, select the "Add File" or "Add Folder" option from the top-left corner of the tool.
Now the tool will scan the several VCF files that you have selected.
Click the "Ok" button to proceed further after the scanning is done.
Then click on the required vCard file to preview it.
Select the contact file to split vCard into multiple single files.
You can also split multiple VCF files by selecting all and clicking on the "Export" option.
If you want to split only the selected files then click on the "Export Selected" button.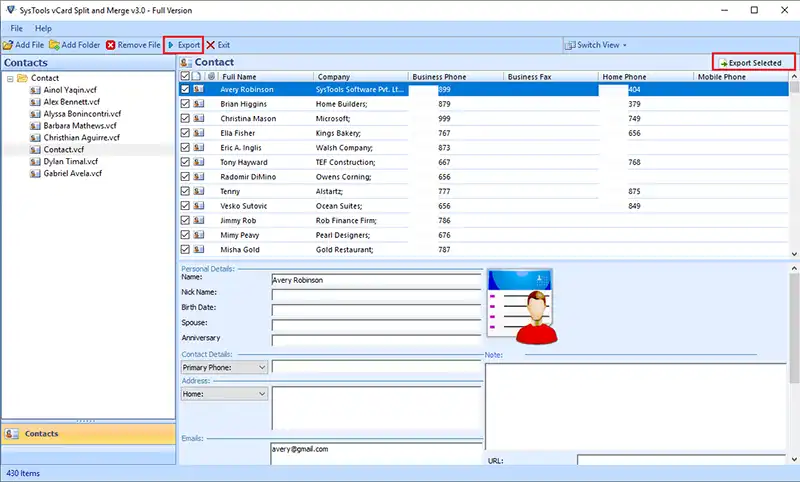 Now two options will be available, click on the Split vCard option.
Then select the VCF file version i.e., v2.1, v3.0, v4.0. from the "Advanced Settings".
Locate the path to save the vCard files on your system and click on the "Export" option.
The software will display the live report of the process.
Click on the "Ok" button after the export task completes successfully.
Incredible Features of the VCF Splitter Tool
Split Multiple VCF Files into Individuals – The software is capable to split a complete vCard file into a single file without any hassle. 
Split the Required Contact File – The software is able to split a particular vCard file format into multiple contacts and can create a single VCF file. 
Maintain Contact Information – The perfect utility permits users to preview and can maintain all the contact data such as name, phone number, address, email ID, images, etc. 
Last Words 
In the above blog, we have provided a safe and secure way to split multiple VCF files into multiple contacts by using a third-party application. Notwithstanding, there are hundreds of manual solutions available online but they can be tricky and users may face issues like data deletion. We suggest you go with a professional way if you have large vCard files to carry out the process daily. 
Frequently Asked Questions
Q: Which versions of vCard are compatible with this utility?
A: This utility offers support for commonly used vCard versions like 2.1, 3.0, and 4.0, ensuring compatibility across different vCard standards.
Q: Is this software compatible with VCF files from other platforms?
A: Absolutely, this is a versatile tool. Thus, it is capable of handling VCF files from various platforms, including Outlook, Gmail, iCloud, Skype, and more.
Q: Is there an option to selectively choose which VCF contacts to split?
A: Certainly, you have the flexibility to handpick the specific contacts you want to split from the VCF file using this VCF Splitter.
Q: Does this vCard Splitter tool maintain the integrity of contacts in the resulting file?
A: Yes, this tool seamlessly intact all the contact information like names, addresses, email addresses, phone numbers, images, descriptions, etc. in the resulting file. In addition, it also retains every detail without any risk of data loss.