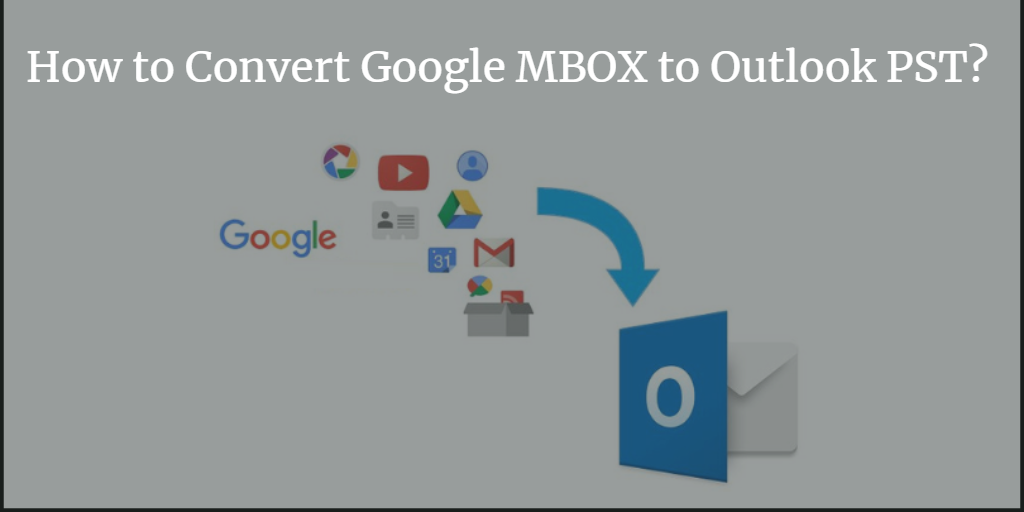 Have you ever downloaded your Google data via Takeout or Takeaway project? Do you know that the Gmail emails are exported in the MBOX file format? Are you looking for a way to convert Google MBOX to PST so you can access it in Outlook 2019, 2016, 2013, 2010 or another version? If yes, then you are in the right place. In this blog, we will discuss the Google MBOX file and how to export Gmail MBOX to PST Outlook format. Keep reading for a complete step-by-step guide.
Google provides a Takeout service that allows its users to export all their Google product data such as Gmail, Youtube, Hangout, etc. onto their devices. The data is grouped and compressed in a .zip/.tgz file with separate files for different data such as calendar, contacts, emails, images, etc. Once you extract the files from the compressed folder, you can open and view them as per requirements. In many cases, users want to import Google MBOX in Outlook which is not an easy task. Since Outlook does not support MBOX files, users need to convert Google Mail MBOX to PST which is the proprietary file format of MS Outlook.

In case you haven't already backed up data using Google Takeout, you can follow the steps given in the next section. Else, simply skip to the method to export Google MBOX to PST file format.
How to Export Google Data via the Takeout Service?
Using the Takeout service is fairly easy. You just need to follow the below-given steps and you can easily export Gmail to MBOX and all other Google data to their associated file formats.
1. Log in to your Gmail account and start the Google Takeout service from this link:
2. Select the data items that you want to archive. Make sure to select the "Mail" option to export all your Gmail emails into MBOX format. Once done, click on "Next".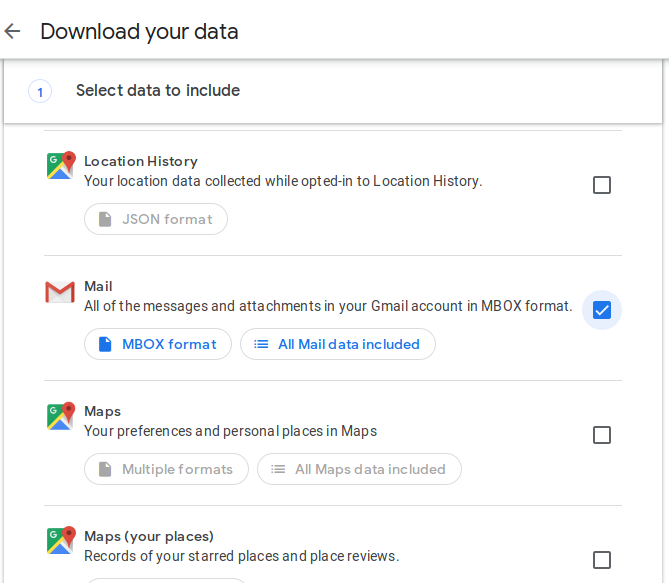 3. Select the File type, size of the archive and the delivery method. Click on the "Create archive" button.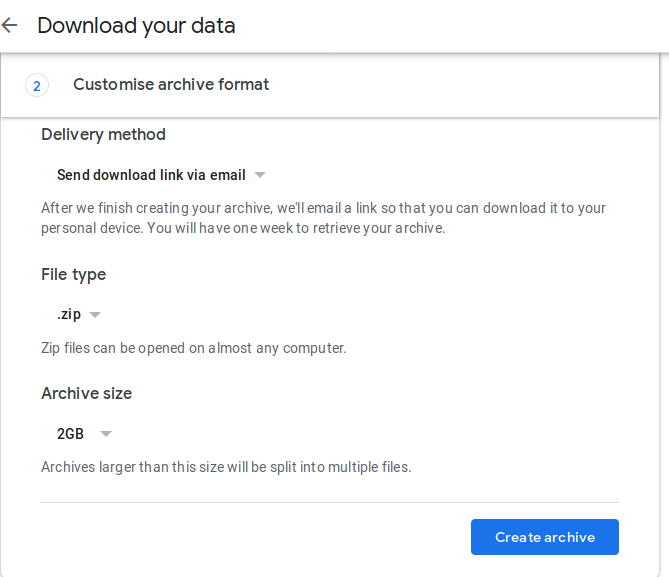 4. Google will start preparing the archive. Do note that this process takes time equivalent to the size of your data to be archived. It may take mere minutes or even days to create the archive depending on your data.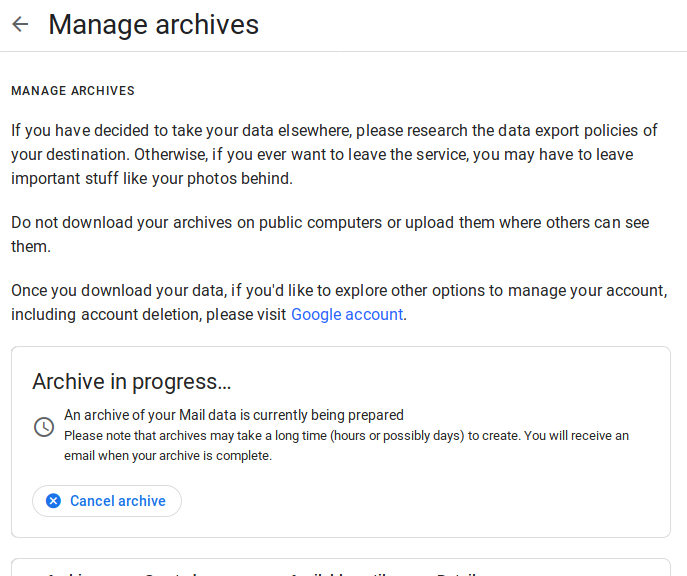 5. Once the above process is complete, an email will be sent to you. Open it and click on the "Download Archive" button to start downloading the Google archive.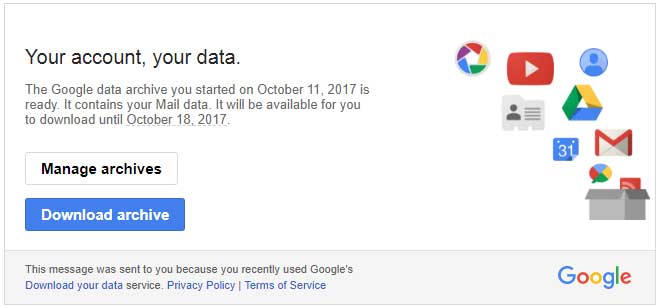 6. If you are provided with a Zip folder, extract the contents to find the MBOX file in the Mail folder. We will be converting this Google MBOX to PST in the upcoming section.
Note: If the Google Takeout fails to archive your Data, you may want to take a look at this blog (https://technewskb.com/google-takeout-failed/) to know why sometimes Google takeout fails and how to resolve it. Rest assured, if you receive no such email notifying you of the failed service, it's just that your data is large and it will take some time to process it completely.
Simple Method to Convert Google MBOX to PST File
MS Outlook does not support the MBOX file format. It uses the proprietary PST format that stores emails, contacts, tasks, notes, calendars, journals, etc. in a single file. There is no official solution to import MBOX to Outlook. Thus, to be able to perform Google Mailbox to PST conversion, we are introducing a reliable and instant software solution i.e, SysTools MBOX to PST Converter.

This autonomous tool can convert multiple Gmail MBOX files to PST format at once. So if you have the Takeout file of multiple Google accounts, you can use this software for an instant conversion. Moreover, this tool preserves all the email attributes, formatting, inline images, and attachments of the Google MBOX file. It also ensures that the header information such as address, to, from, and other metadata is kept original even after the conversion.
Steps to Export Google Mailbox to PST format:
Run the Google MBOX to PST converter on the system.

Click on "Add File" and browse the Takeout MBOX files.

Preview the Google emails in the software interface.

Click on "Export" to start converting Gmail MBOX to Outlook PST.

Finally, import the PST file in Outlook irrespective of its version.
With this, you are now all set to access your Google data in Microsoft Outlook in a trouble-free manner. This method ensures that no changes are done to the MBOX content other than transferring them to the PST format.
If you do not know how to import the resultant files in your Outlook account, you can follow the steps given below to do so.
Run Outlook and click on the "File" menu.
Next, select "Open & Export" followed by the "Import/Export" option.
Select the option "Import from another program" from the displayed list and hit the "Next" button.
Now choose the option "Outlook Data File (.pst)" and again hit the "Next" button.
"Browse" and select the converted Google MBOX to PST file and click the "Next" button.
Select the folder in which you want to import the Google data and proceed with the instructions until you finally click the "Finish" button.
Conclusion
Google Data Liberation Front provides the Google Takeaway or Takeout service that allows Google users to download their data onto their devices. It exports the Gmail data in MBOX format. Although this is the most popular mailbox storage format currently, it is not supported by Outlook. So if you want to access your Gmail Mailbox in Outlook, you need to convert Google MBOX to PST which is Outlook supported file format. This blog provides a simple yet efficient way to do so with the best in class conversion software. You can download its free version now for instant and accurate Gmail MBOX to PST results.