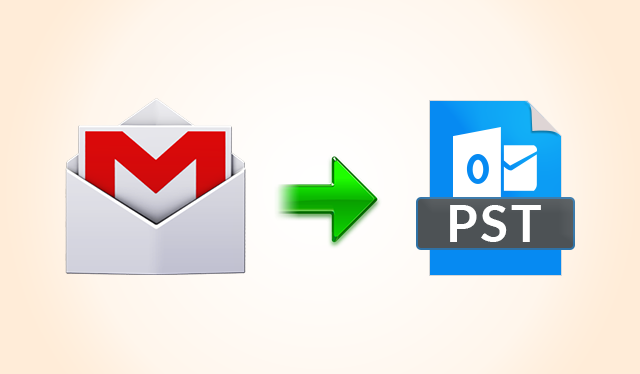 Gmail is known as the emperor of free email service. Even I have been using it since 2011. We can take backup of Gmail account in MBOX format using Google Takeout. But, Google doesn't provide any means to export Gmail emails to PST format. 
User Queries:
"I am using MS Outlook in Windows 7. But there are some critical data that is stored in my Gmail account. So, I want to export those emails into my Outlook. Are there any solution to export Gmail emails to PST file? Please help!"
There are numerous Outlook users who wish to access their Gmail account in MS Outlook for offline access or to switch over to MS Outlook. However, due to the unavailability of the method from Google to export emails from Gmail to PST format, the user unable to complete the task. 
Reasons to Export Gmail Emails to PST Format
There are some reasons for exporting Gmail emails to PST file format. Please read the mentioned below points:
In Gmail the reply messages are composed of very small screen preview whereas in Outlook full-screen view is available.
Google advertising is time-consuming in Gmail.
In Outlook you can easily undelete the email whereas in Gmail you cannot recover the deleted email.
It takes 6 clicks to ban a message in Gmail while it takes only 3 clicks to do so in Outlook.
In Outlook you can sort your emails according to the file size but Gmail does not offer this.
MS Outlook has Social integration with Facebook, LinkedIn & Twitter.
Outlook has an integrated photo viewer. While Gmail displays all as embedded thumbnails.
Outlook provides unlimited storage space plus gives an additional 100 MB limit on Attachments. Gmail offers 10 GB storage & 25 MB limit on attachments.
These features of MS Outlook over Gmail often captivate users to migrate emails from Gmail to Outlook PST format.
Easy Method to Export Emails From Gmail to PST, Manually
If you want to export emails from Gmail to PST then it can be easily done manually using the POP3 protocol.
You just need to synchronize your Gmail account with MS Outlook using POP configuration. Once the configuration finished, MS Outlook will create a PST file (at the default location in C Drive) containing all Gmail emails. Below are the steps to export Gmail emails to PST file:
Configure Gmail With Microsoft Outlook
Open Gmail Settings >> Account Forwarding tab, Enable the POP. Now, save the settings & open Outlook
In MS Outlook, click the Settings icon from the upper right corner, & click "More Mail Settings". After that, click "Sending/receiving an email from other accounts" & then select "Add an email account".
In Gmail account, enter the Gmail address & password to connect Outlook & Gmail which is the final step to export Gmail to PST.
In the current wizard, click on the Advanced Option

& enter full address. Set the incoming mail server to be pop.gmail.com with the default port 995.
To know more how to configure Gmail with Outlook, click here: https://lettoknow.com/gmail-to-outlook/
Automated Solution to Export Gmail Emails to PST Without Outlook
The manual method discussed above exports emails from Gmail to PST using MS Outlook application and may not be that powerful all the time. The main problem with these methods is the risk of data loss. So to overcome the risk the user can prefer a third party solution that often provides Safe and highly secured methods.
Gmail Extractor is one such utility to save & export Gmail messages to PST file. The tool can easily take the backup of emails & export them into PST file format as per the requirement.
Additionally, the tool provides the 'Delete-After-Download' option, which will automatically delete exported data from Gmail account, when this feature is enabled.
Quick steps to export emails from Gmail to PST are as follows:
Download and Launch the Backup Utility
Enter Gmail account Id and Password for login & Authenticate
Choose the Catergory as "email" and email format as "PST".
Select the Folder filter & Date filter for selective emails export
Choose the destination location and click Start button.
Conclusion
As mentioned in the above article, Gmail is considered the king of the free email services. But, now we can say that Outlook has shown tremendous features that Gmail lacks. Through this article, the users can easily find the reasons to export Gmail emails to PST with attachments either using a manual or automated solutions.