Learn How to Reconnect A Disconnected Mailbox in Exchange Server 2016
This blog will describe different ways of how to reconnect a Disconnected mailbox in Exchange Server 2016. In Microsoft Exchange 2016, users may wish to get back disconnected mailboxes in various different scenarios. They may want to reconnect the mailbox to the same Active Directory user account or a different Active Directory user account.
In many cases, users also want to reconnect the mailboxes to a newly created mailbox or also to a linked mailbox that is associated with your account in which your Exchange Server resides.
One can reconnect a disconnected mailbox in Exchange Server 2016 using the manual and advanced solution. Once an Exchange mailbox is disconnected it is retained in the mailbox DB until the retention time period gets over which is 30 days by default.
Note: When the retention period expires the disconnected (disable or soft-deleted) mailbox deleted permanently and there is no manual method that recovers the purged mailbox. In that case, the advanced solution comes handy. It recovers hard deleted Exchange mailboxes and items from offline EDB file with no data loss.
Manual Techniques of How to Reconnect a Disconnected Mailbox in Exchange Server 2016
When it comes to reconnecting the disabled mailbox that is either deleted or removed then, there are two ways that are capable to recover the disconnected mailbox when it is in the retention period.
1. Using the Exchange Administrative Center (EAC):
If the mailbox is disabled then you can follow the below-discussed steps to reconnect disconnected mailboxes for the user's account.
From Exchange Server EAC, Navigate to Recipients → Mailboxes.
Click More options →Select Connect a mailbox option. After clicking this, all the disconnected mailboxes of the Exchange Server will become visible irrespective of soft or hard deletion.
Click the disabled mailbox → Click on the connect tab to get back the deleted mailbox.
The pop-up window provides 2 options: (i) Connect to the user account (ii) Connected to different user account
Select the options according to your preferences and reconnect disconnected mailbox in Exchange 2016.
(ii) Recover Hard Deleted Exchange Mailboxes Using Exchange PowerShell:
In this approach, you are required to make use of the Connect-Mailbox cmdlet in the Shell to reconnect the disabled mailbox. Along with this, you are also required to specify the type of mailbox to which you are connecting.
All the syntaxes for reconnecting 'linked', 'shared', and 'user' inboxes are discussed in the sections below:
Syntax:


The syntax discussed above explains a 'user mailbox' that connects to the parameters 'identity' and 'User' which specifies & recovers disconnected mailbox in Exchange Server 2016 and Active Directory user account respectively to connect the mailboxes.
Syntax:


The various different factors which are used in the above-discussed syntax connecting to a 'linked mailbox' represents:
Identity: Deleted mailbox in Microsoft Exchange Server 2016.
Linked Master Account: represents the Active Directory user account, where you want to get back the mailbox.
Alias: stands as a part of the email address which is on the left side of the '@' symbol for the inbox.
Syntax:


There is an example stating shared mailbox connection.
Note: If the Alias parameter is not incorporated when the command Connect-Mailbox cmdlet is run, the values described in the 'User' or 'LinkedMasterAccount' parameter will help to create the email address alias for reconnecting the disabled mailbox.
2. Recover Disconnected Mailbox in Exchange Server 2016 Using New-MailboxRestoreRequest cmdlet:
This approach is based on merging the data of the existing mailbox with the disconnected mailbox. Mailbox Replication Service is used by New-MailboxRestoreRequest cmdlet for reconnecting the Disconnected Mailbox in Exchange Server 2016
Now, for the creation of a mailbox reconnection request, the display name, mailbox GUID, or legacy distinguished name is mandatory to be displayed which has been deleted. For this, you need to use Get-MailboxStatistics cmdlet.
Follow the commands which are described below:

Disadvantages of Manual Techniques to Recover Hard Deleted Exchange Mailboxes
The above-discussed manual techniques possess some of the limitations which are described below:
Risk of data loss during process
Requires in-depth knowledge to execute PowerShell cmdlet
The procedure is complex, prolonged, and time-consuming
Makes it a lengthy procedure which the non-technical users cannot perform without expert assistance.
Automated Wizard For How to Reconnect A Disconnected Mailbox in Exchange Server 2016
Users can use Exchange Recovery software provided by SysTools to recover permanently deleted disconnected mailboxes from dismounted/offline Exchange database file efficiently and effectively without any loss of data. It not only provides a user-friendly interface but also comes with a guide that helps the user to successfully repair Exchange mailboxes.
This utility provides Quick and Advance scan mode option that removes corruption from Exchange EDB file and repair Exchange mailbox. The advance scan option recovers purged mailboxes and data items from loaded EDB file.
According to the level (minor or major) of corrupted Exchange database file, you can select the dual scanning mode. The software support various mailboxes such as: disconnected, user, shared, legacy, archive, and data items like – journals, contacts, tasks, notes, mails, calendars.
After recovery, you can save the recovered Exchange mailboxes and items directly to Live Exchange Server, Office 365, and PST, EML, MBOX, MSG, PDF, HTML file formats. The utility auto-generates the export report which stores the success and fail count of exported data.
Key Features Of Professional Software
The tool supports private and public EDB file
Maintains actual folder structure and data integrity
It recovers the highly corrupted and purged Exchange Mailboxes
Software provides the option to remove email encryption (SMIME/OpenPGP) from Exchange mailboxes in batch
Export Exchange EDB to PST, EML, MSG, and various file formats
Preview Exchange Mailbox data items: emails, contacts, calendars, notes, tasks, journals
The tool is compatible with Exchange Server, MS Outlook & Windows Operating System versions
How to Reconnect a Disconnected Mailbox in Exchange Server 2016/2013
Step 1: Download > Install > Launch Exchange Recovery Tool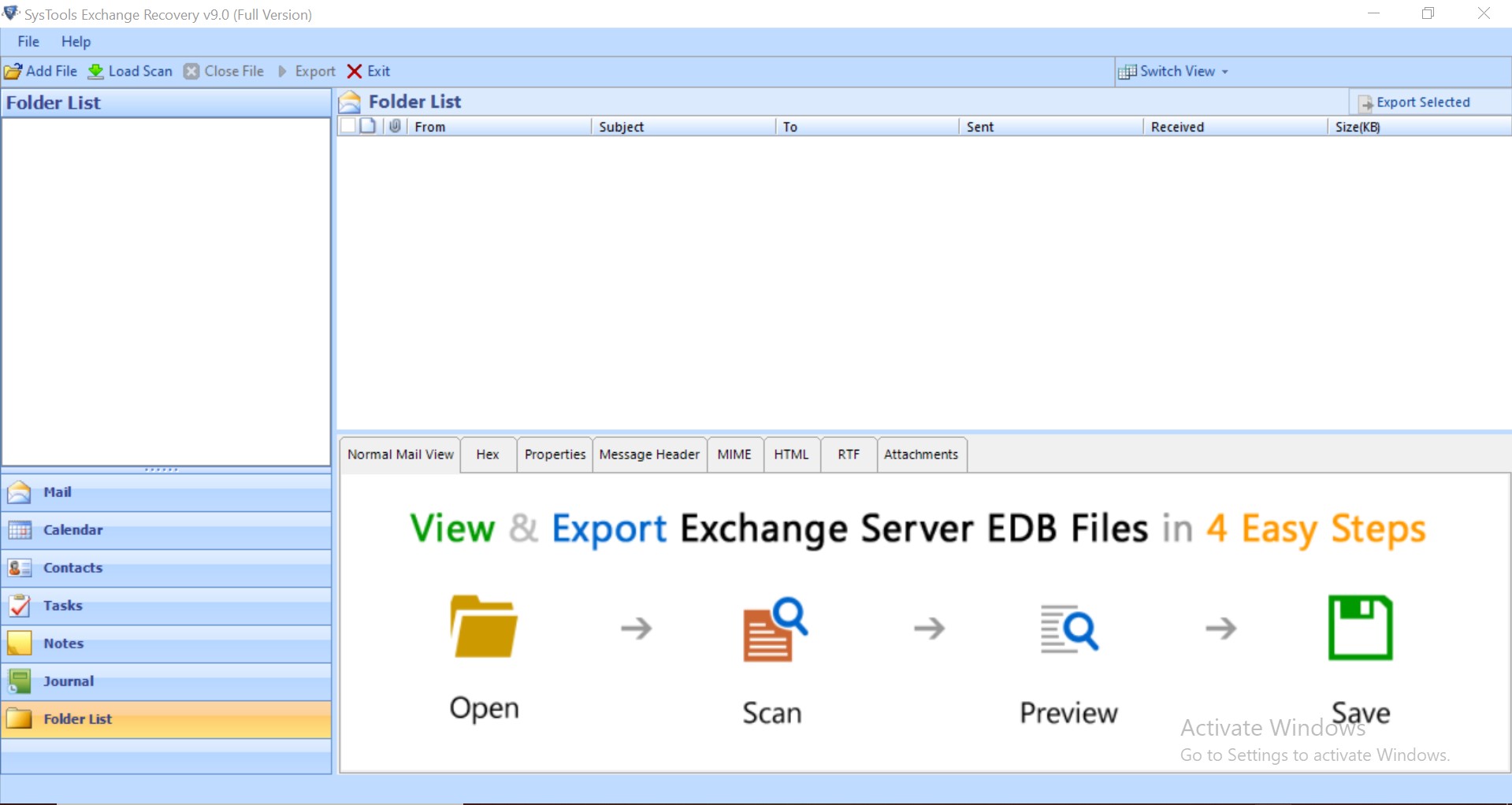 Step 2: Click on Add file > Load offline Exchange Database File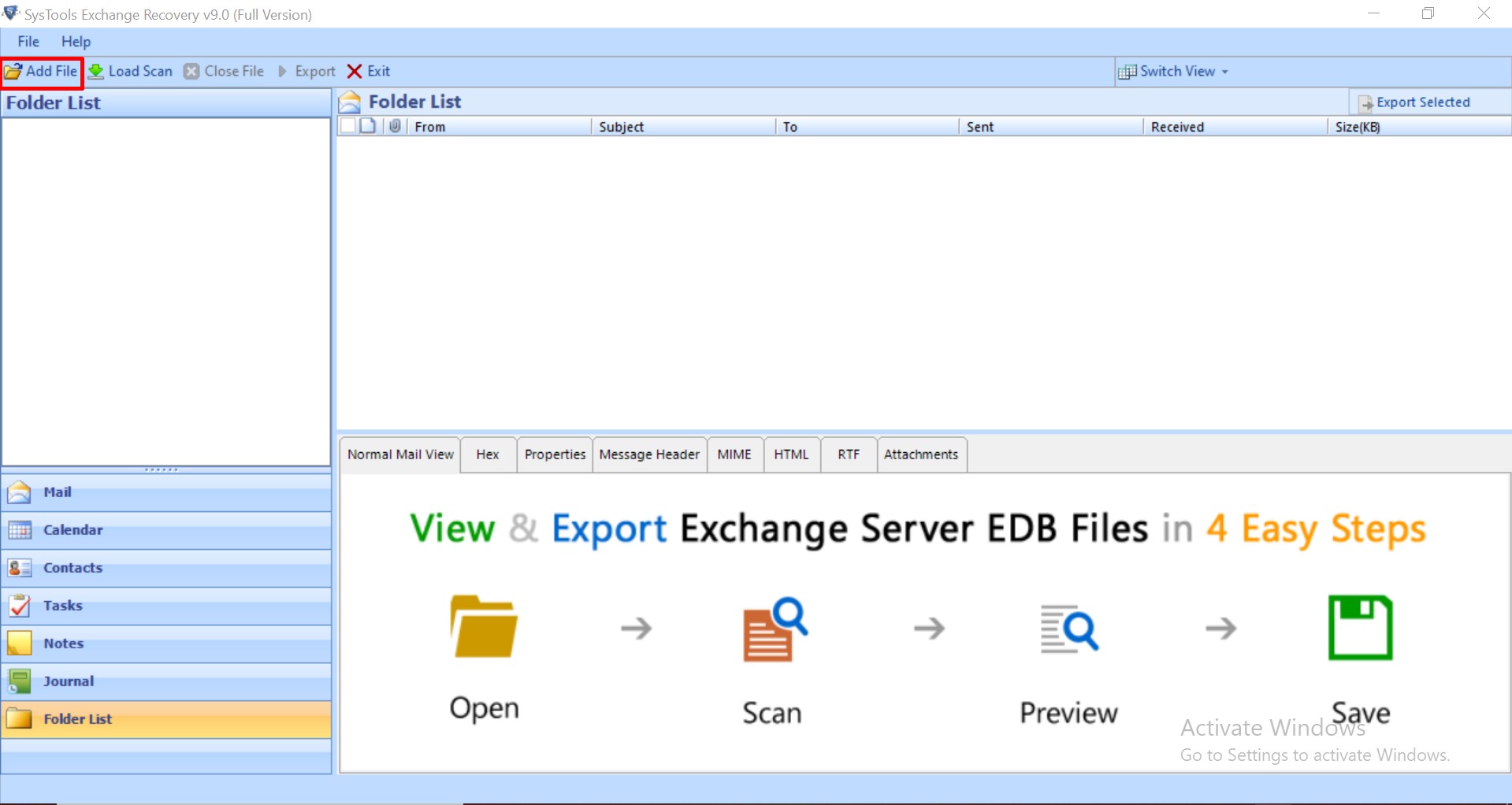 Step 3: Select advance scan option to recover hard deleted disconnected mailbox > Click on Add button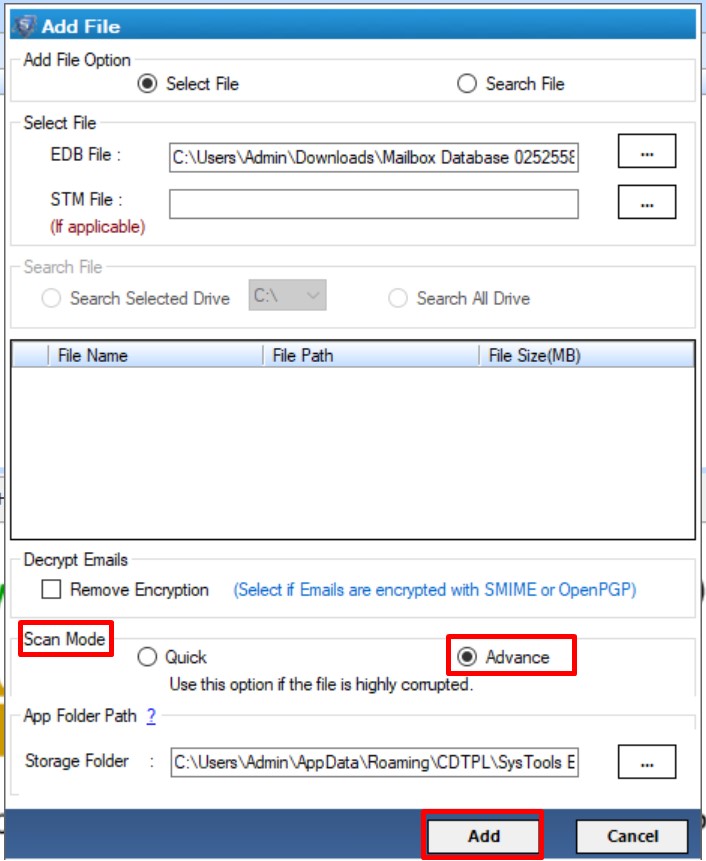 Step 4: Preview the recovered Exchange Database Disconnected Mailbox > Click on the Export button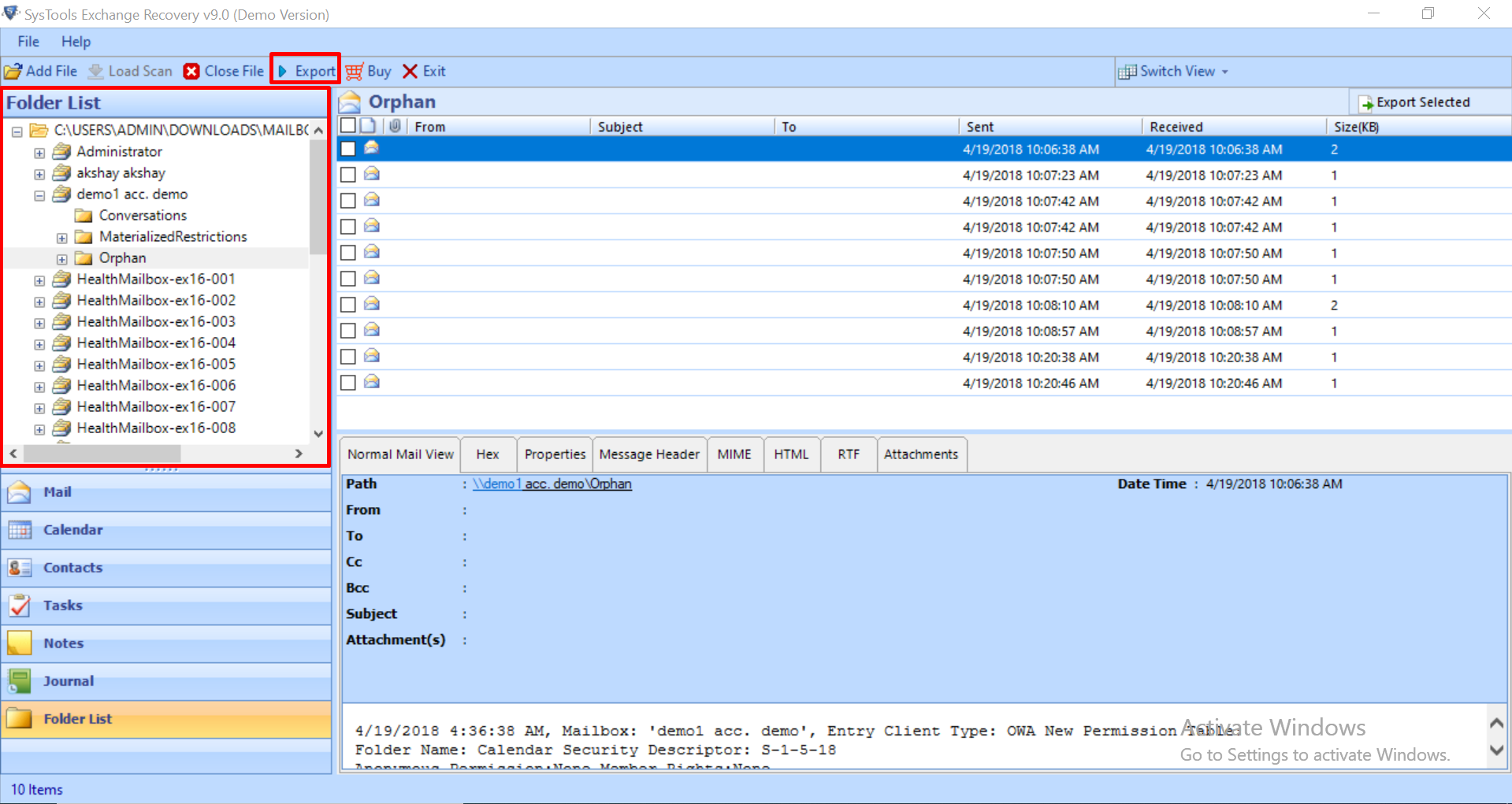 Step 5: Select the disconnected mailbox > Click on Exchange Live Server export option > Click on advance settings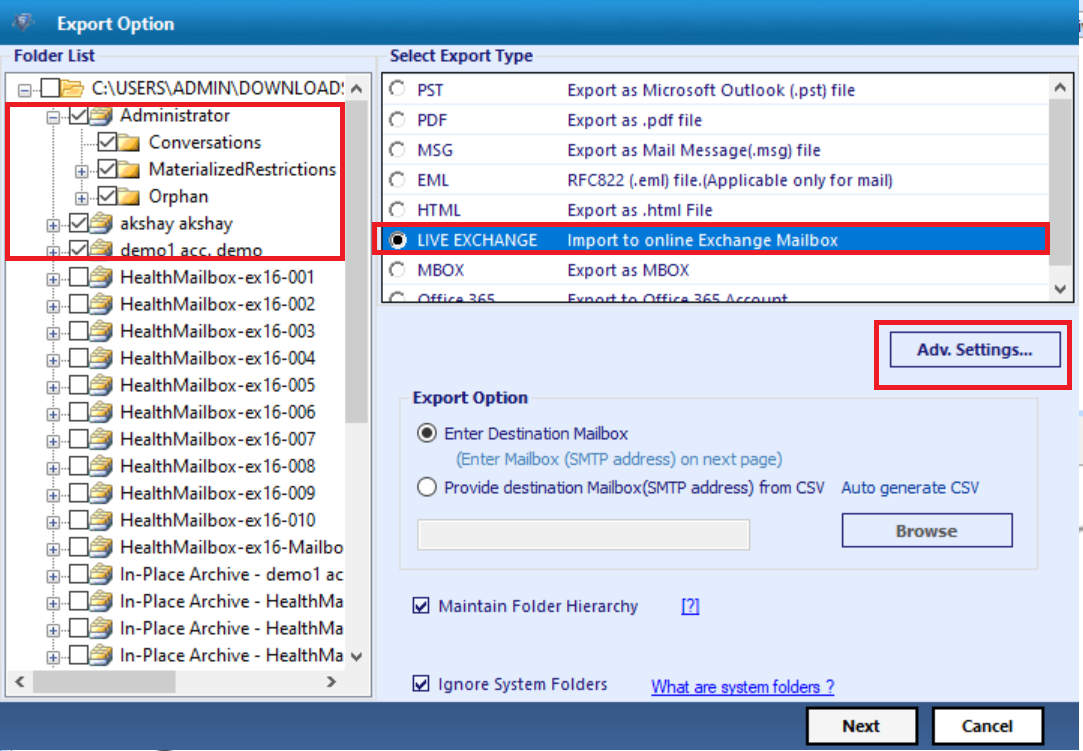 Step 6: Enter the Exchange Credentials > Select the Exchange Server version > Click on the Save button
Step 7: Click on Enter destination mailbox radio button > Click on Next button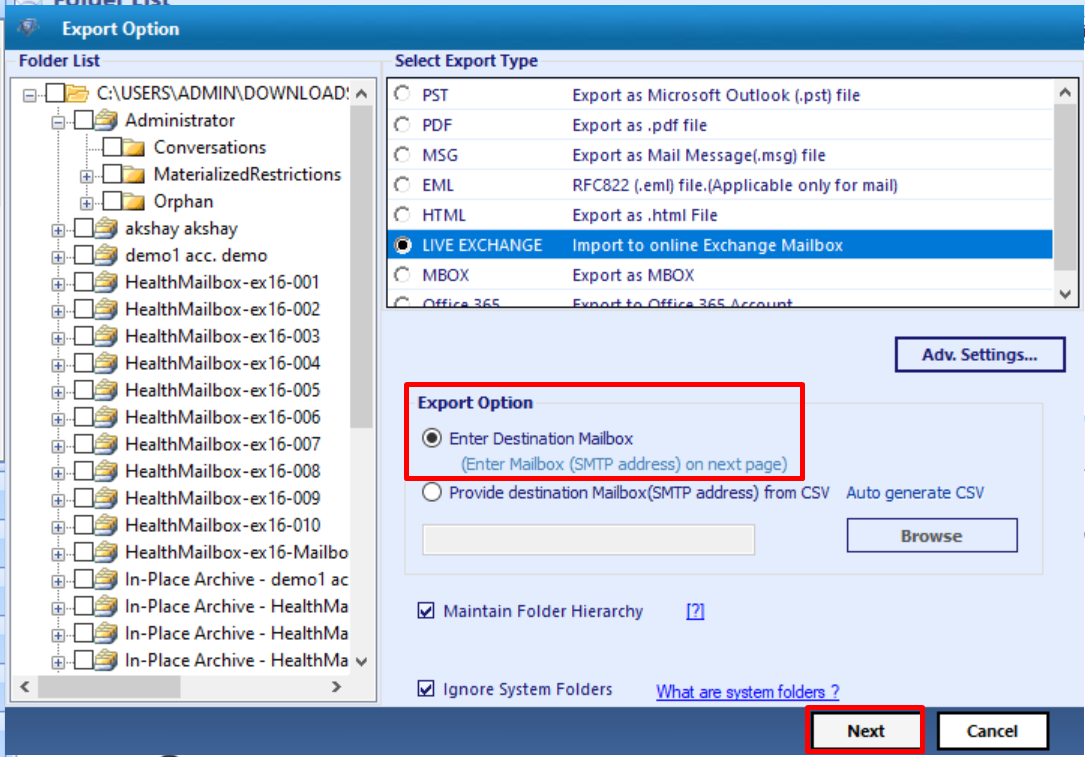 Step 8: Provide the Exchange Mailbox name for validation > Click on export button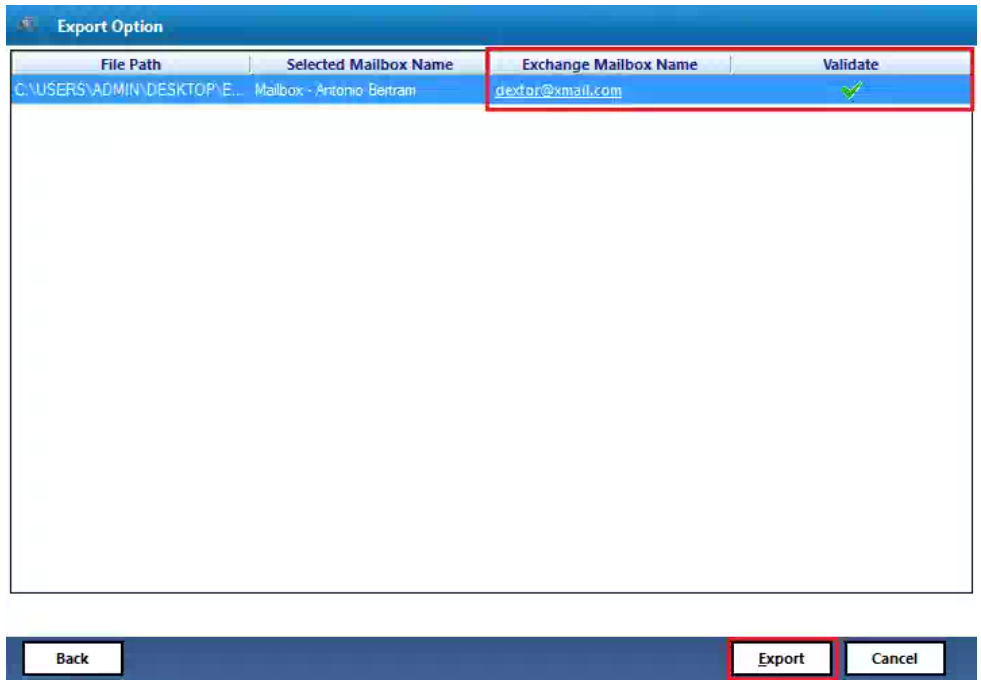 The disconnected mailboxes are successfully exported to the Exchange Server 2016.
Read More: Resolve Exchange Server Error 550 5.7.1
Conclusion
In this blog, we have discussed both the Manual and advanced solution. Although, Manual techniques are available free of cost but on the other hand they are quite lengthy and require technical expertise. You can use the method which is best suited for you but the solution provided by the automated wizard is really simple and quite effective. I hope now you know how to reconnect a disconnected mailbox in Exchange Server 2016.