Export Exchange 2003 Mailbox To Exchange 2010 & Cope End Of Life?
Ivanna Carlos
| Modified: September 3rd, 2021 ~ 6 Minutes Reading
In this article, we will discuss a method to export Exchange 2003 mailbox to Exchange 2010 in a simplified way without any data loss using advanced solution. Also, you will get to know why users are exporting their Exchange 2003 mailboxes to Microsoft Exchange 2010.
The End of Life policy applies to all brands of products which basically mean the end of support and update provisioned by a brand for a particular version of its product after a maximum of 10 years of duration (for products).
Similarly, Microsoft has currently reached the phase where it ends providing support to some of its long-lived products and services and Microsoft Exchange Server 2003 version is amongst them, which will be affecting many enterprises evidently.
What is Microsoft Up to?
Microsoft releases each of its products with a life cycle of its own. This life cycle is built to determine the time span till which its services and updates will last. The conventional support provided to MS Exchange 2003 is already over while; the expanded support was also ended on 8th of April 2014.
How Should You Deal With The "End Of Life" Policy?
There will be an End of Life policy for all Microsoft Products but there is a solution and way to deal with every crisis strategically. In addition, the only way to deal with such circumstances is to move out of the outdated version of Exchange to an updated one.
If you shall not compromise with Business Continuity, then upgrading your Exchange Server 2003 along with its data to Exchange 2010 version is how you can tackle this crisis. Before discovering how to export the Exchange 2003 mailbox to Exchange 2010, there should be a proper plan to execute the upgrade in an organized and convenient manner.
3 Stages to Export Exchange 2003 Mailbox To Exchange 2010
Stage One: Why Exchange 2010?
Before taking such a huge step you must also be aware of the aspects that drew you towards making the choice. You could have gone for Exchange 2007 instead, but most of us choose to go for Exchange 2010 when upgrading. Here are some of the top reasons why we tend to export Exchange 2003 mailbox to Exchange 2010:
Latest integrated process of archiving plus discovery potential
Integrated resilience model for Server mailboxes providing elevated availability with backup facility and disaster recovery
Consistent access of inbox, contact management, and calendaring on platforms ranging from PC to browsers as well as mobile devices
MailTips for notification of potential mistakes you could probably be making without noticing
Mailbox information protection via automated email encryption and email moderation
Convenience of delegating administrative rights to particularized users similar to the rank of a compliance officer or help desk
Have the freedom of operating Exchange Server on-premise as a Microsoft hosted service or as the hybrid of both preferences
Stage Two: Planning Upgrade Version to Export Exchange 2003 Mailbox to Exchange 2010
The version to upgrade from Exchange 2003 to Microsoft Exchange 2010 is necessary before its execution by proper planning . You are required to understand as well as fulfill the needs software plus hardware related needs of deploying Exchange Server 2010 client platform.
A proper balance needs to be made between limits of the network infrastructure being used along with the messaging platform, user application, and operating system. Planning the upgrade plus coexistence of Exchange 2003 to Exchange 2010 is the most important step.
Here, more than one Exchange server versions are able to communicate with one another. Along with this, information of the recipient, data resource, and information about the configuration can be shared. Some of the parts of the Exchange forest organization are still making use of the 2003 functions while the rest of the parts have finished the complete Exchange 2010 version upgrade.
Meanwhile, two more important aspects of the planning procedure include:
a.) Active Directory planning and
b.) Storage design of mailbox Server
IMPORTANT: Make sure that System-related and Server centric requirements relating to Exchange Server 2010 version are fulfilled.
Refer:
1. System Requirements
2. Prerequisites of Exchange 2010
Stage Three: Automated Wizard to Export Exchange 2003 mailbox to Exchange 2010?
Upgrade plus co-existence between Exchange 2003 and 2010 version is a complicated and lengthier process than anticipated.
The only way to make the process better and uncomplicated is via employing a professional solution i.e. Exchange Recovery software provided by SysTools instead of the co-existence of multiple Servers in a single Exchange forest despite upgrade. It can smartly repair Exchange mailboxes 2003, 2007 and other versions.
This Utility allows users to export mailboxes such as: legacy, disconnected, shared, user, archive from offline/dismounted Exchange database file to Exchange 2010 & above versions along with all data items like – mails, contacts, journals, tasks, calendars, notes.
It supports public & private Exchange database file and Streaming Media File (STM). This allows users to export all these files to Microsoft Exchange 2010 in a simplified way without any data loss. The tool is built with an interactive graphical user interface which saves users precious time and effort to perform the job.
The software provides scanning mode to remove corruption from Exchange database file. The quick scan mode recover minimal corruption and the advance scan recovers highly corrupted EDB file. This option also recovers permanently deleted Exchange mailboxes and items from loaded offline/dismounted EDB file.
Users can export selective or entire all Exchange mailboxes and items to Live Exchange Server, Office 365, and multiple file formats. You can easily convert pub1.edb to PST along with private Exchange database file. After conversion, the software auto-create export report in CSV file format which stores success and fail count of exported Exchange data.
Key Features Of Automated Software
Recover hard deleted EDB mailbox and data items
Preview recovered Microsoft Exchange mailbox items before conversion
Preserve on-disk hierarchy and keep metadata intact
Remove email encryption (SMIME/OpenPGP) in batch from Exchange mailboxes
Export Exchange EDB to PST, EML, HTML, PDF, MBOX, MSG file formats
Categories and date filter option to export selective Exchange database
Support all versions of Exchange Server, MS Outlook, and Windows OS
Steps to Export Exchange 2003 Mailbox to Exchange 2010
Step 1: Download the automated software and Run it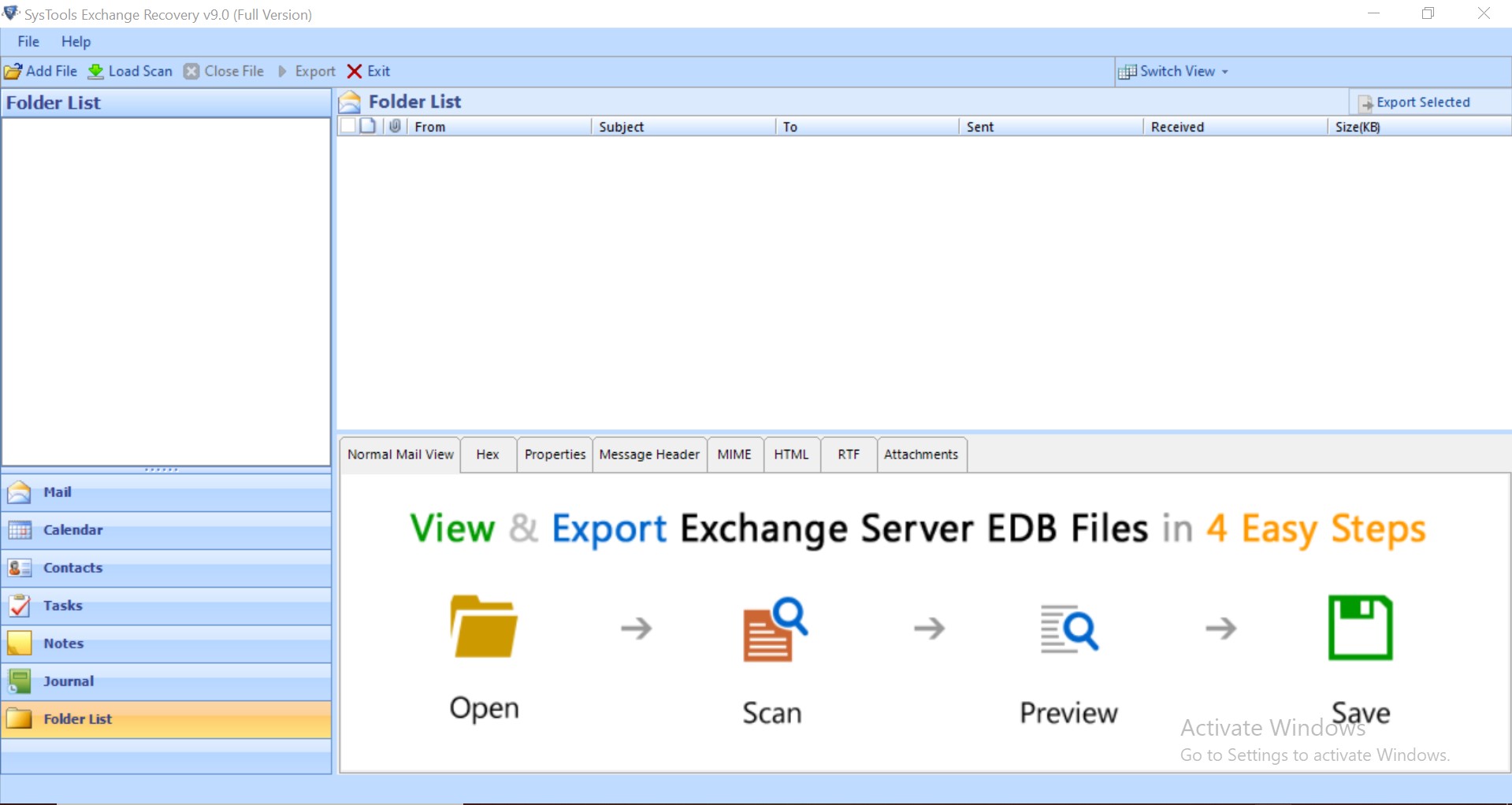 Step 2: Select Add File button > Load offline Exchange 2003 EDB file (Public and Private) > Click on Add button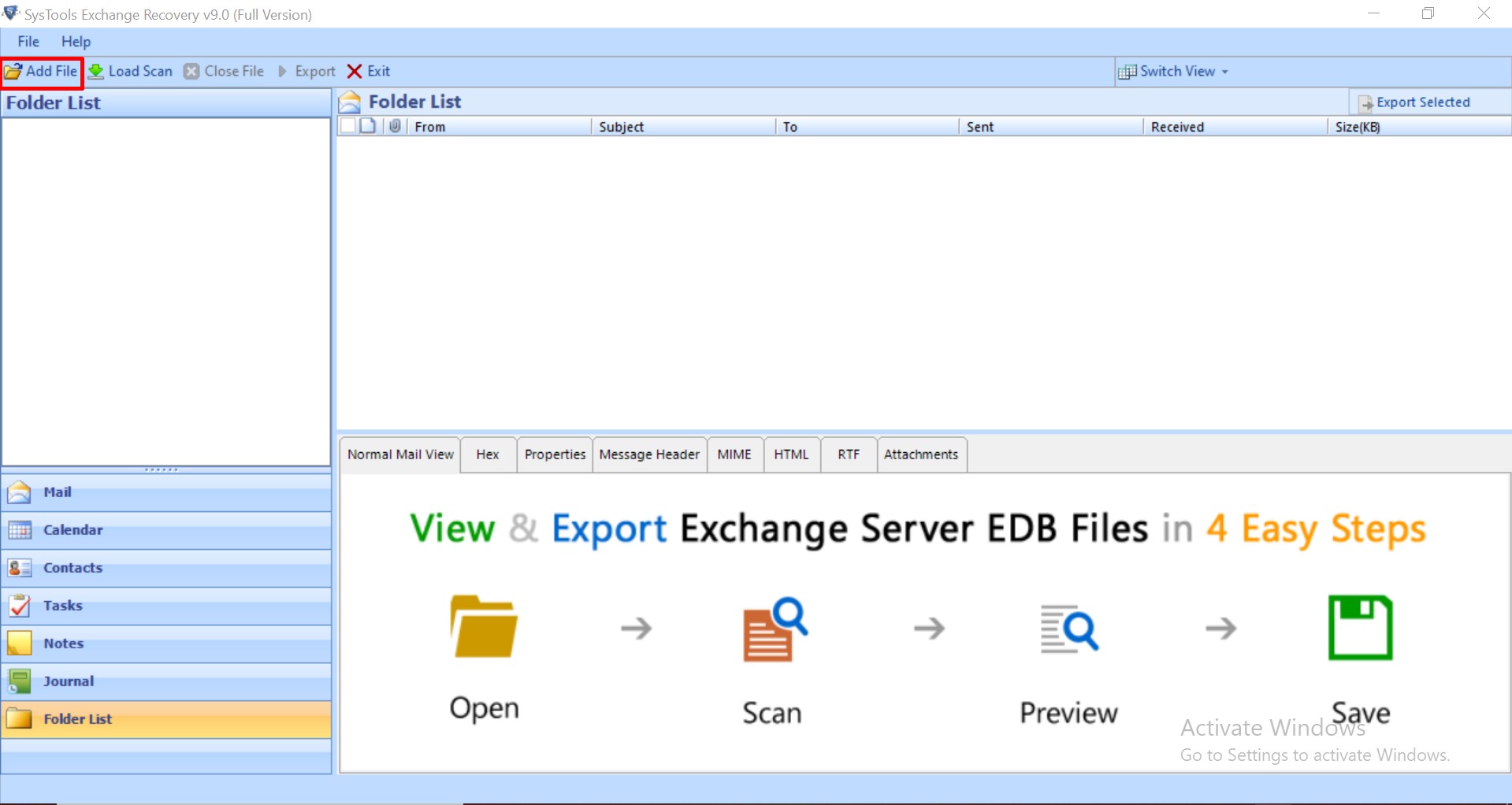 Step 3: Preview Microsoft Exchange database file data > Click Export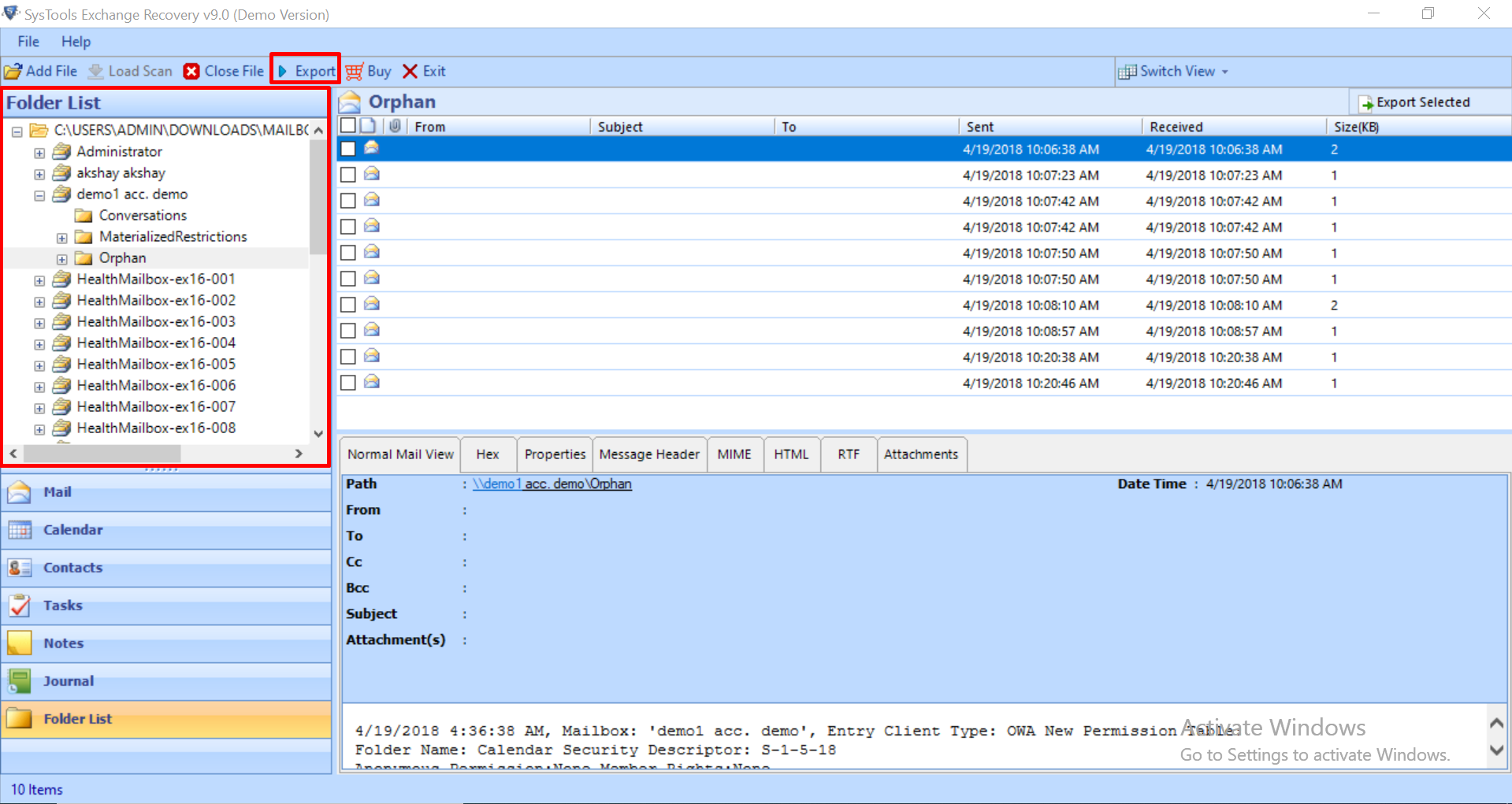 Step 4: Select Exchange mailboxes > Click on Live Exchange Server > Select Advance settings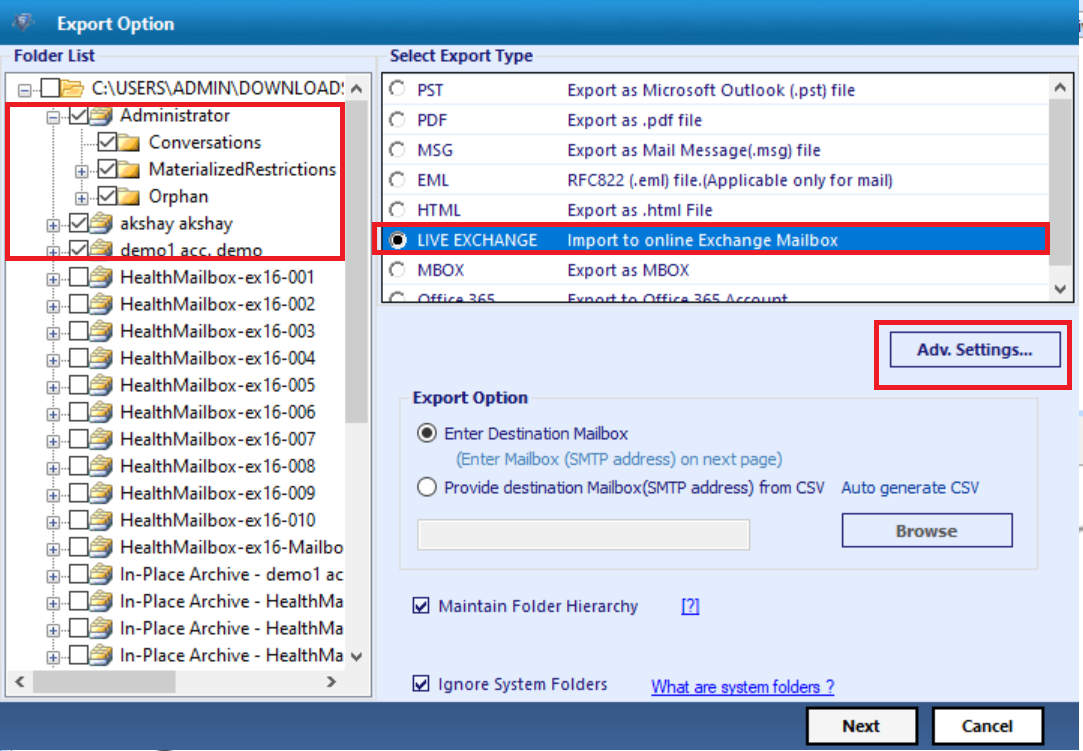 Step 5: Insert MS Exchange details like – ADMIN SMTP login & password, IP address, Select Exchange Server version > Click on the Save button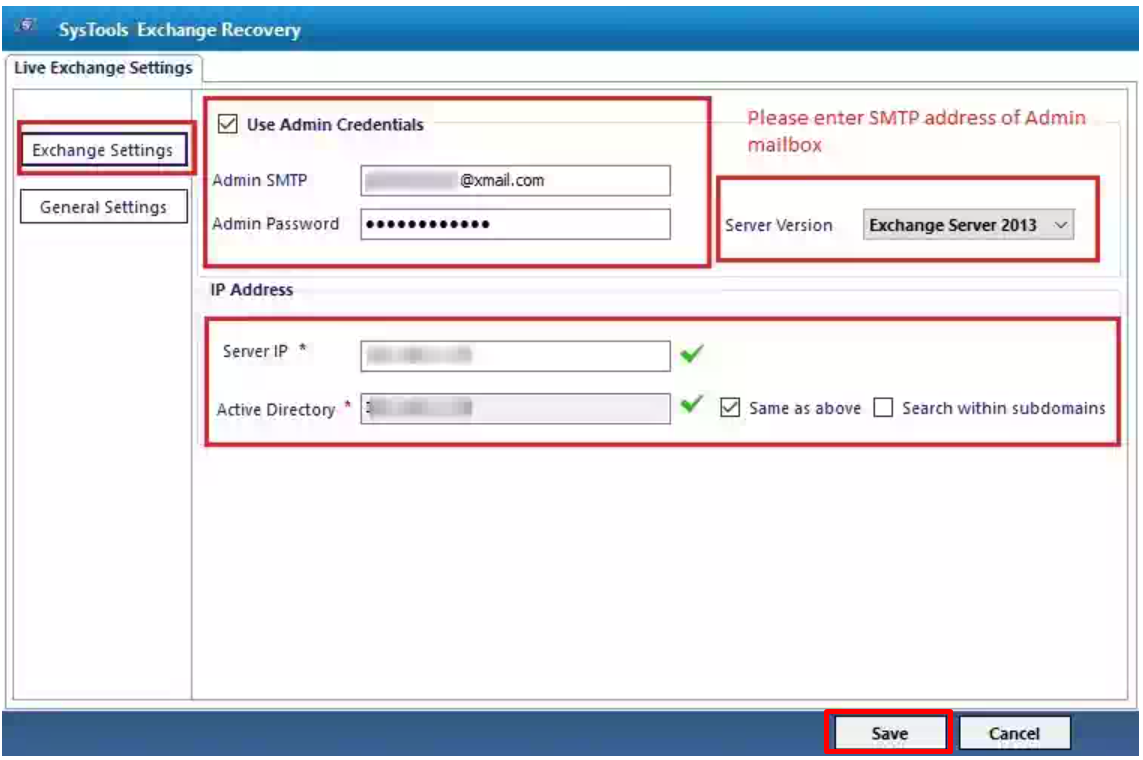 Step 6: Select the radio button "Enter Destination Mailbox" > Click on Next button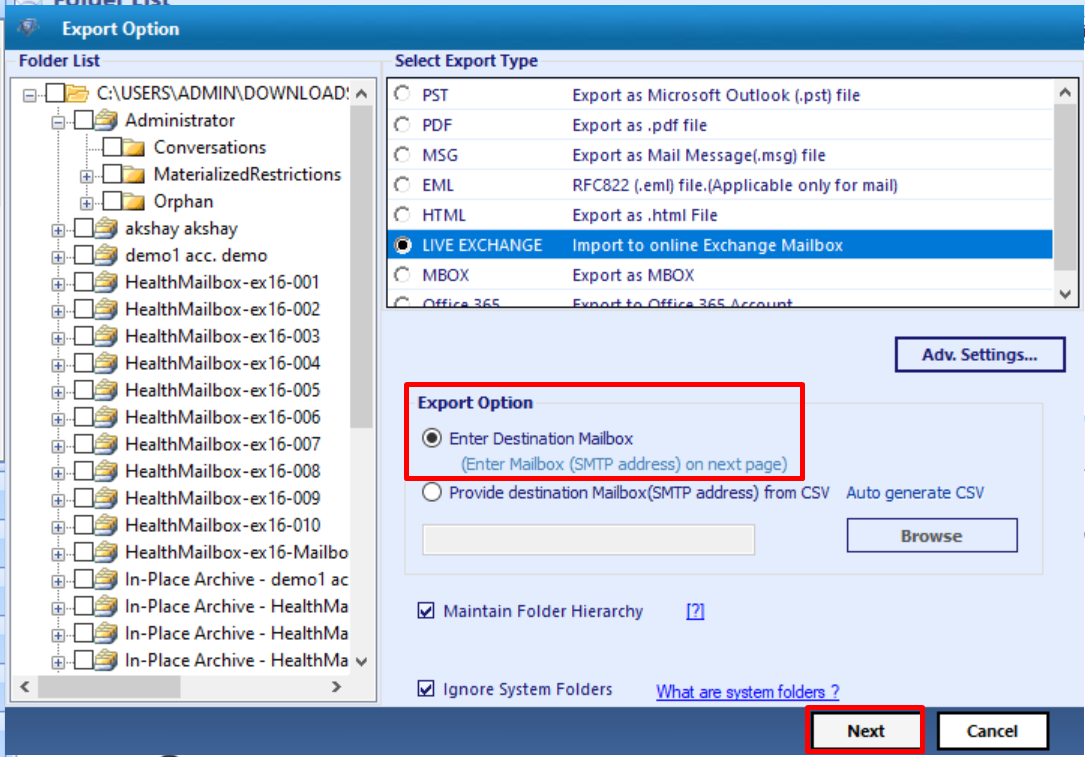 Step 7: The software validates the Exchange Mailbox > Click on the Export button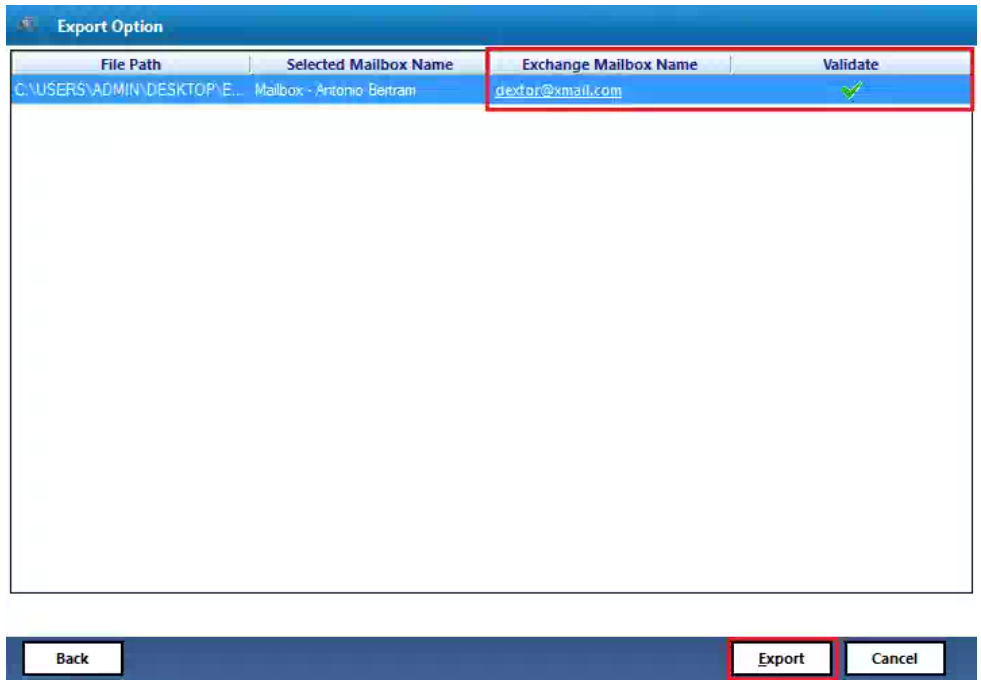 The Exchange 2003 mailboxes are successfully exported to Exchange 2010
Related: Exmerge to Export Mailbox to PST Exchange 2003
Wrapping Up
It is important to be updated with the technology. Therefore, we have come up with the advanced solution to export Exchange 2003 mailbox to Exchange 2010 in an efficient manner with no data loss. If you face any issue then, feel free to contact us at our 24X7 hours support service.