Outlook Cannot Open OST File Error – Solved
Microsoft Outlook cannot open OST file and you are unable to access emails. Don't worry this post will help you in fixing this issue and make your OST file accessible.
Offline storage files hold important data of Microsoft Outlook mailbox. It enables users to operate emails even in an offline mode i.e., in the absence of internet connectivity. These offline storage files are popularly known as OST files, which are the replica of Exchange mailbox system on the Exchange server.
However, a situation occurs in Outlook where when users try to open OST file in Outlook they encounter error message. This means that OST file is inaccessible and the respective application is denying to access this Outlook file. Therefore, in this blog, we are going to discuss the reasons behind the occurrence of such a situation and measures to fix it.
Instant Solution: If you want to fix Outlook cannot open OST file issue, then you can try SysTools Software to extract the data of OST file and repair Outlook OST File efficiently and reliably in Outlook 2021, 2019, 2016, 2013, 2010, and all below versions.


Reasons Behind OST File Error
There are many reasons behind the occurrence of Outlook cannot open OST file error. Some of them are mentioned below:
Corruption in OST File: The Outlook OST files are saved on local machines, which when connected to the server saves all files locally. Well, due to some disastrous activities (like virus attack, malware functioning, etc.) on the computer, there are high chances of OST file corruption. Such corruption results in an inaccessible mode of offline folders.
Improper Synchronization: If OST file does not get properly synchronized with the Exchange server, then this will also lead to such error occurrence. The file will show an error message when one will try to open it on Outlook.
The absence of Few Mailboxes: Sometimes Exchange mailboxes, which are related to an OST file gets deleted accidentally by a user. This situation results in inaccessibility of offline folders. If the server is not able to operate mailbox then, it throws Outlook cannot open OST file error.
Read More:- Best OST Viewer to Open and Read Outlook OST File
Solutions to Debug Cannot Open OST File Error
Well, there are different workarounds for fixing Outlook cannot open OST file error and they are described below:
Solution 1: Locating and Verifying File Information
Place the OST file, which is generating an error, on default path of Microsoft Outlook files and try to find out its reasons for corruption
Once examine that Outlook profile and the Exchange-related credentials all are correct
Verify that the connection between MS Outlook and the server is fine
Give a try to open OST file by renaming it and again open it in Outlook. If the trick works then, no need to proceed further; else continue
Solution 2: Repair Offline Mailboxes of MS Outlook
Outlook provides an inbuilt utility i.e., scanpst.exe, which is used to repair corrupted OST/PST files. Therefore, users can try this workaround to repair profile.ost file. Follow the instructions to fix Outlook cannot open OST file issue.
Launch Windows Explorer on your machine and then go to C:\Program Files\Microsoft Office\root\Office16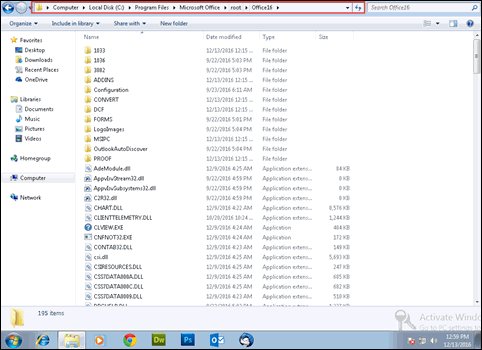 Type scanpst.exe in the search text box of explorer and hit Enter key

Now, right-click on this inbuilt utility and then select Run as administrator option

Select Yes option from the current dialog box to start using scanpst.exe tool

Hit on Browse button and select the OST file, which is causing an error in Outlook. Click on Open to proceed further

After successfully loading the OST file in the utility window, click on the Start button for initiating scanning procedure

A window will appear that will indicate whether the selected OST file is corrupted or not. If no, then no need to proceed further; else move to next step
Now, select the option of Make backup.. and hit on Repair button to initiate the first scanning phase of scanpst.exe tool

Wait till the completion of all eight phases of scanpst.exe tool and then click OK to continue working with repaired OST file
Solution 3: Remove and Recreate Existing Profile
Another approach to fix Outlook cannot open OST file problem is to delete and then again recreate OST file. To perform this measure, go through following a set of instructions:
Note: Take a backup of all your data from the existing Outlook profile in order to avoid data loss
Open Control Panel window on your machine and then select Mail option from the current window

Click on Show Profiles button to proceed further

Highlight the profile, which you want to remove and then hit on Remove button

After completely deleting an Outlook profile, click on Add button from the current window of Mail. This will be the initial step to start creating a new profile
Proceed further with the procedure to create new an Outlook profile and then click on OK button
Now open MS Outlook again on your machine and examine whether the problem is resolved or not
Solution 4: Open Microsoft Outlook in its Safe Mode
The procedure involves the steps to launch an email application without any add-ins, which are presently available in a machine. In order to open Outlook in Safe Mode, follow any one of the two following approaches for the same:
Press the Ctrl key on your machine and then click on Outlook icon while holding this key
Open Run window on PC and execute outlook/safe command
Observational Verdict
An Outlook error message i.e., Outlook cannot open OST file, generally occurs due to corruption or damage in OST files. This means that users should try to prevent Outlook offline storage files from the result of any hazardous activities.
Well, different workarounds are discussed in the blog, which is fixing the error in one or another way. Initially, end users should first go for repairing of OST files and then go for all other approaches one-by-one. If still, the problem exists then, go for all the other solutions discussed in the blog.