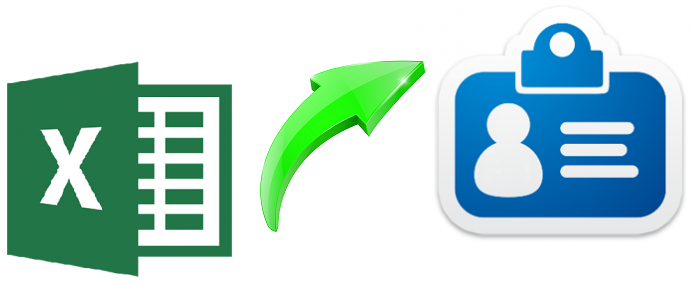 We all familiar with Microsoft Excel and its functions. Most users store their contacts in an Excel spreadsheet. However, at the present time, we need to import contacts from excel to Phone, Outlook, Thunderbird, and many other platforms. Unfortunately, there is no solution to import contacts from an Excel file to another program or application. Because Excel file is not supported by all these platforms. To transfer Excel contacts into other platforms, users need to convert Excel to vCard VCF file format. This blog will guide you with the best technique to convert Excel to VCF without software.
Introduction of vCard and Its Advantages
vCard (VCF) is a file format standard for electronic business cards. vCards allow you to create and share contact information over the internet, such as in email messages and instant messaging. It contains a name, phone number, address, photo, email address, URLs, logos, etc. The vCard file format is supported by almost all devices, email clients, email services, and cloud services. Once you have converted Excel contacts to vCard, you can easily import contacts from Excel to Outlook, Android Phone, iPhone, Thunderbird, Gmail, WhatsApp, and more.
Method to Convert Excel to VCF Without Software

Export Excel contacts to vCard file format using the manual method has 3 parts. First, you have to perform Excel to CSV migration, then Import contacts from CSV file after that Export contacts to vCard file. Follow the below steps to convert contacts from XLSX to VCF file.
Part 1: Excel to CSV Conversion
Open the Excel XLS /XLSX file
Click Office icon >>Select Save As >> click Other Formats
Select the location to save .csv file
Select save type as CSV (Comma delimited) and click Save
If the workbook contains multiple sheets, a message appears. You must click OK to save the sheet.
Another message is also displayed. Click the Yes button to leave the workbook in the same format.
Part 2: Import Contacts from CSV File
Press the Windows icon button and type Contacts in search box
Click on Import tab from the Contacts window
Now, in the Import to Windows Contacts wizard, select CSV (Comma Separated Values) and click Import.
Click Browse to locate .csv file created in part 1.
Choose .csv file and click Next
Map the contacts fields and click the Finish button.
Part 3: Export Contacts to vCard
Again go to Contacts Window and select all contacts you want to export to VCF file format. After that click the Export tab.
In the Export Windows Contacts wizard, select vCards (folder of .vcf files)
Finally, click the Export button. Select the location to save .vcf file and click OK.
This is the complete solution to convert Excel to VCF without software.
Export Excel Contacts to vCard File Professionally
As you can see, this process is very lengthy and takes a long time to complete. You need to copy and paste all contacts which are saved in an Excel sheet in one Excel file. In such a situation, you can take the help of SysTools Excel to vCard Converter which lets you convert contacts from XLSX to VCF file in a few clicks. This allows you to export multiple contacts from XLS / XLSX file to vCard format. It is able to convert XLSX file to vCard with all contact details like name, phone, email address, etc. The converted VCF file can be easily imported into Outlook, Phone, Thunderbird, Gmail, and other platforms.

Steps to Convert Excel to vCard VCF File
1. Click Browse to load Excel XLS / XLSX file
2. Preview Excel file contact details
3. Map the Excel Fields with vCard Fields and click Next
4. Select the vCard 2.1, 3.0, or 4.0 version
5. In the end, click Convert to begin the process.
The Final Lines
In this write-up, we covered the most searched user query "how to convert Excel to VCF without software". By manually export excel contacts to vCard is divided into three parts and takes a long to complete. If the manual method is fine for you, then no problem. But, if this may fail or you feel that the whole process is very tedious, you can go with the Excel to vCard converter. We mentioned the step by step process of both solutions. You can choose any solution that meets your requirements to convert contacts from XLSX to VCF file format.