How to Import Multiple VCF Files to Thunderbird in a Seamless Manner?
Akshay Vats
| Modified: November 26th, 2022 ~ 5 Minutes Reading
Want to open VCF files in Thunderbird? Do not know how to import multiple VCF files to Thunderbird? No need to worry. Here you will get an answer to all your queries in the most simple and reliable manner.
One of the most popular searches, nowadays on the internet is "move VCF contacts files to Thunderbird address book?" As we all know that Thunderbird is one of the widely used email clients among business users. It is an open-source application, which can easily be downloaded from the internet for free of cost. Therefore, is a user is having any vCard file, they try to open it in Thunderbird.
However, a user can import or export only one contact at once in Thunderbird. But, the process becomes lengthy when it comes to importing multiple VCF files. Therefore, a user is advised to look for another solution. Considering the need of users we have discussed a free solution on how to import multiple vCard files to Thunderbird send without any hassle.
Method to Add Multiple VCF Files to Thunderbird Address Book
In order to have an easy solution to move any number of VCF files to the Thunderbird application, a user can use the MoreFunctionsForFreeAddressBook plug-in. It is completely free of cost and can be downloaded directly from the internet. Now, to use it in a proper way, follow the steps mentioned below.
1. First of all, you need to download the MoreFunctionsForAddressBook plug-in from the internet. Then, save it with the name morefunctionsforAB-TB3-1.0b3.xpi on your local machine.
2. After that, open Thunderbird and go to the menu bar. Then, click on the Tools Tab >> Add-ons option.

3. Next, you need to click on the Settings icon and then, go to the install Add-on from the File.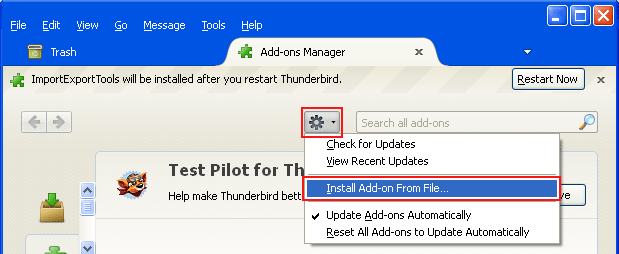 4. Then, click on the Browse button to locate the 'morefunctionsforAB-TB3-0.5.8.5.xpi' file, which is saved on your local machine.

5. Choose the respective plug-in file and click on Open button.
6. After that, click on the Install Now button, and the 'MoreFunctionsForAddressBook' add-on is installed automatically.
7. Next, you need to select the Restart Now button to start the Thunderbird again.

8. Then, click on the Address Book icon in order to open Thunderbird Address Book.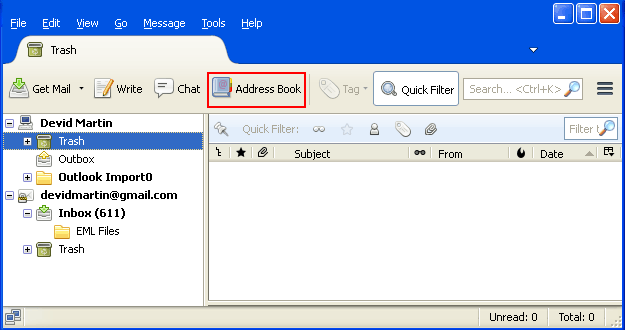 9. After that, navigate to the menu bar and click on the Tools tab.
10. Then, click on the MoreFunctionsForAddressBook >>Action for contacts >> Import vCard/VCF.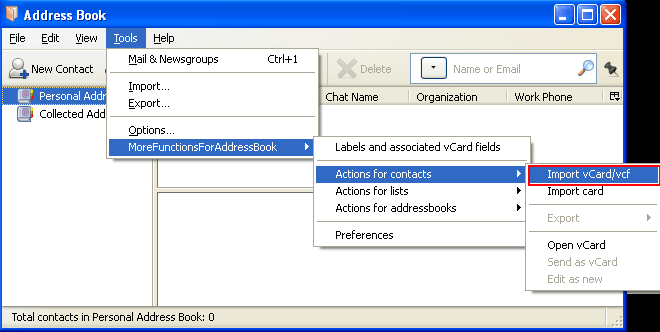 11. Now, choose the folder where you have saved all your VCF files. Then, choose all by clicking CTRL+A and clicking on the Open button.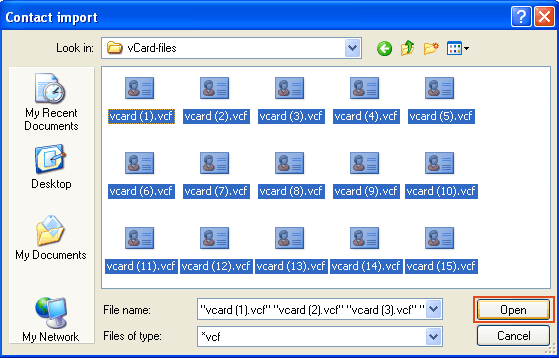 12. After performing all the above steps carefully, you can easily see that all .vcf files are imported successfully to Thunderbird without any hassle.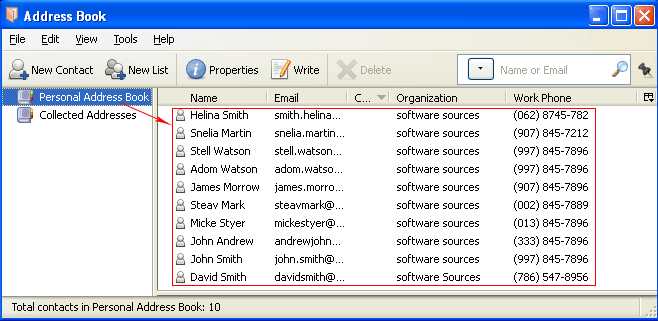 Alternative Way to Import VCF Files to Thunderbird
For users who want to import multiple vCard files to Thunderbird then they can simply use VCF to CSV Converter Tool. This tool is designed for all users in such a manner that it mass imports VCF into CSV file in just a few numbers of clicks.
This tool allows users to import multiple VCF files to Thunderbird as well as multiple VCF files in batches. This utility helps in exporting contacts from VCF files to various file formats in bulk without losing the related information. To perform this task, you need to convert the VCF to CSV first and then convert the CSV to Thunderbird.
Convert VCF to CSV Format
Download and Install the Software on Windows System
Select the File or Folder option to upload the VCF file
In the next window, select the radio button corresponding to the CSV label. Then click the Browse button
Click the OK button in the software UI to browse and select
Then click on the Export button
Step 2:  Import CSV to Thunderbird 
Open Thunderbird on your Windows computer and click on Address Book to open the Contacts section
All the contacts in your email client will be displayed in front of you. Here you need to click on Tools >> Export
The Import Wizard opens. Select Address Book from here
Options to import VCF text files (LDIF, .tab, .csv, .txt) or vCard files (.vcf) into Thunderbird
Click Next and select the converted CSV file
Finally, click the Open tab and then the OK tab to import the VCF contacts to Thunderbird.
Read More: How to Import VCF To Yahoo Mail Account? 
Conclusion
Contacts stored in any email client are a really important part of a business user. They always want to have easy access to them. As vCard is the most common file format used by users to save contacts. But, when it comes to accessing VCF in some applications like Thunderbird, it becomes a difficult task.
Moreover, in the case of multiple VCF files, Thunderbird imports only one file at a time. So, the process becomes very lengthy to perform. Therefore, a free and easy solution to import multiple VCF files to Thunderbird is covered in the above post. A user can use it without any risk of data loss of data.