How To Import VCF To Yahoo Mail? Complete Solution
Do you want to import VCF to Yahoo mail? Looking for a reliable solution to transfer contacts from VCF files to Yahoo Mail? If so, then you have come to the right blog. In this article, we describe a step-by-step approach to transferring vCard files to Yahoo Mail. 
As everyone knows, contacts play such an important role in our professional and personal lives. Multiple users want to maintain a saved contacts list in VCF. It puts all contact details easily on different platforms. Sometimes when users try to import VCF contacts to Yahoo Mail, they may encounter problems. In fact, transferring all contacts from vCard to Yahoo mail is not a simple and easy task. 
Read More: Import multiple vCard files to Hotmail
Let us Understand this better with the help of user questions.
"Since I am in a corporate environment I have to manage a lot of contacts. Often VCF files get corrupted due to technical reasons. So I want to import contacts from vCard to Yahoo Mail to keep them safe. Is there any way of doing it? Can you tell me a reliable way to accomplish this task? "
Task 1: Import VCF To Yahoo Mail Manually
To complete the importing process manually to import VCF contacts to Yahoo Mail, follow these steps to complete the process. But it will also create some error throughout the process, no need to worry if you are facing errors a lot. Then, go with out automated software which is mentioned below: 
You have to

log in

to your

Yahoo Mail Account

and then

click on

the

Contact icon

.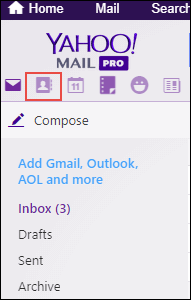 Next, scroll to the

Yahoo Account page

. Then,

click on

the

Import

Tab which is located near the

upload file option.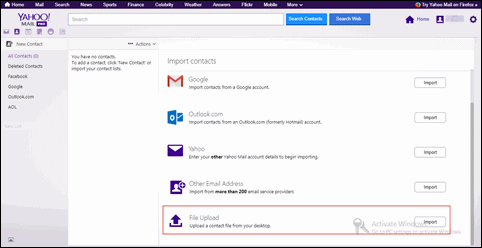 After that,

a screen of Import from the file is displayed where you have to click on the

select File button

.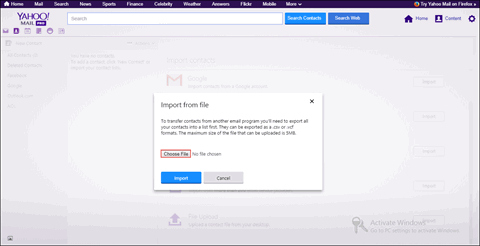 When it's done, go to the path where the

vCard

file is saved, click it and

select Open.

Now, the file will be loaded on the page "

Import From File

" of Yahoo. On this page, select the tab of Import to carry on with the procedure for exporting vCard VCF Contacts files to Yahoo mail.

Yahoo will initiate the process of extracting contacts from selected files and importing them into the account. Wait until the entire file is

uploaded

to the Yahoo account.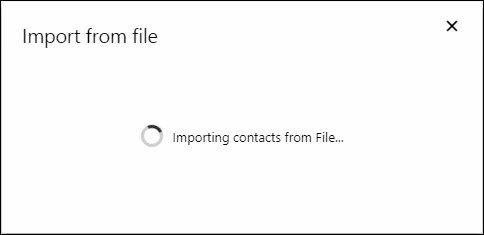 Lastly

, all contacts available in

vCard VCF

will be transferred to

Yahoo Mail Account

.
Limitations of Manual Method
Technical knowledge and skills required.

Long and time-consuming method.

It does not work properly with damaged or corrupted

VCF contact files.

For all these reasons, you should use safe methods that provide simple solutions to complete your process easily and efficiently.
Task 2: Import VCF To Yahoo Mail – A Professional Solution
The manual method described above can import VCF to Yahoo Mail file. But it has some limitations as it can be a long and difficult process for novice users. Therefore, to overcome all these drawbacks, we recommend using an automated solution, that is, the SysTools VCF to CSV Converter Tool. You can use this utility to easily import contacts from VCF vCard to Yahoo Mail account.
It allows users to combine bulk vCard contacts into a single file. This can be easily done by browsing multiple VCF contact files in one scenario at a time (adding files) or in bulk (adding folders). Furthermore, the graphical interface of this software is quite simple and even a novice user can easily access it without fear of data loss. It is compatible with Windows 10 operating system and earlier versions.
The Steps To Import VCF to Yahoo CSV File Are as Follows
First thing first

, Download the software and Install it on your PC.
Now, choose the

Add File

& the

Add Folder.
Then, select the

Radio tab

for the

Yahoo CSV

, and Hit the "

Browse

" button.
Click on the

"OK"

tab in the user interface of the software.
Select the

Yahoo CSV

file and then Hit on the

Export button

to start the export process.
Closing Words
This guide will explain to you the detailed process to import VCF to Yahoo Mail. Therefore, in the above blog, we discussed both manual and automatic methods that can be used to transfer vCard contacts to a Yahoo CSV file. If you want to import contacts in bulk, it is recommended that you adopt an automated technique.