So another day pass and I received a similar message from many readers that they want to know how to save Hotmail emails to computer. So here it is!!
Obviously, we all know, Gmail is the giant of webmail clients followed by Y!mail. But, we cannot forget that Hotmail account is also in the race. Once the most widely used email service, it still is one of the best substitute of Google & Yahoo mail that can be used to send and receive message online.
But oh well, nothing is secure, especially in the world of web. Unfortunately, Hotmail account has had its own share of countless hacking incidents over the past years. This type of situation makes users worry about their data security. It is true that data on the cloud is more secure but fully protected? Don't think so! In fact, there are various circumstances where Microsoft servers with live.com email address have been hacked. Due to which data breaches from multiple Outlook.com(formerly Hotmail) accounts has happened.
Of course, you cannot stop data hacking but can take preventive measures for the same. For example, do not endeavor to open any message that is suspicious or never disclose account credentials to anyone. Apart from this, in case the account is breached, hackers often demand ransom in exchange of data threatening users that email data will be lost if they don't pay for it. This type of situation can be easily managed by a Hotmail email backup.
By saving all the Hotmail account emails at regular interval of time on computer prevents any data loss in hacked account situation. Plus, that data can be easily moved to other email clients in case that's what you are looking to do. Hence, go through this article and know how to download Hotmail emails to computer within few clicks.
How to Save Hotmail Emails to Computer Hard-Drive?
First of all, there is no direct way to save Outlook.com account emails on local system. So, users need to take help of an alternate way to do the same. For this, an impeccable software named as Hotmail Backup Tool can be used. It is one of the highly efficient software that automatically downloads all the Hotmail emails on user's specified location in 3+ file formats. Yes! A user can backup Hotmail to hard drive or any other storage space in Outlook PST, EML, MSG or MBOX file format. Plus, this tool can be easily installed on all Windows OS, including Windows 10, 8.1, 8.


Methodological Steps to Download Hotmail Emails to Computer
It is the time to check out how to save Hotmail emails to computer using Hotmail Backup Software.
Initially, download the software and install in PC.
Once it is installed, start the tool. On the welcome screen, there is an option of Select Language. Originally, tool provides 6 languages i.e., English, Spanish, German, Portuguese, Japanese and Dutch. Opt for the language that is suitable for you. Afterward, enter Hotmail profile credential and click on Login to validate the account.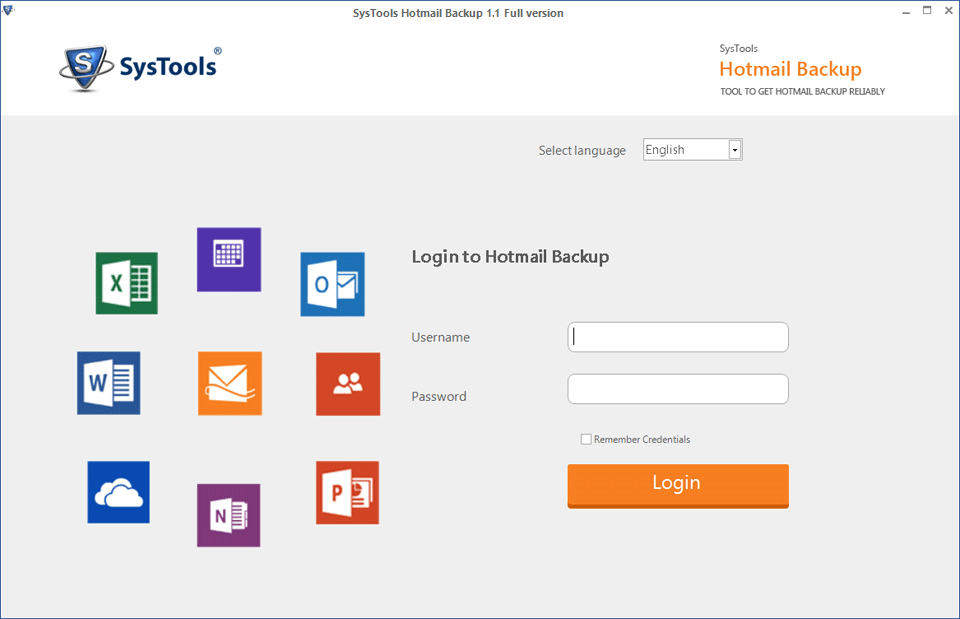 Wondering why trust software with your credentials? Well, generally you shouldn't. But in this case, you can. Why? Because this tool comes from a trusted source i.e., SysTools. A globally renowned brand specialized in data backup field. It guarantees the safety of data and the security of your account. Moreover, the credentials allow the tool to fetch all your Hotmail emails and save them in computer without any effort.
On the following screen, select the file type in which you want to export emails under Select E-mail format heading. Users are free to select any of the file type i.e., EML, MSG, MBOX, or PST. Here, we are going to opt for EML option.
After that, you have to provide the desired location where you wish to save the messages. For this, click on Browse button and locate a folder to save Hotmail emails to computer location.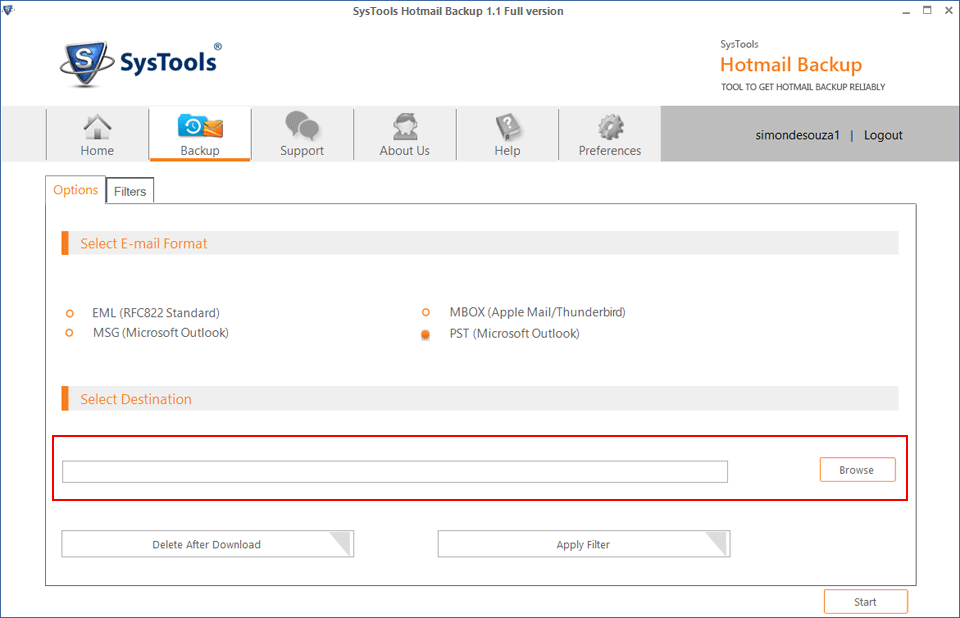 Next, the tool offers following two outstanding features while taking email backup in offline environment.

Delete After Download: With the help of this functionality, one can automatically remove all the emails from Outlook.com account whose backup was recently created on designated location.
Apply Filter: Basically, this feature is used to filter out specific emails from the bulk of messages before the process to download Hotmail emails to computer is started.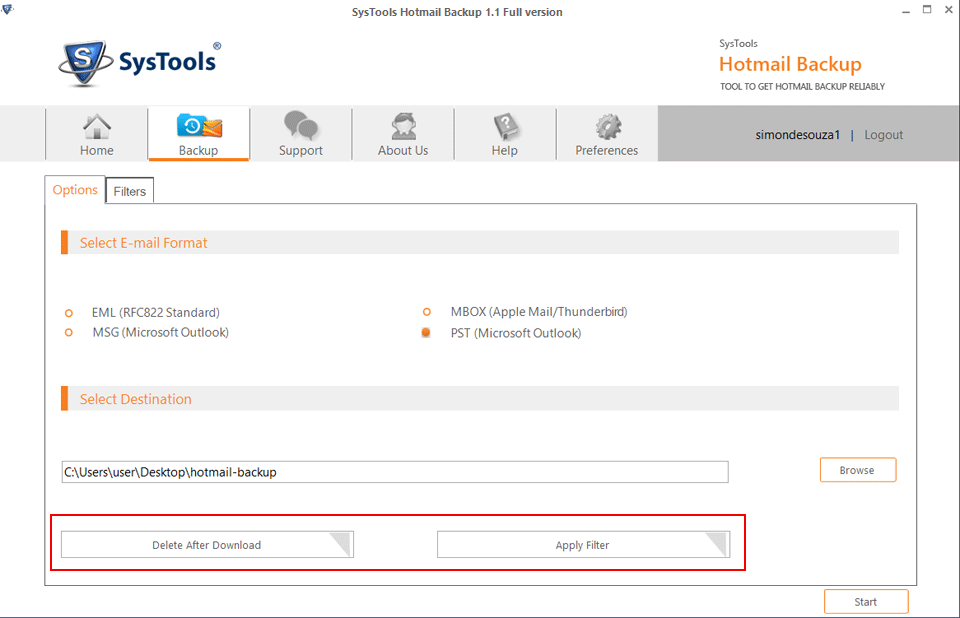 Once you have selected the Apply Filter option, the two filters are displayed on the software interface:

Select Folders: Under this option, you have the power to select any mail folder. Afterward, software only downloads mails of chosen folder. This filter saves the user's precious time and memory space too.
E-mail Filter: This filter work is to translate emails of a specified date range from selected folder on the location that was selected by the user.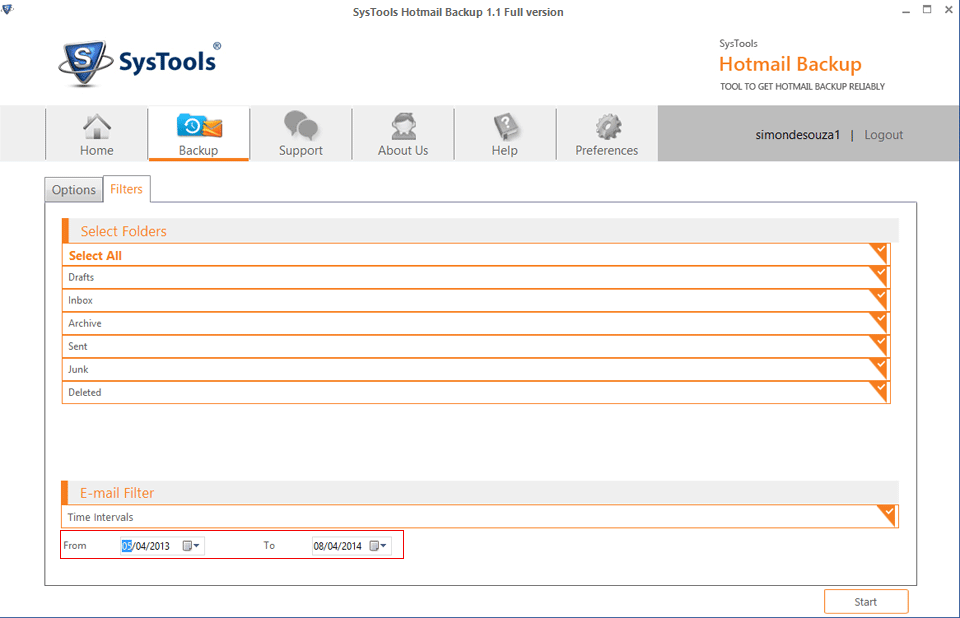 Then, click on Start to save Hotmail emails to computer or hard-drive.
As soon as process begins, the live progress status of entire procedure displays on the software panel. Here, you can see Folder Name that is under process, Mail Count, Destination Path and Rate.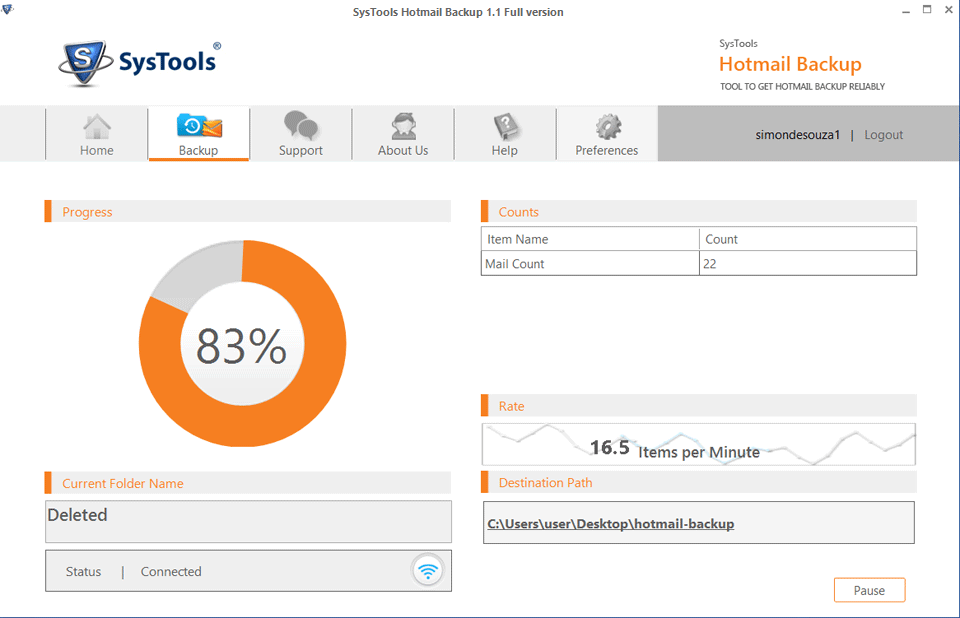 Other Useful Features Offered by Tool:
The software gives liberty to select the range of internet bandwidth as per user requirement. By doing this, the utility only uses the specified bandwidth for backup purpose. Above all, the Time Slot Setting feature is also provided where users can set a time in it. So, the specified bandwidth will be consumed within the time slot for saving Hotmail emails to computer task.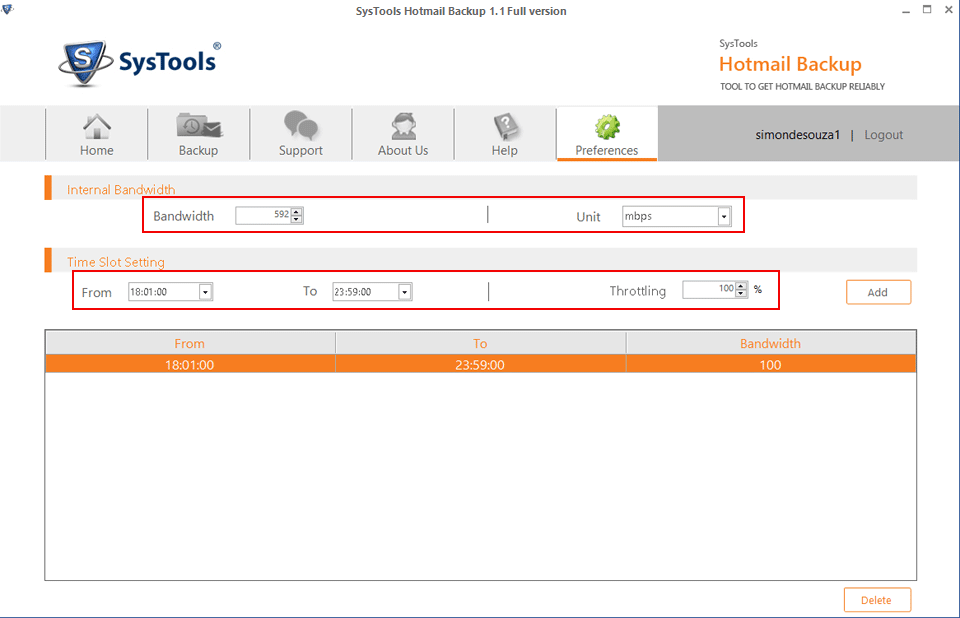 Final Words
In this post, we have shared a technique that can save Hotmail emails to computer without any interruption. So, download Hotmail Backup software for Windows and protect your emails from data loss situation.