How to Save Hotmail Emails to Computer to Protect Data?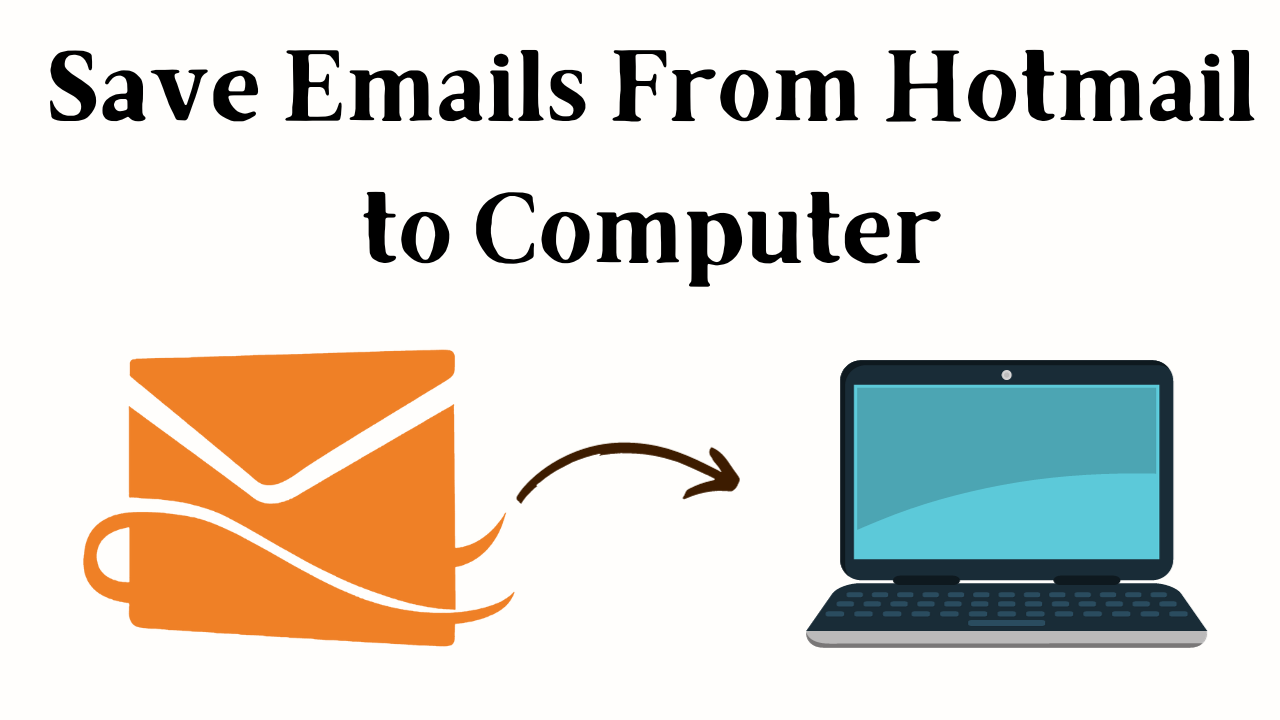 Hotmail is an email application, just like Gmail. The Hotmail email application is also known as Outlook.com. Mail users who want their data to be safe can save Hotmail emails to computer to protect data. This will create a copy of the data that is accessible in all situations. Therefore, this article will illustrate how to backup Hotmail emails to hard drive. So, let us start the blog without wasting time.
Table Of Contents:
Let us know the reasons why a user wants to move Hotmail mailbox data on the Computer. So, let us start.
Save Hotmail Emails to Computer – Reasons
There are many situations in which users want a local backup of their Hotmail account. So below we are going to tell you some such reasons.
​In the event that any of your Hotmail emails are accidentally deleted.
To keep the Hotmail account from being easily hacked or misused.
Backup your Hotmail emails to hard disks to ensure that you do not lose your data.
If the user wishes to access the emails in the inbox when not connected to the internet.
There can be any number of such reasons. Well, now is the time to move our steps towards solutions. With the help of this, we can archive hotmail emails to the computer.
Also Read: Print Multiple Emails in Outlook Web App
Now, here there are two types of methods, first is manual, and the second is automated. Both these methods have their own specialties and disadvantages. So, let's start knowing the solutions from the first method.
Save All Hotmail Emails to Hard Drives as an EML File
Firstly, open the Hotmail email message to save it to your hard drive.
Hit the down arrow next to Reply in the message header area and choose View message source to save Hotmail emails to Computer.
Press the keyboard keys "Ctrl +A" to select all message sources' text codes. Then, press the "Ctrl+C" key.
Check if the browser lets you save the message as an email file.
Now Select File >> Save as… (or use the command appropriate to your browser).
Rename or change the file name to "[subject].eml" or "eml.eml" to save Hotmail emails to Computer.
Verify that your file extension is like If your web browser insists on using.html or.htm to save, then just follow the below one:
Be sure that your browser saves the page source. Save the file to your desktop or any other folder on your hard drive.
Read More: Import Hotmail into Thunderbird
How to backup Hotmail emails to PC if copying Hotmail messages to an external hard drive as a.eml file is not possible:
Click and open a text editor, which can be TextEdit, Notepad, or Emacs.
Now make a new plain text document.
Now to paste the message source, press Ctrl+V for Windows and Linux or Command-V for Mac.
Save the document as a plain file on your system, or save the file in another folder with a.eml extension.
The user can use the message subject, for example, for the file name, and save the message file using the subject "Errors in Hotmail? "Errors in Hotmail.eml".
These solutions may seem easy, but they are tricky as well. What will you do if the above solutions fail for you? Get down to find another solution to save Hotmail messages to your computer's hard drive.
Automated Solution to Backup Hotmail to a Hard Drive
Try using the Hotmail Backup Tool, which will help the users save Hotmail emails to Computer. It offers the facility to backup Hotmail emails to Hard drives in EML, MSG, PST, MBOX, and PDF file formats. There are other functions available like email filtering, local archiving, incremental backup, etc.
Steps to Backup Hotmail Emails to a Hard Drive
Download and run the tool and log in with your Hotmail account.
Select an email format to back up Hotmail to a hard drive.
Browse a location to save Hotmail email messages to save Hotmail emails to Computer.
Click on Start to back up the Hotmail emails.
Let us now look at the benefits of this increasingly professional tool.
Advantages of Using Trustable Tool
Backup Hotmail Account Emails to a Local Windows or Mac Machine
Make an Outlook.com backup and export it to EML, MSG, MBOX, PDF, and PST formats.
Backup all Documents, Tasks, and Notes from the Hotmail Account
Backuping Hotmail Emails Requires an Internet Connection
Selective Email Folder is used to back up Hotmail emails locally.
With Date Ranged Emails Filtering, you may back up Hotmail email messages.
Here both manual and automated solutions end. If you want to manually backup Hotmail on your desktop, you may face many unwanted problems. Therefore, to get rid of all these problems, we recommend that you use the professional way.
Conclusion
This article will help users save Hotmail emails to Computer with the use of the manual procedure. However, due to the lack of accuracy and complexity for normal users, it is advised to use a professional, which will help the users back Hotmail to a hard drive with different file formats like EML, MSG, PST, MBOX, etc.
Frequently Asked Questions

Ques: How do I backup Hotmail emails in a PDF file?
Ans: Follow the below-mentioned steps to backup Hotmail emails in PDF:

Get the tool on your computer.
Add the ID and password to the login account.
Select PDF format and browse the location.
Click Start to backup Hotmail to a hard drive.

Ques: Does this tool support the backup of contacts and calendars from a Hotmail account?
Ans: Yes, you can export and take backups of contacts and calendars in VCF and ICS file formats, respectively.