How to Import Hotmail into Thunderbird – Reliable Solution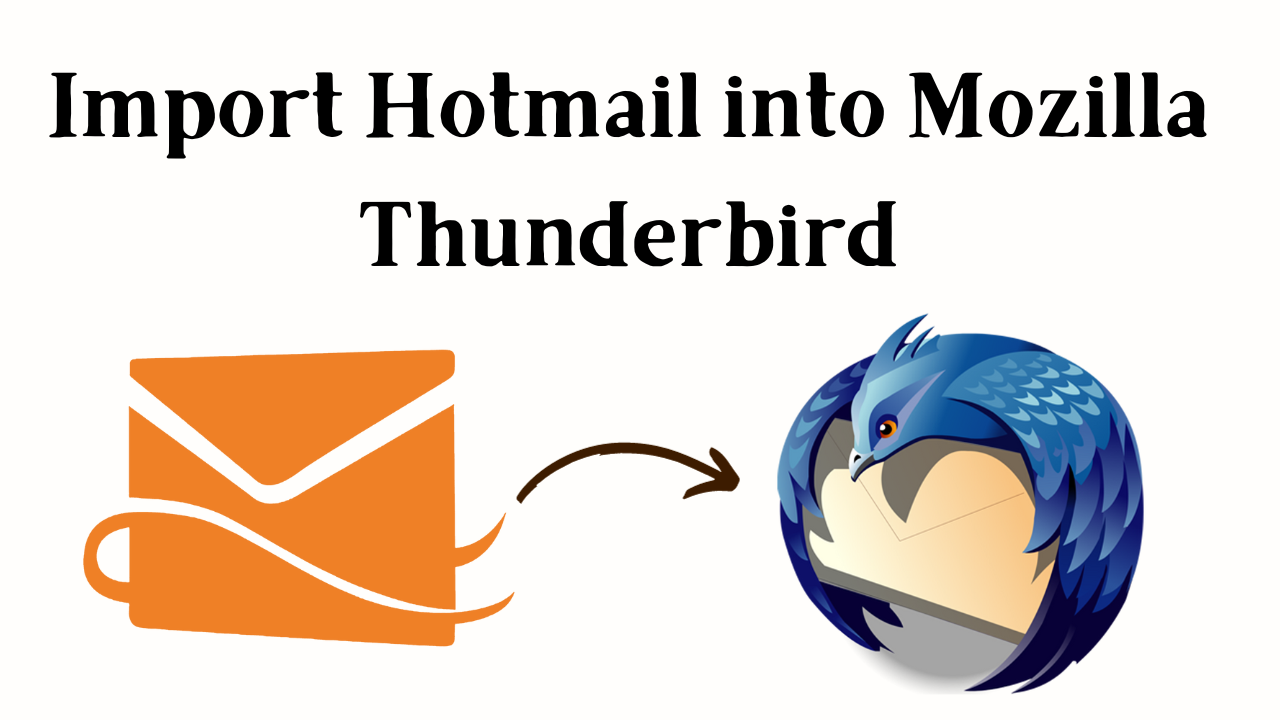 In Summary: Are you looking for the answer to How to Import Hotmail into Thunderbird? And you have not found any solution according to your needs. So, you don't need to worry anymore. Today, through this technical guide, we will tell you all the possible ways to add Hotmail to Thunderbird.
So, this article describes two ways to import Hotmail to Thunderbird. One is the manual addition of a Hotmail account to Mozilla Thunderbird. Next is a professional way to transfer Hotmail account emails to Mozilla Thunderbird.
Table Of Contents:
Hotmail is one of the first webmail services and users can access it from a web browser anywhere in the world. Do you need to access the Hotmail email from the desktop application? If so, please look into the strategies below as they will help you link emails from Hotmail to Thunderbird.
First, let us know about the reasons why users want to export Hotmail emails to Thunderbird.
Also Read: Print Multiple Emails in Outlook Web App
What is the Need to Import Hotmail into Thunderbird?
Yes, why do you need to add Hotmail to Thunderbird, even if the cloud is more secure? The answer is nowadays cybercrime activities are increasing, attackers easily hack anybody's web email account and misuse it.
And Hotmail users have faced such occurrences more than once in the past. So in order to secure a copy of Hotmail data, exporting Hotmail emails to Thunderbird is a preferable option.
But Why Thunderbird? Outlook is also an option for a desktop mail client. Thunderbird is a free application. It is easy to download from the browser without any licensing costs.
Read More: Hotmail Connector Synchronisation Error
After knowing the reasons, you must have understood why the user wants to save Hotmail's mailbox data in Mozilla Thunderbird MBOX. So, moving forward, let us know those solutions that will help in solving this Export Hotmail Emails to Thunderbird task. So let's start knowing.
As we told you at the beginning of this article we will tell you both manual and automated methods, so now is the time to describe both those methods. Below we are going to tell the first method.
Add Hotmail to Thunderbird – Automated Solution
In this section, we will use a smart tool named Hotmail Backup Tool to import Hotmail into Thunderbird. Through this method, we will first create a backup of our Hotmail mailbox address in the MBOX file. This reliable software gives you the option to save Hotmail data as an MBOX file as well as many other file formats with advanced features.
Besides, you can also backup Hotmail emails through this. Moreover, it also allows the creation of a backup of multiple Hotmail accounts. Furthermore, any tech or non-tech user can use this valuable tool to export Hotmail Emails to Thunderbird as per their need.
Now let's see how this tool works.
Note: If you use Hotmail on a Mac machine, then, this best software is also available for Mac users.
Working Steps to Convert Hotmail to MBOX
First of all, Download this tool on your system.
Now login to your Hotmail account in the software panel.
After that. Select MBOX file format as export type to import Hotmail into Thunderbird.
Then, select mailbox items from the Select Category section.
Finally, browse the location and then click on the start button.
Now with these steps, all your Hotmail data has been saved in an MBOX file. Let's go down and manually import Hotmail into Thunderbird.
Import Resultant MBOX in Thunderbird – Manually
If you want to save Mozilla Thunderbird data in mbox, then there is no manual method to transfer Hotmail data in Thunderbird which saves Hotmail data in mbox. To do this we have mentioned the above automated solution. Now we will manually import the MBOX file into Thunderbird. So, that we can see all the data of Hotmail in Thunderbird. So, to do this follow the steps given below.
Import MBOX Using ImportExportTools Add-ons
First, install the ImportExportTools add-ons for Thunderbird.
Restart Mozilla Thunderbird and select the Tools option from the menu bar.
Then, Scroll down and pick ImportExportTools from the list.
After that, to proceed, select the Import MBOX file option to import Hotmail into Thunderbird.
Then, select the MBOX file from your PC to finish the process.
Finally, to preview the imported mailbox file, restart Thunderbird.
If you are a Mac user then follow the steps given below to convert MBOX file to Thunderbird.
Import MBOX to Mozilla Thunderbird On Mac
Open Thunderbird for Mac, and go to the Tools panel to import Hotmail into Thunderbird.
After that, select the Import option.
Select the Mail option in the pop-up window and then click Next.
In the dialog box, select Apple Mail and then click Next to import Hotmail into Thunderbird.
Following the import, a folder named Apple Mail will be listed in Thunderbird, and all mailbox items will be shown on the left-hand side of the email client on Mac.
Now you can view all Hotmail data in Thunderbird on Win and Mac through this method.
Conclusion
In this article, we have discussed why there is a need to import Hotmail into Thunderbird. We have also pointed out the manual solution for adding Hotmail to Thunderbird and also a speedy solution to export Hotmail to Thunderbird. Now, if you don't want to face any type of hassle then you can use a professional solution to export Hotmail emails to Thunderbird.
Frequently Asked Questions

Q 1: In Thunderbird, what is the recipient and outgoing server information for Hotmail?
Ans: Thunderbird should automatically configure the server settings for your Hotmail account. If you have to enter them manually, the incoming server is "outlook.office365.com" with IMAP port 993 and the outgoing server is "smtp.office365.com" with SMTP port 587.

Q 2. Do I need to enable IMAP or POP3 in Thunderbird for Hotmail?
Ans: IMAP is the recommended protocol for Hotmail (Outlook.com). You don't need to change anything; Thunderbird will use IMAP by default for Hotmail accounts.

Q 3: Can I use the tool to import contacts from Hotmail to Thunderbird?
Ans: Yes, the program can convert Hotmail contacts to Thunderbird profiles.

Q 4: Is it possible to transfer all data items from Hotmail to Thunderbird using software?
Ans: Yes, you can import all items from your Hotmail mailbox to your Thunderbird account.