How to Solve Database Not Opened Yet Error in Lotus Notes
Akshay Vats
| Modified: July 28th, 2022 ~ 5 Minutes Reading
Common Database Related Error in Lotus Notes
In this article, we will discuss various types of errors that occurred in Lotus Notes due to which the database was not opened. IBM Note (formerly known as IBM Lotus Notes) is a business Information Manager application developed by Lotus Development Corporation based on Client-Server System. They acquired Lotus Corporation in 1995 and become Lotus development part of IBM. IBM Notes is mostly used in business and corporative environments but can be customized for users. It uses NSF file extension to store all user data which many segments such as Instant messaging, email, contact management, discussion forum, Calendar, to-do list, blog, and Web Browsing services.
IBM Notes uses IBM domino Software, which is used for hosting business platform services. IBM Domino software delivers low-scale, easy, security services of data to ensure productivity and enhanced results.
Also, Read Similar Post- How to Remove Password From Lotus Notes
User's Queries Related To Database Not opened yet In Lotus Notes
I have written web services in Domino R7 in Lotus Notes, but now receiving an error "database not opened yet" while trying to access Lotus Notes Database from another Domino Server. Suggest to me any solution related to this problem.
An error "database has not opened yet" arises when trying to access the database on another server. The Server is also listed in Access Control List (list) as a manager role.
In this section, we discussed some problem-related Databases not opened in the Lotus Notes version. Here we find a reason for these problems and also find the solution to solve open NSF File in Lotus Notes error.
Types of Database Error
Lotus Notes migration error: This error arises due to code in Lotus script when an invalid object handle is created and tries to open the database. As the latest versions of Lotus Notes, IBM added features related to adding attachments after migration. This up gradation leads to error due to which the database is not opened in some machines.
Error in Lotus Notes object: When a user tries to open a database with the help of the Notes database object but there is an error in the open property code of the database object that opens the Database.
Lotus Notes access error: Access type of error generated when a user tries to access from a different domino server. Since the user has to do changes in the security setting of the other Domino server to Access Database file. Otherwise, a user gets the error message Database not opened yet in Lotus Notes.
Cause of problem: Database not opened yet in Lotus Notes
The database does not exist as specified.
The user ID doesn't have permission to access the database.
The server crashed due to an unexplained power interruption and the database file is damaged; Sometimes server crashed due to a Network problem, Configuration error, Hardware, and backup problem.
Sometimes this error exists due to an invalid path of a file or Server.
The remote user is not connected to the network properly.
Manual Method to Fix Error "Database Not Opened Yet"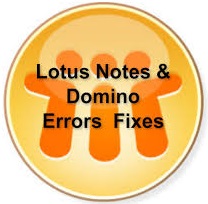 Solution 1: If migration error arises due to a connection failure between Client and Domino Server, you can trace the path of a server to solve an issue of Database not opened to view file data.
Follow the steps to examine the connection:
Start Lotus Notes File >> Preferences.
In Preferences drop-down Select Notes Port.
Select the Trace option.
In Trace Window, type the desired server name in Destination path >> Click Trace      Tab.
In Trace Window, a user can preview all details of Client and Server connection. If the client is connected to the server properly, then you can go for below solution to fix this problem related to Database not opened in Lotus Notes.
Solution 2: To solve problem-related in Lotus Script, first, you have to find the Notes Database handle of the NotesDatabase object. Now you can run Lotus Script debugger or you can put some debugging output statements to check the exact value of the string you are passing on Lotus script to open the database. If you are getting the correct parameter as output, open Lotus Notes manually and use the correct server name, file path, and User ID. This manual testing will you give the cause of the error.
Note: Write down the Server name and File pathname before checking what you trying to open.
Solution 3: To solve the Note access error, you can check the security setting of Domino Server and the security settings of User Agent.
Follow the step to check the security setting of the Domino server.
First Sign up with the Notes Notes ID.
Now open the Document of Lotus Domino Server containing the database.
Now Add the name of the server containing the Web service in the "Trusted Servers" field on the "Security Tab".
After adding a name check again whether the database file opened or not.
Conclusion
In the above section, we discussed the problem related to the Database not being opened in Lotus Notes. If the user is not able to open a database file due to different reasons such as Lotus Script error, file or location path specified properly. An Even bad connection between the client and Domino server can lead error, which discontinues the user to access database file. You can choose the manual method according to the problem mentioned above to fix the message error associated with "Database not opened yet" in client Notes.