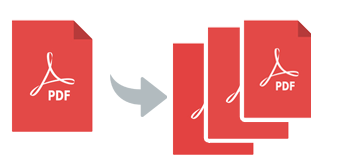 Do you want to know how to split PDF by File size? If yes, this blog is for you and for those who are looking for an instant solution.
Here you are going to get to know about the number 1 tool that has been in the market for quite a long-time and is used by Law industry experts, Government Agencies, Banks, Data Agencies, and of course numerous individuals & businesses.
Also, you can download the FREE edition of the tool given later in this blog. You can try it before you want to move forward with this amazing utility.
Moreover, if you are by any chance looking to use an online PDF splitter, kindly avoid it. Because using any online solutions will make your data vulnerable as they upload your crucial information on their cloud. If you are someone who has security concerns, you should avoid them and go for a personalized tool.
How to Split PDF by File Size
The best way to manage heavy PDFs to break them into smaller units. You can do it by page number, Range, Size, etc.
Here you will know steps to split PDF by file size using the tool:-
1. Download the "SysTools PDF Split & Merge" software & select the 'Split' option.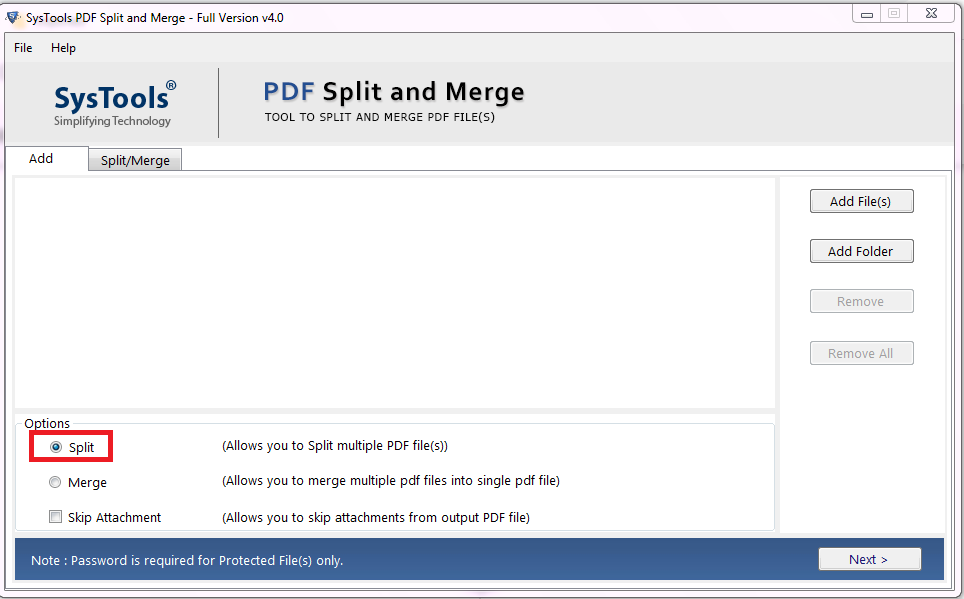 2. Insert PDF files or folder by clicking on 'Add Files' or 'Add Folder'.
Note: To skip attachments from the resultant PDF file check 'Skip Attachment' option
3. Click on the Next button.
Note: If your PDF is password protected the tool will prompt you to enter the respective PDF password otherwise skip.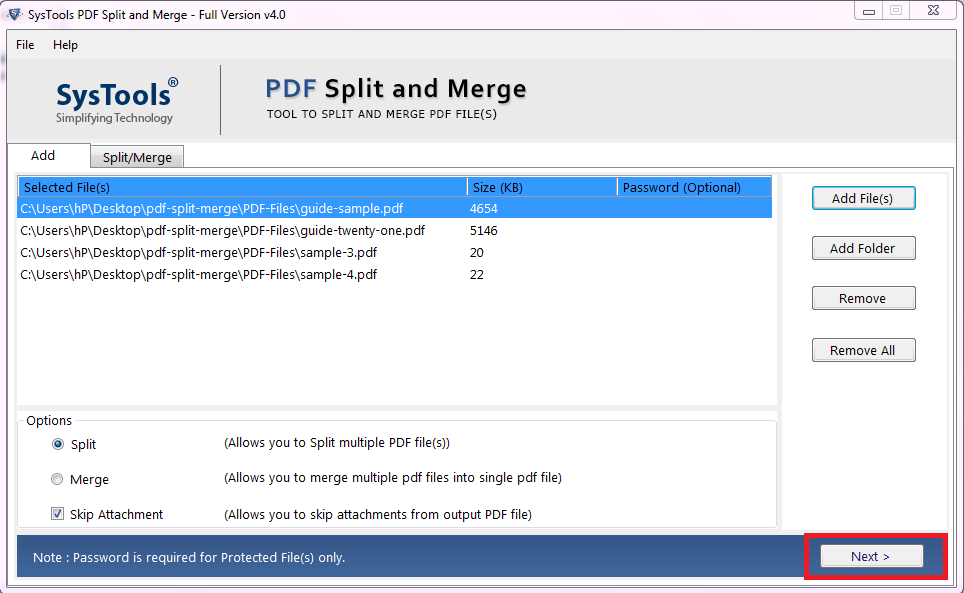 4. Choose the 'Split by Size' option. And give the size in which you want to split.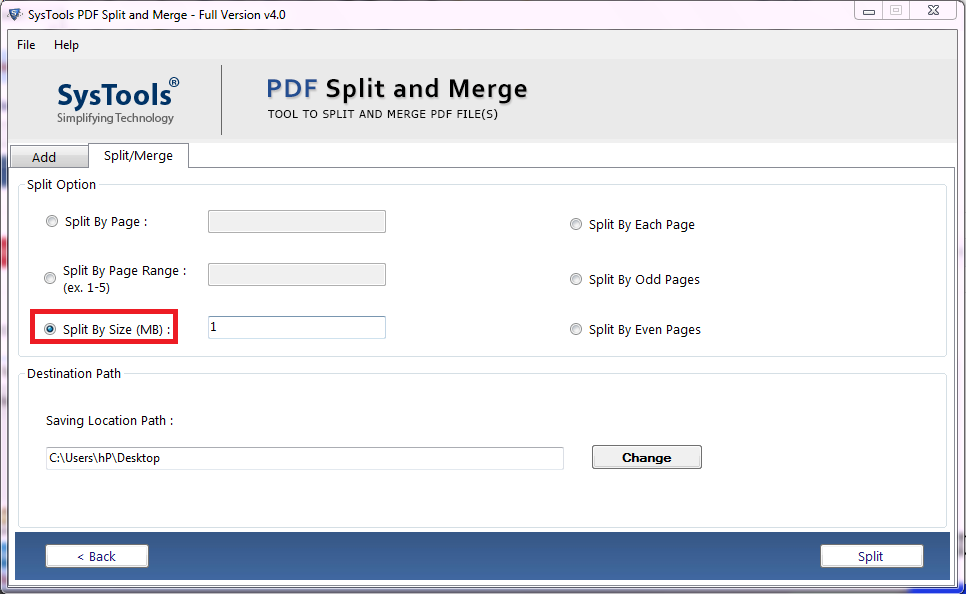 5. You can give the location path to save the file by clicking on 'Change'. By default, it will save your PDF files on the desktop.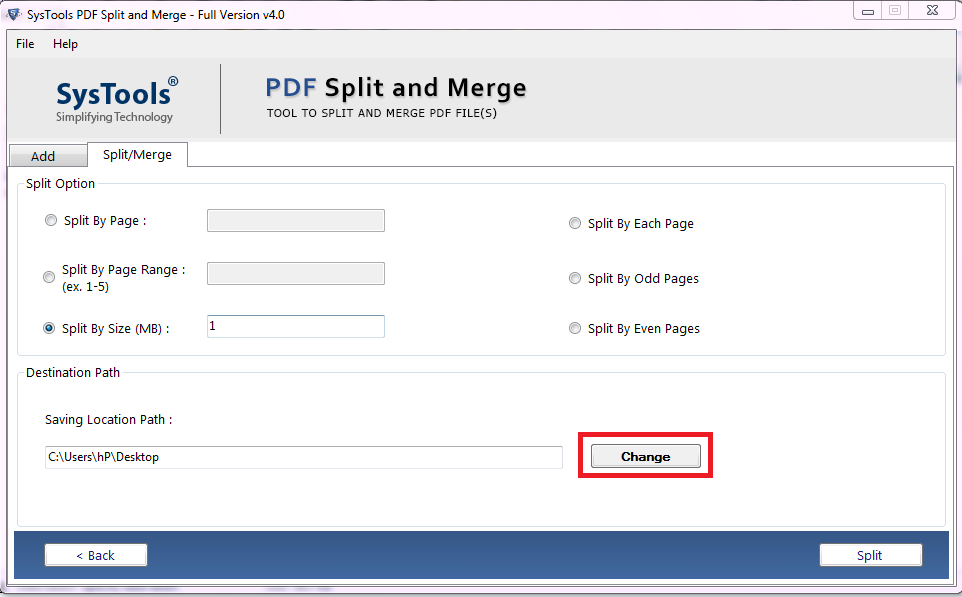 6. Now, Click on the 'Split' button to start splitting the file by size.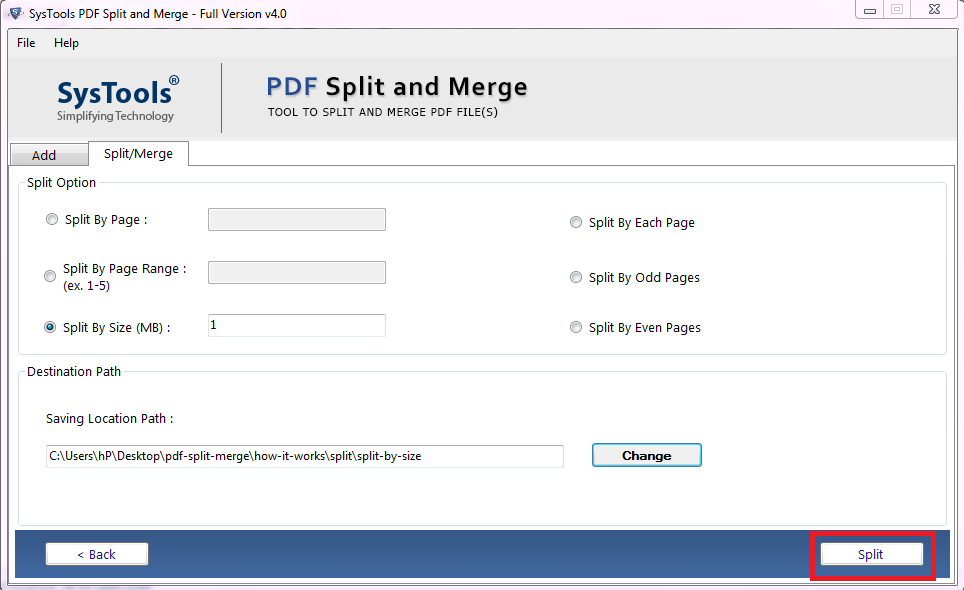 7. Once the splitting of PDF is finished, the prompt will appear "The PDF files have been split successfully". Click OK.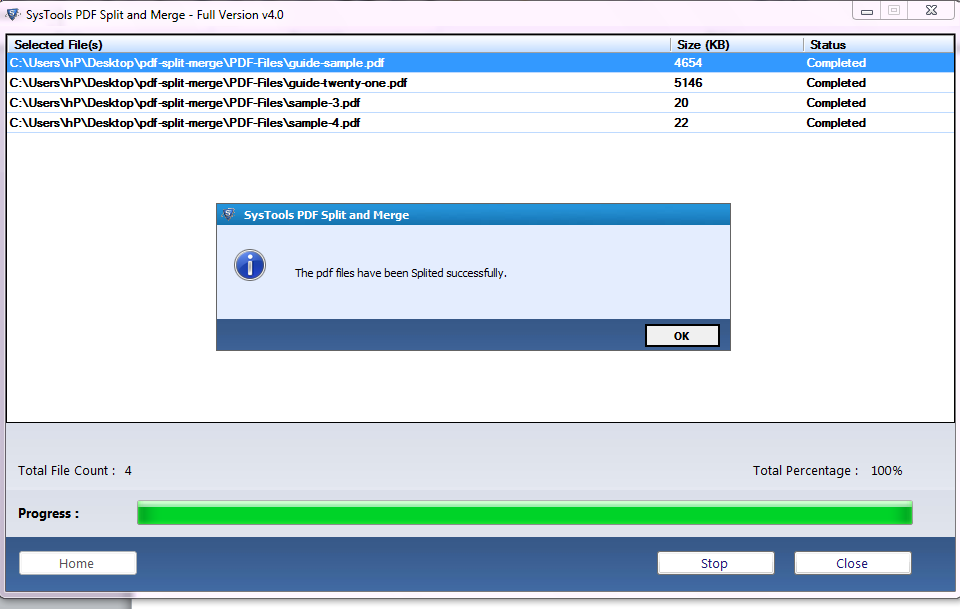 Get the FREE Edition of the Software Here
If you are skeptical about the tool, you can download its free version and split 5 PDF files. To unlock the tool to get full access for the unlimited splitting of PDFs, get its license key HERE.


What ALL you will get in the tool:
Batch splitting to instantly and accurately split the PDF files.
Manage PDF attachments by keeping or skipping them in the output. (NEW)
Inbuilt unlock functionality to enter the password and split password-protected PDFs. (NEW)
6 Split options: Page number, Range, Size, Each page, Odd & Even Pages.
You can even merge your PDF files using this tool.
Compatible with all PDF versions.
Supports Windows
It's an ALL-IN-ONE tool which does not only split your PDF file but merge your PDF documents as well.
The software will protect the layout structure, orientation, formatting, and images.
What Experts & Users Think
Top tech industry experts have reviewed the tool and are quite amazed by how brilliantly the software performs and the exceptional features it provides.
1. CNET: Gave the 4-stars rating to the tool for its fast executions without any failure
2. SoftwareSuggest: Claimed, "Powerful tool which can handle multiple PDFs of any size."
3. Software Informer: 100% safe and secure to use. Provide numerous split options than any other tool.
"As an accountant, I get my boss's monthly password-protected PDF of his bank statements. Earlier I used to unlock them separately and then split it. It was affecting my productivity. But after adopting this utility I am quite happy as it has made me more efficient."
John, Accountant

" I am a data scientist and I like to archive my data in PDF file format. I didn't realize that I had made a huge pile of PDFs, so I decided to split it by size. Also, the data is highly important to me. But, I am glad I found this tool. This utility is a perfect solution to how to split pdf by file size."
Mike, Data Scientist
Conclusion: Splitting PDF is Now Easy & Safe
I hope now you can manage your PDF in the way you want. You can split the PDF according to the size to make it accessible and shareable. There will be no tampering in your PDF document. And with this tool, you also get Merge option functionality. The tool is the best fit for businesses, professionals, agencies, law firms.