How to Split PDF Document Into Separate Files? A Complete Guide
Are you unable to split PDF document into separate files? Want to know the appropriate solution to break PDF into smaller files. Then, without making any further delay, explore the blog and complete the task easily.
The PDF file format plays a vital role in terms of data sharing. Users can view, print, and share PDF documents, regardless of the operating system they use. There are lots of advantages of using this file format – it enables users to insert any multimedia files such as audio/video, images, documents, links, etc. into their PDF. Sometimes PDF files get tumid or contain too much information to handle at once. Handling a large-size PDF becomes a complex task. In that case, splitting PDFs into multiple documents is the best way to manage them. So, that users can easily open, read, and share the data that they want.
Factors Responsible to Split PDF into Multiple Files
There may be several reasons that force users to split PDF document into separate files. Here we will see some of the main factors responsible for such division:
Difficult to deal with large PDF files as they consume a lot of time to upload and share.
To print specific pages from numerous pages it is required to split the PDF files by pages.
Once the PDF file is split into small parts then users need not share the entire PDF file as now only the specific page can be shared easily.
Small size PDF files are easy to deal with.
Here we discussed the major factors behind the splitting of PDF files. Now let's explore the methods to split PDF into multiple files in the below section of the blog.
Use Adobe Acrobat DC to Split PDF Document into Separate Files
If you have paid version of Adobe Acrobat, then you can split PDF pages using the following steps:-
Open the PDF file which you want to split with the Adobe Acrobat Pro DC.
After this, click the Tool tab, choose the Organize Page option and click on Split.
In the Split Document by Window, you have to mark the required option, Number of Pages, File Size, and Top-Level Bookmarks.
Click on Output Options and choose the destination location to save the file. And click the Split button to break PDF into smaller files.
Why Online Services are not suggested?
Many users try to split PDF files using the online sites that offer this service. But, free services come with a wide range of disadvantages. When you are using them, there are many chances that the security of your data becomes compromised as you don't know where the file is being stored and how its data are going to be used. Other than this, online services have file size limitations also.
To avoid all the limitations it is suggested to use the expert solution. And here it comes!!!
Automated Approach to Split PDF Document into Separate Files
SysTools PDF Splitter Tool is one of the best solutions to divide PDF into multiple files without any issue. The tool provides different options to split PDF files – by Page Number, Page Range, Size, Each Page, Odd Page, or Event Page. Moreover, the tool takes care of the orientation, layout, and formatting of your document. Along with this users can also Merge Password Protected PDF into one using this tool.
For Windows Users:
For Mac Users:
Step by Step Procedure to Break PDF into Smaller Files
Download, and run the software to divide PDF into multiple files. Choose the Split option then click on the Next button.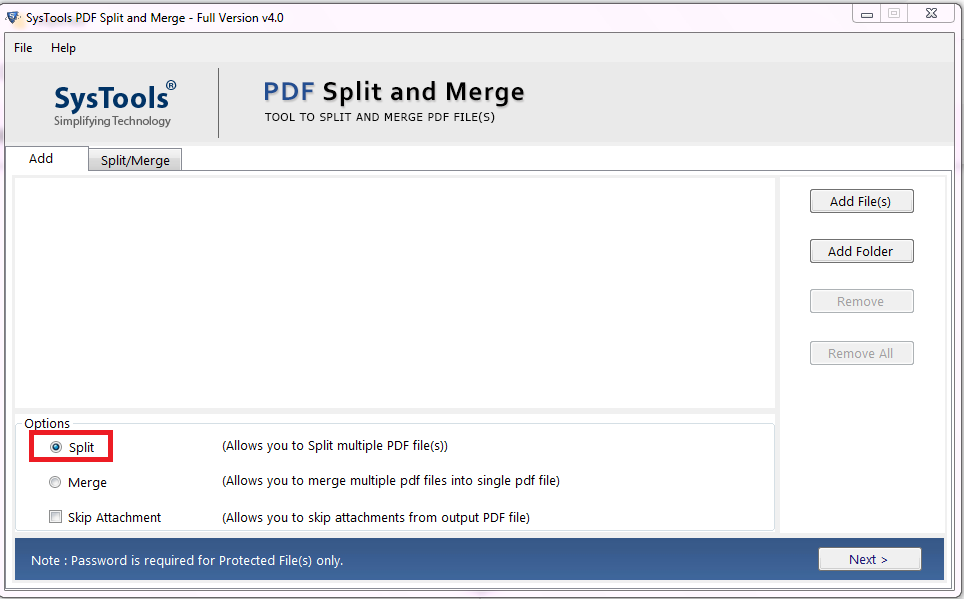 Select the file by clicking the Add File(s) or Add Folder(s) option to split PDF into multiple files.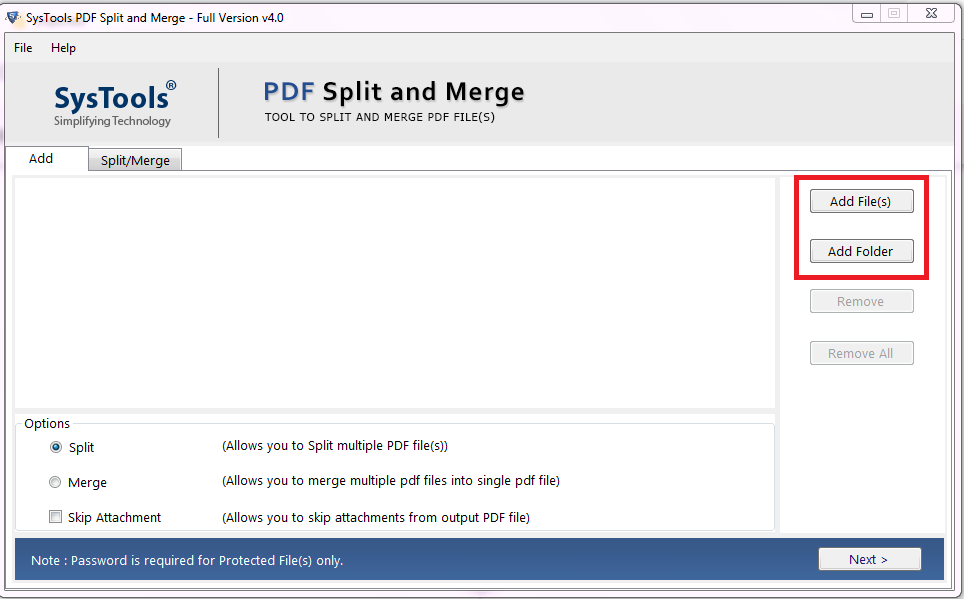 Select the desired split option and then click on Change to provide the destination location to save the resultant file. After that click the Split button.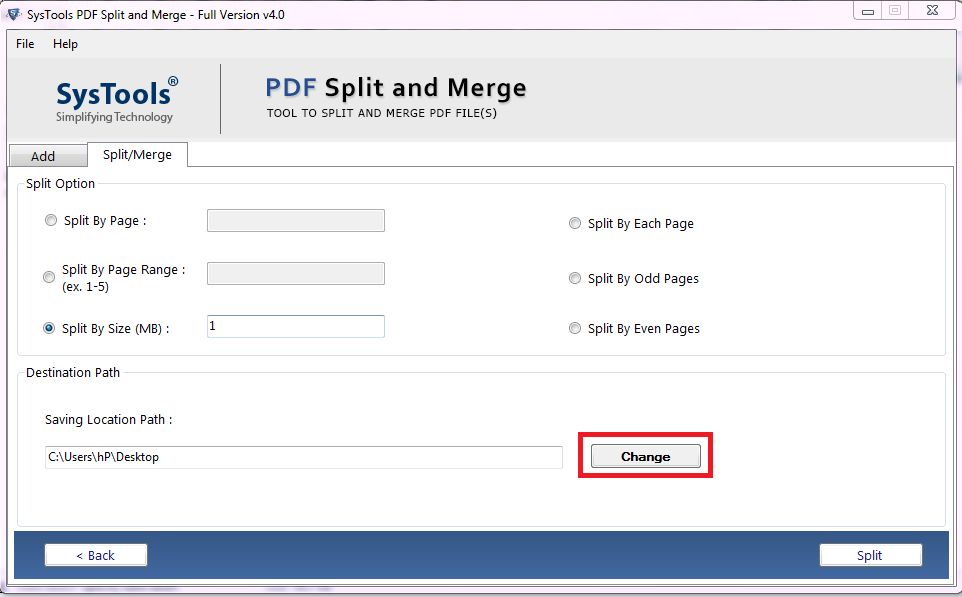 At last, a confirmation message is displayed ensuring the completion of the splitting process.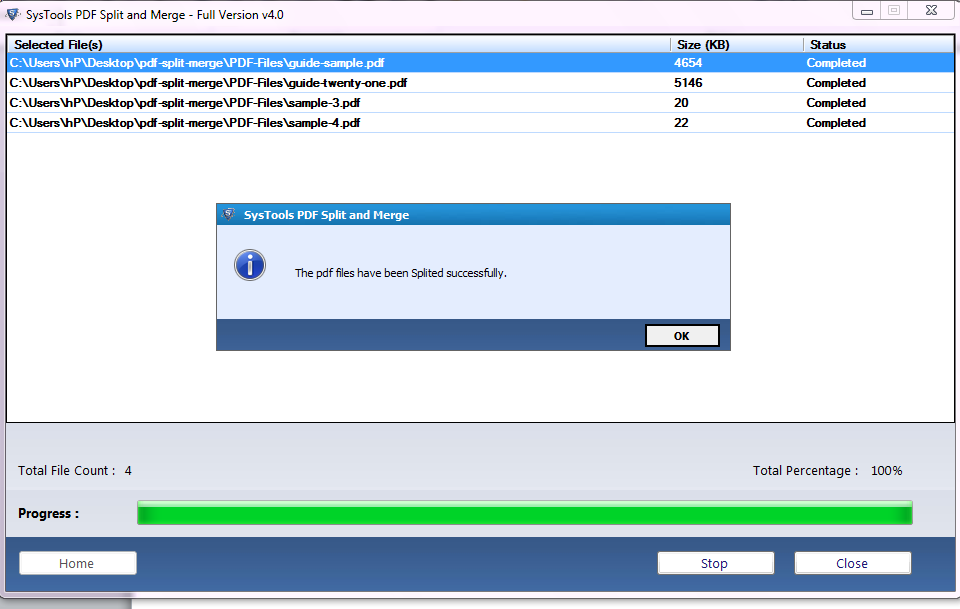 Read More: Merge PDF Files in Batch – Simple & Efficient Solution
Wrapping Up
Well, in this above blog, we have discussed simple approaches to split PDF document into separate files. Here we have explained above in a descriptive way, the manual, as well as automated methods. You can use any of the described methods as per your need and can divide PDF into multiple files the way you want to.