Merge PDF Files in Batch – Simple & Efficient Solution
Are you finding the solution to merge PDF files in batch on your system? Is it really difficult to manage a number of PDF files? If you are also having the same query, then you are at the right place. Here, in this post, we have discussed how to merge several PDF files in batch at any time from any place without compromising content and folder hierarchy?
PDF file or Portable Document Format is one of the best ways to share and print large files safely. However, PDF documents are step by step changing into the de-facto transferring files online. Basically, the main use of the PDF files is to share or exchange them without any dependency of application, hardware, and operating system. Earlier, it was the restrictive format, which is managed by the Adobe Systems. But from 2008, it has been used as an open standard for the exchange of e-reports that includes content along with images between the PC users. It is a simple and reliable file format used by users with a commonly-compatible environment.
But, sometimes, a user has multiple files on his or her system like 200, then it becomes really difficult to manage and leads to data corruption. However, to deal with such kind of issues, a user needs to merge PDF files in batch. Now, the question arises, how to join multiple PDF into one? Thus, in this write-up, we have covered all possible solutions to join multiple PDF files in an efficient manner.
Need for Combining Multiple PDF Files into One 
It is really obvious that a user can have any number of PDF documents on its local machine. Therefore, countless documents like around 100 to 1000 require proper handling and management. As there is a large number of documents stored on one single machine, they can lose very easily in the case of accidental or unplanned deletion. Thus, to manage the document in the proper way and to avoid loss of data, a user can deploy PDF Merge strategy.
Manual Solution to Merge PDF Files in Batch
In order to combine several PDF files into one PDF with the help of manual method, a user needs to follow the steps mentioned below:
1. First of all, open the Adobe Acrobat Pro application on the local machine
2. After that, navigate to File >> Create >> Combine Files into Single PDF
3. Then, you need to click on the Add File option in order to combine PDF files
4. Next, choose the PDF files that you want to merge into one file
5. Now, from the Add Files window, choose the PDF files one by one that you want to merge
6. Then, click on the OK button to start the PDF Merge process
7. Here, you can easily preview all PDF files in the Adobe Acrobat Pro window
8. After that, choose the PDF files in the order you want to combine and then, click on the Combine button
9. As you click the Combine button, the merging PDF files process will begin. Now, you need need to wait until the process gets completed successfully
10. After some time, the selected PDF files will get merged into one PDF file
11. In order to save the PDF files combination, you have to click on the File >> Save As option
12. Now, choose the destination location for the resultant PDF file from the Save As PDF dialogue box
13. You can choose the recent location or any different folder based on your choice
14. Now, you need to give an appropriate name to the output file and click on the Save button
15. After performing all the above steps carefully, a new PDF file can easily be accessed that contains multiple PDFs in it.
Limitation of Manual Solution to Combine Several PDF files into one PDF 
A user must have Adobe Acrobat Pro utility installed on the local machine to perform the merging process. Moreover, the process is very lengthy and time-consuming.
User can also read another post to know how to split PDF pages?
Flawless Solution to Merge PDF Files in Batch
As discussed above the manual solution requires a pro version of the Adobe Acrobat tool, which is not a reliable solution for regular Adobe Reader users. Thus, to overcome the limitations of the manual method and to have an effortless solution, a user is advised to look for some alternative for the same. There is a tool provided by SysTools named as PDF Merger that can easily merge pdf files in batch in just a few clicks.
It does not impose any limitation on a number of PDF files while merging. Moreover, the interface of the tool is really user-friendly that anyone can use it without any hassle. The tool provides two PDF Merge options i.e. "Split Merged PDF by Size" & "Merge PDF by Range". Users can select any of these options to combine PDF documents.
This tool also allows the user to merge password-protected PDF documents. But, it is necessary that the user must know the required password. But, if the file is restricted then, it is necessary to unlock PDF files first and then merge those restricted files.
Steps to Merge PDF Files in Batch
1- Launch the tool & click on the Merge option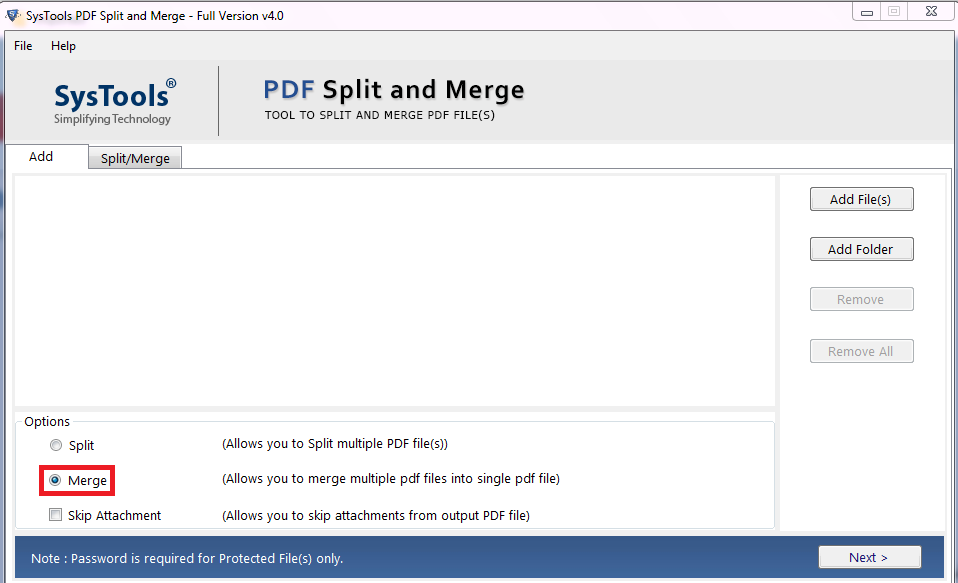 2- Now, add the PDF files & click on Next button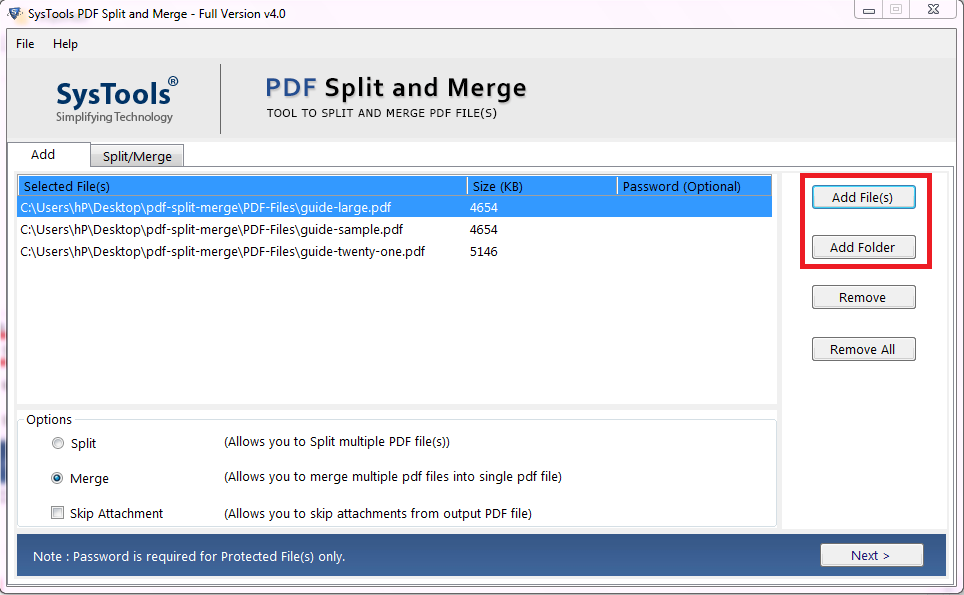 3- Choose the Merge option i.e. "Split Merged PDF by Size" or "Merge PDF by Page Range"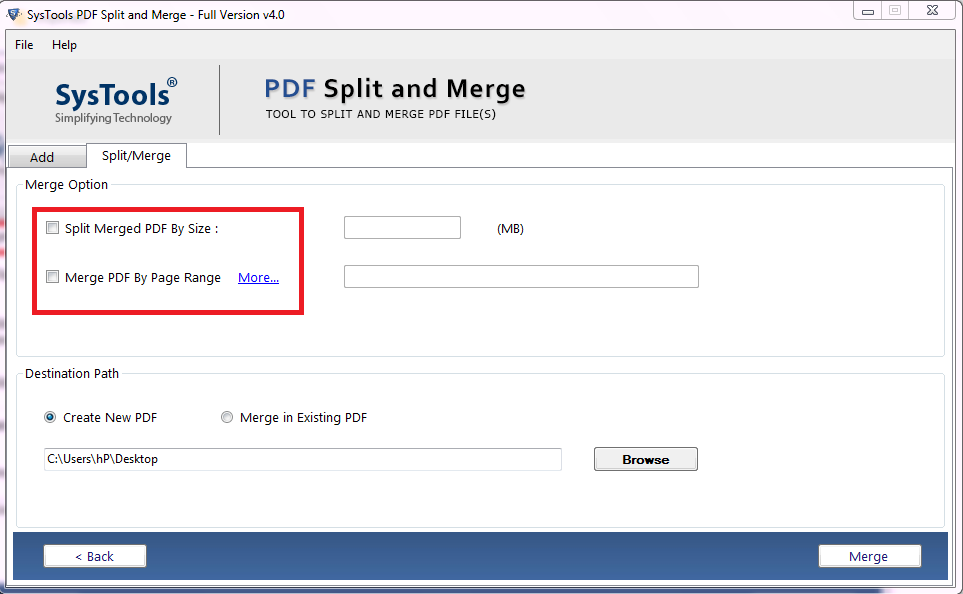 4- Select any of the options as "Create New PDF" or "Merge in Existing PDF"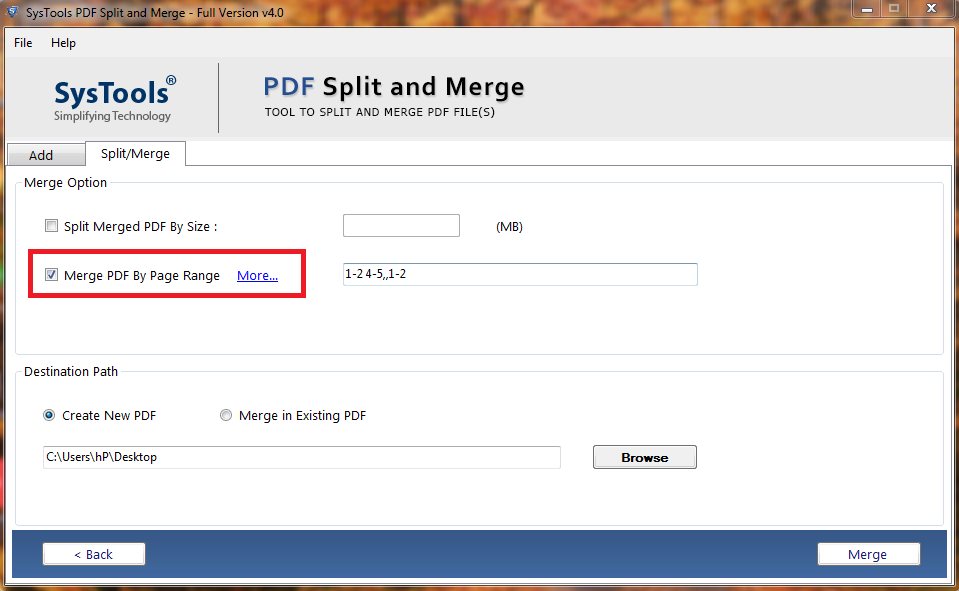 5- The, click on the Merge option to begin the process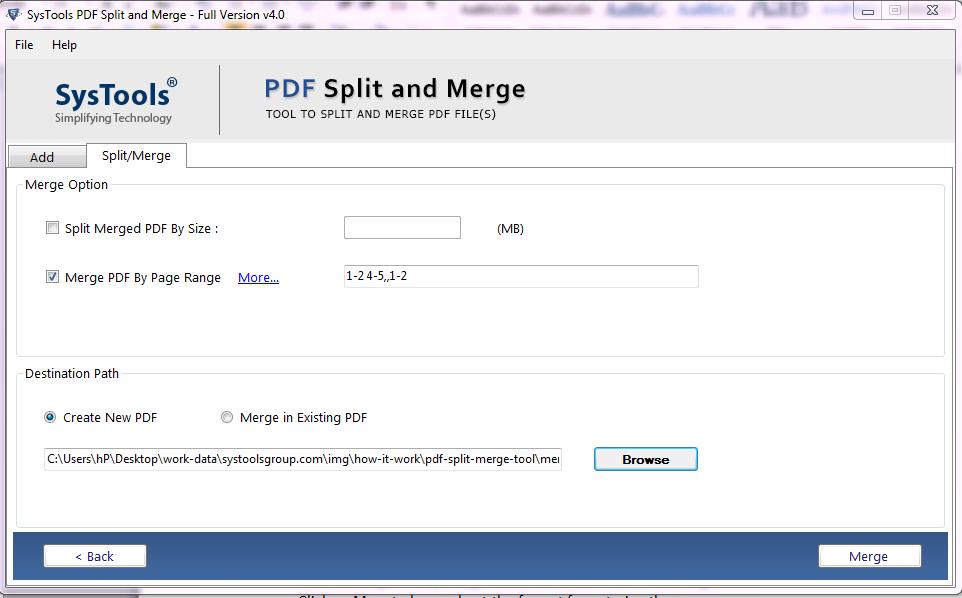 Also Read: How to Split PDF Document?
Conclusion
The manual solution to merge PDF files in batch is a very tedious task to perform for a non-technical user. If any of the steps is performed incorrectly, then it may lead to loss of data loss or deletion of PDF files. Thus, in this post, we have discussed a professional tool named as PDF Merger to combine several PDF files into one PDF in an efficient manner.