Learn the Best Ways to Unencrypt PDF on Mac Easily
Hey expert, can you tell me how to unencrypt PDF on Mac? I have a PDF document with me in which I need to do editing. But I guess it is locked because I was unable to do anything with the PDF document. I tried to convert it into a Microsoft Word document. But that didn't work. Kindly help me out! – Sasha California
This is quite a common question- "How to Unencrypt PDF on Mac OS or How to Unsecure a PDF on Mac OS? Mostly because there are some restrictions on the PDF. That restrains you from doing any activity or maybe some of the activities in a PDF document.
If the PDF document is restricted, which means you are unable to do some of the following activities:-
Printing
Editing
Copying
Extracting pages
Commenting
Signing
Document Assembly
This is because the owner of the PDF has set a permission password in the PDF document so that one can open but cannot edit.
NOTE: Permission password is different from the opening-password which is also called document open password or user-password. If your file is secured with only an opening password. You can easily unlock PDF for editing using Mac Preview. To Know the steps read this: How to Remove PDF Password on Mac
Quick 5- Step Process to Unlock PDFs
Download the tool mentioned.
Insert PDF file(s)/Folder(s) Encrypted.
Choose to save or print PDF files.
Select the destination to save unlocked PDFs.
Hit the Unlock button to remove the applied restrictions.
So now you have 2 OPTIONS to unlock encrypted PDF on Mac OS:
Removing Restriction From Owner Side – To unencrypt PDF on Mac, ask the owner to remove it or give you the permission password. So that with the help of Adobe Acrobat PRO, you can remove restrictions. Just Open the PDF document in Acrobat Pro. Using its "Unlock" tool feature: Choose "Tools" > "Protect" > "Encrypt" > "Remove Security". Then, in the Acrobat Pro only Click on the Edit PDF tool and start editing a secured PDF.
Use Software to Remove Password – Use the automated PDF Data File Unlocker Tool that instantly removes restrictions from PDF files without permission password and edit a secured PDF.
Also Read: How to Add Picture Watermark in PDF Documents
How to Unencrypt PDF on Mac in 2 Easy Steps?
Phase 1: Unlock the Secured PDF File
In this phase, we will be explaining the steps to unlock encrypted PDF on Mac OS and start editing a secured PDF on Mac. The software is also available for Windows user.
For Mac User
For Windows Users
1: Download & install the utility to unlock PDF in Mac system.
2: Use the Add File(s) / Add Folder(s) for inserting PDF files to unlock.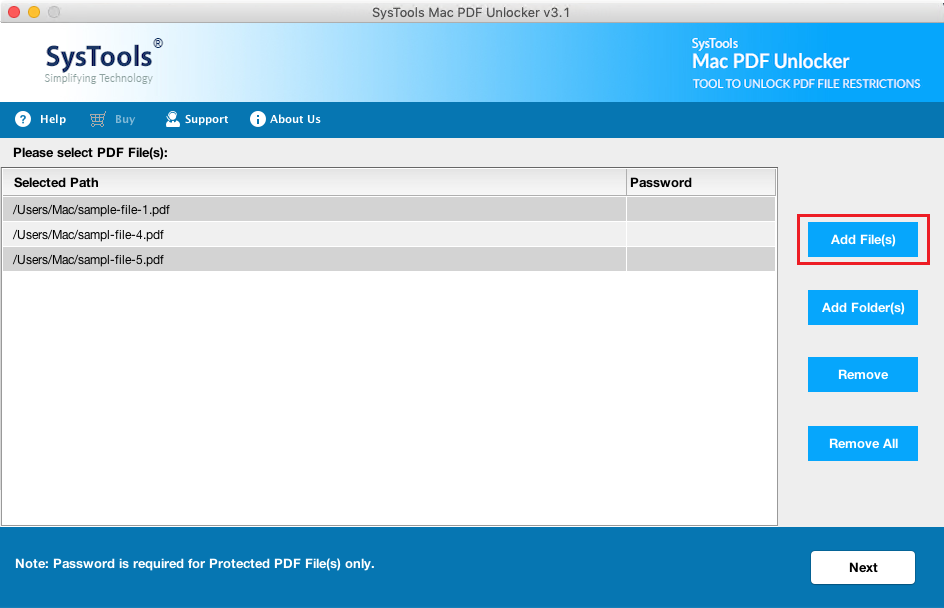 3: Select to either "Save" or "Print" your unlock PDF in Mac system.
4: Then, by using the "Change" select the path of the folder where users want to save the unencrypted PDF. 
5: Press 'Unlock' button to solve the issue of "how to unencrypt PDF on Mac OS".
Note: If your PDF file has a document open password / user-password then, you must provide the password to the tool. In the case of PDF that is only having restricted permissions, you DON'T need to provide the password.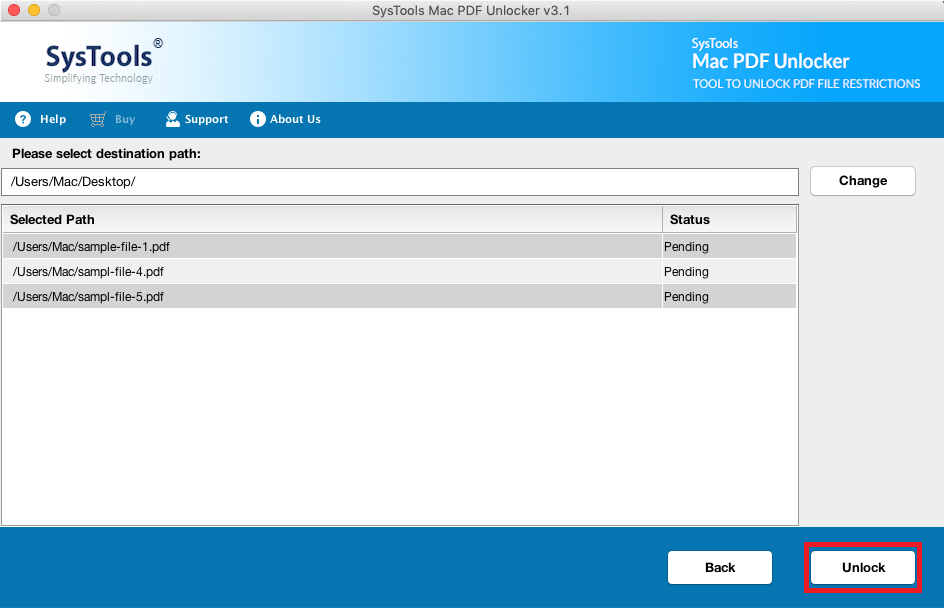 By following the above mentioned steps, user will be able to unlock encrypted PDF on mac . Later, user can edit the there unsecured PDF files on Mac Preview.
Phase 2: Steps to Edit PDF Using Mac Preview
As the PDF file has got unlocked, now users can use to access and edit them.
1: Open Preview in Mac System.
2: Now on the Menu Bar, click on Tools >> Annotate [A].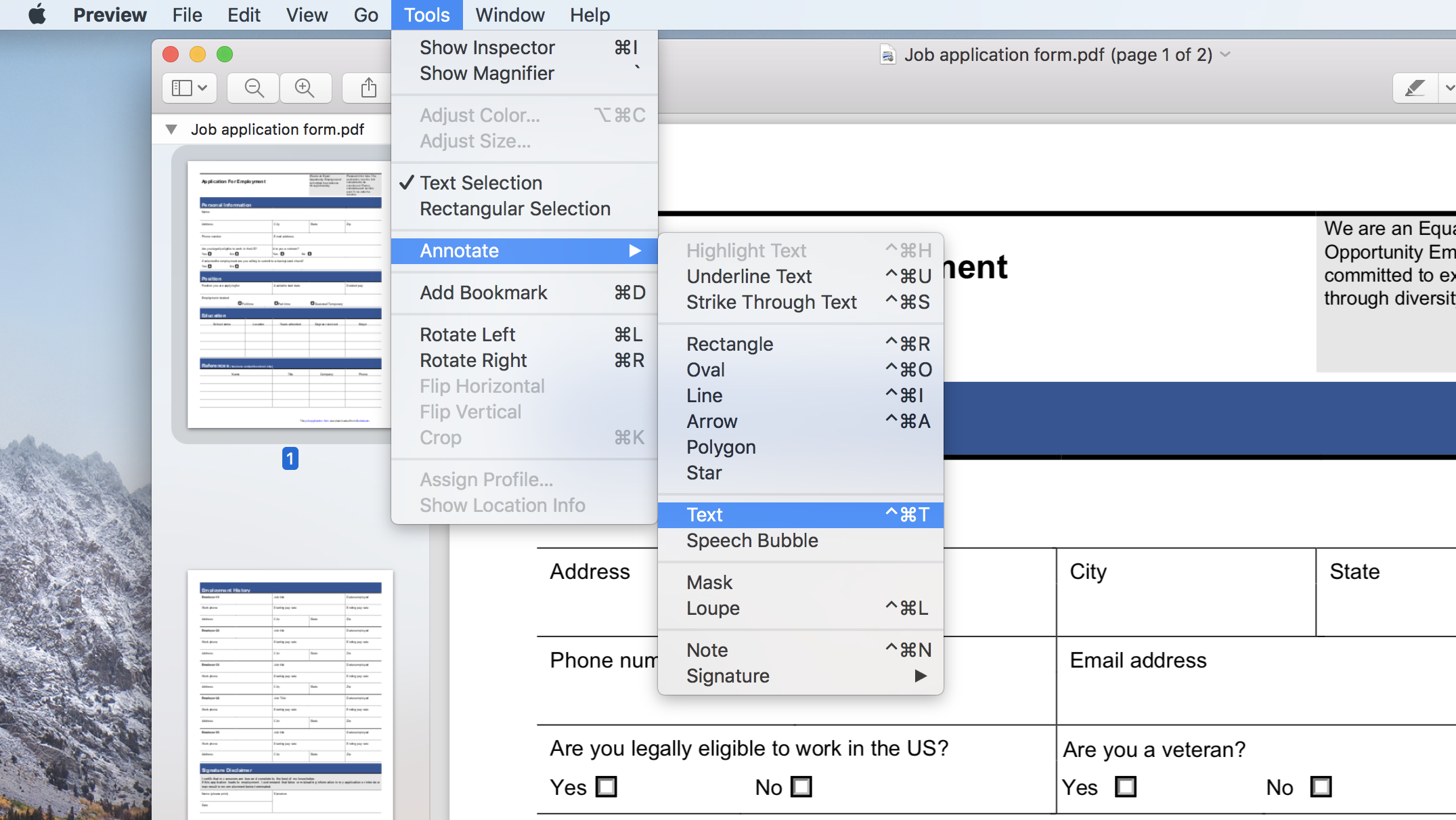 3: Under "Annotate" you can find many options to add text & various tools to draw arrows, circle, rectangles, & much more.
So, by applying both the phase sequentially, the user can complete the process of encrypting and editing a secured PDF on Mac OS.
To know more you can visit this page.
Benefits Of Using The Software to Unencrypt PDF on Mac
Users can unlock encrypted PDF on Mac like Invoices, Bank-Statements, E-Aadhaar, Receipts, E-Books, PDF Magazines, Journals, Forms, Agreements after installing this utility.
Option to insert bulk PDFs for the unlocking process. This means you can save a lot of your precious time by handling multiple PDF files at the same time.
It supports removing encryption from PDF documents having AES & RC4 128 & 192 bit encryption. This gives you the upper-hand in removing restrictions from every type of encrypted files.
All types of restrictions like a copy, print, Data Extraction, edit, comment, sign, form filling restrictions will be removed by the tool.
You can directly print the Resultant PDF documents using the Print option given in the tool itself. Select it, before you start the unlocking process.
This utility is compatible with Mac OS 10.8 and all above versions.
BONUS FEATURE- This tool can also remove restrictions from PDF files. Its a password remover tool also. (You have to provide the password for it).
Conclusion
Process of unlocking PDF files is a tough job to do. If you have a large number of PDF documents with which have some kind of restrictions, then using the software is a great solution for it. By using this tool user will be able to know how to unencrypt PDF on Mac systems.  The tool provides a Free Demo version before you own the tool. Although this utility has a self-explanatory interface. But if you encounter some problem in running the tool, you can contact our Support Team who is available 24×7 at your service.