Import Outlook Calendar to Office 365 Online – Automated Method
Akshay Vats
| Modified: October 6th, 2022 ~ 4 Minutes Reading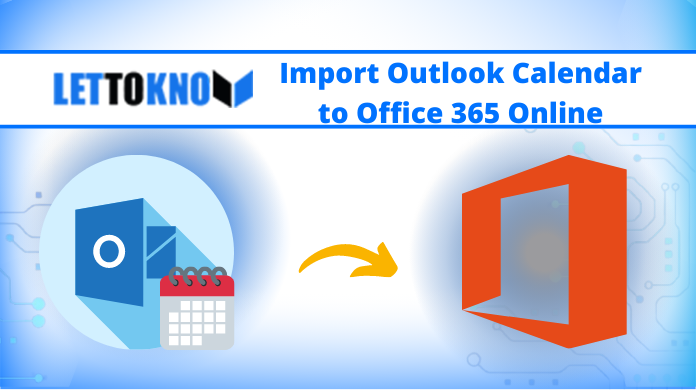 Summary: Following article talks about how to import Outlook Calendar to Office 365 Online. Read and perform the steps carefully to achieve the required results.
In the era of updating technology, calendars play an important role to manage the entire year's meetings, and event schedules in effective ways. As we all know that Office 365 is a cloud-based email client that comes with many handy applications like PowerPoint, MS Word, Skype, SharePoint, and many others.
Office 365 is widely used by small as well as large enterprises to increase their productivity and collaboration of their work. Hence some people want to access their calendars from different places due to their traveling issues. Therefore, they want to transfer Outlook calendar file to Office 365 Online.
Don't worry this article will guide you using an automated approach. But before that, we should understand the benefit of executing such a task and read the upcoming section to know in detail.
Benefits to Migrate Outlook Calendar to Office 365 
To increase the productivity of work.
For better security and compliance.
Enhance better communication and collaboration.
Less cost and more advanced features.
Mobility, Robust security, and compliance.
Methods to Import Outlook Calendar to Office 365 Online
The entire process is divided into three parts to add the Mac Outlook calendar into Office 365 in Mac OS X. Read the upcoming paragraph to know them in detail.
Stage 1: Export OLM file from Mac Outlook
First of all, users need to export the OLM files from their Mac Outlook. Then only they can proceed further to migrate Outlook calendar to Office 365 platform. below are the steps to export the OLM files in detail.
Open Mac Outlook 2011/2016/2019 into your Mac Machine.
Navigate to the File menu, then go to the Export option.
Now, select all the items that you want to export in OLM format.
Select "No, do not delete items" or other options accordingly.
Browse the location and enter the name to store the OLM file.
As the process gets completed, hit the Done button.
This is the way to export OLM files without any trouble. Now use the automated tool to convert the OLM file into ICS file format and then transfer Outlook calendar to Office 365 online.
Stage 2: Convert Mac OLM Calendar to ICS Format
Step-1. Download and Install the automated tool that is smart enough to help you Import OLM File to Windows Outlook.
Bulk import Outlook for Mac calendars into Office 365
Option to selectively move the calendar files
Maintains the folder hierarchy and structure
Supports importing files to total 11 formats
Apply date filter for selective file addition
Step-2. Add the OLM file using the Add file and folder option
Step-3. Now, choose the ICS file format as Export Type.
Step-4. User can apply many filters in Advance Settings.
Step-5. Browse the destination folder for the resultant file.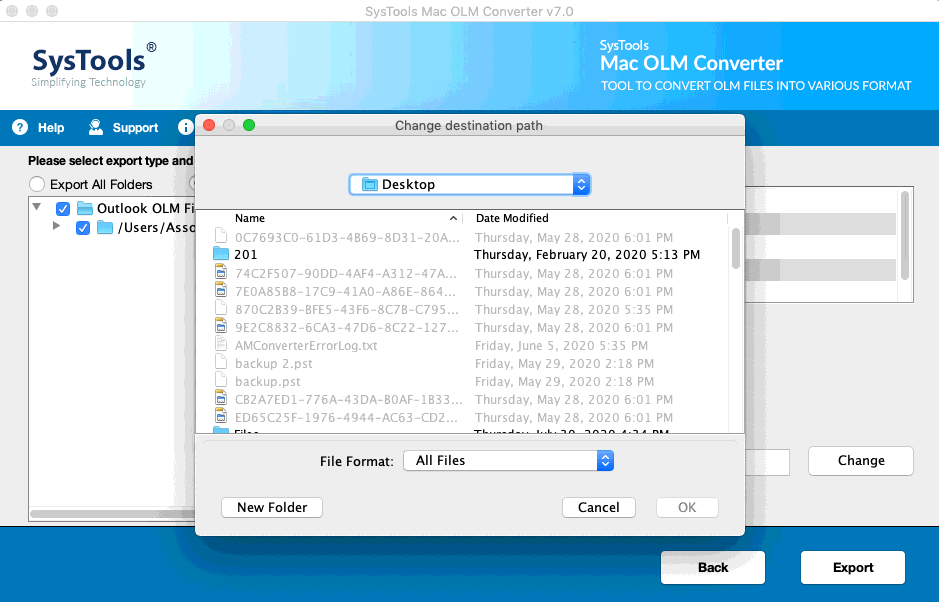 Step-6. Hit the export button to initiate the process.
Wait for a while as the software completed the process now browse the destination folder to access the resultant file. Follow the final steps to import Outlook calendar to Office 365 online in Mac OS X.
Step 3: Transfer Outlook Calendar to Office 365 Platform
Open Office 365 into your Mac Machine
Then, log in to your Office 365 account using the details
Now, select the Import Calendar option from the left pane
Browse the location and upload the .ics file that you want to import
Hit the import button to begin the process
This is the final step that users have to execute. The right execution can surely allow users to extract the exact results they need. No other tool can migrate Outlook calendar to office 365 in such a way. This method is the most reliable one & users can't get any better solution. The best thing about this solution is the safety features.
Note: For the Win machine, choose the SysTools Outlook Mac Exporter that can export Mac Outlook 2016 to PST.
Wrapping Up
Calendars store crucial information of users so when they want to import Outlook calendar to Office 365 online in Mac OS X they need a complete solution as we described above. In this blog, we describe an automated tool that will assist you to convert Mac Outlook files to Windows, contacts, and calendars into 11 file formats. Additionally, the tool merges multiple ICS files into one and can migrate Outlook calendar to Office 365. The tool is a standalone application that doesn't need any supportive tool.