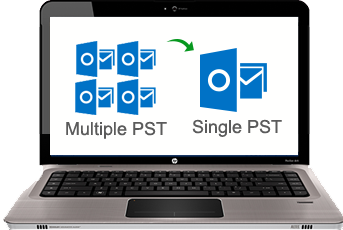 Outlook offers the ability to archive files as backups, which are easily accessible in Outlook at any time. However, most users have created multiple archive files that are difficult to handle. Therefore, users want a solution for merging Outlook archive files but have not yet found a reliable solution. This blog describes the best and most successful way to merge Outlook archives files together. Before switching to the solution, you should first consider how to create an archive in Outlook.
How to Create Archive Folder in Outlook
Open Outlook application, click on the File >> Info >> Tools >> Clean up old items
Click the Archive this folder and all subfolders option and then choose the folder which you want to archive.
In the Archive items older than section, enter a specific date.
You can check the Include items with "Do not Autoarchive" checked box to archive individual items that are excluded from automatic archiving.
In the end, click OK.
The archive folder is successfully created. If you only want to archive if you want, simply disable AutoArchive in Outlook.
Merging Outlook Archive Files With Automated Tool
Basically, there is no direct solution to Outlook merge archive files. Therefore, you can take the help of FreeViewer PST Merge Tool for merging Outlook PST files into a single file. This software allows you to merge Outlook archive files together without displaying file size limitations. This is one of the best and trustworthy tool which helps the users to combine multiple archive PST, active, password-protected files with all data elements.

This software provides 3 option for merging- Join PST files, Merge PST files and Merge Contacts only. With this utility, you can easily merge and remove duplicate emails and contacts in Outlook in one place. It works successfully with both UNICODE as well as ANSI PST files. This tool does not change the original formatting and folder structure of the data.
The Process to Merge Outlook Archive Files Together
Here are the quick steps that will help you to consolidate multiple PST files into one PST:
Step 1. Install and run the Outlook PST Merge Tool then select the .pst files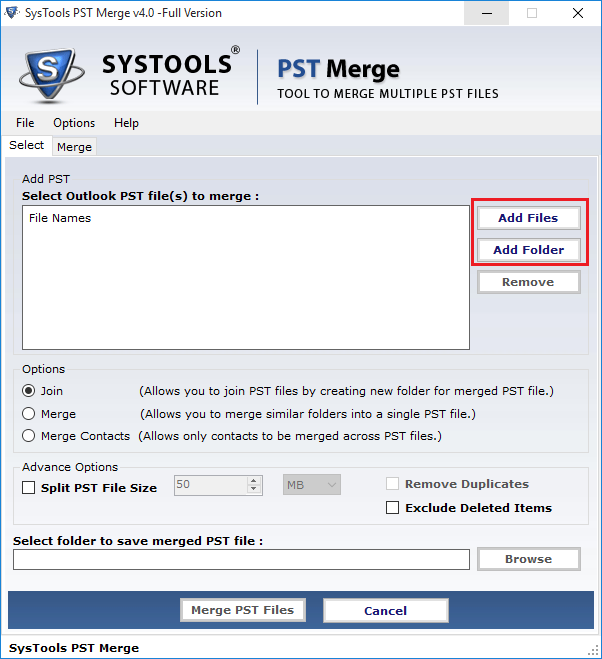 Step 2. Choose one option from Join, Merge and Merge Contacts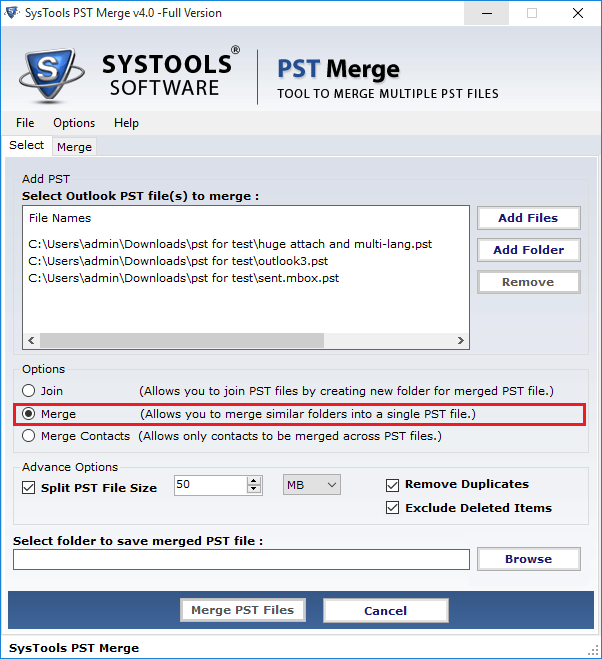 Step 3. Check the "Split PST file size" box to divide oversized PST files and "Remove Duplicates" to combine Outlook data files without duplicates.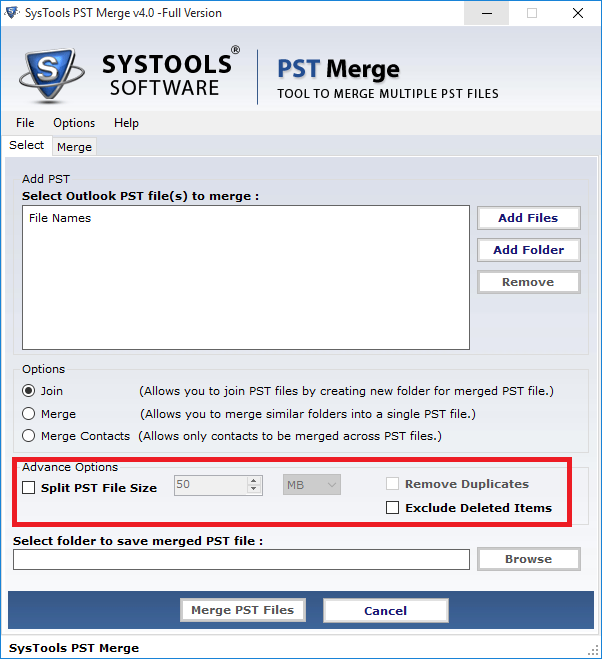 Step 4. Browse to the desired folder to save the output for easy access.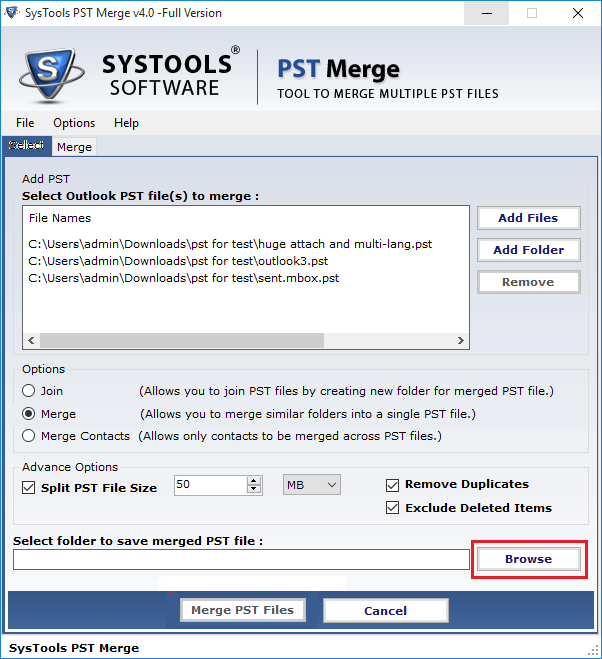 Step 5. Finally, click on the Merge PST Files button. That's it.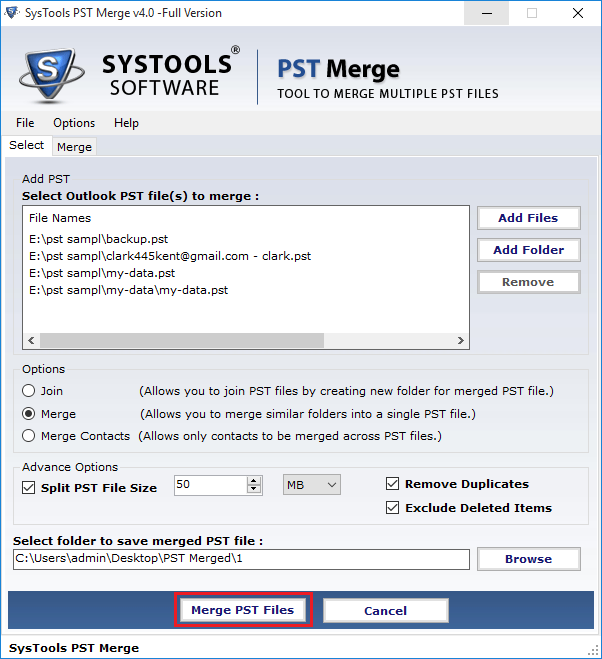 Now you can easily verify the final PST file after you have finished merging Outlook PST files process. The software is capable to merge Outlook calendars, emails and also merge Outlook PST Contacts without duplicates.
Manual Way For Merging Outlook Archive Files
As explained above, there is no direct option to merge Outlook archive files. However, you can merge Outlook archive files together in other indirect ways. Follow these below steps to execute this task:
Open the MS Outlook application and create a new blank PST file.
To do so, click on the New Items >> More items then click on Outlook Data file.
Enter a name for the new PST file and save it to your desired location.
Click OK. The newly created PST file is displayed.
Now, switch to the File tab and select the option Open >> Import.
In the Import and Export Wizard, select Import from another program or file option. Click the Next button.
In the Select file type to import from section, select the Outlook Data File (.pst) option and click Next to continue.
Click the Browse button and select the .pst files to import for merging Outlook archive files. Click Next again.
Select the folder to import from and check the "Include subfolder" and "Import items into the same folder in" boxes.
Click the Finish button.
Drawbacks of Manual Method for Merging Outlook PST Files
The manual process is free, but there are some disadvantages as well. The process is very time consuming, requires technical expertise and a lot of time to get the job done. If you have multiple Outlook PST archive files, you must repeat the import process for all PSTs.
The Final Words
Most Outlook users have several archive .pst files that they want to combine into one file. Outlook does not provide a direct method to Outlook merge archive files. However, some other method is helpful to merge Outlook archive files together. But this process is very challenging by manually if users do not have the technical knowledge. For this reason, we have suggested the PST Merge Tool for merging Outlook archive files without any trouble.