How to Migrate Mail from One Office 365 Account to Another? Stepwise Solution
Summary: This writeup describes the most suitable answer to the user query i.e. "how to migrate mail from one Office 365 account to another?" Follow the complete guide to learn the best way to perform this task without any data loss or interruption.
Before diving into the step-by-step process, let's have a quick glance at the user query:
"I am running an organization where I need to transfer mailboxes from One Office 365 account to another. So, these days I am searching for a solution to migrate mail from one Office 365 account to another. Is there any solution available for the migration? Can you please tell me a suitable way to do the same?"
5 Quick Steps to Migrate Mail from One Office 365 Account to Another
Step 1. Install & Run Tool on Your PC.
Step 2. Select Desired Mailbox Workload.
Step 3. Login Using O365 Admin Credentials.
Step 4. Create Mapping Desired Users.
Step 5. Click on Start Migration Button.
MS Office 365 is one of the widely used cloud services by various organizations. It offers numerous advanced features and functionalities which help users to manage their work and communication. Sometimes, business users need to move mail from one Office 365 account to another. But, it does not provide a feature to do this job.
So, people may face many difficulties during the Office 365 accounts data migration. Hence, in order to resolve the user's problem, we are going to tell you about a reliable solution to transfer Office 365 data to another account. But first, we will focus on the necessity of this migration.
What are the Needs to Transfer Emails from One Office 365 Account to Another?
There are several reasons for organizations to go through this data transition, we have discussed some of them below.
Exiting Organizational Employee
When an employee leaves an organization or changes roles within the company, then it becomes crucial to transfer their respective emails from their old Office 365 account to a new one. Due to various compliance, organizations must keep the data of the exiting employee for at least 5 years. Hence, this process ensures that the new account holder will have access to relevant email correspondence and maintains a record of important communications.
Organization Mergers or Acquisitions Scenarios
In scenarios where two or more organization merge or one organization acquires another, it becomes necessary to consolidate email accounts into a single Office 365 environment. Hence, migrating mail from one Office 365 account to another helps unify communication channels and ensures all relevant data is accessible within the new organization.
Office 365 Tenant Consolidation Plans
Organizations that have multiple Office 365 tenants choose to consolidate them into a single tenant for administrative ease and cost savings. In this case, transferring emails from multiple tenants into a single tenant allows for better management and centralization of data.
Domain or Organization Name Change Plans
When an organization undergoes a domain name change or a rebranding, then it needs to transfer emails from the old Office 365 account associated with the old domain to a new account associated with the new domain. This ensures that emails are aligned with the updated branding and domain name for efficient and safe communication.
Data Backup and Recovery Scenarios
In various situations, organizations of all types need to create a backup of their emails by migrating mail from one Office 365 account to another. This can serve as a redundancy measure to protect against data loss or as a way to recover emails in the event of accidental deletion or corruption.
Compliance and Legal Requirements
Certain industries have strict compliance regulations that require organizations to retain and archive emails for a specific period. Transferring emails to a different Office 365 account may be necessary to ensure compliance with these regulations and facilitate efficient eDiscovery processes if needed.
There are many organizations that decide to move their Office 365 data to another account of O365. But surprisingly, there is no convenient native process available to perform this type of migration.
So, it is required to opt for a professional solution for this migration. Even Microsoft gives advice to use third-party software to complete this administration job.
There are many commercial tools available in the online market. You just need to select a reliable tool and accomplish the task.
Also Read: How to Move Files from OneDrive to OneDrive for Business? Complete Guide
 Most Secure Way to Migrate Mail from One Office 365 Account to Another
Users can take the help of the professional utility by SysTools to Move Users from One Domain to Another Office 365. It is the perfect solution to transfer email data from one Office 365 to another. This utility is capable to transfer all items including emails, calendars, contacts, tasks, etc. Apart from this, there are also many other features associated with this software.
Key Features of the Utility That Helps to Migrate Mail from One Office 365 Account to Another
There are some key features of the Office 365 Migration tool:
It is able to move multiple Microsoft Office 365 mailboxes to another Office 365 account.
The software allows moving all the emails, calendars, contacts, and document items from one account to another in Office 365.
Provides import CSV file to create a mapping between source & destination Office 365.
Three types of Re-run migration options.
It can export an unlimited number of items from the O365 account.
Date-based filter option to migrate only selective data.
Account-based priority option to set the priority of the account to migrate first.
There is no risk of data loss while switching the mailboxes from source to destination.
This software has the facility to generate a status report.
How to Transfer the Mail from One Office 365 Account to Another?
Step 1. Run the software & select Office 365 as a source & as a destination.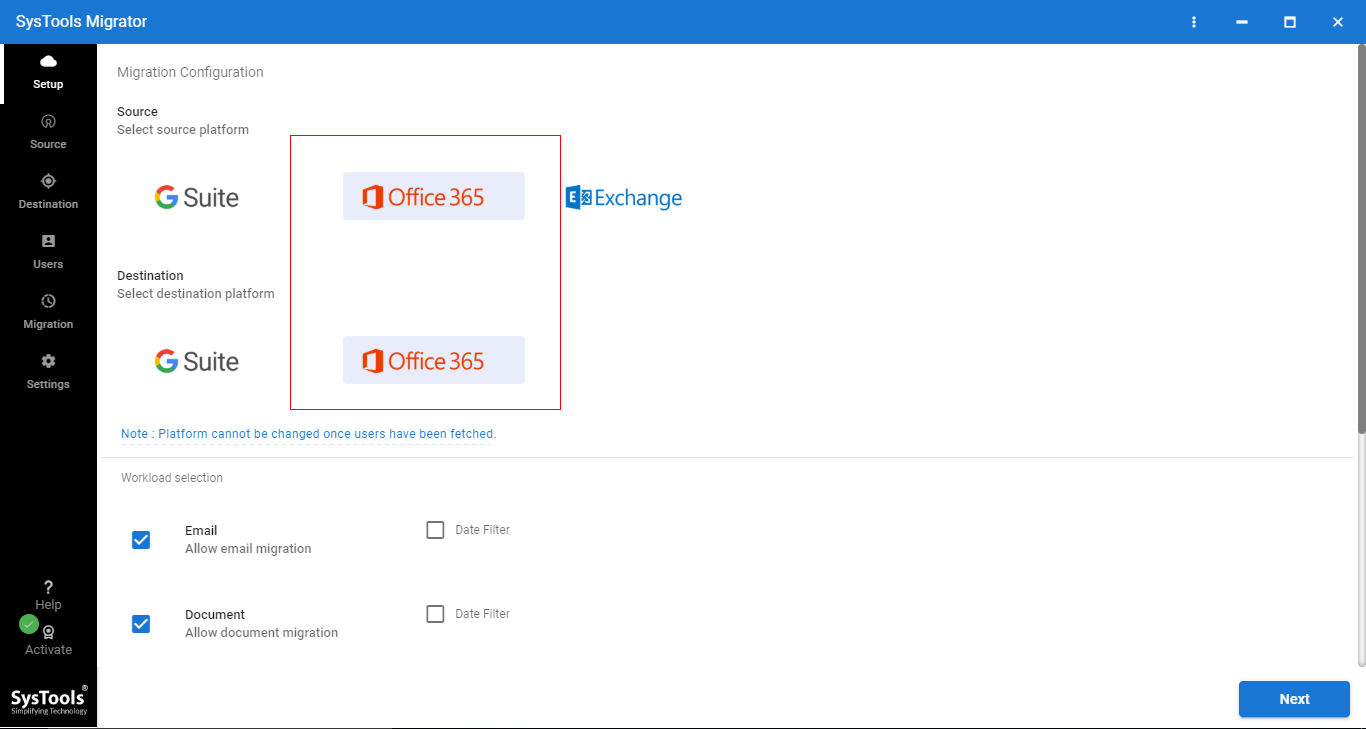 Step 2. Now, you have to select items (email, document, contact, calendar) that you want to migrate from one Office 365 account to another.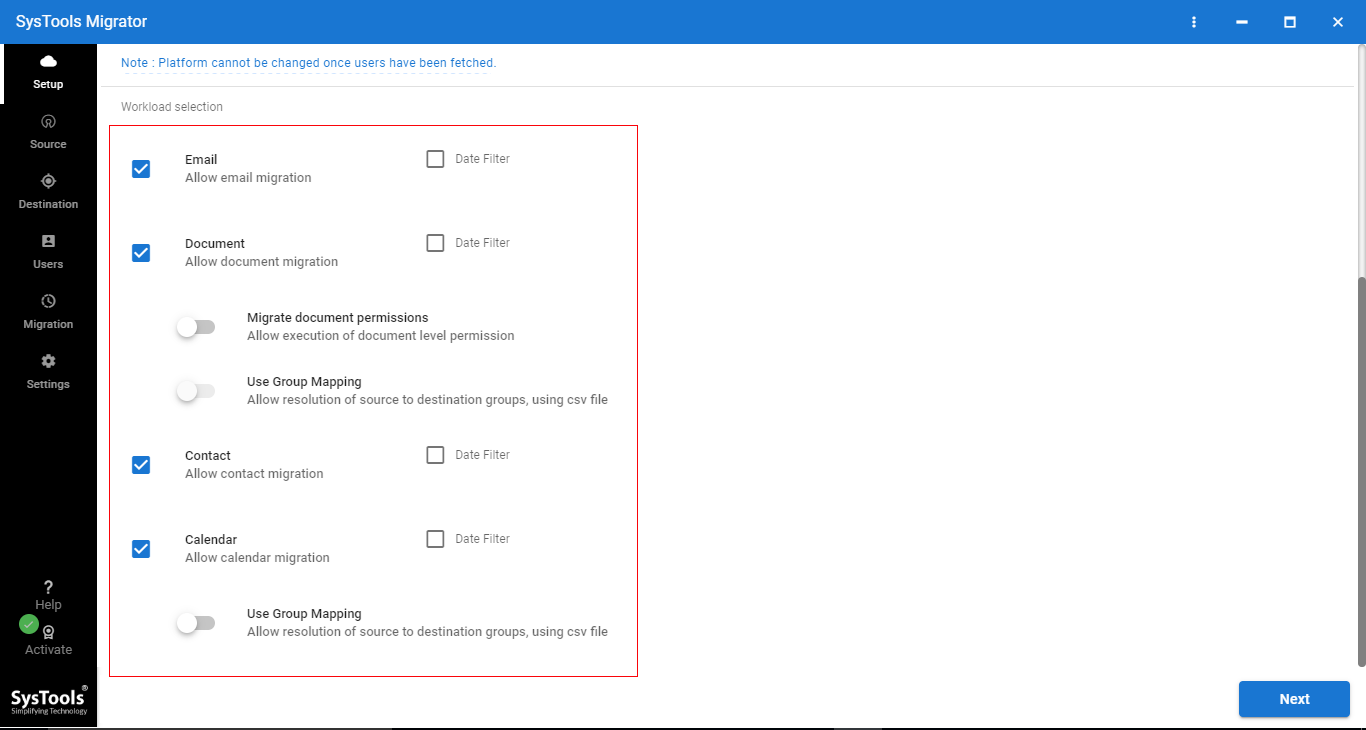 Step 3. On the same screen, the tool provides Migrate Document Permission and Use Group Mapping option. you can enable options as per your requirement. Then click on Next.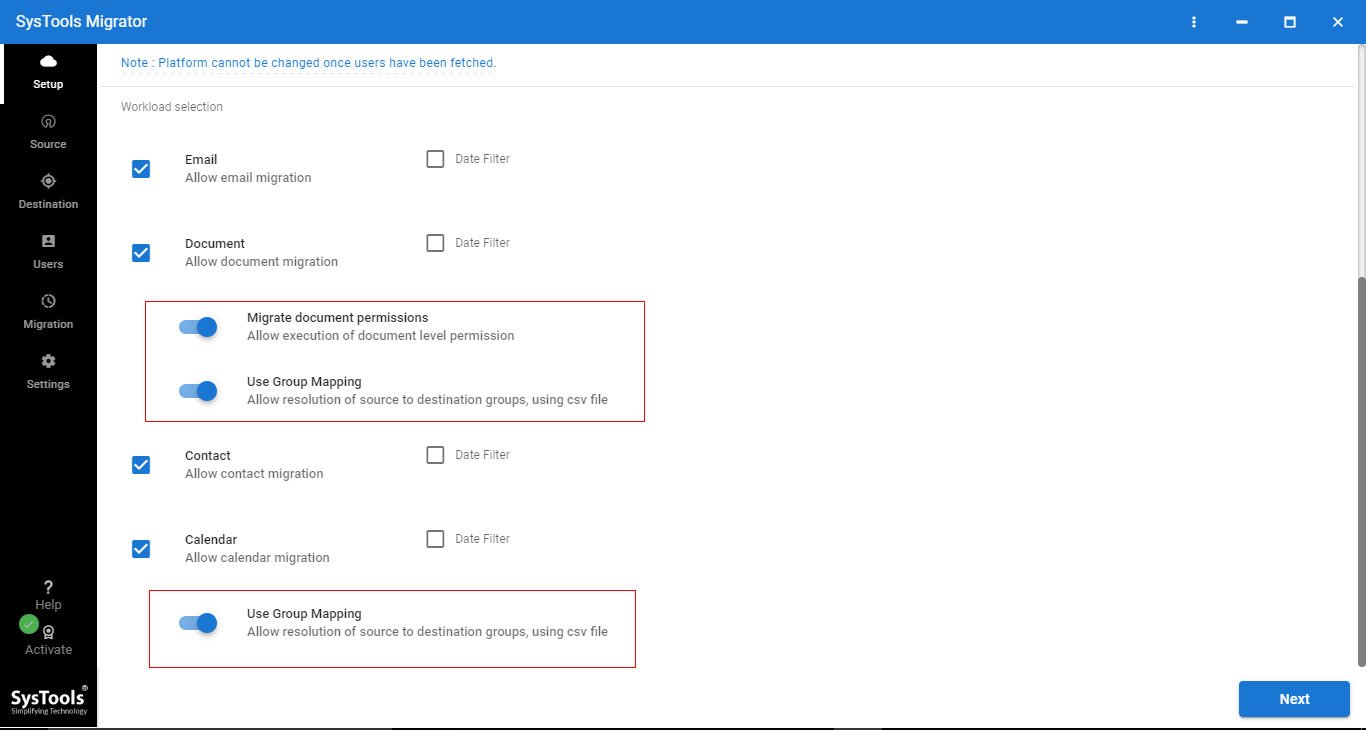 Step 4. Now, enter Office 365 source Office 365 admin ID & Application ID and click on Validate button to migrate mail from one Office 365 account to another.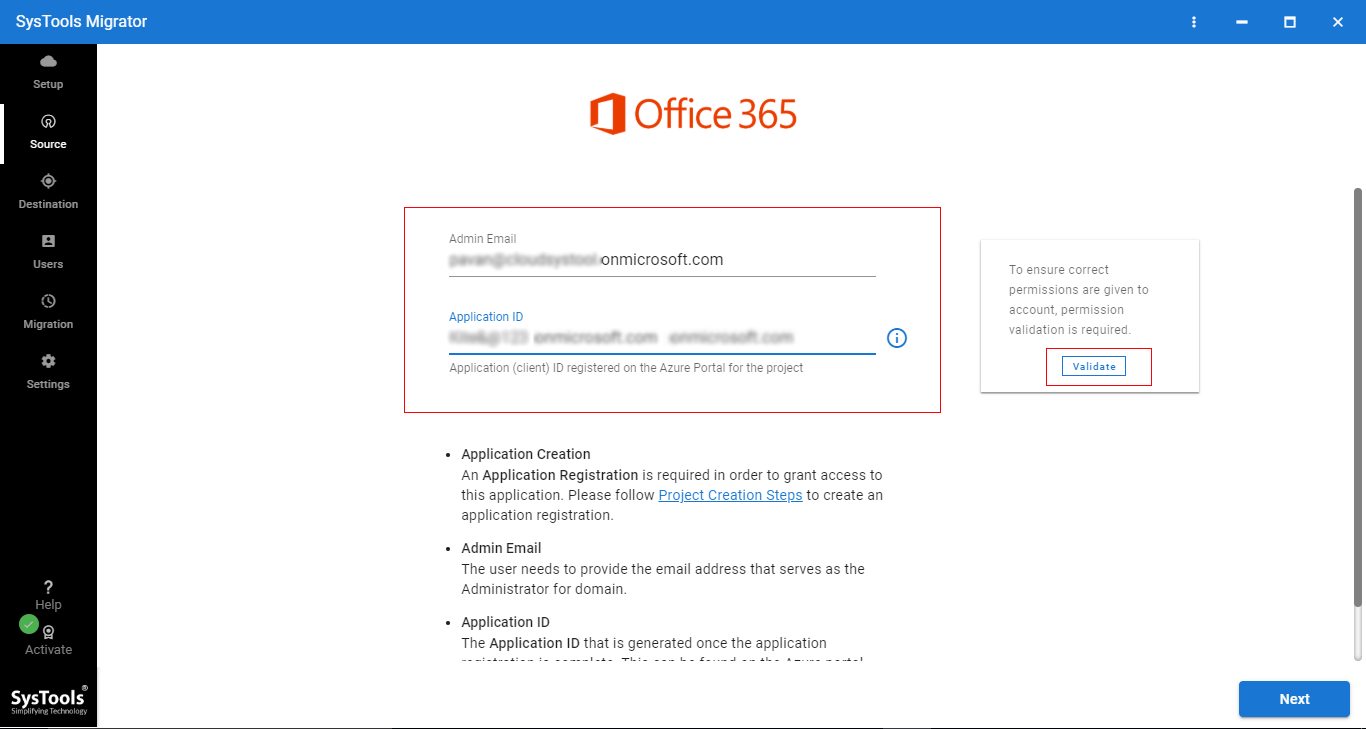 Step 5. The software will Validate permissions, once permission is validated click on Next.
Step 6. Now, enter the destination Office 365 admin ID and Application ID. Then click on Validate button.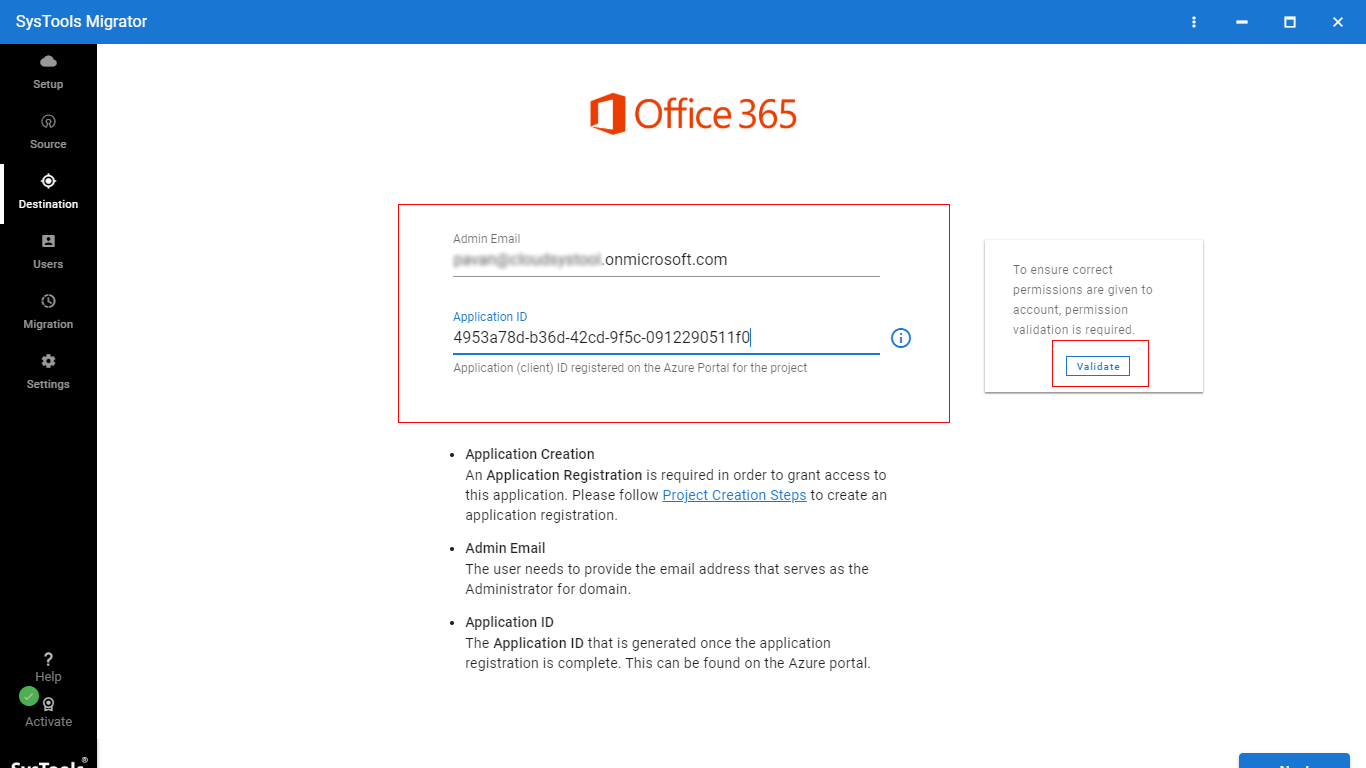 Step 7. Once the permission is Validated click on Next.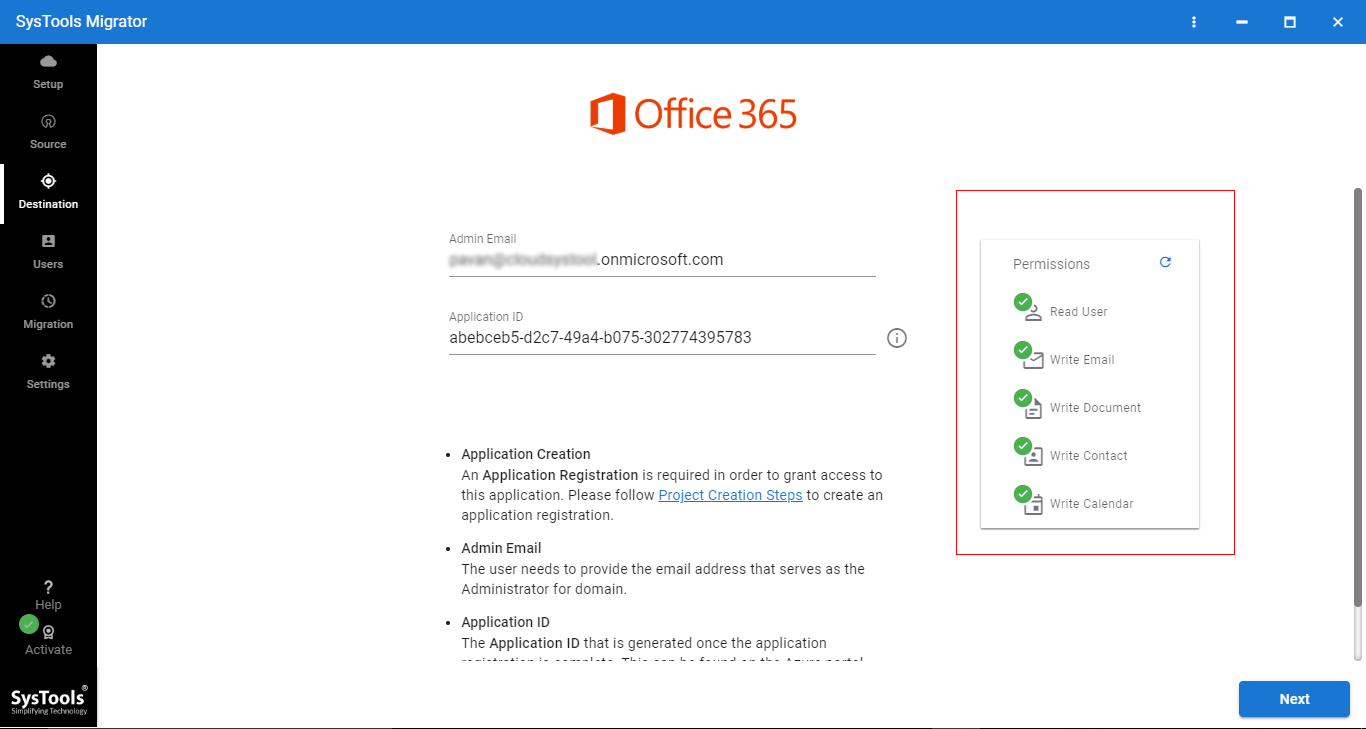 Step 8. After that, we have to create a mapping between Office 365 source & destination tenant for this software provides three options – Fetch Users, Import Users, and Download Template to migrate mail from one Office 365 account to another.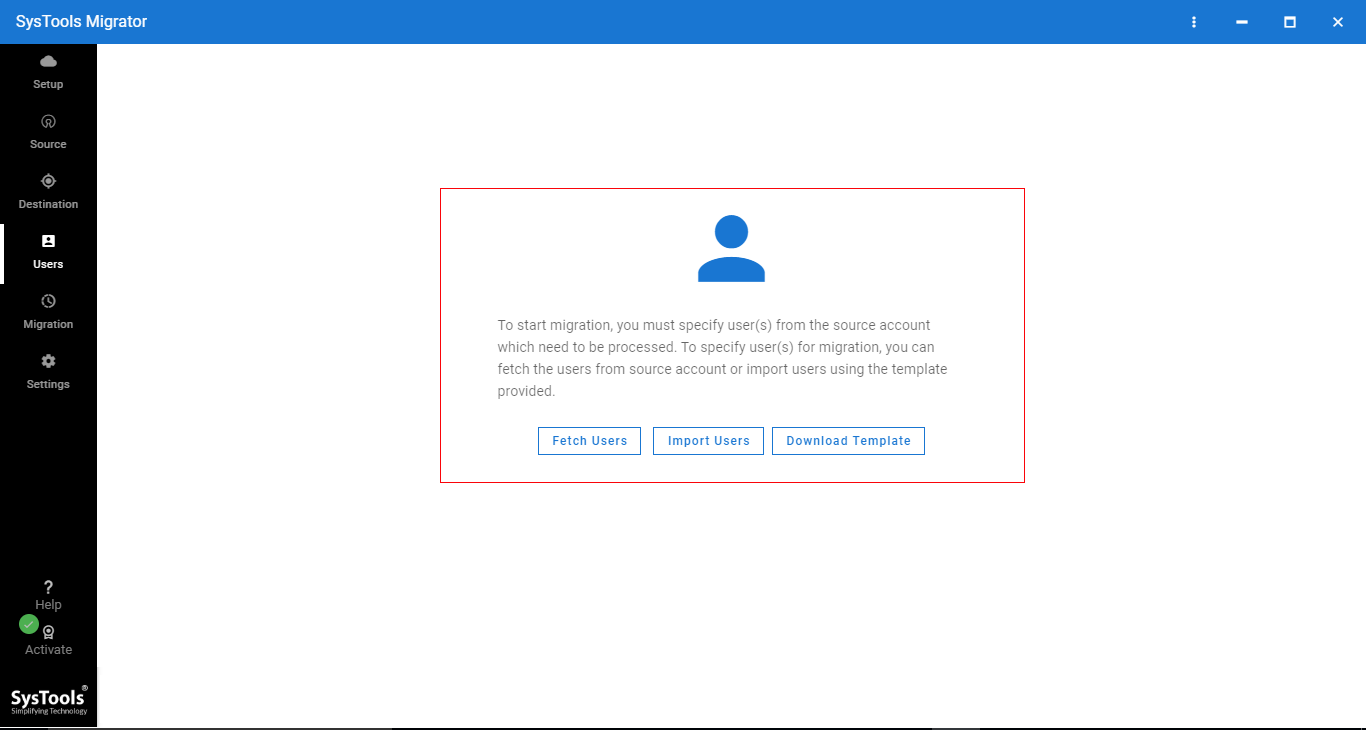 Step 9. Mapping is successfully created, now click on the Validate button to validate permissions.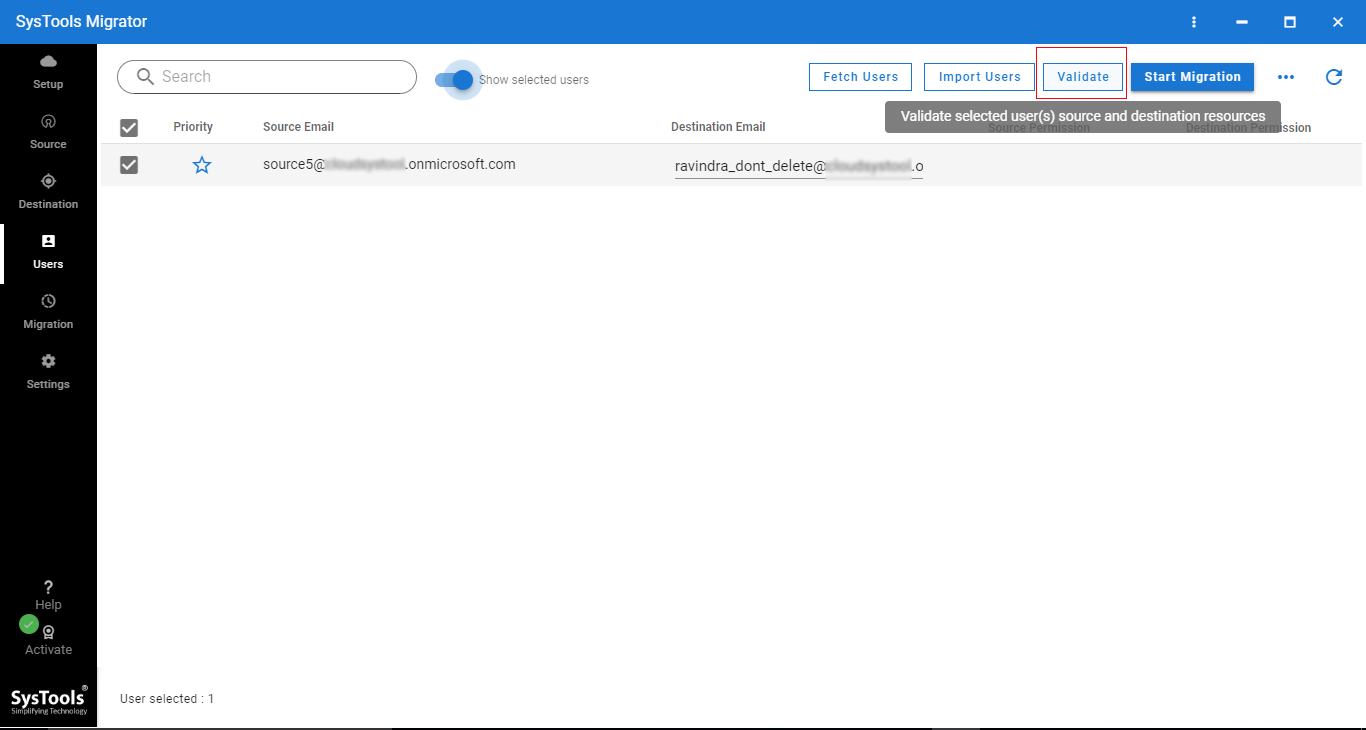 Step 10. After validating permissions click on the Start Migration button.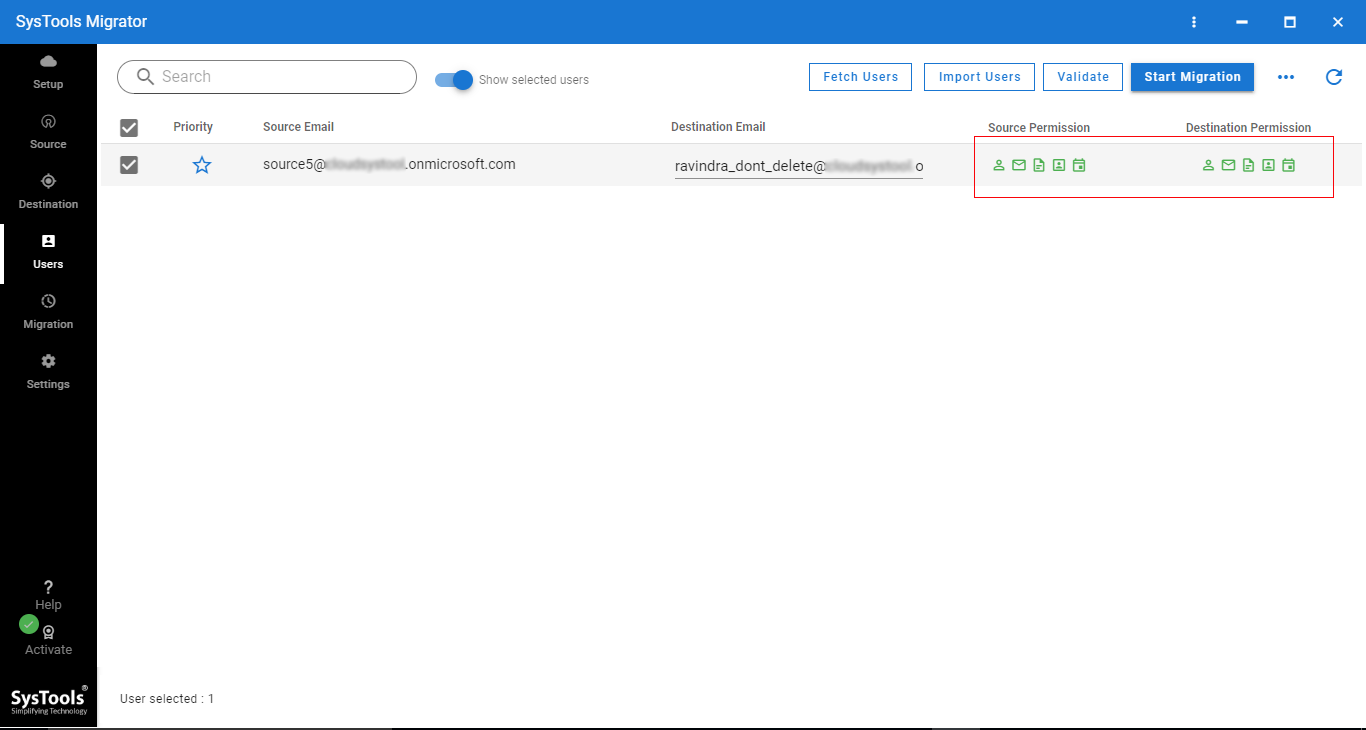 Related Post: OneDrive for Business Tenant to Tenant Migration – Quick Solution
Conclusion
In this write-up, we have discussed the process to migrate mail from one Office 365 account to another Office 365. Through this blog, we have noticed that it is a very tedious task to manually transfer data from one Office 365 account to another.
So, an alternate solution like the professional tool by SysTools is suggested. This is a hassle-free solution that helps to transfer data from Office 365 accounts easily.