Try Office 365 Migration Tool for Free & Make Office 365 Export Simple
Try the following Office 365 Migration Tool and make the export process simple and hassle-free. You can easily transfer domain from one Office 365 account to another or from Office 365 to Google Apps / G Suite. There are multiple migration options available in the software and you can choose any one of them according to your requirement.
Supported Migration Scenarios Using this Office 365 Migration Tool
Office 365 to Office 365 Migration
Office 365 to G Suite Migration
If any user is having a similar kind of requirement and wants to move his/her data from one platform to another, then they can consider this tool and make the complete process effortless. This Office 365 migration tool comes with a trial version that is completely free to download. Thus, you can download the demo version on your Windows OS and try the below-listed features for free.

Key Features of Office 365 Migration Tool – Detailed Explanation
1. Complete Data Migration – This is a one-stop solution for users who are looking to migrate their data from Office 365 platform to some other tenant or to some other platform. The software enables users to export emails, calendars, contacts, and documents (OneDrive data) from the mailboxes without any data loss.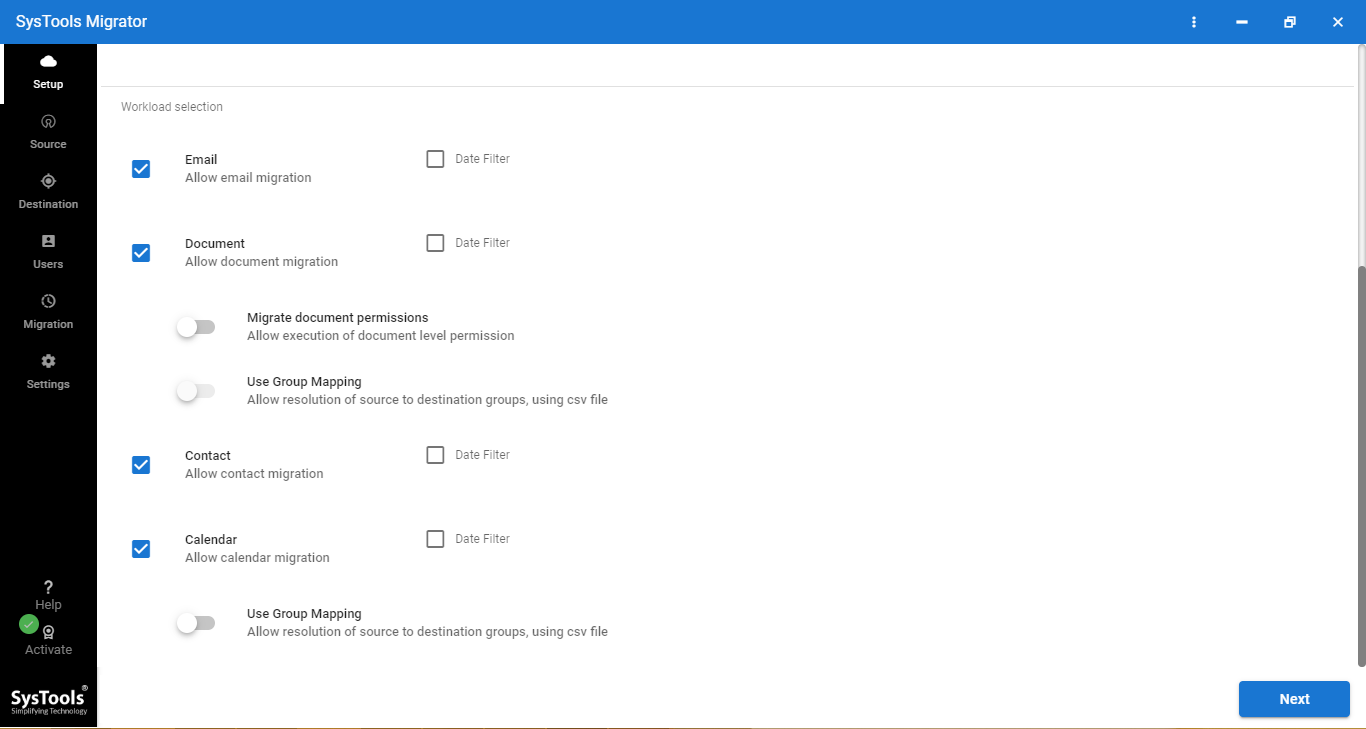 2. Domain Migration – Users can opt for this Office 365 Migration Tool and transfer their data from one domain to another in just a few clicks. The software is capable enough to handle batch migration and carry out the task in a seamless manner.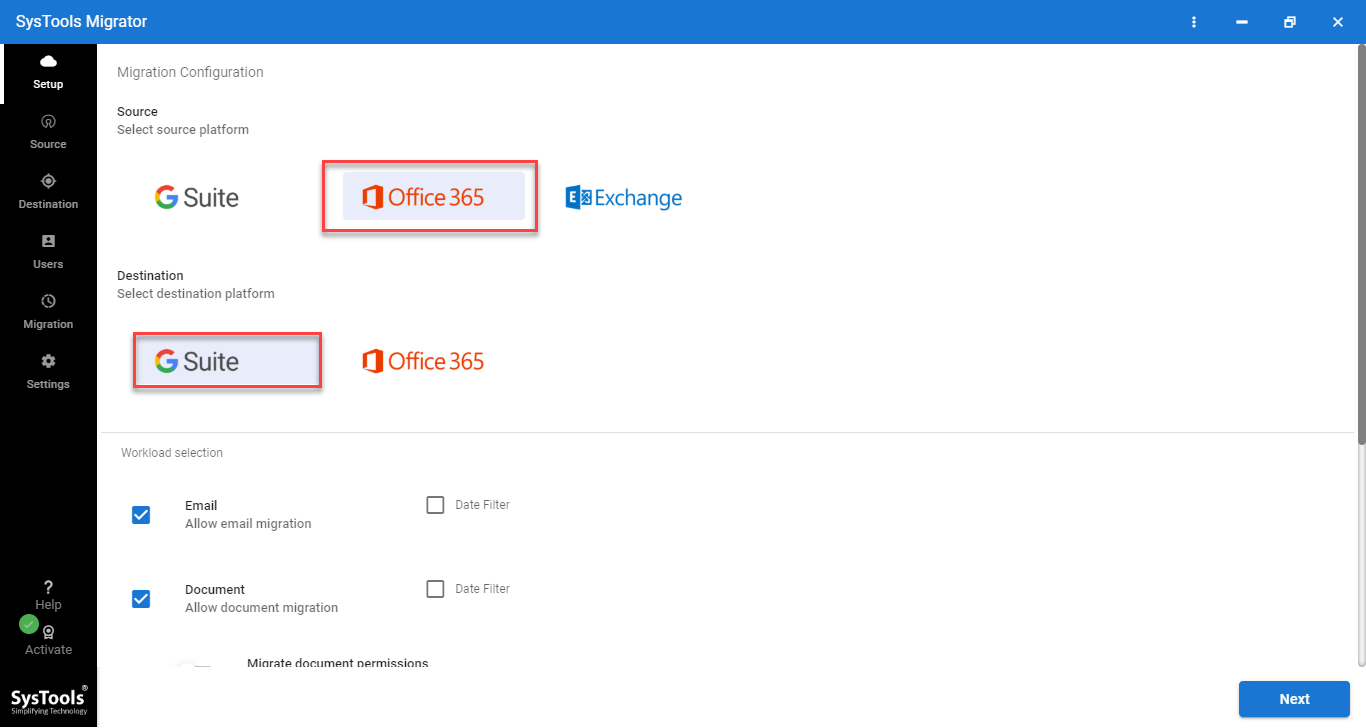 3. Track Live Migration Process – When you start the transfer process in the tool, it will display the real-time progress status of the task. You can monitor the mailboxes that are being migrated concurrently and also track the count of mailbox items being processed by the software.
4. Concurrent Migration – As many organizations have large number of user mailboxes available for migration, this Office 365 migration tool makes the job simple. The application supports concurrent migration in which you can export as many as 200 mailboxes simultaneously. You need to add 10 service accounts to reach that number. This makes the migration task quick and efficient.
5. Simple GUI – While making this tool, our objective was to build a simple user interface. Users just need to have basic technical knowledge and they can complete the migration task on their end itself. You don't have to install any external application to run this software on your system.
Free Download Office 365 Migration Tool on Windows OS
You can run this utility on Windows 10, Windows Server 2012/2016 by downloading it for free. The trial version of this tool can help you migrate data from 2 user accounts only.
Visit the page to know more about SysTools Cloud to Cloud Migration Tool.

Frequently Asked Queries
Q. How does this software works to migrate data from one platform to another?
A. You can follow the below-mentioned steps to perform the same:
Download this Office 365 Migration Tool on Windows OS.
Choose Source Platform and Destination Platform from Screen.
Provide Admin Details of Source Account and Destination Account.
Import Users into Tool Using Fetch Users option.
Select the users you want to migrate and Prioritize Mailboxes.
After all the above steps, click on Start Migration button.
Q. Is it necessary to have Admin credentials of the account to run migration on this tool?
A. Yes, you should have Admin details of the account from which you want to export data. This is a secure and reliable O365 migrator and does not save any credentials.
Q. How much time will it take to transfer complete mailbox data into the destination account?
A. It depends on the number of emails stored in the source account. If there are 5,000 large sized emails in Account A and 50,000 small-sized emails in Account B, then the tool will migrate Mailbox A faster than Mailbox B.
Q. What will happen if the Internet Connectivity breaks during the process?
A. Office 365 Migration Tool will display an error message until the Internet connection is established again. The export process will resume again after that.
Author's Suggestion
As there are many Office 365 migration tools available in the market right now, choosing the best one is still a complex task for many users. After many days of research, I found this software as the best tool if you want to migrate from Office 365 mailbox. This utility offers amazing set of features and various migration options as per your requirement. You can try this software on Windows OS for free and then purchase the licensed version from the official website.