Migrate Exchange On-Premise to Office 365 Using Top 5 Techniques
This write-up covers the top 5 ways using which users can easily get answers on how to migrate Exchange on-premise to Office 365 with maximum data security and integrity. Without further ado, let's get into it!
User Query:

"I want to transfer Exchange on-premise mailbox to Office 365. Half of the task is completed, but one of my important emails is not moving. I don't know the issue. Every time I tried to transfer the mail it gives me, a message like the Target user already has a primary mailbox. Can anyone help me out and tell me the best possible reason for the problem I am facing? How to migrate Exchange on-premise to Office 365?"

"Can anyone please suggest how to migrate On-premise Exchange Server to Office 365?"
Why Do Users Need to Migrate Exchange to Office 365?
Microsoft Exchange servers work on a fixed life cycle, during which it introduces new features, security updates, etc. Typically the life cycle lasts up to 10 years from the initial launch of the product. After that, the lifecycle comes to an end & Microsoft stops providing support for that respective product. And, Exchange servers are no exception. In fact, MS Exchange 2010 reached its end of support in Oct 2020.
That's why it's essential to keep yourself updated and migrate your Exchange on-premise data to another convenient platform by considering the possible options.
To help you retire or move your Exchange server deployment, Microsoft Office 365 is the simple & best option. So, in this technical write-up, we will discuss various methods for migrating Exchange On-Premise to Office 365.
Different Ways – How to Migrate Exchange On-Premise to Office 365?
You have two choices to execute the migration process. One, through manual methods or use an automated solution.
Let's talk about the manual methods; usually, there are 4 ways available.
Staged Migration
And, the automated method, uses the most trusted & professional SysTools Exchange to Office 365 Migration Tool.
Out of the 4 manual methods, we'll briefly discuss cutover, IMAP, and hybrid migration. Discussion of Staged migration is not included because this method supports the migration of Exchange 2003 and 2007 data.
Let's start with the manual methods first, then will discuss the automated method.
Cutover Migration to Migrate Exchange On-Premise to Office 365
The cutover migration is useful to migrate all your mailboxes, distribution groups, contacts, etc, to Office 365 at a set date and time. And, it's a suitable migration option for small-scale businesses. Cause it can migrate up to 2,000 mailboxes. However, Microsoft recommends using it for a maximum of 150.
If you try to migrate more, the entire process could get overwhelming for the IT admin of your organization.
Things To Consider About Cutover Migration:
All on-premise mailboxes will be moved to Office 365.

You will need an on-premises admin account that has access to users' mailboxes.

It's necessary for Office 365 to connect to your Exchange 2010 servers by using Outlook Anywhere over TCP port 443.

You need to add the Exchange 2010 accepted domains and make sure they are verified domains that you want to use in Office 365.

You'll require a Microsoft 365 license for the migration that includes Exchange Online for each user mailbox.
Migrate Exchange On-Premise to Office 365 Using IMAP Migration
When you use an IMAP migration for migrating mailboxes from an MS Exchange server to Office 365, it will migrate the items in users' inbox folders & other mail folders only. Also, it doesn't create mailboxes in Microsoft 365 or Office 365. So, you'll have to create a mailbox for each user before migrating their email.
Using IMAP migration, you can migrate only 500,000 items from a user mailbox. Plus, the maximum message size that can be migrated is 35 MB. 
Overview of IMAP Migration Process:
Office 365 needs the name of the source email server to migrate mailboxes from, so you need to find the full name of your current email server.

You need to create a list of mailboxes to migrate

To migrate email, successfully, connect Microsoft 365 or Office 365 to your email system.

You need to create a migration batch to migrate your mailboxes.

Directly route your emails to Office 365.
The above steps are just a brief introduction to IMAP migration. The actual process is quite lengthy and overwhelming. Moreover, you can migrate only emails using IMAP migration. You can't migrate contacts, calendars, or tasks through this process.
Hybrid Migration to Perform Exchange On-Premise to Office 365 Migration
Hybrid migration is best for organizations that expect to stay in a hybrid configuration for many months. You get the features mentioned below in this section, plus directory synchronization, better-integrated compliance features, and the ability to move mailboxes to and from Microsoft 365 using online mailbox moves.
If you have mailboxes up to tens of thousands, then you can move it all or some to Office 365. Hybrid migration makes it possible to:
View on-premises users the free/busy calendar information for users in Office  365, and vice versa.

See a collective global address list that consists of recipients in both on-premises and Office 365.

See full Outlook recipient properties for all users, regardless of their platform (whether they're on-premises or in Microsoft 365, it doesn't matter).

Safeguard email communication shared between on-premises Exchange servers and Office 365 through TLS and certificates.

Treat messages shared between on-premises Exchange servers and Microsoft 365 as internal.
Certain Things to Consider About Hybrid Migration
This migration method is not applicable to all organizations. Since the execution process of the migration is complex, organizations with less than a few hundred mailboxes don't see any benefits that justify the effort and cost involved.

Set up directory synchronization using Azure Active Directory (Azure AD) and establish connections between your on-premises Active Directory servers and Microsoft 365.

You are going to need Office 365 licenses that include Exchange Online for each user's mailbox.

You require

Azure AD Connect with password synchronization and/or Active Directory Federation Services so that users will be able to sign in to their Microsoft 365 mailbox with the same username and password that were used previously.
Including hybrid migration, other manual approaches have some limitations that you can't miss.
Must Read: How to Move User from One Domain to Another Office 365 – Stepwise Guide
Noticeable Limitations Of Manual Approaches While Migrating Exchange On-Premise to Office 365
First of all, in the Cutover migration process, there is a restriction on the number of mailboxes that you want to migrate (max 2000 mailboxes). So, if you have a large number of mailboxes for migration, then you can't rely on cutover migration.
Then, in IMAP migration, you can migrate only emails. If you have contacts, calendars, tasks, etc, to migrate then you have to look for other methods to migrate them separately. That means you have to double the effort for a single job.
Though Hybrid migration allows you to stay in a hybrid configuration, experts believe that migrating fully to the Office 365 platform is more appropriate to get the best value and user experience. 
However, the process of migrating Exchange on-premise server to Office 365 is not a piece of cake. And, that's when automated methods come into the picture.
Let's explore the method.
Quick Way to Migrate Exchange On-Premise to Office 365 Account
Since this method uses the above-mentioned software, it is entirely automated. The tool helps users (both technical & non-technical) to carry out the migration in a seamless manner. Further, the built-in graphical user interface of the software acts as an added benefit for users to understand the whole process.
In addition to that, there is no fear of accidental data loss since no complicated technicalities are involved. So, you can follow the easy-to-do steps given below and execute the migration in just a few clicks.
Step 1. Download the software and launch it on your system.
Step 2. After that, go to the 'Setup' section and select the Source as Exchange and the destination as Office 365.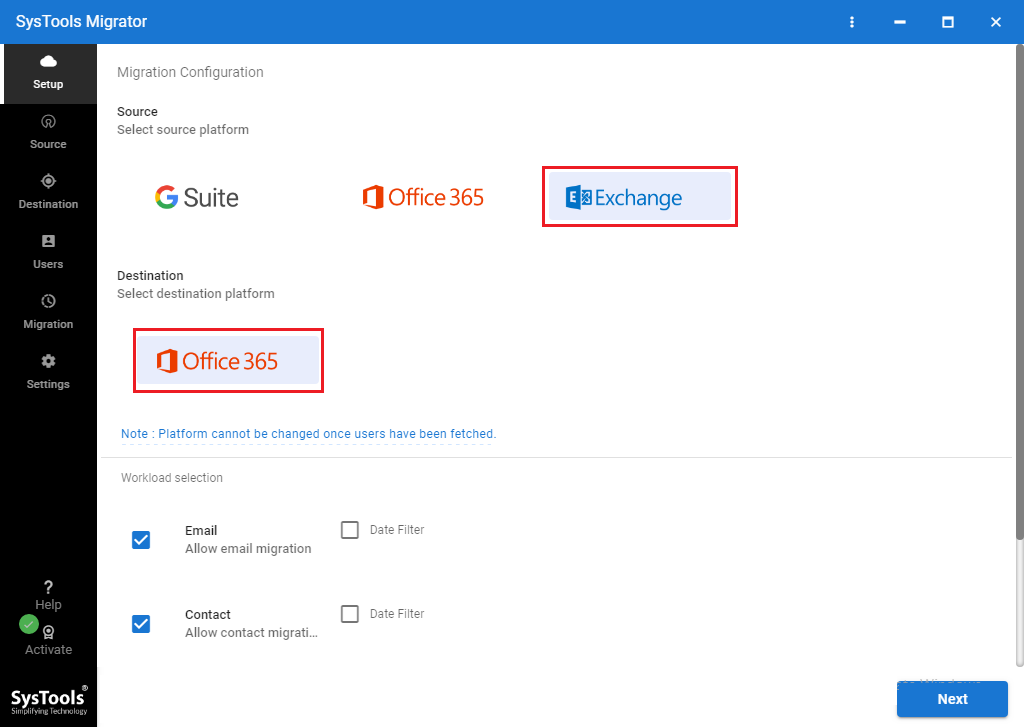 Step 3. Then, scroll down and select the categories such as Email, Contact, and Calendar checkboxes under the 'Workload Selection' for the migration.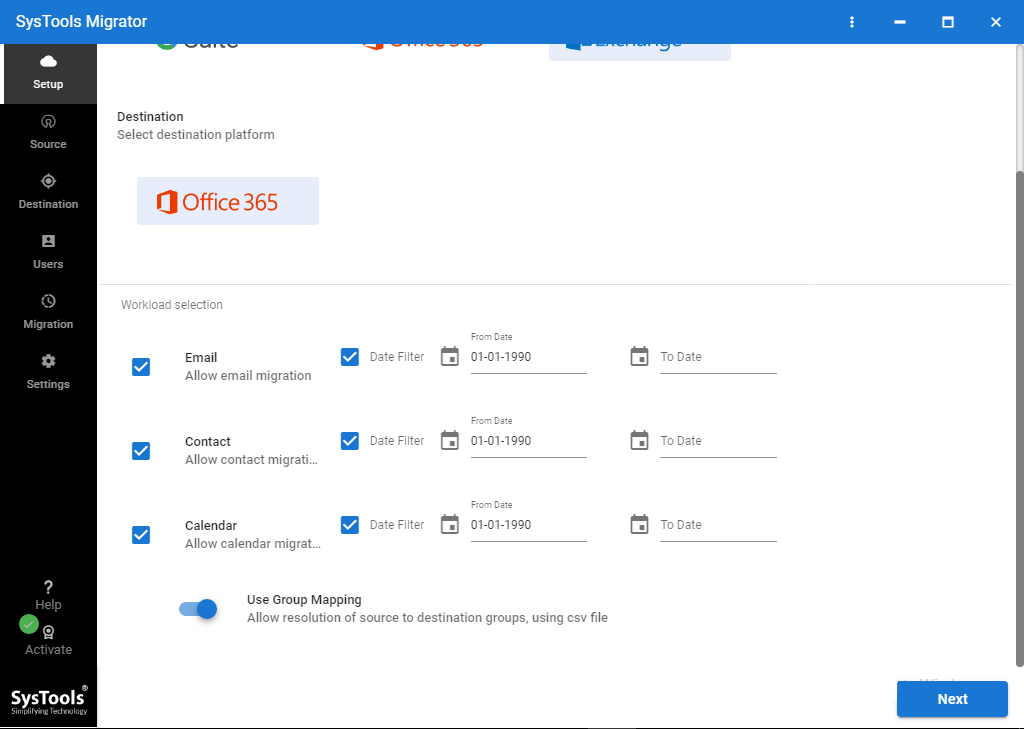 Step 4. Next, you can click on the Date Filter option to perform a selective migration. Once you choose the From & To dates, click the 'Next' button.
Step 5. Next, go to the 'Source' tab. Provide the necessary details such as Exchange Server Version, Admin email, Admin Password, Active Directory IP, and Exchange Server IP.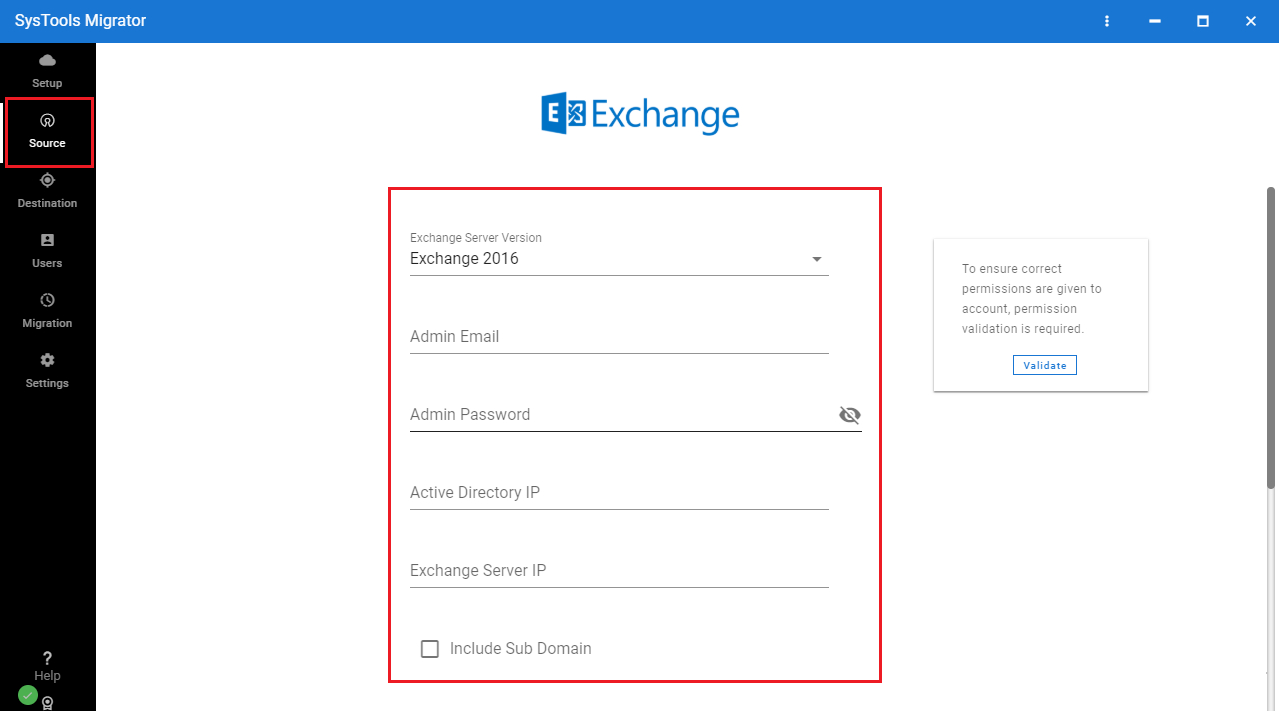 Step 6. After that, verify the source permission by clicking on the 'Validate' button.
Step 7. When all the permissions turn green, click on the 'Next' button.
Step 8. After that, go to the 'Destination' Tab. Enter the Office 365 Admin email and Application ID. Then, click on the 'Validate' button & verify the required permissions. Once all set, press the Next button.
Step 9. Next, specify the source users from the Users tab by choosing any one option from Fetch Users, Import Users, or Download Template.
Step 10. Once again, click on the 'validate' button & verify permissions for the Source and Destination.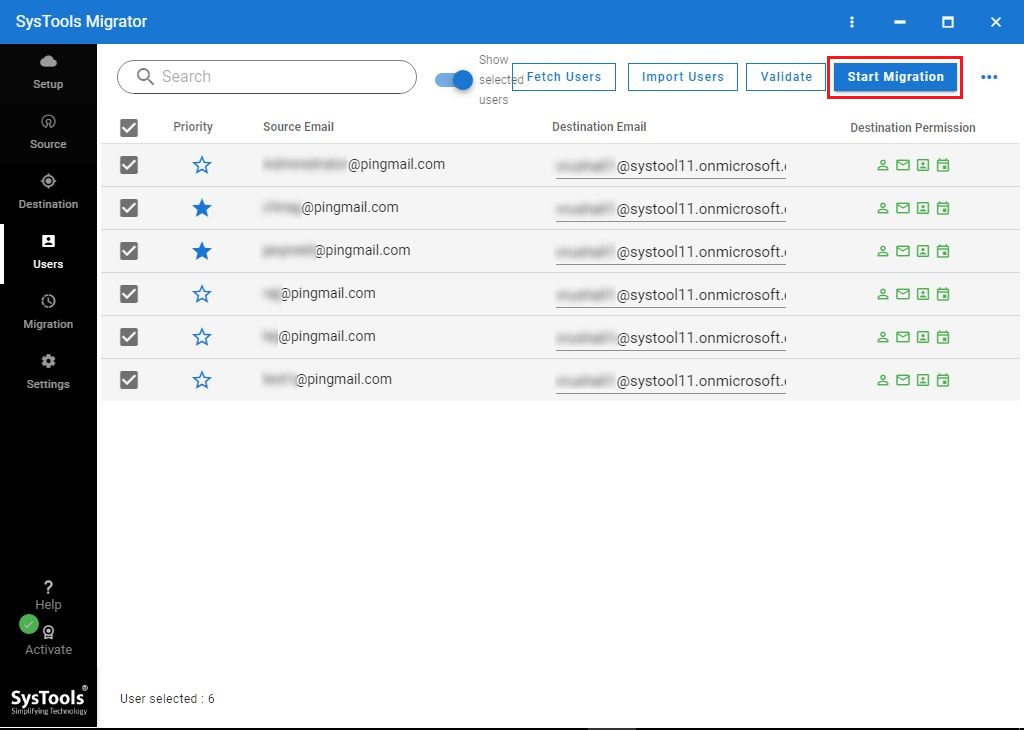 Step 11. Finally, click on Start Migration to migrate Exchange On-Premise to Office 365 safely.
Unmatched Features Of The Software
This tool supports the migration of data from the latest Exchange to Office 365.

There are no limitations on account size and at the same time, you can migrate multiple mailboxes in one go.

It provides various options to fetch users.

You can start and stop the migration process at your convenience.

If any data items are missed during the initial run, then the software lets the user re-run the migration.

Also, it allows users to set priorities and migrate the mailboxes in that sequence.
Also Read: How to Migrate Mail from One Office 365 Account to Another? Stepwise Solution
To Conclude
Migration needs for every organization are not the same. It depends on various factors like the number of user mailboxes to be migrated, the type of data, the volume of data, etc. And, it's quite clear that manual methods can't fulfill the unique migration needs of an organization since they are rigid in nature. That's why automated software is the most reliable and secure way to migrate Exchange On-Premise to Office 365.