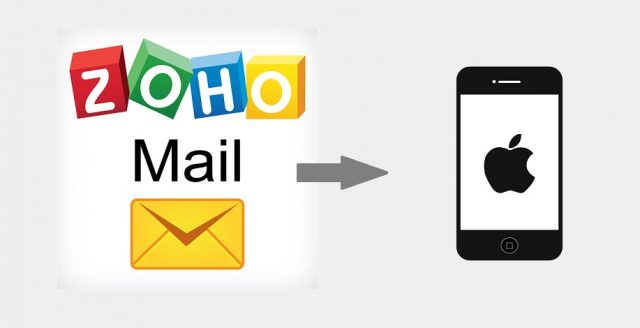 Zoho is a web-based application that provides lots of services including a mailing list or contacts option. Zoho Mail is an important option for emailing if end users are using Zoho CRM and any other services. Users can also login with existing email accounts like Google, Yahoo, and so on. The main drawback is that Zoho does not provide a desktop version. Due to this reason, many users need to move their emails or contacts from Zoho to iPhone versions like iPhone X, 8,7 6, 6S 5, 5C, 5S, 4, 4s & 3 . On the other hand, iPhone is the world's most popular smartphone that was developed by Apple Inc. It includes various exclusive features like advanced camera, FaceTime, iCloud, etc. Moreover, users can access data from anywhere at anytime after synching with in-built iCloud service. Basically, iCloud is the cloud storage facility that helps user to save documents, images, videos on remote servers. It can also be considered as a backup of an entire media. Therefore, in the upcoming section, we are going to discuss a manual approach to let users understand how to move emails and contacts from Zoho to iPhone in a secure way.
"I am having Zoho web-based client and now, I want to export all my email messages and contacts in iPhone. But I was not able to transfer Zoho contacts to any other mail client. Therefore, I want to know that is there any relevant solution so that I can easily move my emails and contacts from Zoho mail program. Please suggest me a suitable approach."
Manual Approaches to Transfer Zoho Mail to iPhone
Go through the following instructions to export Zoho mail contacts and emails to another platform. Here are some of the ways through which users can perform the conversion:
Manually Export Zoho Mail Contacts
Follow actions to convert emails and contacts from Zoho:
Firstly, click on the Contacts icon in the left corner
After this, select All Contacts option or the category of contacts that you wish to export.
Now, click on the 3 stacked dots and choose Export option
Under Export Contacts, click on the VCF format
In the last, choose the Export Contacts
Migrate All Contacts from Zoho to iPhone
Following are some of the ways to transfer emails from Zoho mail to iPhone as discussed below:
First of all, select All contacts option from the Category option at left-most corner side or the category of a list of contacts
Then, select All or the desired contacts that you need to convert
After that, right-click on All Contacts dialog box or select category of all contacts. Then, choose Export button
Finally, click on next "Download" button to export as vCard file
Professional Method to Export Emails from Zoho Mail to iPhone
In several organizations, backup is considered as a good savior if one has lost their original files. Besides this, if an above-mentioned solution might not be perfect then, end users can take help of a reliable third party tool i.e., SysTools Zoho Mail Backup Software. It is an effortless solution that helps to move data from Zoho mail to iPhone X, 8,7 6, 6S 5, 5C, 5S 4, 4s & 3 via PST File without any hassle. Moreover, it provides four different options (PST/MBOX/MSG/EML) in which users can save Zoho data easily into Outlook PST. Then users need import PST into Outlook through which user can easily access the emails through Outlook.com in iPhone. It offers two unique options within it like Pause and Resume. Additionally, it allows taking safe and secure backup of a single Zoho mail account at a time. Here, we will discuss various features of Zoho Mail Backup Tool. Let's take a look:
Advantages of Zoho Email Backup Software
It is programmed with some additional features to facilitate users with a simple conversion and all of them are mentioned below:
Move complete data i.e., Inbox, Drafts, etc., to the local drive
Easily convert Zoho mail data to PST/MBOX/MSG/EML format
Facilitates with 'Delete After Download' to free up server space
Data integrity can maintain throughout the complete migration
Option to Pause & Resume feature during Zoho mail conversion
Apply email filtering feature in order to filter out useless items
No need to save Zoho mail credentials in database during process
The Final Word
Contact plays an important role in the business usage. Apart from this, moving data from one platform to another is not a simple and easy task. One might lose the crucial emails or contacts during data conversion. Therefore, in this blog, we have discussed a direct manual approach to export contacts from Zoho to iPhone X, 8,7 6, 6S 5, 5C, 5S, 4, 4s & 3. However, the manual procedure is very lengthy and time-consuming. To overcome these constraints, it is recommended to use an automated approach i.e. Zoho Backup tool. It is a one-stop solution, which can convert Zoho emails or contacts in an efficient way. Along with this, some additional features of the tool are also covered in the above section.