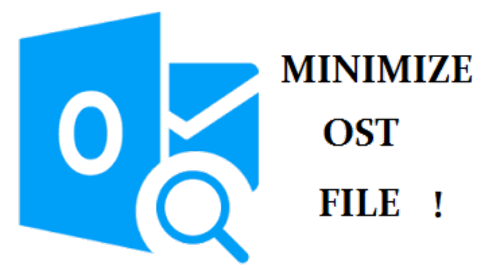 "I use Outlook widely and I have just started facing some issues recently with it. To find out the reasons I have searched in various huge folders. The search gradually started to become slower and even results in freeze Outlook. I use Outlook in offline mode to save a copy of all the messages locally and on Microsoft Exchange Server as well. Later, I realized that the problem is due to the increased size of the Outlook data file(OST). Now, I do not know how to reduce the size of Outlook OST file. Can anyone suggest me any method to minimize OST file size?"

The reason behind mentioning this query is to make it clear a user may face when the size of the Outlook data file in increased. Besides this, there are some more problems faced by the users. In the following section, we will discuss all the common issues faced by users and provides a solution to Split Outlook OST File step by step.

Outlook OST File Size Issues Faced by Users
OST is Offline Storage Table, is a file format of Microsoft Outlook. OST is used at the time when Outlook is used in connection with the Exchange server. Sometimes the size of the Outlook data file(OST) increases beyond its limited size. In such situations, the Outlook file gets corrupted if the issue persists for a long time. Once the Outlook file exceeds the maximum size limit, users may face these issues as mentioned below:
Cannot synchronize Outlook file with Microsoft Exchange Server
Cannot load or open OST file
Various error messages at the time of the synchronization process
Cannot add a new data file to OST file
Generally, users delete the old or irrelevant files, but it does not exactly delete the file. Actually, it is migrating the files into another folder. Therefore, this cannot lessen or reduce the size of Outlook OST file as these removed files go to the 'Trash' folder and ultimately result in the increased size of the 'Trash' folder. Moreover, the size of the OST remains the same.
Best Approaches to Reduce OST File Size
As we have mentioned above that the OST data file may increase or cross the limits of defined file size limitation. Therefore, it is important to keep some points in mind to avoid the situation. These below mentioned things will help to minimize OST file size or Offline Exchange Server Outlook file:
You should always remove the irrelevant or unwanted items from all the folders of offline Outlook(OST) file
Make sure that the deleted folder is empty due to increase size of Outlook(OST) files
Whenever you want to delete a mail, then it is recommended to execute hard deletion on it.
You should regularly reduce or compact OST file
Two Methods to Reduce the Size of Outlook OST file
From the above-mentioned methods, users can avoid the problem. However, to minimize OST file size, users have to follow some methods. There are basically, two methods to resolve this issue
Manual Method
Expert Solution or a third-party utility
Manual Methods to Reduce the Size of Outlook OST File
Important Note: It is recommended to take the backup of the entire data before going for manual methods to minimize OST file size.
Rename OST Files that are Offline
Outlook files create a problem in the opening, sending /receiving. Therefore, you can rename the OST file to solve this problem. Once the renaming of OST files is done, restart Microsoft Outlook.
Run Microsoft Outlook in Safe Mode
It is a method, which is actually a hit and trial method. According to this, you need to run Microsoft Outlook application in safe mode.
Archived the Data of OST File
Once space is unavailable on a server, then it is suggested to archive it on the Offline Exchange server. A new file is created, which may help to cleat the space.
Generate new Outlook Profile
Another thing you can do is delete the current profile in Outlook and in place of that deleted file create a new or fresh profile to access Outlook with Exchange server.
It is possible that some add-ons hamper and disrupt the working of Microsoft Outlook resulting the improper working. Therefore, in such cases, you need to disable all of the add-ons that are installed in your Microsoft Outlook.
Note: After, performing some above easy steps. You can easily be able to minimize OST file size in a very short span of time.
Expert Solution to Split Microsoft Outlook OST File
As already mentioned manual solutions are not reliable and cannot be able to minimize OST file size to provide the guaranteed results. Therefore, users may opt for a third party tool to reduce the size of Outlook OST file. One such prominent tool is OST Splitter. This software can split oversized OST file into various parts by size, year, date, etc. This software also is capable enough to recover corrupted Outlook Data files before splitting them. You can easily minimize OST file size by using this exclusive software.
Conclusion
Microsoft Outlook is sometimes used with the synchronization of Exchange Server and creates Outlook Data File (OST). These files get overlarge in size and later creates a problem for Outlook users & they have to minimize OST file size. Therefore, considering all these things, we have discussed some manual procedures to reduce the size of the Outlook OST file. Apart from this, we have discussed an expert solution to reduce the size of Outlook OST file easily and can easily minimize OST file size in a very quick manner.