Learn How to Remove Text Watermark from PDF Document
Searching for the solution to remove text watermark from PDF? If then, this article become helpful to resolve this query. In this guide, we have discussed multiple solution to remove Text watermark. We compare manual and automated solution for found out the best between them. So, stick with this article for hassle-free and quick solution. 
"I wanted project thesis on Library Management System. I downloaded it from the web, and I was literally very happy as half of my work was completed and now I only had to concentrate on the project design. But, a week before the final exam I noticed that there is Text Watermark instilled into it. I am in a dilemma and want to remove text watermark from PDF so that I can work properly over it. Moreover, when I am trying to eliminate watermark from PDF by using Adobe Acrobat, I get an error message that describes "You don't have permission to perform the task. Is there any way out? Please suggest!"

In this situation, the users need a proper solution to get over the issue. Listed below are some of the ways using, which can be employed to get the problem solved. The users can understand it as a two-step process that can be employed to remove text watermark from PDF.
Erase Watermark from Secured Document
Step 1: Remove Security from Secured PDF Document
To delete watermark from PDF file which is secured, firstly you need to unblock PDF files document. So, follow the steps listed below:
First of all, launch Adobe Acrobat & open secured PDF that comprises of watermarks
Tap on File properties in menu bar
On Document properties, dialog box, click security tab and then select No security from the drop-down menu that is next to security method. When asked for permission password, enter it in box and select Ok
Note: In case, the password is not known and you can remove or bypass PDF permission password via Google Chrome, hence you can unsecured the secured PDF docs.
Select OK in case you surely want to remove the security. Tap on Ok button again.
Press Ctrl + S for saving the PDF docs to maintain and save the changes.
Step 2: Remove Text Watermark From PDF File via Adobe Acrobat
Now, as we have removed the security from the PDF files, users can erase PDF watermark by Adobe Acrobat.
Tap Tools on the right of the toolbar to get the preview of Tools pane & afterward expand Page pane. Now locate Edit page design and select Watermark and Remove drop-down menu.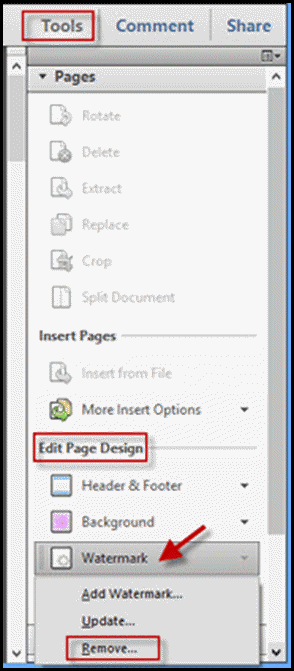 Select Yes when prompted in case you surely want to remove PDF text watermark permanently.

Press Ctrl + S for saving PDF document for keeping the changes.
Remove Text Watermark From PDF File By MS Word
Once you remove security from a secured PDF document, the user can remove watermark with MS Word. The steps are listed below:
Right click on PDF document and select open with MS Word.
Once MS Word is started, the user will be prompted that PDF file is converted to an editable document. Select Ok in the dialog box prompted.
Tip: MS Word cannot convert password protected PDF file into Word Document. So, it is really important to make sure PDF file is not secured
Once opened the PDF file in MS Word, remove the text watermark, the users need to double click on text watermark to select it. Then, delete the files by tapping Delete/Backspace key on keyboard.
For removing image watermarks, click insert tab on menu bar, and click Header button and then click Edit Header from the drop-down.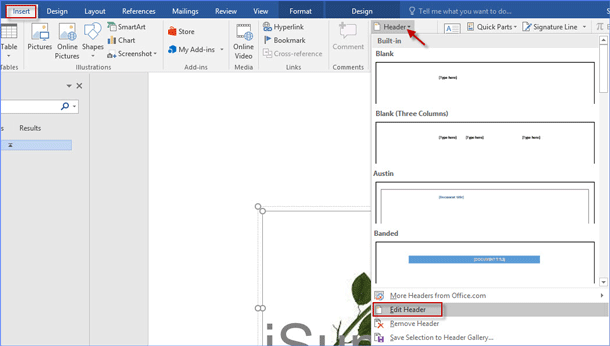 Click Area of image watermark and then select it and remove it by tapping Delete/ backspace key on the keyboard.
After the watermarks are removed, convert Word Files back to PDF file. To complete this, click File tab on MS Word menu bar and then on Backstage. Click Export PDF/XPS Document and create PDF/XPS.
On publish as PDF or XPS dialog, choose PDF, type a file name and choose one destination, and then click Publish button.
The word document will be converted back to PDF file and all the watermarks are removed.
Automated Solution to Remove Text Watermark From PDF
With the help of PDF Watermark Remover, users can easily delete watermark from PDF files. It can erase image as well as text watermark. This software provides various benefits to the user, some of them are given below –
Facilitates to remove watermark from multiple PDF files in bulk
Easily eliminates the embedded images like logo, stamps, signature, etc.
Remove text watermark from PDF file with zero changes in the content.
Stores the resultant PDF documents at the desired storage location
Step by Steps Instruction to Remove Text Watermark via Automated Solution 
Install and Run Software into your device. 
Click Add files Option to add selected files, which you want to convert. 
Then, you will get a Preview of selected files.
At last, select Change button to start the conversion process. 
The Final Verdict!
From the above-listed methods, it is quite clear that the users should try both ways, be it manual or an expert solution as per your accordance. Therefore it's completely up to the users like to remove text watermark from PDF without any more issues encountered.