Unlock PDF Files Locked For Printing, Editing, Copying, etc.
Akshay Vats
| Modified: October 13th, 2022 ~ 3 Minutes Reading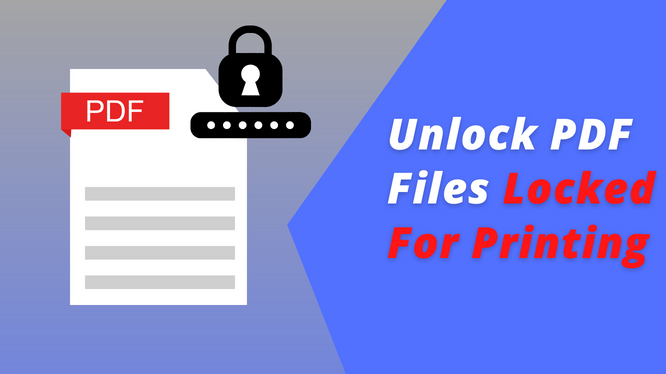 Do you want to unlock PDF files locked for printing, copying, editing, or any other purpose? Then, read the blog and remove PDF protection for free. But, before that get more knowledge about PDF documents.
Adobe PDF files occupy the highest position among various document formats owing to various advantages it possesses over other formats. PDF documents can easily be created with Adobe Acrobat. Moreover, the exchange process of these documents is quite efficient as they can be easily shared and exchanged via the web.
They can be sent in emails as attachments as the formatting of PDFs is kept intact. But, sometimes users insert security in PDF files so that no unauthorized user can perform alterations in PDF file. Basically, PDF file security is of two types which are clearly given in the next section.
Types of Passwords on Adobe PDF Files
PDF Restrictions like printing, editing, document assembly, filling forms, etc. are imposed on Adobe PDF files once they are secured. There are two kinds of passwords that are used to secure the PDF File:
Usually referred to as User level password, this password restricts the opening of PDF files unless and until the appropriate password is supplied to remove PDF protection. Once the document is supplied with the password, then the user can easily unlock PDF files.
They are also termed as Owner level passwords and restrict performing operations on an Adobe .pdf file like editing, copying, printing, etc. unless the password is applied. The users can open the permission-restricted PDF files but cannot edit copies or print them. To enable editing, copying, printing, etc. the user needs to unlock PDF files to remove PDF file protection.
How to Unlock PDF Files Locked For Printing, Copying, Editing, Etc.
PDF Unlocker Tool is the best utility by which you can unprotect secured PDF documents in the batch. In addition, the tool enables the users to remove restrictions like copying, printing, editing, etc. from the PDF files WITHOUT  A PERMISSION PASSWORD. Once the file gets unprotected, it will not again prompt for the password.
For Windows
For Mac
Steps to Unlock PDF File For Printing – Short Guide
Step 1. Download & Run the Software.
Step 2. Now, Click on the Add File/ Add Folder Options to Insert the PDF.
Step 3. As per your requirement Select the Print or Save Option.
Step 4. Then, Select the Final Location and Click on Unlock Button to Unlock PDF File.
Step 5. Last, the process of "Unlocking the PDF File" is Completed.
The Bottom Line
Protecting PDF files with passwords is an excellent security measure against the purloins of data but at certain times a need to unlock PDF files locked for printing. Therefore, in the above discussion, we have described some ways to remove PDF protection for free.