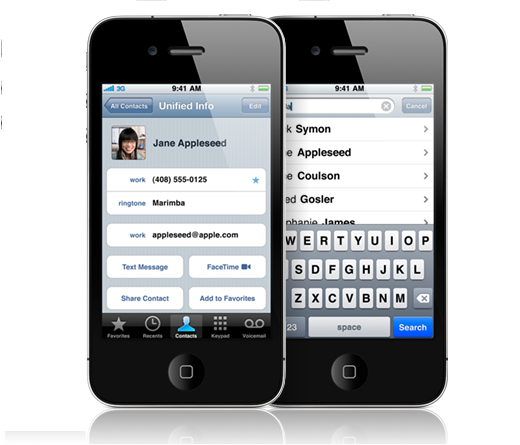 There are many iPhone users who face the problem of different types of error messages while they are trying to sync VCF contacts with their iPhone. Due to these error messages like iPhone cannot open VCF file. users cannot access the vCard files. Well, in this blog, the solution to the problem iPhone can't view VCF contacts file is discussed, so that you can view VCF file of your iPhone. It is also illustrated the reasons behind the occurrence of iPhone cannot open vCard file error message.
Let us understand this iPhone error with the help of user query.

"I have a vCard file, which contains some important official email ids within it. Now, I am trying to import vCard file to iPhone through iCloud. But, it displays an error that iPhone cannot view VCF Contacts file. Those email ids are very important for me. So, I want to resolve this error. Can anyone guide me a perfect solution on how to fix iPhone cannot read VCF Contacts file without any hassle? Lots of hopes I am having from you guys please help me."
Reasons Behind Occurring the iPhone Cannot Open VCF File Error
There are mainly two major reasons due to which this error message arises. Whenever a person imports VCF file with anyone or both of these issues, then he or she encounters an error message.
Those two reasons are:
The version of VCF file is not updated. Actually, iPhone supports only vCard of version 3.0 and 4.0.
The absence of 'FN' and 'N' attribute in the coding part of the vCard file.
How to Resolve iPhone Cannot Open VCF Contacts File Error?
First of all, go to the path where the vCard file is saved & right-click upon it.

2.Then, go to Open menu and click on the Open With option then select Notepad option.
3. After that, check the value of Version parameter.
4. Now, change the current version with the previous version & check whether 'FN' and 'N' parameters are present or not. If it will not present then, proceed further. Else, skip the step 5 and directly sync VCF contacts with iPhone.
5. Next, mention the FN: & N: in the same coding part of VCF file then press Ctrl + S keys from the keyboard to save the files.
6. Finally, you have resolved the major causes of iPhone cannot open VCF error message.
A Trouble-Free Solution To Fix iPhone Cannot Open VCF File Error
When the manual approach fails to recover iPhone can't open and read VCF contacts file error. Then, a reliable third-party solution i.e. SysTools VCF to CSV Converter is suggested to use. To convert VCF files to iPhone, you first need to convert VCF contact files to CSV and then import CSV files to iPhone. The program can very easily convert VCF file to CSV. It is a complete solution that makes it easy for users to Open & import multiple contacts files into CSV.  vCard Converter is the best tool to import contacts file on multiple platforms. It can also display all contacts saved in vCard including the images. The software supports Windows 10 and all lower version of Windows OS. The tool is also compatible with VCF file versions: vCard 2.1, 3.0 and 4.0.
To convert VCF files to iPhone, you first need to convert VCF contact files to CSV and then import CSV files to iPhone.
1: First,  Convert VCF Contacts File to CSV
Download & Install Software

Choose Add File or Add Folder Option
Click the CSV file and Select on the "Browse"
Select CSV Format from Export Options
2: Import CSV Contacts to iPhone:
Open the your iCloud account from www.icloud.com with your passcode
Click "Contacts" on the home screen to check the contacts.
To select "Import Contacts" go to the Settings icon at the bottom left to select the iPhone file you want to import to the iPhone.
Summing Up
In this write up we have discusses a way to resolve iPhone cannot open VCF file error message. This problem can be fixed without any complications through the manual steps. Still, if a user is unable to attempt the described task then, they can opt a commercial solution. The third-party tool works in a way that it explore items of complete vCard file and provides an option to make .vcf compatible with the iCloud account.