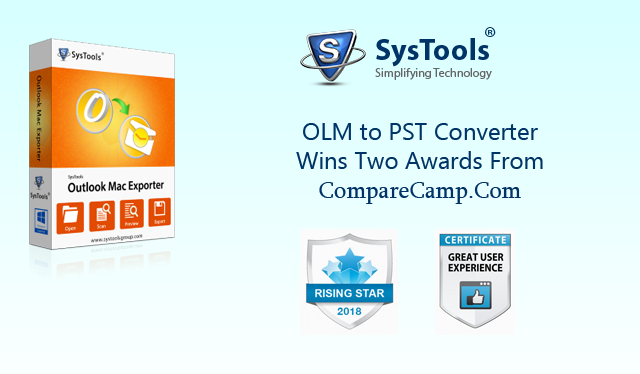 Overview
We have good news for everyone! SysTools is feeling proud to announced that top class B2B software has recently honored OLM to PST Converter best software for the conversion of OLM files to Outlook PST.The B2B software experts from CompareCamp recently recognized that SysTools OLM to PST Converter is a dependable platform for file conversion, thus granting us their Great User Experience Award and Rising Star of 2018 Award. "SysTools OLM to PST Converter is easy to use and reliable, and quickly converts all Mac Outlook OLM file data to PST format," stated their experts in their review. "It is an ideal tool for technical as well as lay users."
SysTools OLM to PST Converter Software Get Top Rank in Great User Experience Award
The CompareCamp review team analyzed every single element of SysTools OLM to PST Converter. Apparently, our tool's pleasing user experience and ease of use in file conversion to Outlook PST was one of the highlights for their team. Simply put, they praised SysTools OLM to PST Converter as "an ideal tool for technical as well as lay users," thus allowing us to receive their Great User Experience Award.
According to CompareCamp, strenuous tasks such as bulk transferring of files and importing of OLM emails with attachments becomes a walk in the park thanks to our platform's functionalities. Other highlights for the CompareCamp review team include our easy to master solitary panel interface for converting OLM to PST Outlook or MSG files, save scanning tool, and select item exporting.
Got Rising Star Award of 2018 in Email File Conversion Category
SysTools OLM to PST Converter also received the coveted Rising Star Award of 2018. This distinction is given to software solutions that are continuing to have an improved presence on the market thanks to positive reception from their users.
The Final Words
These awards from the pioneers B2B experts verify that SysTools OLM to PST Converter software is an idle solution for the conversion of OLM Files to PST. Don't waste time, quickly visit for complete review of OLM to PST Converter on CompareCamp and share your experience with us, how it helps you.