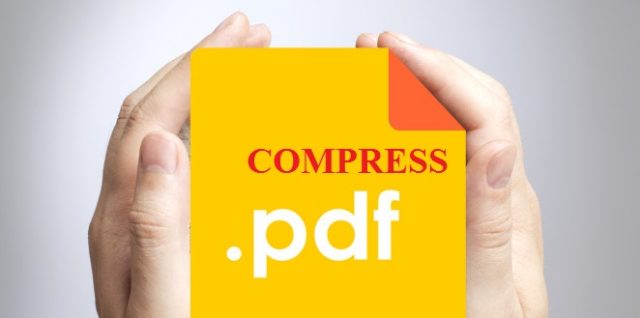 Most of the organization and individuals use email attachments for sending their various types of data in PDF file format. Because PDF is the most secured file as compared to other files. However, if PDF file contains a large amount of text, graphics or images, then it is difficult to send the PDF file through an email server.
However, many email clients refuse to accept email attachments over a certain size. Luckily, you have an option to reduce PDF file size into a compressed file, which can be easily sent through the email. In this post, we will try to show you how to compress a 25MB PDF file by using a couple of methods.

Why Does a User Need to Compress 25MB PDF?

"I have designed a pamphlet and want to email it in PDF file format. But, the size of this file exceeds up to 25 MB, so it becomes very difficult for me to send this PDF file via email. Can anyone suggest me the simple solution for how to compress a 25MB PDF file without any data loss? Your help will be appreciated!!"
There are many users who have the same problem with the above-mentioned query. Generally, any email service does not allow sending larger files. However, when a user tries to send the PDF attachments over the certain limit then email client may give an error message. So, it is required to compress large PDF to small size.
Read More: How to Extract Text From Multiple PDF Files into HTML?
How to Compress a 25MB PDF File Manually
There are some better and easier ways to Compress 25MB PDF. Some of the quick solutions are discussed here:
Solution 1: Using Adobe Acrobat Pro
First of all, start the Adobe Acrobat Pro utility
Then, open the PDF files that you want to compress
Click on the File option
Choose Save As Other option
After that, click on Reduce Size PDF option
Choose Later versions of Acrobat to increase file size reduction
Finally, click on the OK button to compress large PDF to small size and Save it.
Solution 2: Zip the File
If you want to reduce size of Adobe documents in batch. Then, you can compress those documents by creating a zip file. To do this, simply right-click on your PDF file or folder, then click on the Send To option and then Compressed Zipped Folder option. After that, a .zip folder will appear in the same location.
Solution 3: Through Gmail and Google Drive
You can also compress large PDF to small with the help of Gmail and Google Drive. However, Gmail allows sending PDF files over 25 MB via Google Drive. It is convenient but not always recommended for even low-security files.
How to Compress a 25MB PDF File Automatically
With the help of above-described manual methods, users cannot compress large size PDF files in bulk. However, if users don't have Adobe Acrobat Pro then they will be unable to reduce size of Adobe document and also it is costly. So, in such cases, it is recommended to use an automated third party tool which named as SysTools PDF Toolbox.
This software can easily Compress 25MB PDF or more than 25MB in batch without any hassle. Moreover, it does not require any application to be installed. It is the simple, reliable, and a useful approach to reduce size of Adobe document.
Time to Wrap UP
In this blog, we have described different techniques to answer the query how to compress a 25MB PDF file. We have discusses both manual and automated solution. But, sometimes few manual approaches fail if a user wants to compress 25MB PDF in batch. These methods also cause the data loss during the compression of PDF files. So, to overcome the limitations, users can opt a commercial solution to compress large PDF to small size.