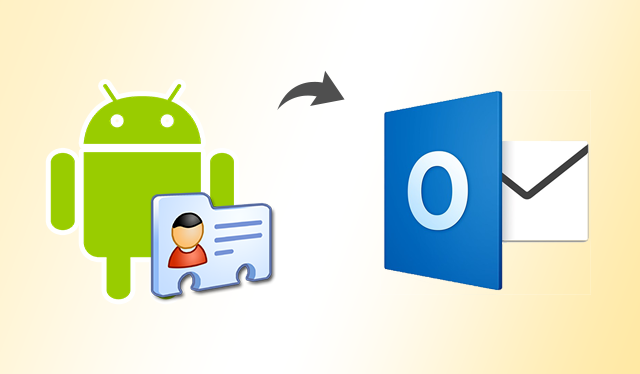 VCF is a file extension generally used for electronic business cards. These contacts are usually attached to the email messages but can be exchanged in several ways like instant messaging or World Wide Web. The VCF files stores details such as name, address information, phone number, email addresses, audio clips (customized ringtones), etc. These files are stored in PDA's i.e. Personal Digital Assistants, CRM's i.e. Customer Relationship Management, and much more. Due to so many benefits of using VCF files, they are used so much by the users. But, some users want to import VCF to Outlook and are looking for solutions to perform the process.
Why Users Want to Convert Android VCF Files to Microsoft Outlook
Despite having so many benefits of using VCF files, some users still want to export android .vcf files to MS Outlook. There can be many reasons but we have discussed some of the most common reasons in the following section:
If the Android OS running in the smartphone crashes due to some reason then there are chances that the contacts can be lost. So, to be on safe side it is beneficial to import android VCF to Outlook.
Another possibility is that if the phone of a user gets stolen then he/she will lose all the important contacts. So, it is better to keep all the contacts stored as a backup on MS Outlook.
Import Android VCF to Outlook using Import & Export Wizard
There is very easy and straightforward method available to perform the conversion process. Follow the steps mentioned below to accomplish the entire process successfully:
Run Microsoft Outlook.
Navigate to File tab.
Click on Open & Export option.
Now, click on Import/Export.
Next, An Import & Export Wizard will appear.
Here, Select Import a vCard File (.vcf) option and click Next button.
A window will pop-up from where you can search for the VCF file which you want to import.
Select the file and click Open.
Finally, your VCF file will be exported.
Limitations of Exporting Android VCF File to Outlook Manually
The above mentioned manual procedure consumes too much time in case a user is having 1000 VCF contacts to be converted to Outlook. So one needs to perform the entire process 1000 times as the Import & Export Wizard only allows to transfer one contact at a time. Therefore, to overcome this issue and to save time, users can opt for an automated solution as well.
Trouble Free Solution to Import Android VCF to Outlook
As the above-mentioned procedure have a limitation that it can only transfer only one VCF file at a time. So, to export android .vcf contacts to MS Outlook in a group, one can go for a professional third party software i.e. SysTools vCard Importer. The tool is developed using special algorithms which allow users to transfer VCF contacts to Outlook directly in bulk. This software makes it easy for the users to perform the entire conversion process and saves a lot of time.
Conclusion
There can be a lot of difficulties which are faced by users while trying to import android VCF to Outlook. The conversion process is not as easy as it sounds. So, to overcome the problems faced by users a profession third-party solution is discussed in the article to make the entire process easier. The tool has some other useful features which make it unique as well separates it from other solutions available in the market.