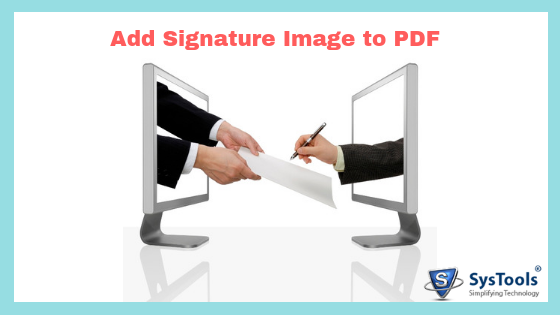 Sometimes, users are getting stuck in a tiresome situation. Where they need to add digital signature image in PDF document. As we all know, that the portable document file 'PDF' is the most secured file format. Basically, it is utilized by many professional and personal users all over the globe. Because of it furnishes eminent features. But, what if when you have to insert scanned signature into PDF document and then send it back. So, now don't worry because, in this write-up, we are coming with effective approaches to insert signature image in PDF without any hassle.
Quick Solution : In order to apply signature image into PDF documents, then use SysTools PDF Watermark Software. It is a reliable & trust-worthy application to add signature image into Adobe document.


Add Digital Signature Image to PDF by Adobe Acrobat Reader DC
This free solution is implemented with the help of Acrobat Reader DC. Thus, we are going to explain the steps below. You just need to follow all the below-stated steps in an appropriate manner to get a better outcome.
Step 1: Initially, the Acrobat Reader DC & then click on the Fill & Sign button which is located in the right pane.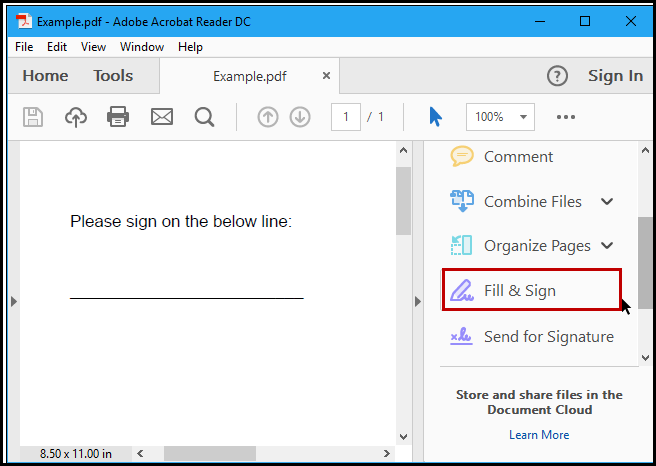 Step 2: Now, hit on the Sign button on the toolbar and choose Add Signature option to insert signature image in PDF.
If you require to add another information to the document. So, you can utilize other buttons on the toolbar to do the same. For instance, you can add a text or type checkmarks to fill in forms utilizing buttons on the Fill & Sign toolbar.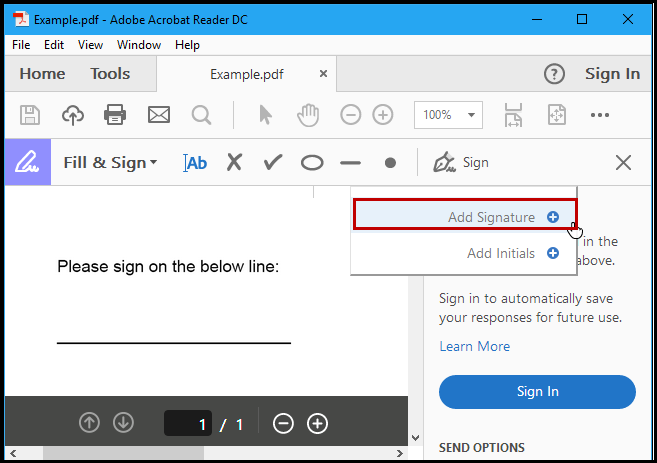 Step 3: You can add a signature and you can also create a signature in mainly three ways. By default, Adobe Acrobat chooses Type option. So, you can enter your desired name and have it transformed into a signature. Basically, this will not look like your genuine signature, so it likely isn't ideal.
Rather than, you will possibly require to choose Draw option and after that draw your signature image using your mouse or touching the display. Mainly, you can also choose Image if you want to sign a PDF file. Then, scan it with the help of any scanner. After that, insert scanned signature into PDF document.
Step 4: After generating a signature image, simply click on Apply option to add it to the PDF document. Here, you should have to check the option to Save Signature so, you can instantly add this signature image in the future.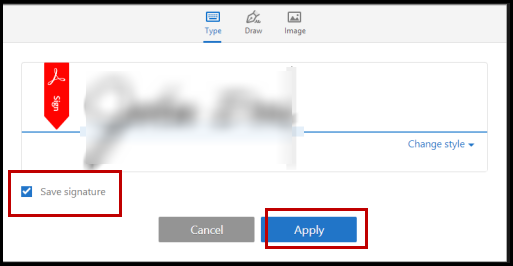 Step 5: Here, position your signature image where you need to add the sign image with your mouse and hit over there to apply it. Basically, if you select to save your signature image so, you will find it simply accessible in the Sign menu in the future.
Step 6: Lastly, to save your signed PDF document, you need to click on File and then Save option. After that choose a wished location for the PDF file.
After following the above steps you can successfully insert signature image in PDF document.
Any Disadvantage?
Yes, of course, free does not mean always free. Most of the times, you may have to lose something crucial. This manual solution to insert scanned signature into pdf document has some limitations which affect the entire procedure directly. Mainly, it is a lengthy process when you need to add a signature to the 100 pages PDF document file. Because user have to go through individual page to insert signature image. Moreover, it is time taken, you have to spend your valuable time to the completion of the procedure successfully. So, it is better to switch to an alternative that can easily add picture of signature to PDF.
How to Insert Signature Image in PDF Document Instantly?
As you can see, that the above-stated free approach having some constraints that affect the process badly. So, here we come up with an instant alternative named as SysTools PDF Document Watermark Software. This software is equipped with amazing features that assure to provide you with an effective and satisfactory resultant. Mainly, it is capable enough to insert scanned signature into PDF documents in bulk. So, you do not require to put too much effort. And you can easily add a signature image without wasting your valuable time using this tool. Moreover, it adds any text and customizes its color, size, and placement etc. This software also generates a summary report which consisting the watermark details.
How to Add Picture of Signature to PDF Documents in Bulk
This is a for steps procedure to insert signature image in PDF document without any hassle. Have a look:
Step 1: Initially, download PDF utility to implement the procedure
Step 2: Here, add file and folder to insert signature image to PDF document
Step 3: From Text and Image option select image watermark option & fill the watermark details
Step 4: Lastly, hit a click on the Generate button to begin the procedure to add digital signature image to PDF document successfully.
It's Time to Conclude
Here, in this article, we highlight on the most commonly asked query such as how to insert signature image in PDF document. If you think that using the manual solution you can get a satisfactory outcome so, you are wrong. The free solution having some limitations we already explained in the above segment. Thus, it is better to opt an alternative solution as described in the blog. Because this application has the capability to provide you with the desired result.