Export Disconnected Mailbox to PST in Free or Automated Way
Summary: Are you tangled up in the thought of exporting your disconnected mailbox to PST from Exchange, then here you will find a reliable solution here. In this article, we will discuss the quickest and simplest way to export disconnected mailbox to PST file.
First, let's have a quick glance at what is a disconnected mailbox of Exchange Database. When a user's mailbox is not connected to any account in AD, then it is considered as a disconnected mailbox and all your mailbox data is stored in an offline EDB file. The created EDB file contains data like emails, contacts, notes, calendars, etc. These disconnected mailboxes stored as EDB files are inaccessible until they are connected to the Exchange mailbox or converted to some other format.
Thus, in the following section, we will be discussing both manual as well as the automated and quick way to carry out the export process. You can go through both the solutions and decide which one is feasible for you.
Free Procedure to Export Disconnected Mailbox to PST in Exchange
As discussed above, the disconnected EDB mailboxes can't be exported directly into PST file. You can use New-MailboxExportRequest command or Exchange Admin Center only when the mailbox is connected to AD. So, you first need to connect the EDB file to the mailbox and then perform the export process.
To help you with this, we have explained the steps for how you can connect the offline Exchange database to a temporary user mailbox and then export the mailbox data. If you don't want to perform all these steps and need a quick solution, then you can directly jump to the next solution.
Step 1: Temporary User Account Creation
You have to execute the following Exchange Management Shell cmdlets to
Open EMS as an administrator and execute the command to enable the Active Directory module.
Import-Module ActiveDirectory
To create a new AD user, run the following command:
New-ADUser C.Jaspreet
Run this below command to check if the temporary user is created to export disconnected mailbox to PST.

You will now get a list of all the users available in AD. If the required user is created successfully, then you will find it here.
Step 2: Connect AD User to the Disconnected Mailbox via EMC
Open Exchange Management Console and expand the Recipient Configuration option.
Here you will find the Disconnected Mailbox option. Click on it and find the disconnected Exchange mailbox that you want to connect.
Following that, click on the particular mailbox and click on Connect… option.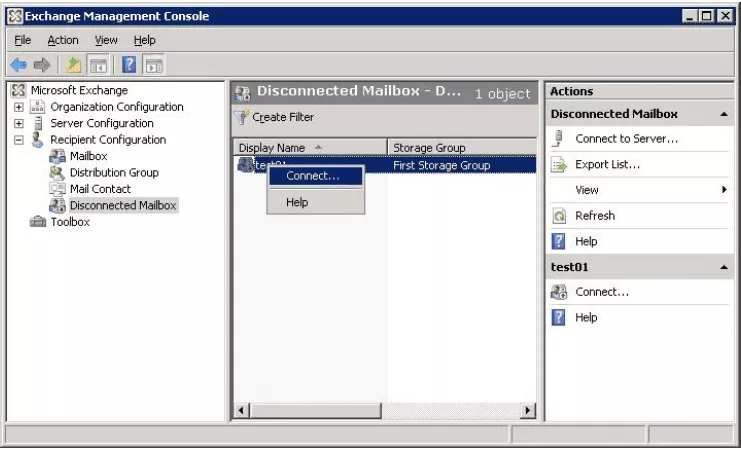 It will now open the Connect Mailbox wizard. Select the Existing Mailbox radio button and browse the newly created temporary mailbox.
After that, enter an Alias and hit Next button.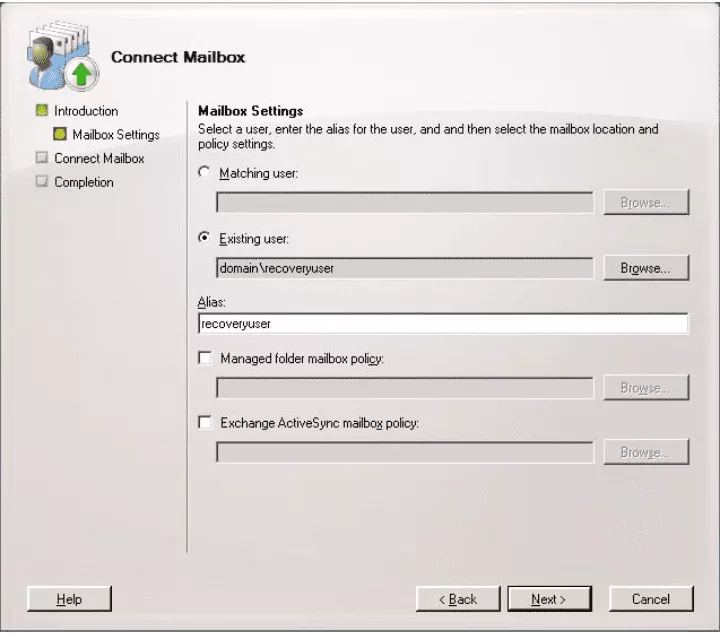 Finally, click on the Connect button.
Once you have successfully connected the mailbox with the temporary AD user, then you can export disconnected mailbox to PST. You can create a mailbox export request by using the New-MailboxExportRequest cmdlet or Exchange Management Shell. This way you will be able to export Exchange mailboxes into PST for free.
Professional Solution to Export Disconnected Mailbox to PST Exchange
The Expert Recommended EDB to PST Converter Software provides you with a simplified solution to convert and export disconnected mailboxes from Exchange database to PST in bulk. It is an effective tool to export shared mailbox to PST Exchange 2010 / 2013 / 2016.
This utility supports public and private EDB files. It allows the users to export different types of Exchange mailbox such as disconnected, user, archive, shared, legacy from offline/dismounted Exchange database files.
Users can easily export archive mailbox to PST in Exchange other than the disconnected mailbox and different mailboxes to multiple file formats: MBOX, MSG, EML, HTML, PDF. The software provides two scan mode options (Quick and Advance scan) which recover & repair Exchange mailbox and .edb file from corruption.
The quick scan is used to recover minimal corrupted Exchange database files and advance scan mode helps to remove major corruption levels. Even this option recovers hard deleted EDB mailbox items.
Also, users can recover permanently deleted emails from Exchange database easily along with other data. The software auto-create the export report that stores the success and fail count of export Exchange data. This software provides you an accurate and efficient solution without burning your pockets and saving your precious time.
Key Features of Automated Software
Export mailbox from offline Exchange database to multiple formats
Previews EDB mailbox items contents: emails, contacts, calendars, tasks, notes, journals
Perform selective data items conversion using categories filter options
Efficiently remove SMIME / OpenPGP encryption from Exchange mailboxes in batch
Scan mode option recover corrupt Exchange database files
Provide date filter option to export Exchange data from a specific period of time
Support all Microsoft Outlook, Windows OS, and Microsoft Exchange Server versions
How Does This Software Work?
A user doesn't require being an expert in technology to export a disconnected mailbox to PST. All it requires is to install the tool on your local machine and perform a few simple clicks.
1: Install & Run the automated software on your system.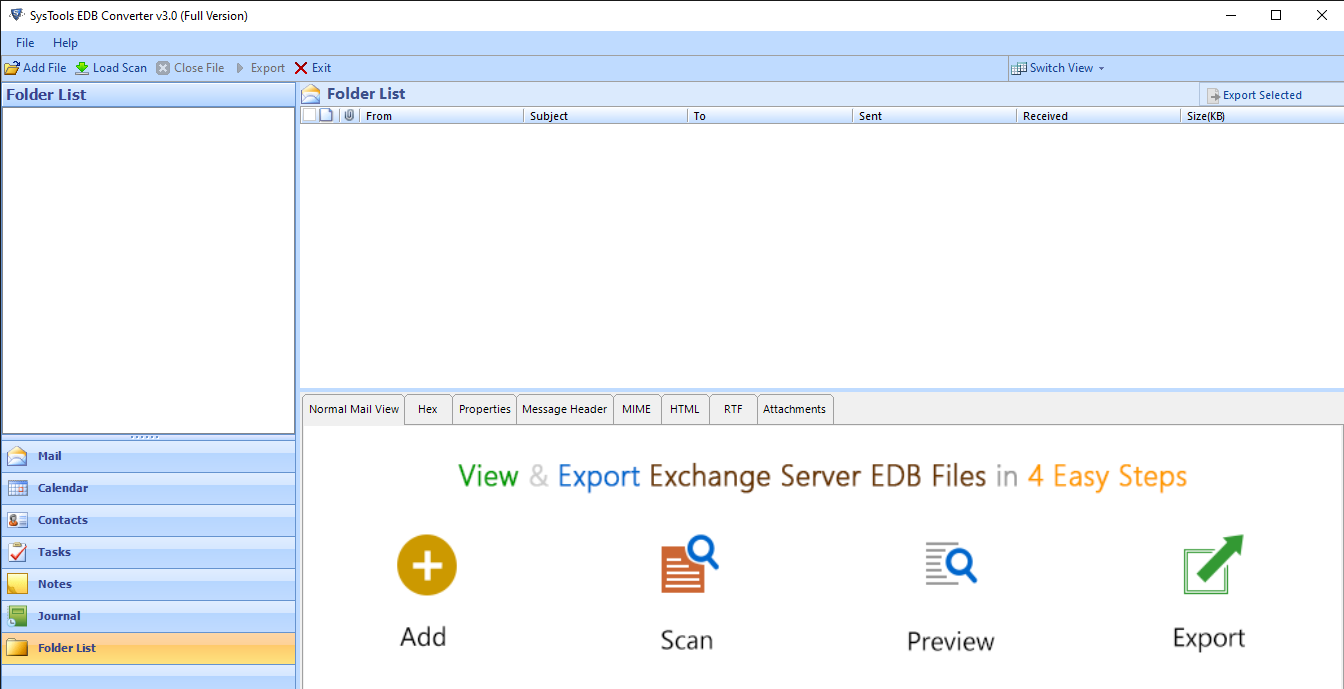 2: Click the "Add File" > Load EDB file > Click Add.
Note: The software will automatically search for the files and mailboxes from the provided list of files. Besides this, it can also search for encrypted files to convert them to the required PST format.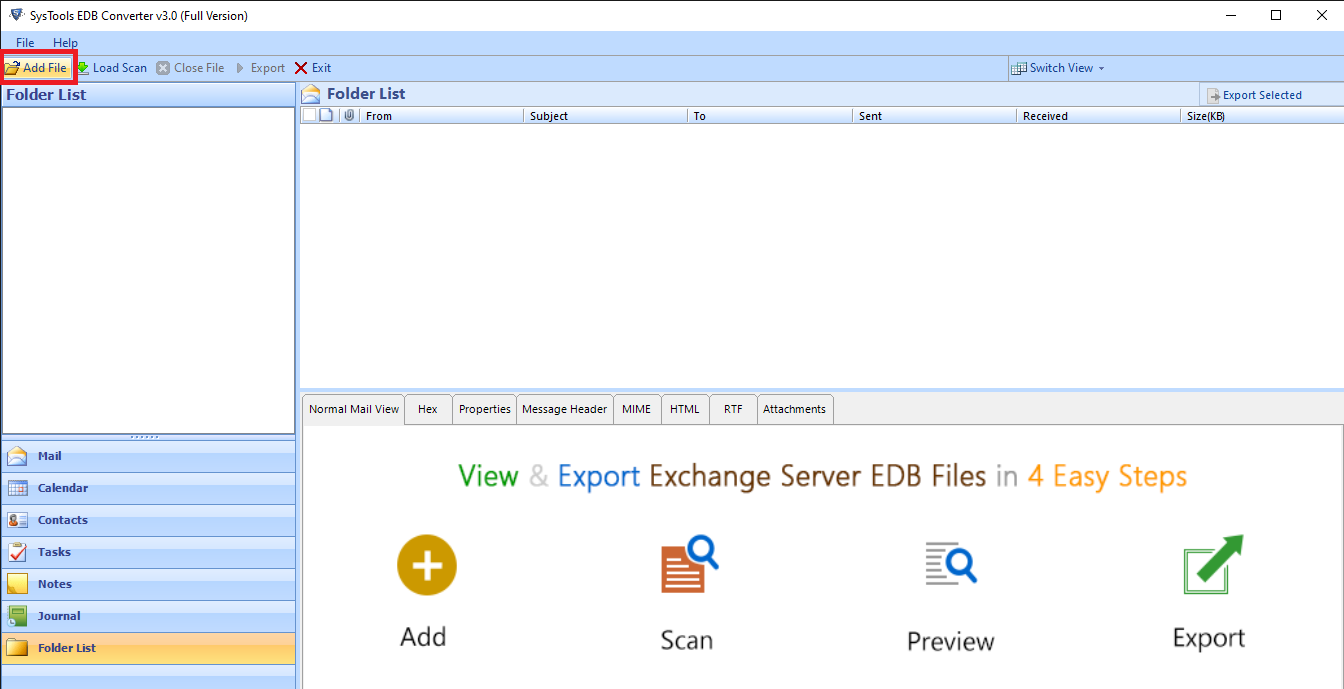 3: Preview Exchange database file, mailboxes, and item > Click "Export" button.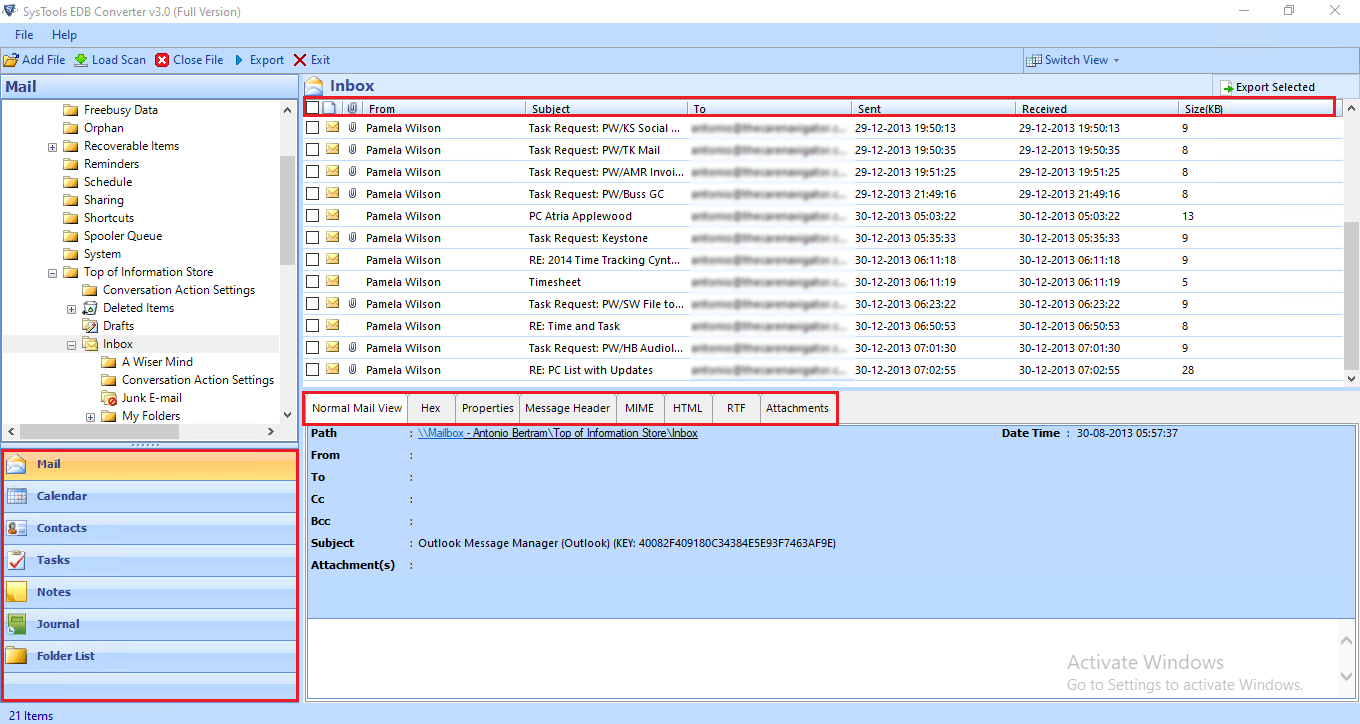 4: Click Exchange disconnected mailbox > Click PST > Select browse button to set destination location > Click Export.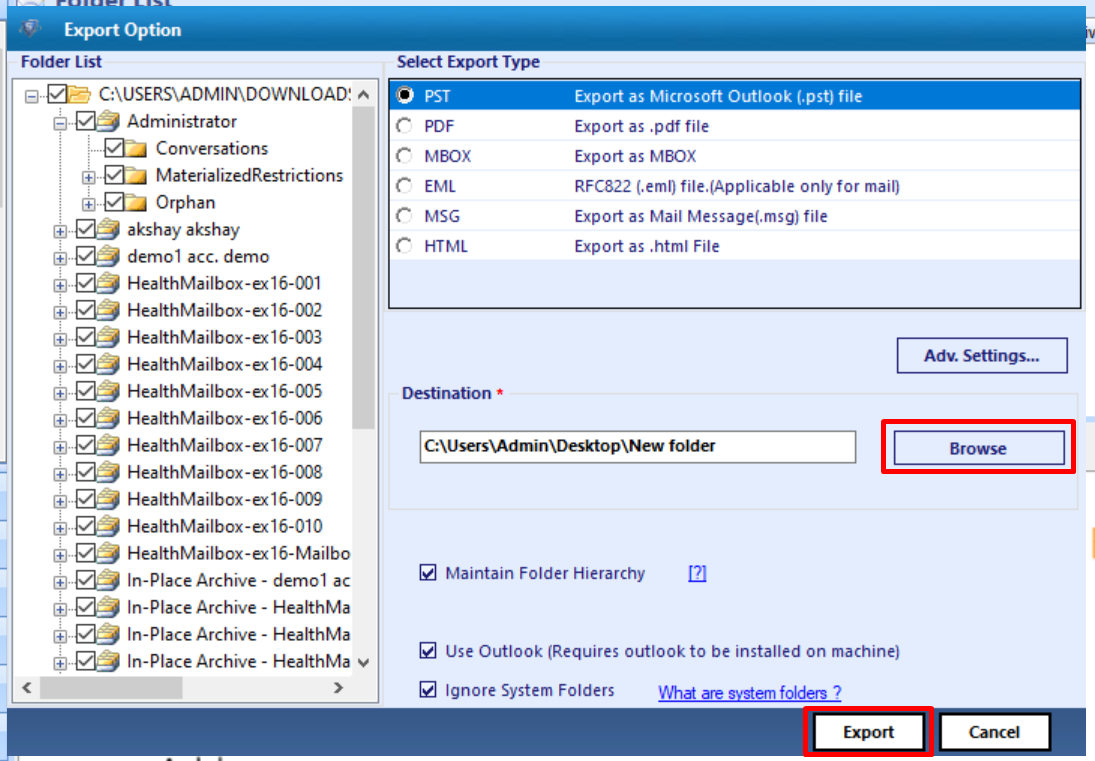 The user has finally export disconnected mailbox to PST Exchange 2016, 2013, 2010.
Bringing It All Together
Now users have detailed information to export disconnected mailbox to PST without putting a lot of effort. If they have the required technical knowledge, skills, and expertise then they can opt for the manual solution. If users want to avoid the technicalities and complexities of the manual method and require a hassle-free way to export disconnected mailboxes, then they can use the advanced solution. Users can also install a demo version of the software to examine its working before getting the licensed version.