How to Export Email to PST From Exchange 2016/2013/2010 | Find Solution
Shini Mohan
| Modified: September 15th, 2021 ~ 6 Minutes Reading
Summary: In this write-up, users will learn how to export email to PST from Exchange 2016/2013/2010 by using the methods that are mentioned here.
Exchange Server is mainly used in every IT organization and in many sectors. Users, Employees, or Clients communicate with each other through Exchange emails. While communicating they exchange information such as project details, company details, and many other things.
One should have technical skills and knowledge to handle Exchange Server because it is prone to corruption and many things such as human deletion, hardware failure, etc… All the information is very sensitive and to safeguard this data, users export email to PST Exchange 2013/2010.
User can use the Exchange PowerShell as the manual solution and advanced solution which helps you to export Exchange email to Outlook data file from multiple mailboxes without losing a single bit of data.
Professional Solution to Export Email to PST From Offline Exchange 2016/2013/2010 Database File
Exchange EDB Converter is the automated wizard used by many advanced IT experts and Naive users to export emails in bulk from multiple Exchange mailboxes to PST file with no data loss. Users can export any size of Exchange database file, mailboxes, and items and by default, the tool creates UNICODE PST file. It is an efficient to export shared mailbox to PST Exchange.

This utility support pub.edb and priv.edb file and it provide a graphical user interface so that the technical and non-technical users can use the software easily. Users can export archive mailbox to PST in batch along with other mailboxes such as: user, disconnected, legacy, shared.
The software provides categories filter option which helps users to export the selected data items in batch from multiple Microsoft Exchange mailboxes to Outlook data file and different file formats: HTML, EML, MBOX, PDF, MSG.
The tool is developed and designed with advanced algorithms that provide Quick and Advance scan mode option that removes corruption from Exchange database files and recover permanently deleted Exchange mailboxes and data items (emails, calendars, notes, tasks, journals, contacts) from loaded offline/dismounted EDB file. Now you can easily recover deleted emails from Exchange Server with the help of this utility.
Key Features Of Automated Software
Support and extract from EDB and STM file
Maintain original folder structure and keep metadata intact
Export Exchange data items to PST & multiple file format
Preview Microsoft Exchange mailbox items before conversion
Convert EDB to PST, PDF, EML, HTML, MBOX, MSG file formats
Date filter option export Exchange data from a specific period of time
Provide remove email encryption (SMIME/OpenPGP) from EDB mailboxes
Support all version of MS Outlook, Windows OS, and Exchange Server
Step by Step Method to Export Email to PST From Offline Exchange 2016/2013/2010 Database File
Step 1: Download the professional software > Install > Launch It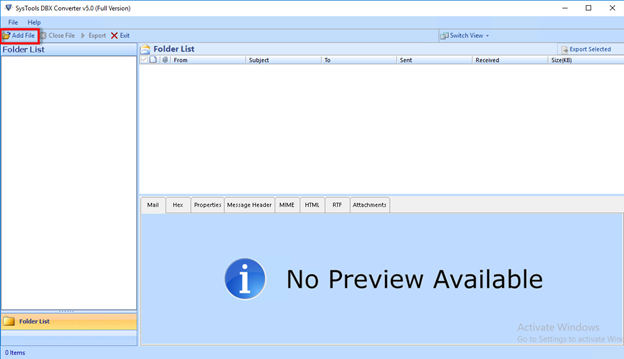 Step 2: Select Add File button > Load Offline Exchange Database File > Click add
Note: Click on scan mode option (Quick and Advance scan) to recover corrupted EDB file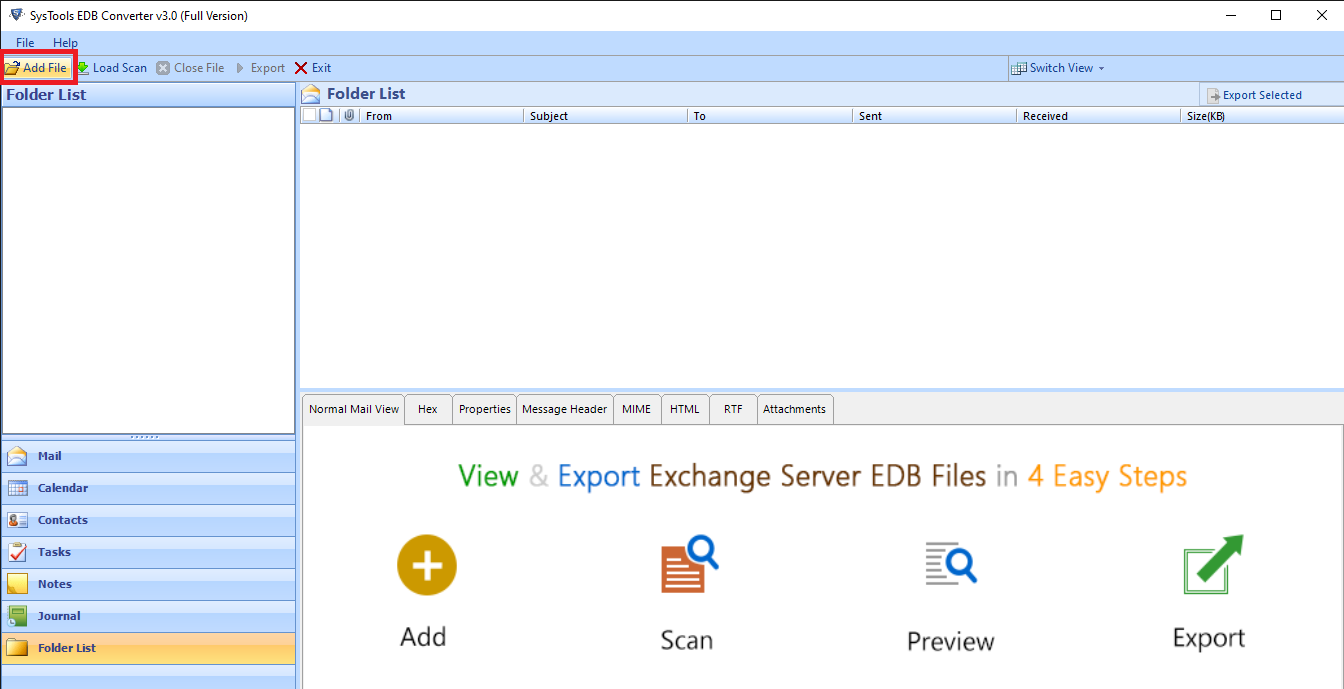 Step 3: Preview MS Exchange mailbox item > Click Export
Note: Click the Export Selected button to selective export email to PST Exchange 2013/2010 with other items. If users want to export Exchange contacts to PST or calendars, tasks, etc.. you can do it easily by clicking on this button.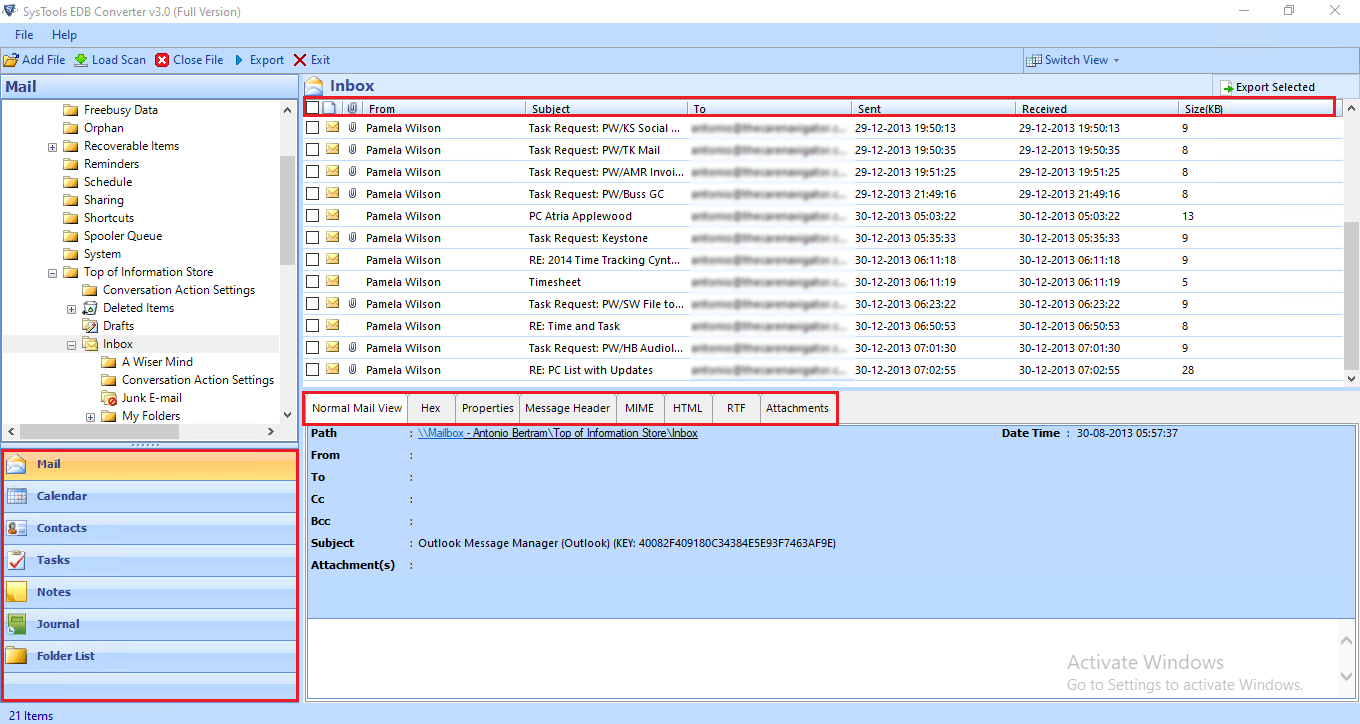 Step 4: Select all Exchange Mailboxes > Click on PST > Select Advance Settings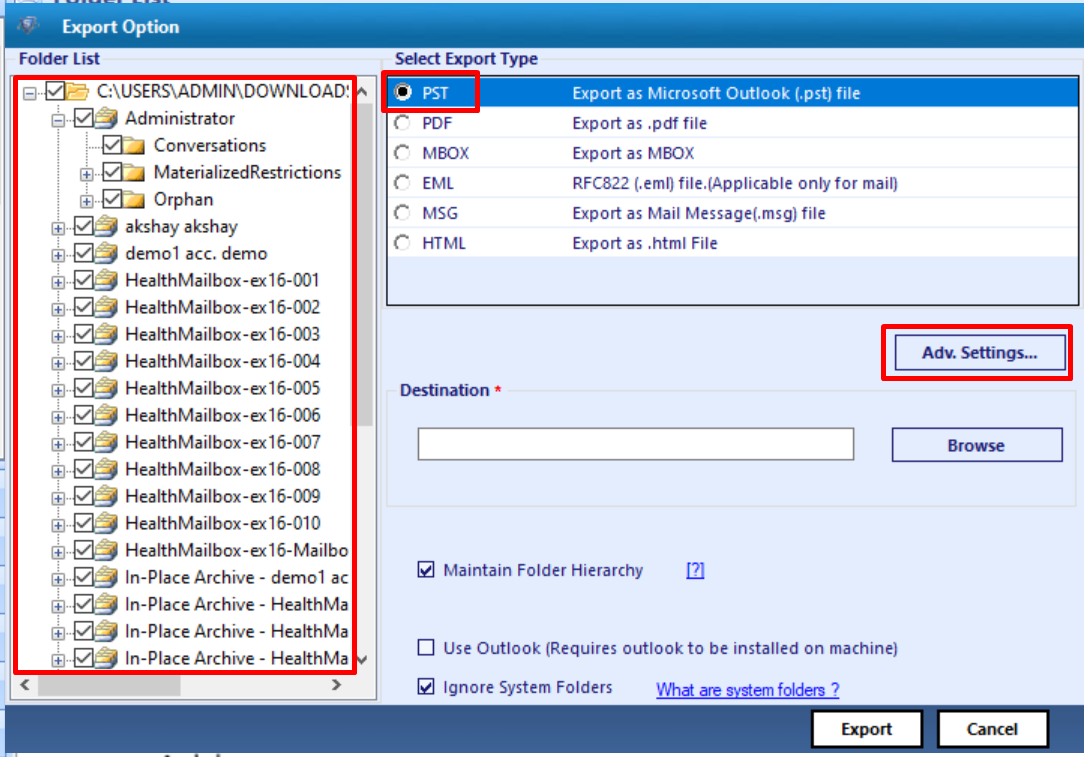 Step 5: Click on Categories option > Select Mails > Click on save button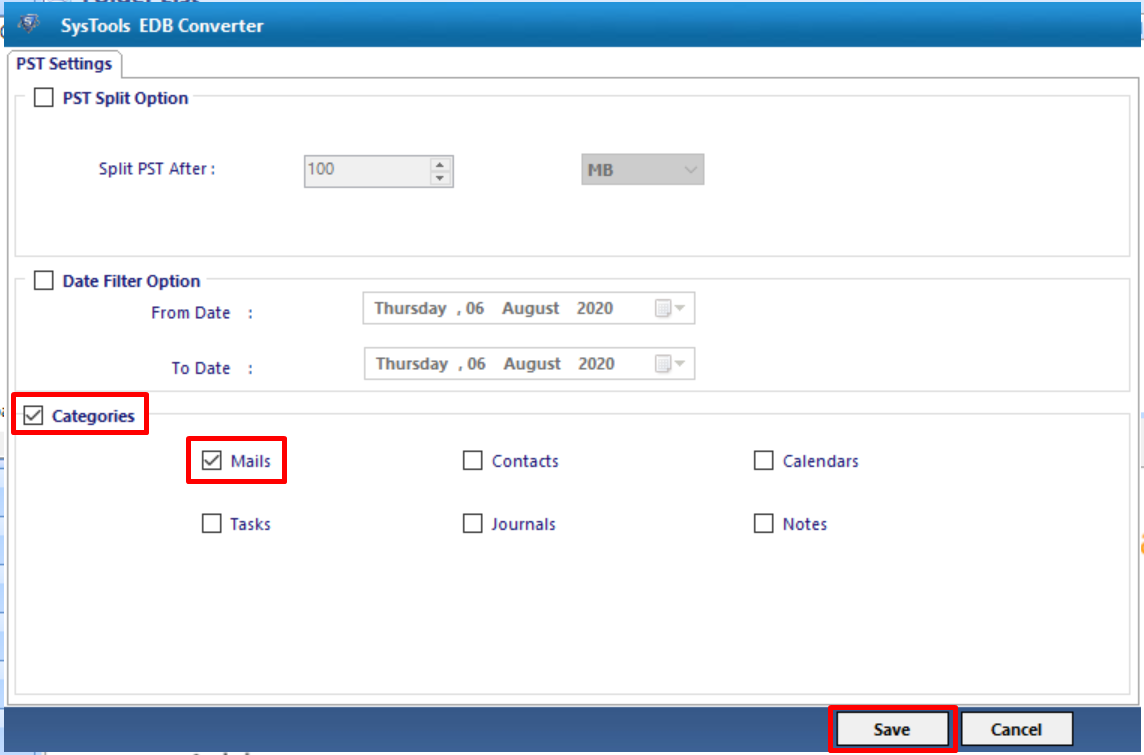 Step 6: Click on the browse button to set target file location > Click Export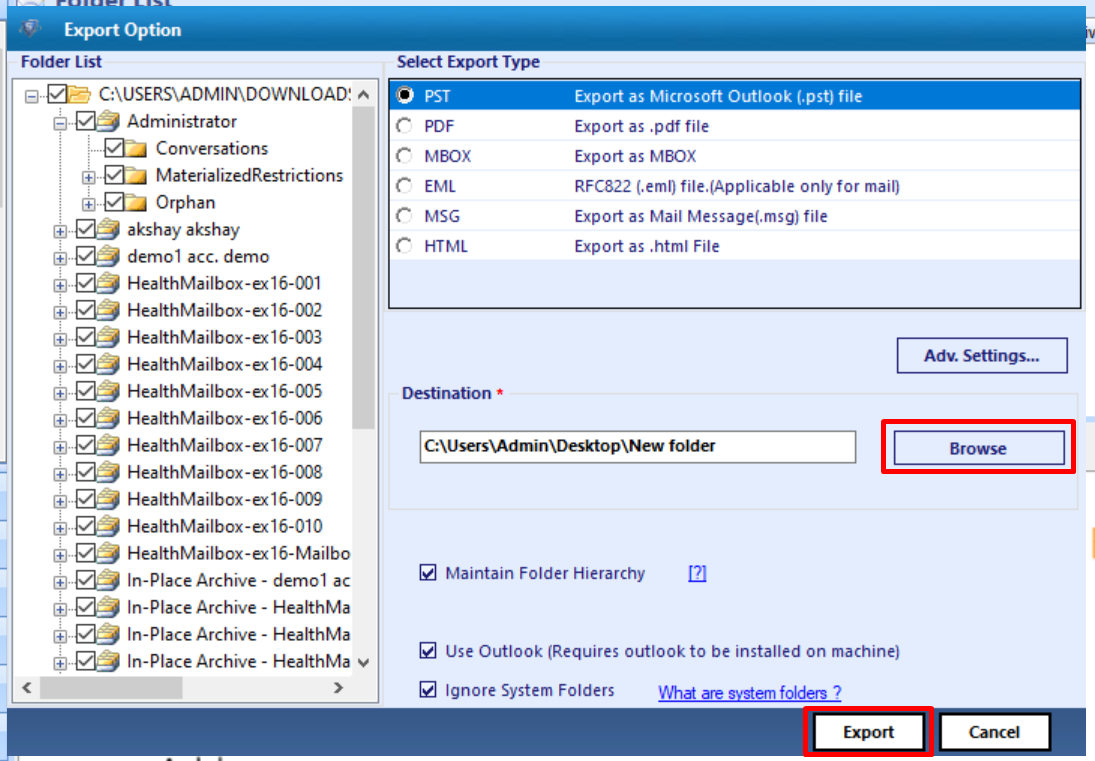 Finally, the Exchange emails are successfully exported to the file
If you want to export EDB emails from Live Exchange Server to the Outlook data file then you can follow the solution given below:
Working Steps to Export Email to PST from Exchange 2016 / 2013 / 2010 Server
1. Download & Run the automated SysTools Exchange Export Tool to migrate Exchange Mailbox to PST in your local system

2. Insert the credentials >> Choose the Exchange Server 2016 version and click on the include subdomain user's >> Click on the Login button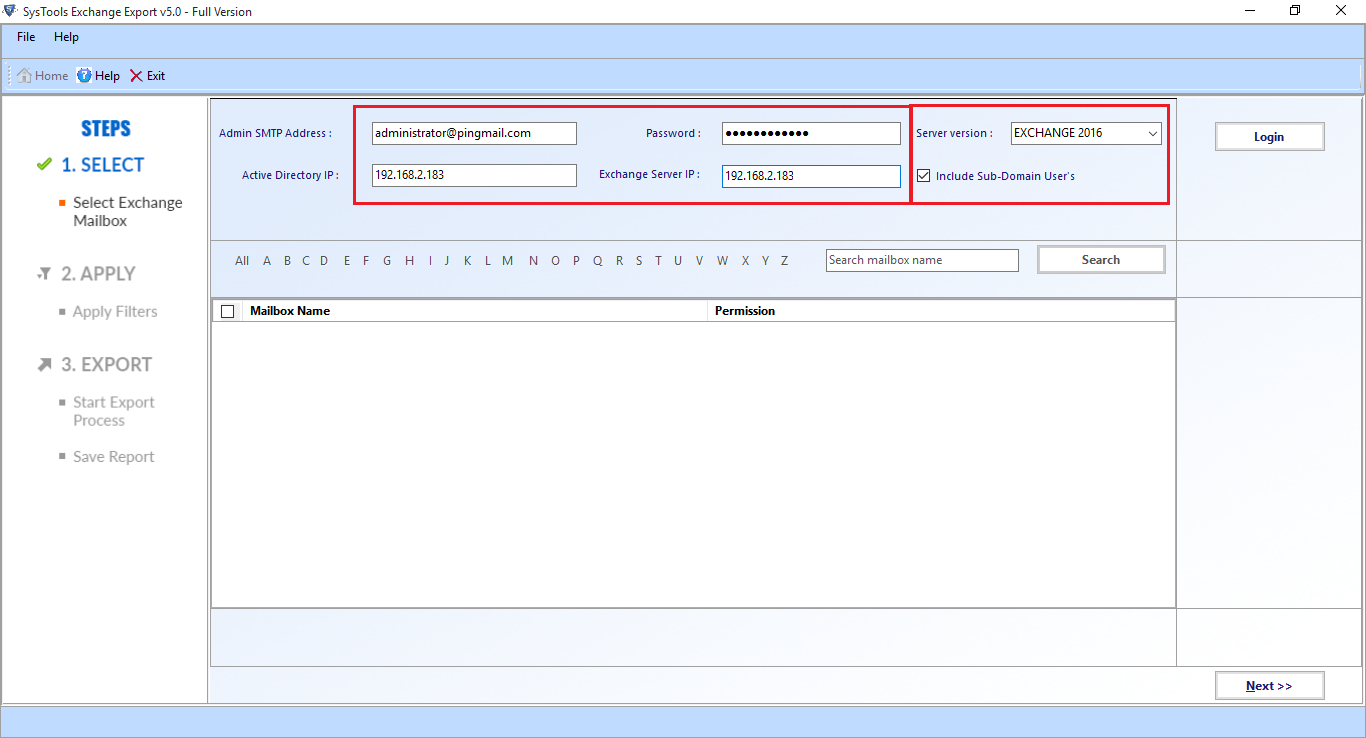 3. Select the mailboxes from which you want to export the emails >> Click on the Next button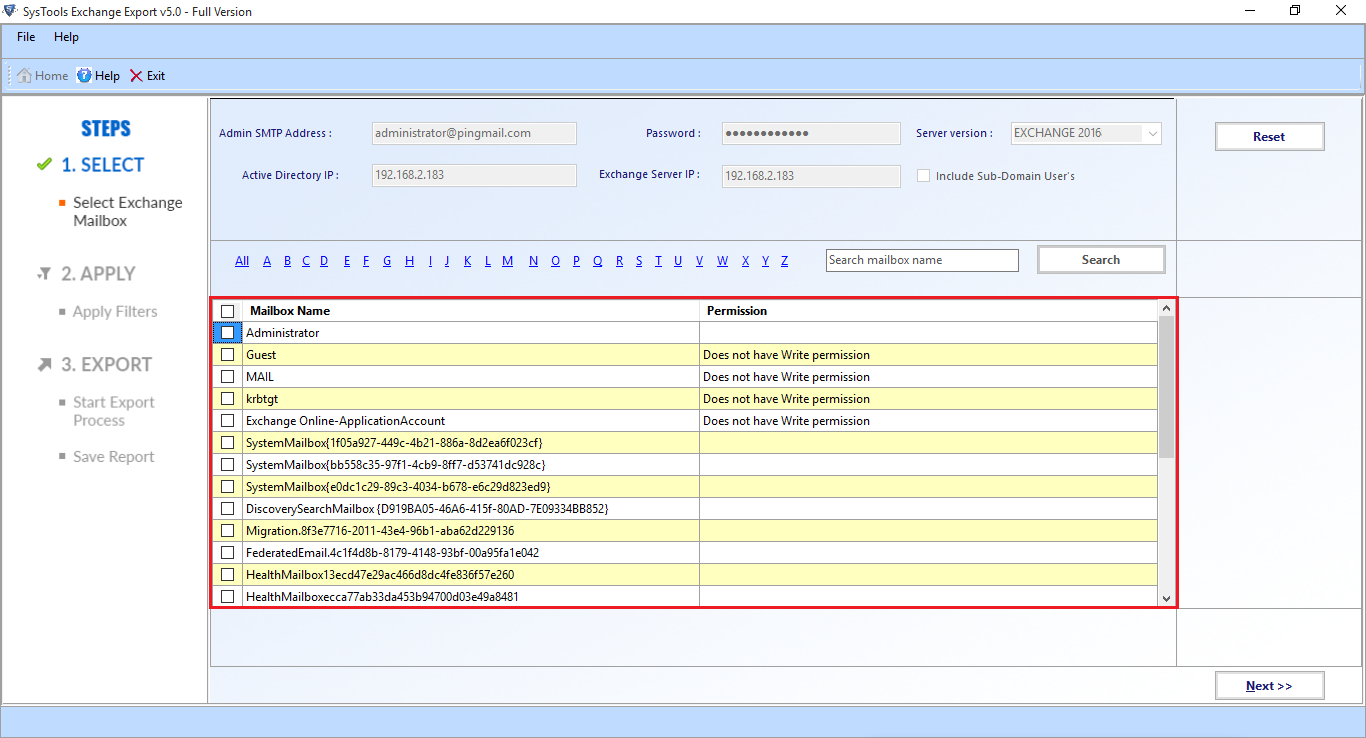 4. Click on the mails checkbox >> Select the browse button to set target file path >> Click on the export button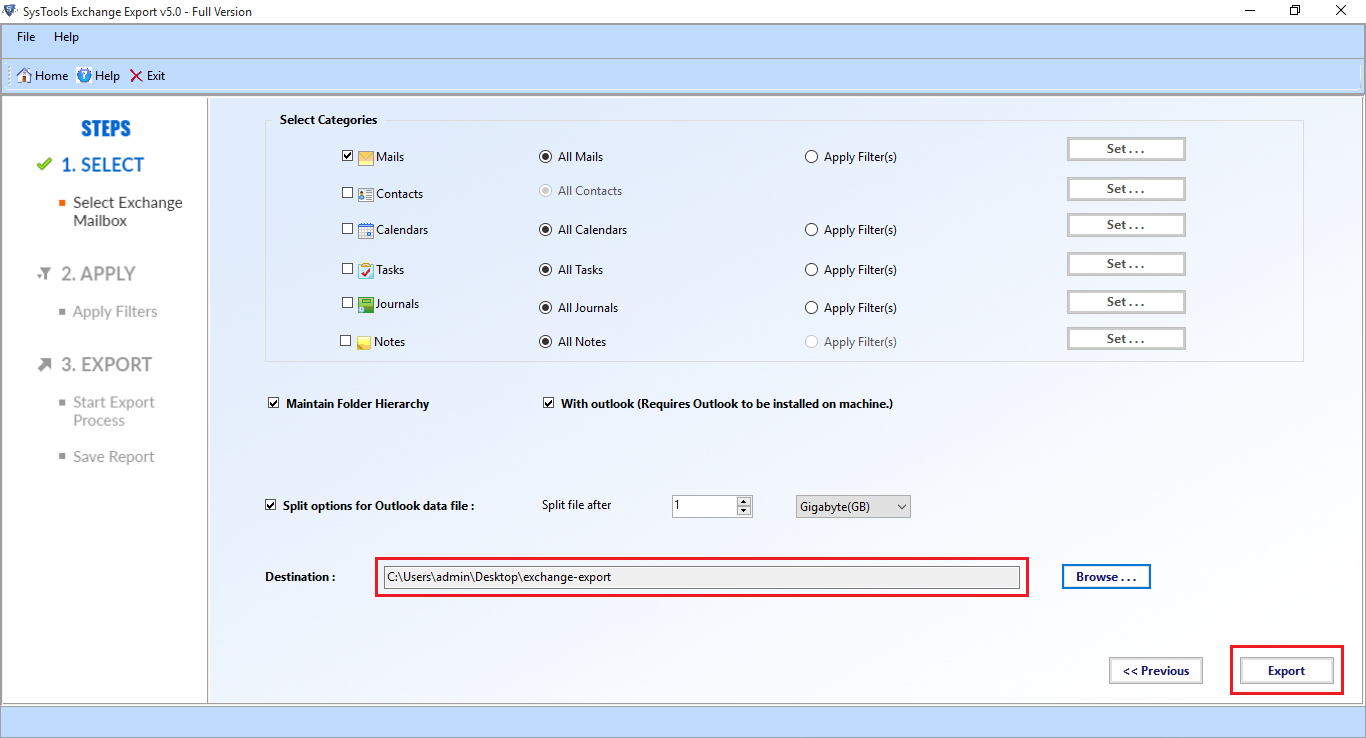 Read: Export Disconnected EDB Mailbox to PST
Use Manual Method to Export Email to PST From Exchange 2016/2013/2010
By default, the Microsoft Exchange Server doesn't provide permission to export Exchange mailbox or data items to Outlook data file. The first one have to assign the "Mailbox Import Export role" and grant full control to the Exchange Trusted Subsystem security group to export email from Exchange 2016 to PST file.
1. Insert the command given below to assign Import Export Role
New-ManagementRoleAssignment –Role "Mailbox Import Export" –User "USERS NAME"
2. To provide read/write permission to the Exchange Trusted Subsystem. First users have to create a shared folder and provide full control.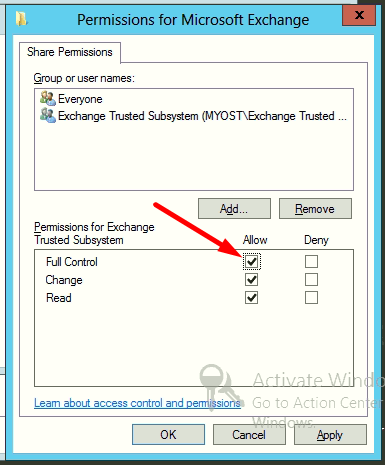 Command to Export Email to PST Exchange 2010/2013/2016
New-MailboxExportRequest -Mailbox "mailbox name" -FilePath "\\Server01\FolderName\Nameofpstfile.pst" -IncludeFolders Inbox
Example:

Resultant File:

This command successfully export email to PST Exchange 2013, 2010.
Limitations Of Manual Method
It's a prolonged and onerous procedure
The risk of data loss is for real in a manual solution
Requires technical knowledge and skill to export Exchange data
Cannot export the offline/dismounted EDB file, mailboxes, and data items
Doesn't export Exchange email from different mailboxes to the PST file
Because of all these major pitfalls, it would be wise to use the advanced solution which can perform all the task efficiently.
Related: Export Exchange Mailbox to PST via PowerShell
Bringing It All Together
Now users know how to export email to PST from Exchange 2016/2013/2010 by using the solution described in this write-up. The manual method only export email from a single Exchange mailbox and if you want to export Exchange emails from multiple mailboxes that you can use the advanced solution described in the above section that export emails from multiple Exchange mailboxes in batch to PST file and other formats without any loss of data.