Export Shared Mailbox to PST Exchange 2010, 2013, 2016 Efficiently
Summary: If you are looking for an efficacious way to export shared mailbox to PST Exchange 2010 / 2013 / 2016, then you have found the right article. In this write-up, we will provide you with two procedures (manual and automated). You can choose any one of them depending upon your requirements.
Exchange Shared mailboxes are very important in IT organizations or any other company. It allows multiple users or employees to read/write and send email messages through generic email addresses (marketing@infotech.com or info@infotech.com). Also, Exchange shared mailboxes provide common calendars to various users to schedule their meetings, work shifts, events, tasks, and many other things.
As everyone knows that it requires technical skills and knowledge to handle Microsoft Exchange Server and maintain the data. Due to hardware/software failure, server crash, corruption, etc., we need to keep the shared mailboxes in Exchange safe and secure Thus, it is important for us to know how we can export shared mailbox to PST in Exchange 2016, 2013, or 2010.
Professional Solution to Export Shared Mailbox to PST Exchange
This EDB to PST Converter software helps you to export multiple shared mailboxes of any size to the PST file format in bulk without any data loss. Apart from this, it allows users to export different Exchange mailboxes such as user, legacy, disconnected, archive to PST, and many other file formats. Additionally. you can easily export archive mailbox to PST in Exchange along with other mailboxes.
This utility provides scan mode option which recover corrupt Exchange database file. To remove minimal corruption, you can select the quick scan and by default, the EDB file goes through this scan option.
To recover highly corrupted .edb file, users can opt for advance scan. This option recovers permanently deleted data items and Exchange mailboxes from loaded offline / dismounted Exchange database file with no data loss.
The tool can export selective EDB mailbox and items like – notes, tasks, journals, contacts, calendars, emails. Users can easily export Exchange contacts to PST along with other mailbox items.
It exports mailbox from offline Exchange database to multiple file format and auto-create the export report which contains the success and fail count of exported data in CSV file format.
Key Features of Automated Software
Support public and private Exchange database file
Option to Save Resultant Data in PST, MBOX, PDF, MSG & HTML
Quickly Export Exchange Mailbox to PST without losing any data
Maintains original folder hierarchy and keep metadata intact
Export selective mailbox items by using the categories filter option
Preview Microsoft EDB mailbox data items before conversion
Provide option to remove email encryption (SMIME / OpenPGP)
Date filter option export Exchange data in a specified date range
Suitable with all versions of Microsoft Exchange Server, MS Outlook, and Windows OS
Stepwise Method to Export Shared Mailbox to PST Exchange 2016 / 2013 / 2010
1: Download, Install & Launch the professional software.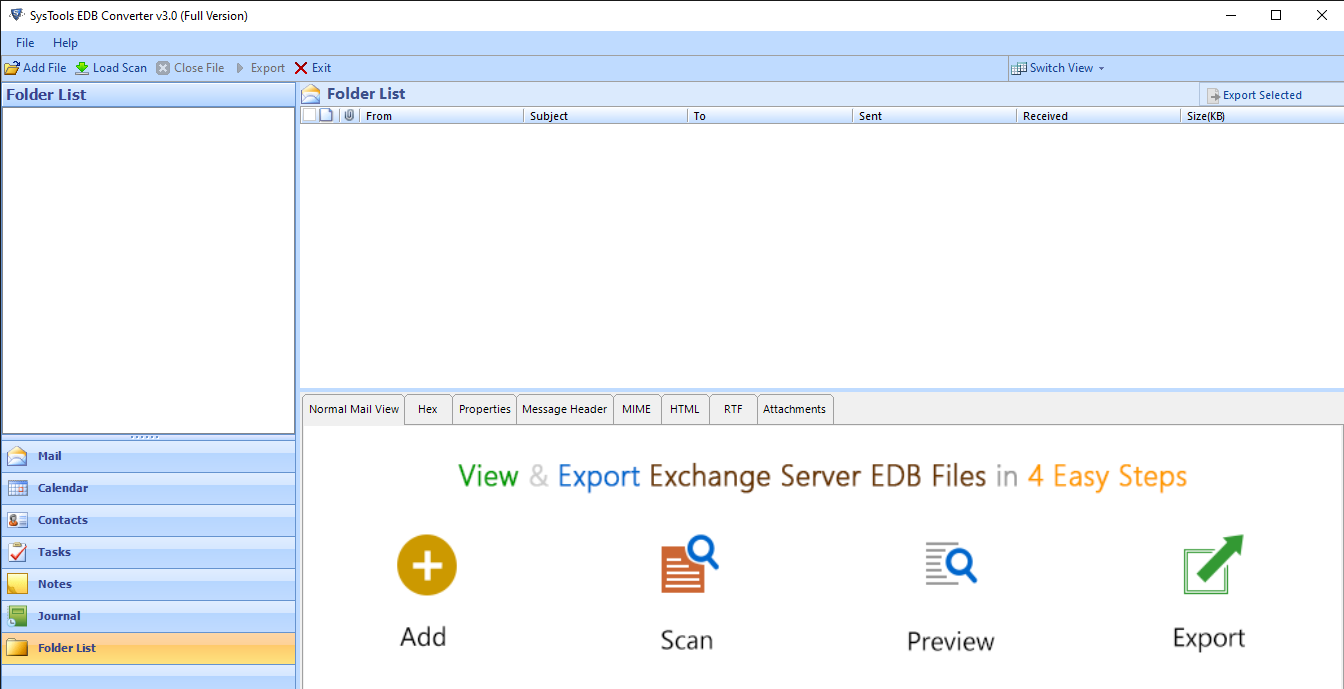 2: Click on add file > Load Exchange database file > Click Add.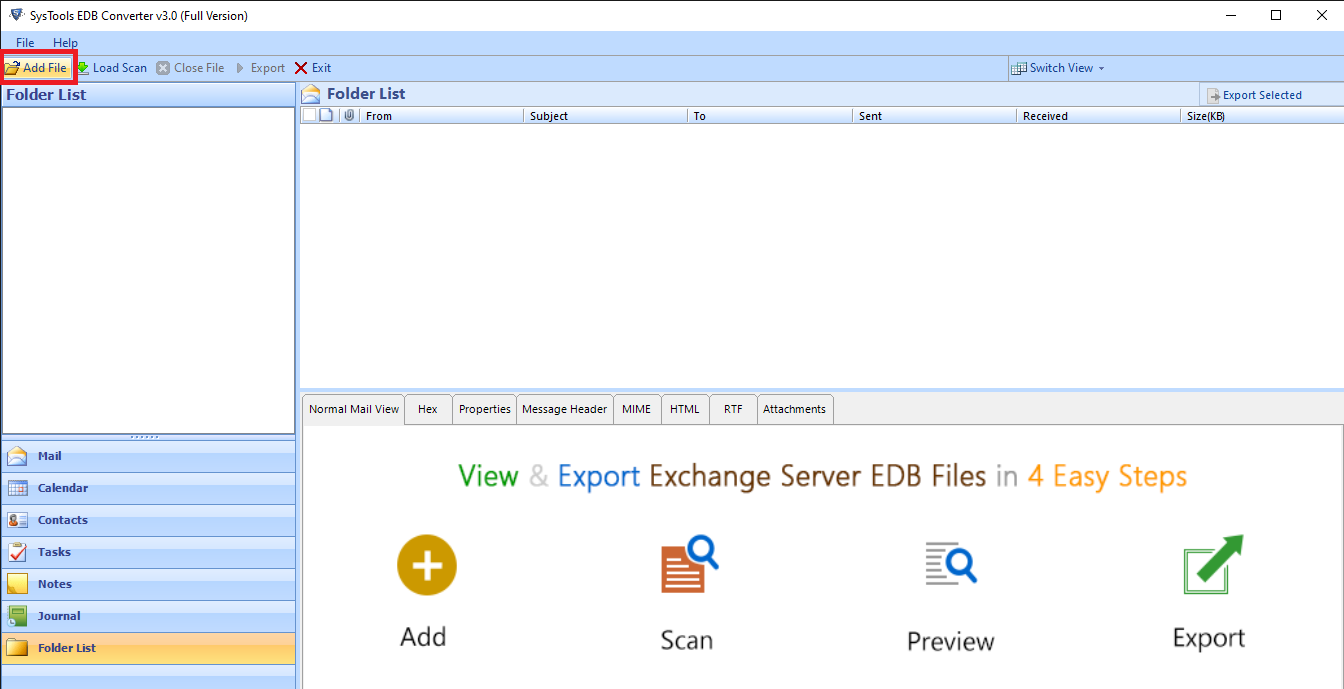 3: Preview the EDB mailboxes and data items > Click Export.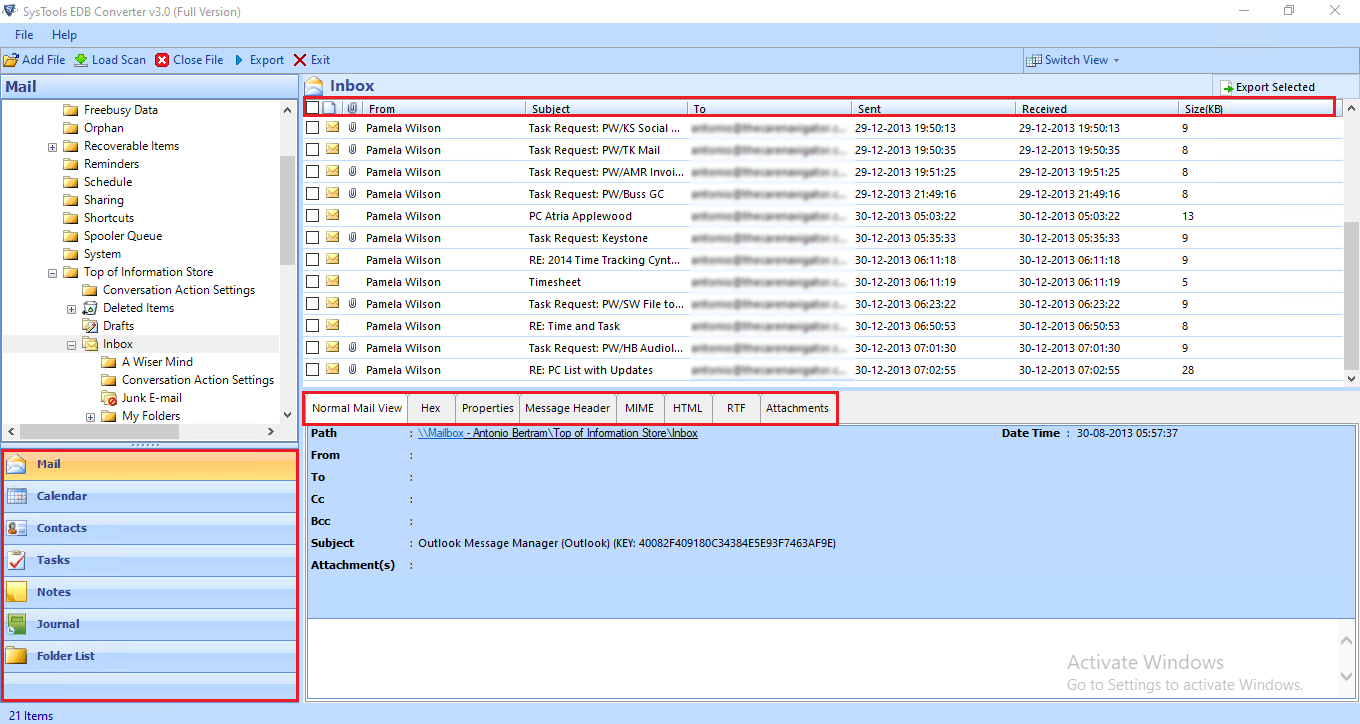 4: Select Exchange Shared mailbox to export shared mailbox to PST > Click on PST > Select browse button to set target file path > Click Export.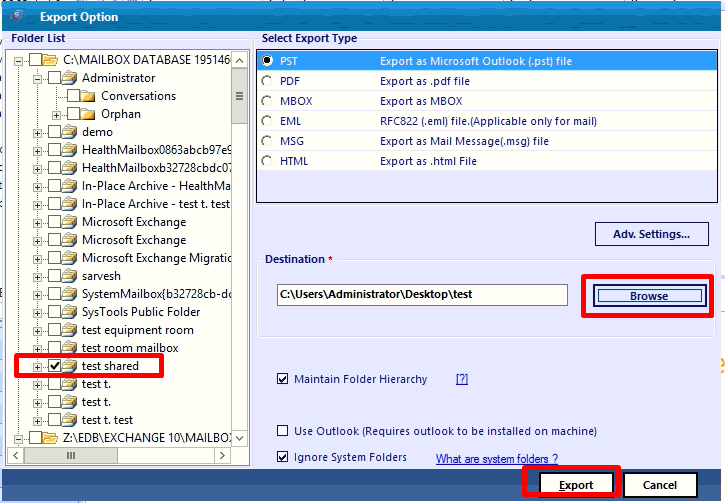 Finally, the EDB shared mailbox is successfully exported to the PST file format.
Manual Way to Export Shared Mailbox to PST Exchange 2010 / 2013 / 2016
By default, Microsoft Exchange does not provide export or import mailbox permission. So first, you have to assign the Mailbox Import Export role to the organization management role in the Exchange Admin Center.
After that, create the shared folder to save the resultant file and assign full control to the Exchange Trusted Subsystem security group. Then follow the steps given below to proceed further.
Steps for Exchange Admin Center
1: Log in to EAC, in recipients > Select Shared and click on the given mailbox > Click on "…" > Then, click the "export to a PST file" option.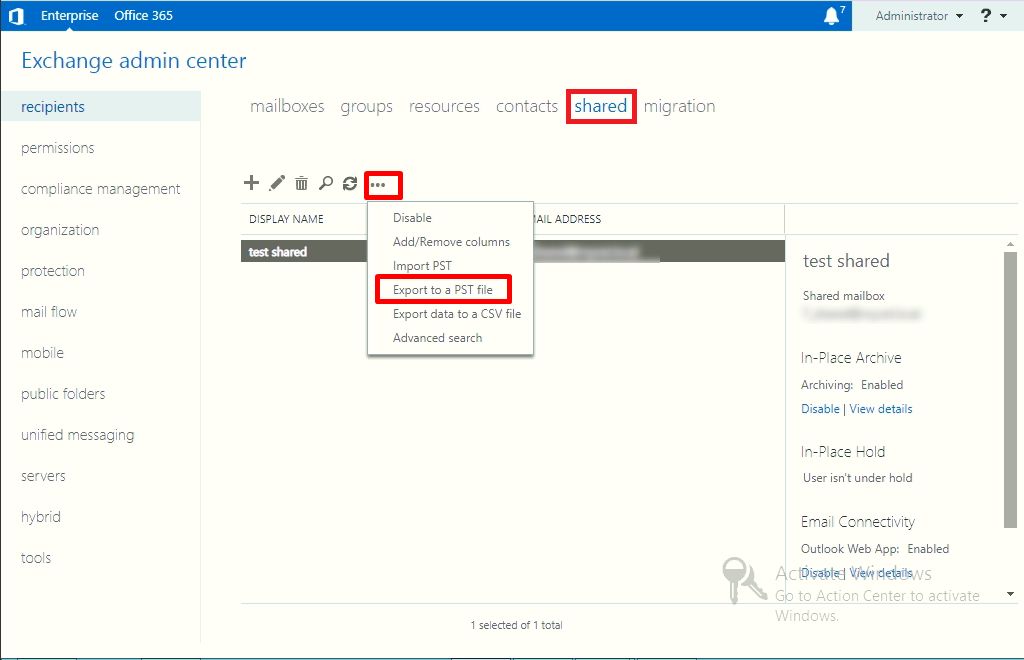 2: Select the first radio button > Click on the Next button.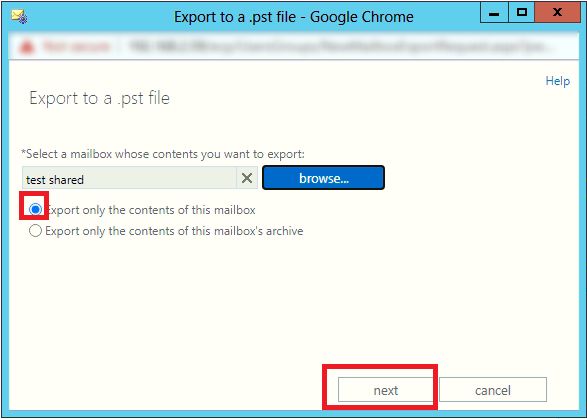 3: Enter the Universal Naming Convention path > Click Next.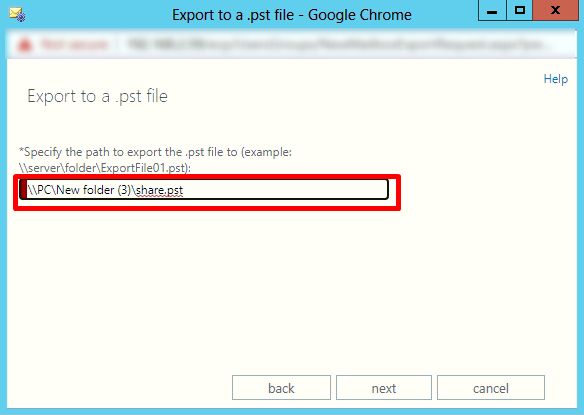 4: Click on the checkbox > Finish button.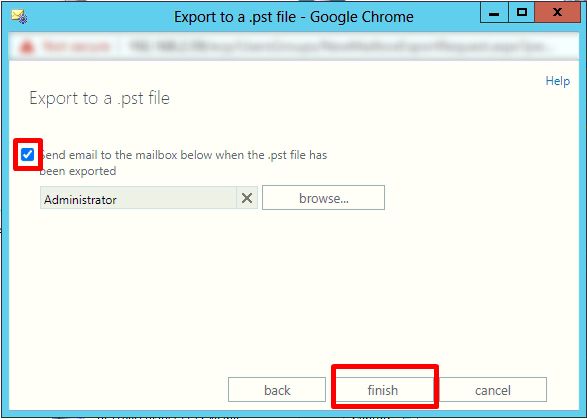 The Exchange shared mailbox is successfully exported to the PST file.
Output File: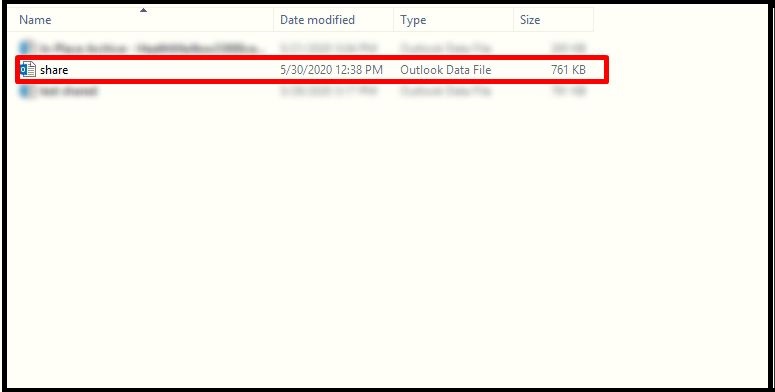 Limitation of Manual Solution
It requires technical expertise and in-depth knowledge to use the Exchange Admin Center.
This method only exports one shared mailbox at a time and if the user tries to export mailboxes by using this solution, then it would be a very tedious job to do.
Doesn't work properly with damaged/corrupted/unhealthy EDB mailboxes. If any of the Exchange database shared mailbox is corrupted, then you will lose data by exporting the mailbox into PST.
That's why it is better to use the automated solution which helps users to export multiple shared mailboxes to PST files in bulk and it overcomes all the downsides that you are facing in the manual method.
Bringing It All Together
Many users find it difficult to export shared mailbox to PST in Exchange 2016, 2013, and 2010. Thus, we have discussed two different solutions in a step-by-step process to make your task simple. In the first method, we have discussed an automated solution that is easy to operate. Following that, we have explained a free manual procedure as well i.e. via Exchange Admin Center.