Do you want to know how to restore database in SQL Server 2019, 2017, 2016, 2014, and below editions? If yes, then continue with this post where all your queries related to data restoration in SQL Server will be resolved easily.
Microsoft SQL Server is one of the most used and trusted database management applications by many users around the world. All the database items like tables, views, stored procedures, functions, triggers, and much more are stored in the MDF database file. It also known as the primary data file. Sometimes, MDF file may get damaged or corrupt due to different reasons such as storage failures, network & power failure, virus or malware attacks, and abnormal server termination, etc.
Under such conditions, a user may lose their all valuable data. However, if he/she pursuing the good habit of taking regular database backup, then they can easily restore database in MS SQL Server using the valid recent backup. If the recent backup is not available or the backup gets corrupt then it becomes a complicated situation for the users.

So, in this article, we are going to talk about the best way that you can use for the data restoration process even without backup. Let's start: 
How to Restore Database in SQL Server Without Backup
Use SysTools SQL Database Recovery Tool to restore your data quickly or even without the backup. It is an enterprise-grade level professional tool that is capable to restore all the deleted, corrupt, damaged data from the MDF & NDF files in just a few mouse clicks.
This software is equipped with an advanced feature to recover & preview deleted SQL database objects such as tables, table records, functions, views, etc. in Red color. Moreover, the tool can export the recovered data directly in a live SQL server database, CSV file Format, or Export SQL Server Data to SQL Script without any change in the original content. This tool supports SQL Server versions 2019, 2017, 2016, 2014, 2012, and below also.
Steps to restore database in SQL Server
1. Download, Install and run the application on your Machine.
2. Now, click on the Open button and browse the desired MDF file from its location.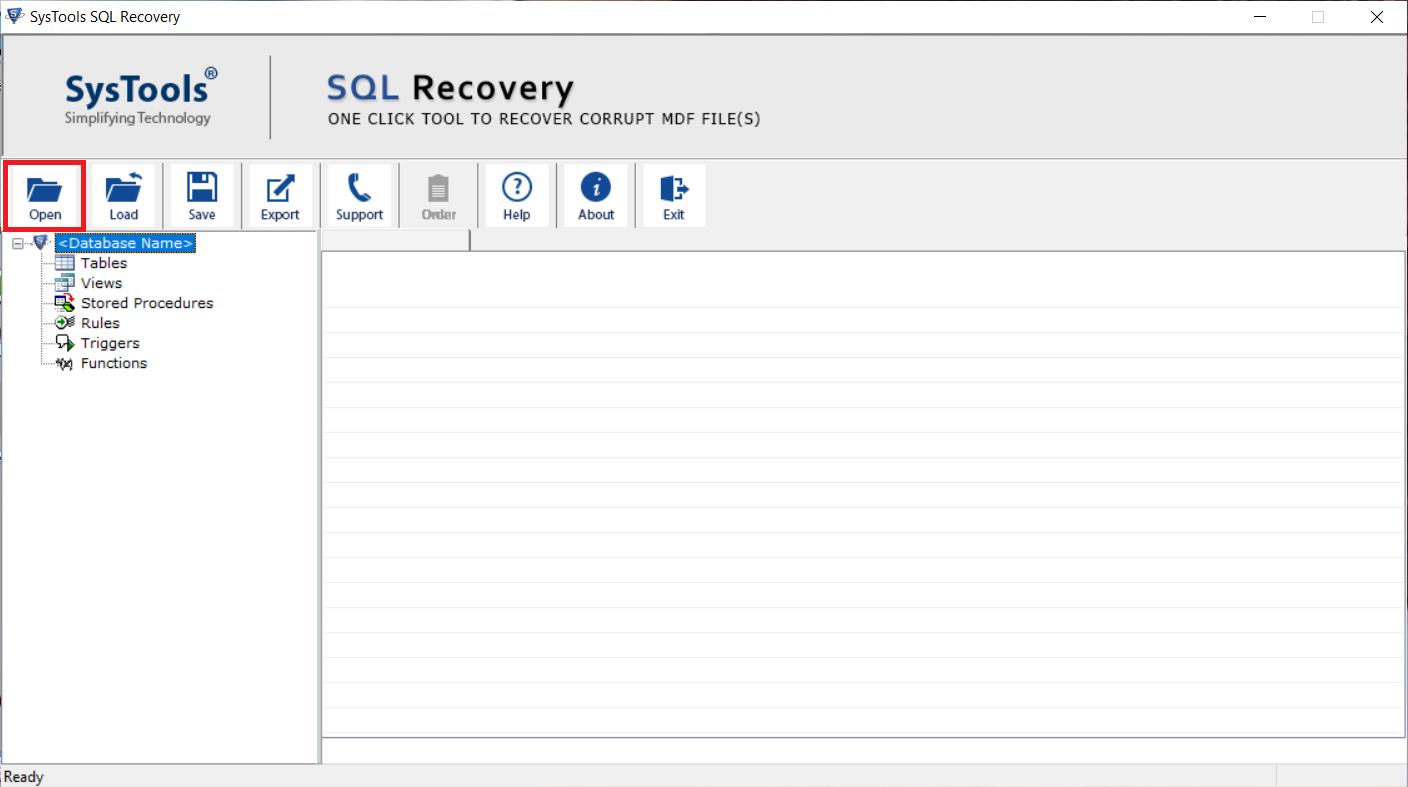 3. Then Select the Quick Scan and Advanced Scan and also choose the SQL server version and click on OK to restore database in SQL Server.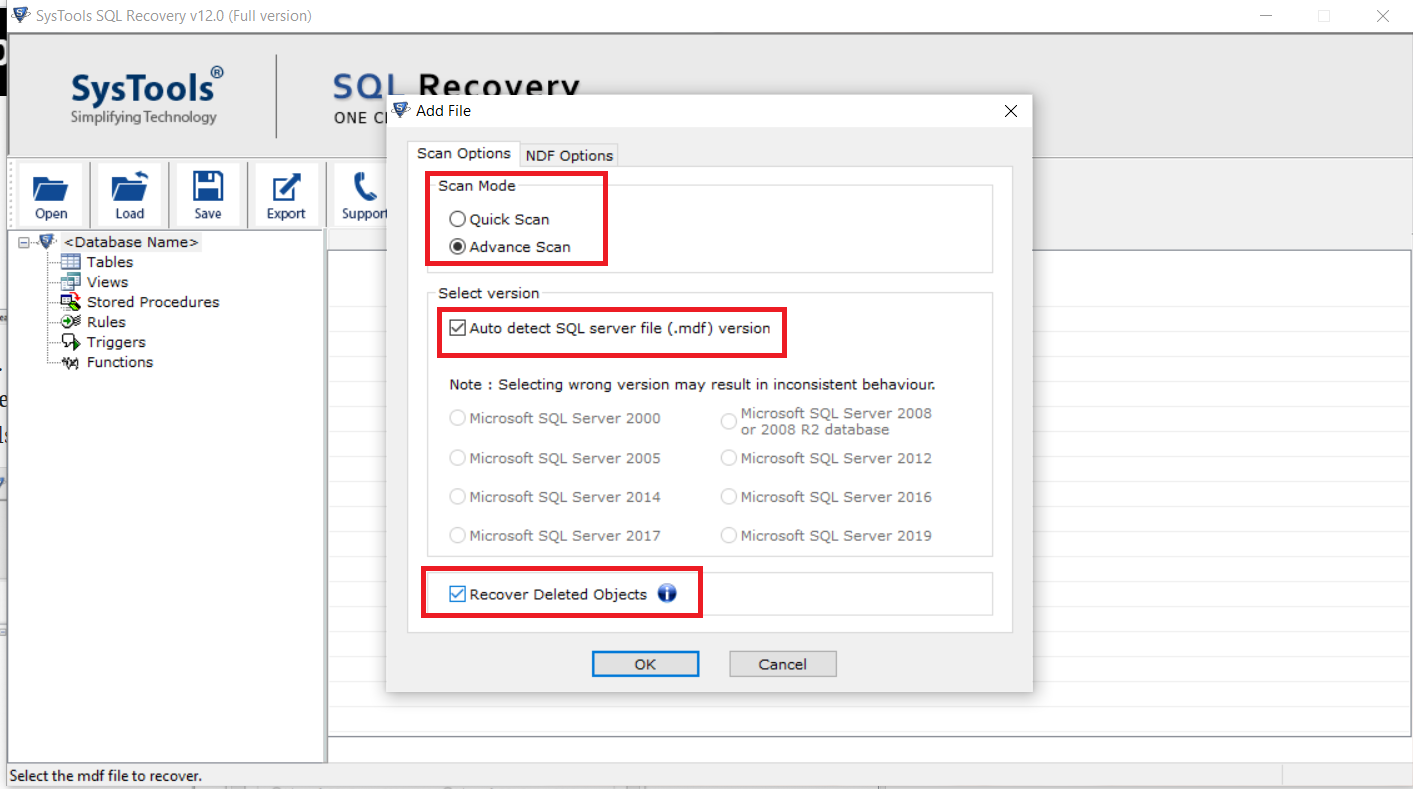 4. Preview the MDF file database on the software interface.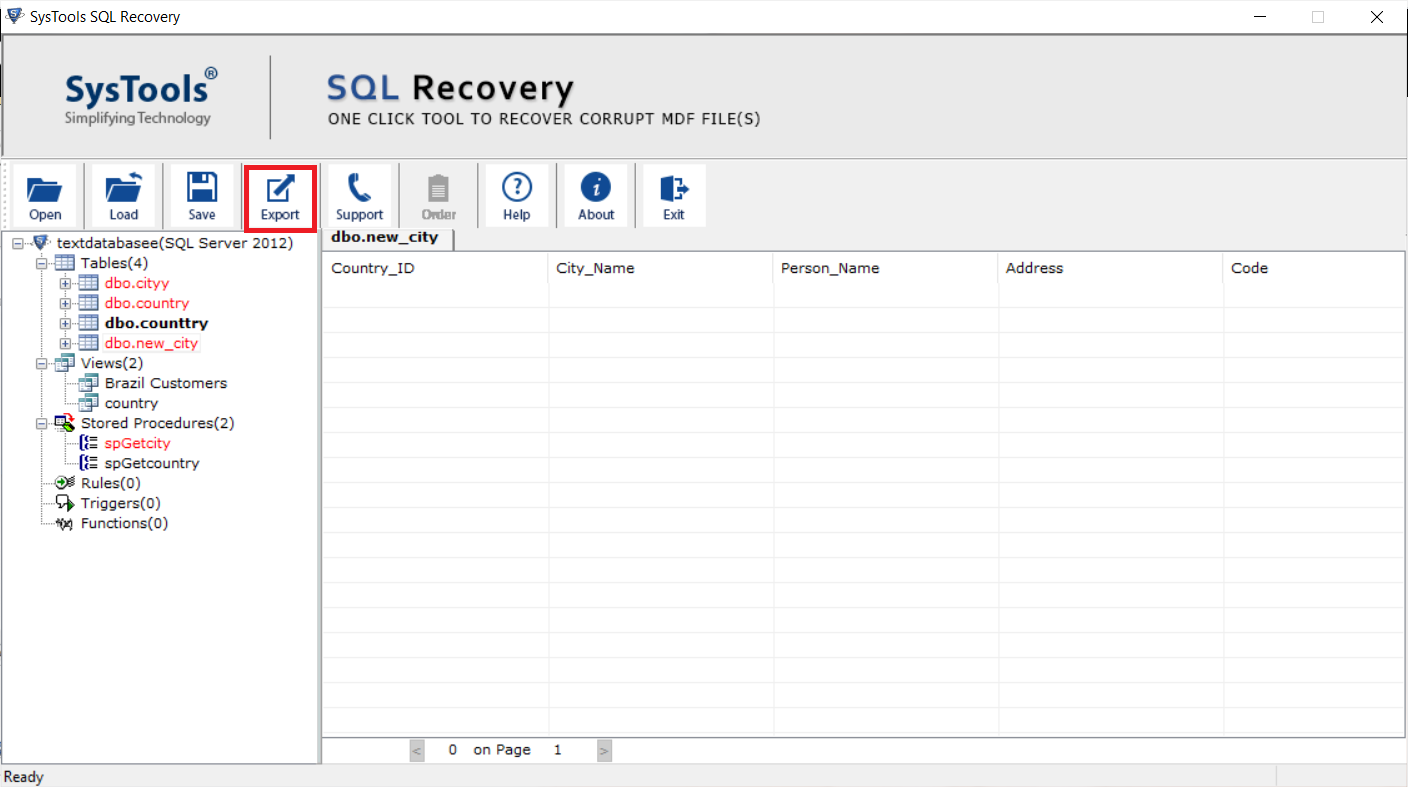 5. Now choose the export to SQL server database option.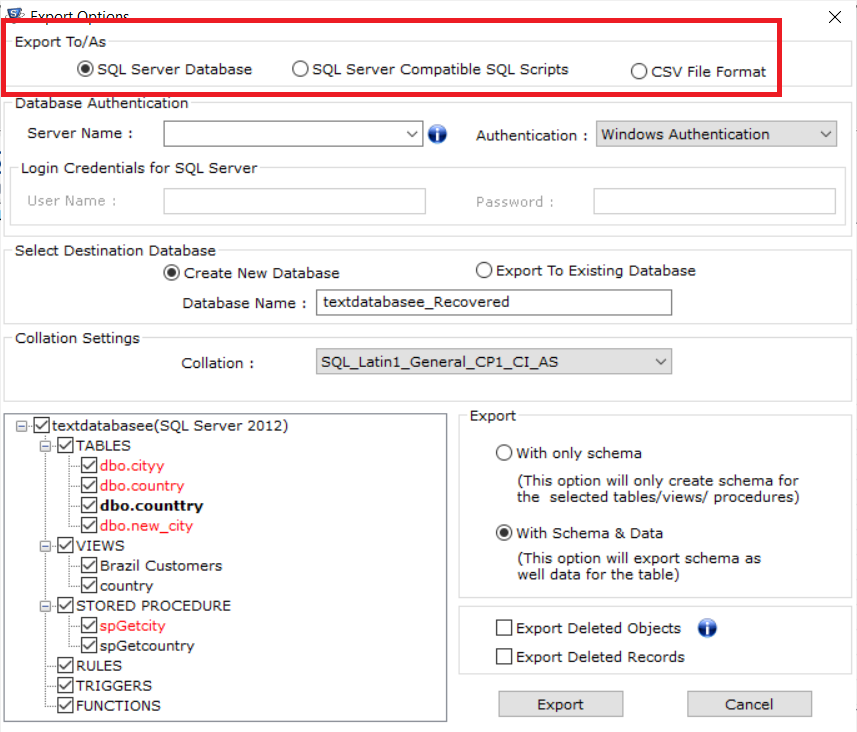 6. Select the Server Name by clicking the drop-down arrow and choose the authentication mode.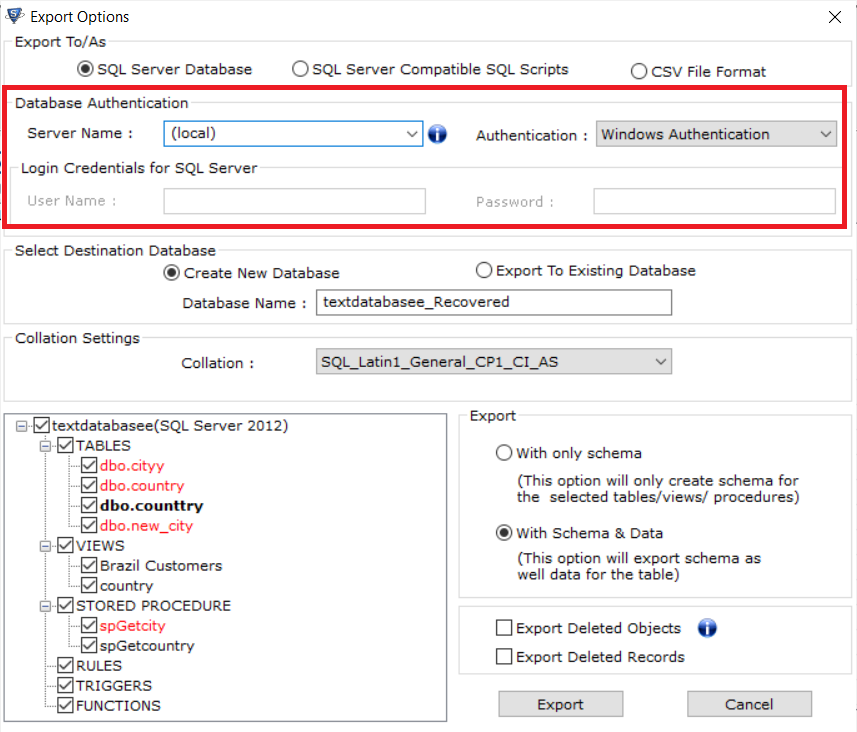 7. Select the destination database from creating a new database or Export it into an existing database.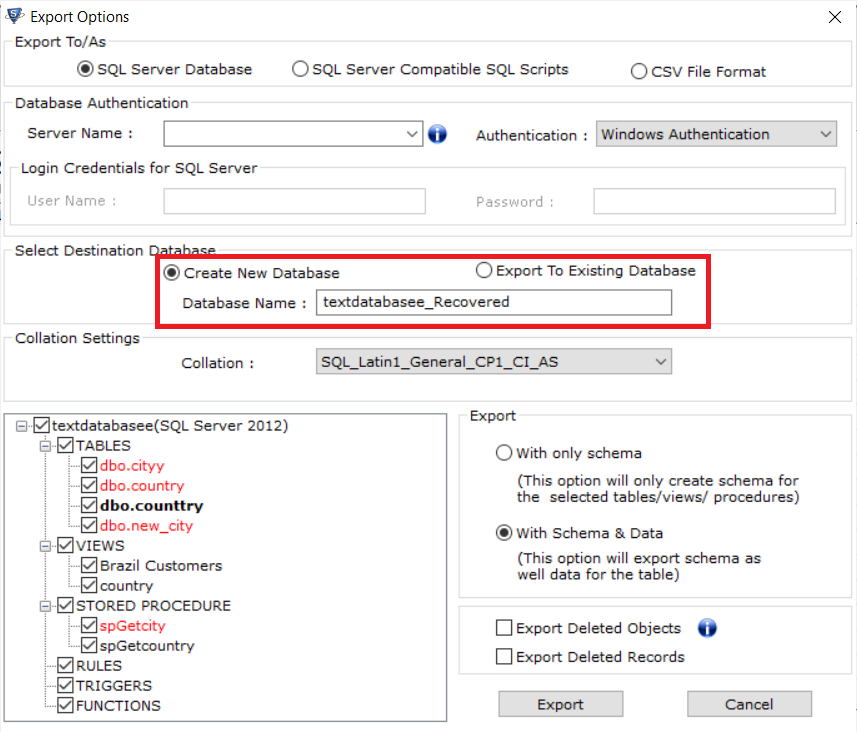 8. Now, choose the option export with only schema and with schema and data. Finally, hit the Export button.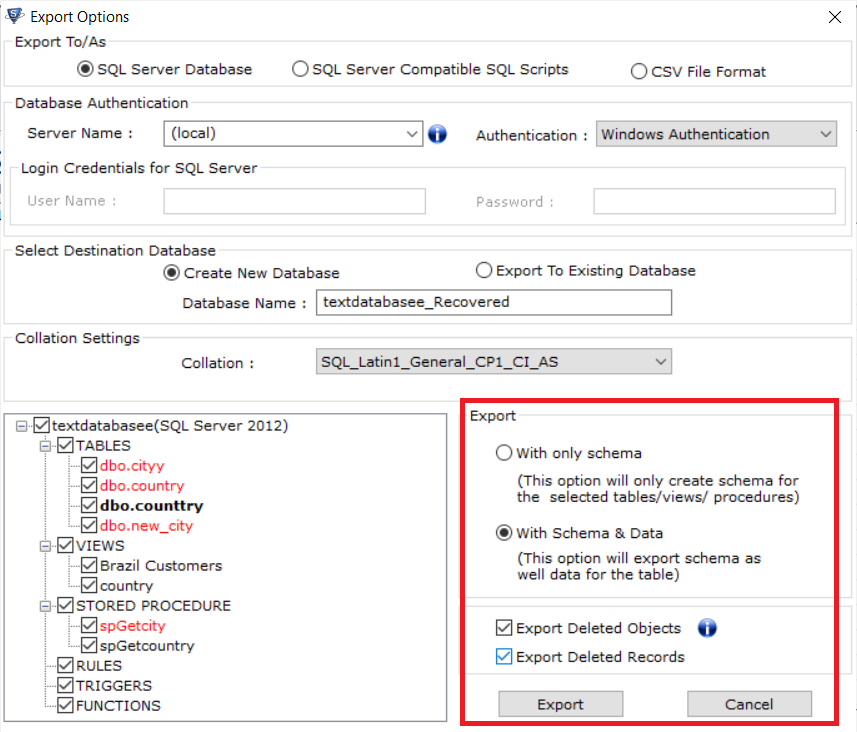 Read More: How to Repair MDF Database With Corrupted Log File?
Final word
Well, this post comprises a complete solution to Restore Database in SQL Server 2019, 2017, 2016, 2014, 2012 Without Backup using a convenient third-party tool. This software is completely safe, simple, workable and also it does not result in any kind of data loss. Any type of user can easily use this advanced application as it provides a simple graphical user interface.
The best part about this is, it also available in a free trial version, you can download it without spending any money and test the working of the software on your own.