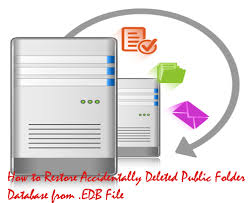 In this write-up, we will discuss users how to restore deleted Public Folder from .edb file in the easiest manner.
Public Folder is launched with the initial version of the Microsoft Exchange. Basically, it is mainly designed to offer a simple and effective way to collect, share, and organize business-related information within an organization or in workgroups.
However, these folders follow an organized hierarchy and they may be replicated in between an Exchange servers mailbox. The most interesting aspect of such Public Folders is that they are saved in dedicated mailbox stores named as Public Folder Database.
Moreover, all the data components are stored within the Exchange EDB file format (.edb) in the Public folders database.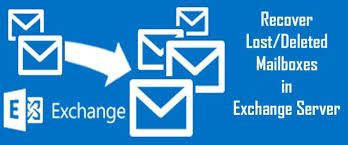 Need of Restore Deleted Public Folder Database
As lots of crucial information is stored in the Exchange Server Mailbox. Therefore if such databases are subjected to any kind of disaster such as corruption or data deletion from the EDB file which stores data in bulk.
Sometimes, such a file incorporates necessary information associated with business concerns and organizational budgets. Due to such reasons, all organizations start using dedicated databases, which follow the fundamental rule of backing up. Public folder backup may be the monotonous and too lengthy procedure
Consider a scenario:
"I am dealing with Exchange 2010 and I have accidentally hard deleted all public folders. Even I cannot recover lost public folder from the Exchange EDB file. Kindly suggest how to restore the deleted Exchange public folder from .edb Exchange 2010 ?"
Use Automated Wizard to Restore Deleted Public Folder
SysTools Exchange Server recovery software is an advanced tool that supports private and public dismounted/offline Exchange database file. The Advance scan mode of this utility recovers permanently deleted Exchange mailboxes and data items from loaded EDB file without any loss of data.
This scan mode option also recovers highly corrupted EDB file and to remove minimal corruption you can select the quick scan option. It supports Exchange Server version from 2003 to 2019. So, users can recover hard deleted Exchange data from any version of Microsoft Exchange.
The software is built with an interactive graphical user interface and helps users to perform their tasks easier and save lots of time & effort. After recovery, you can export the recovered and healthy public folder data directly to the Live Exchange Server, Office 365, and PST, MSG, MBOX, EML, HTML, PDF file format.
Automated tool is capable to export multiple & selective Exchange mailbox: shared, archive, disconnected, legacy, user and items such as: contacts, notes, tasks, calendars, mails, journals to the selected export option. It auto-generate export report in CSV format which store success and fail count of export Exchange data.
Key Features Of Professional Software
Recover and Repair multiple corrupted EDB file
Preview recovered Exchange mailbox items before conversion
Export any size of public and private Exchange database file
Save Exchange EDB to PST and multiple file format without data loss
Recover permanently deleted emails from large offline/dismounted EDB file
Preserve actual folder hierarchy and keep metadata intact after conversion
Convert Exchange selective mailbox data using date and categories filter option
Support all Microsoft Exchange Server, Windows OS, and MS Outlook versions
Working Steps to Restore Deleted Public Folder
Step 1: Download the software, Install and Launch it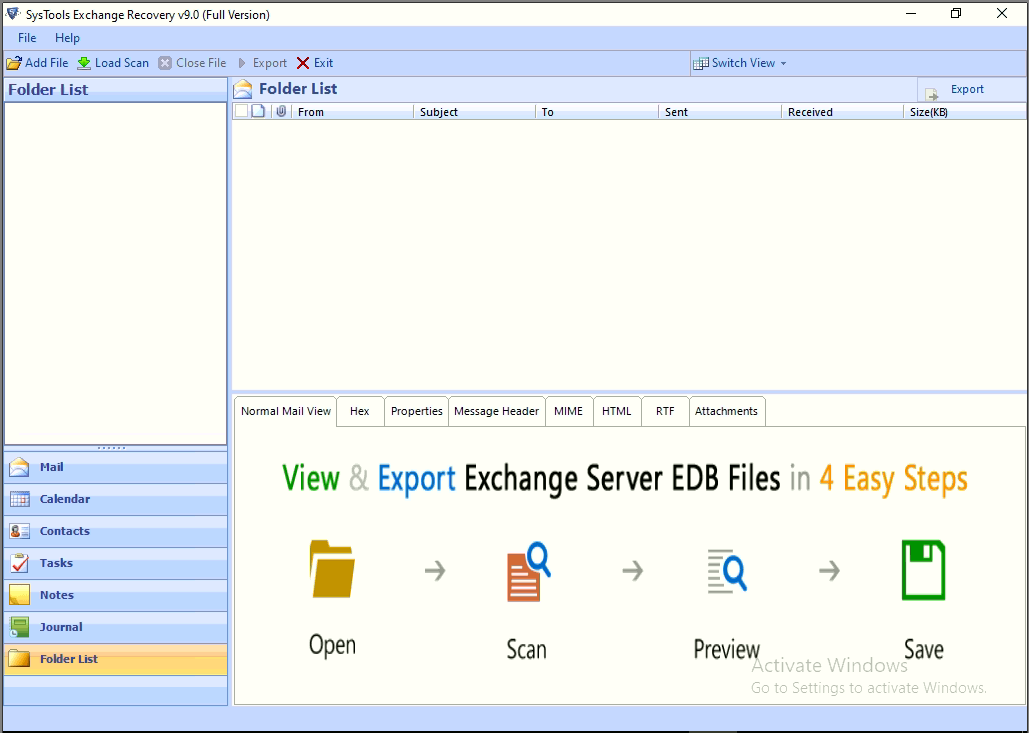 Step 2: Selected the Add file > Load offline Exchange Public folder .edb file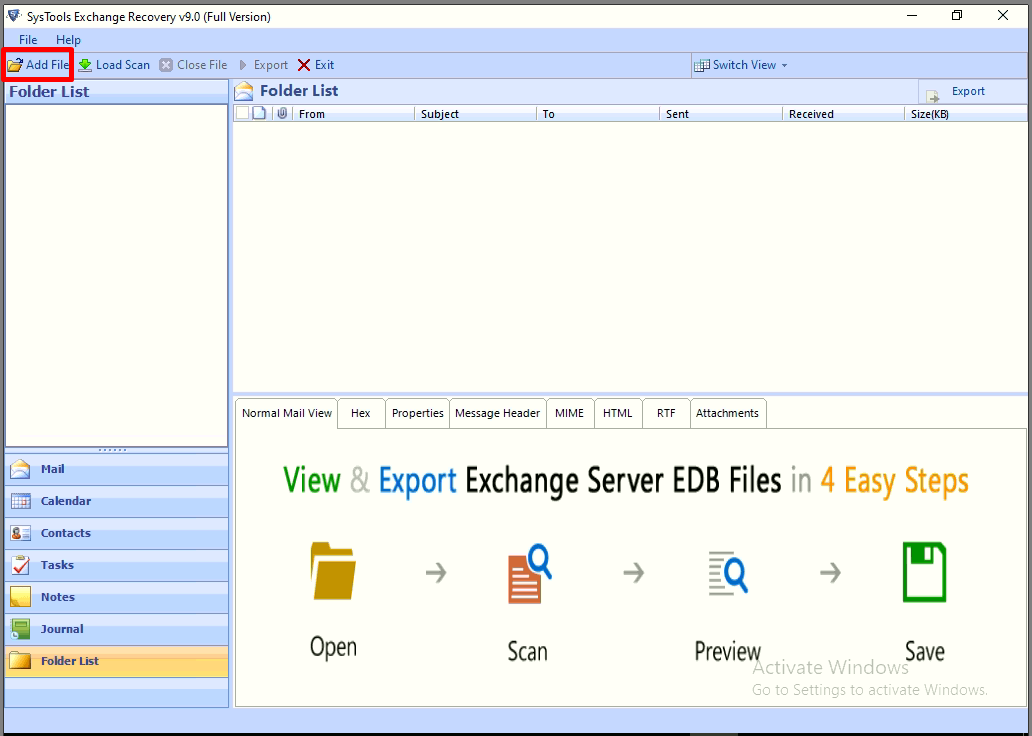 Step 3: Select the advance scan option radio button > Click on the add button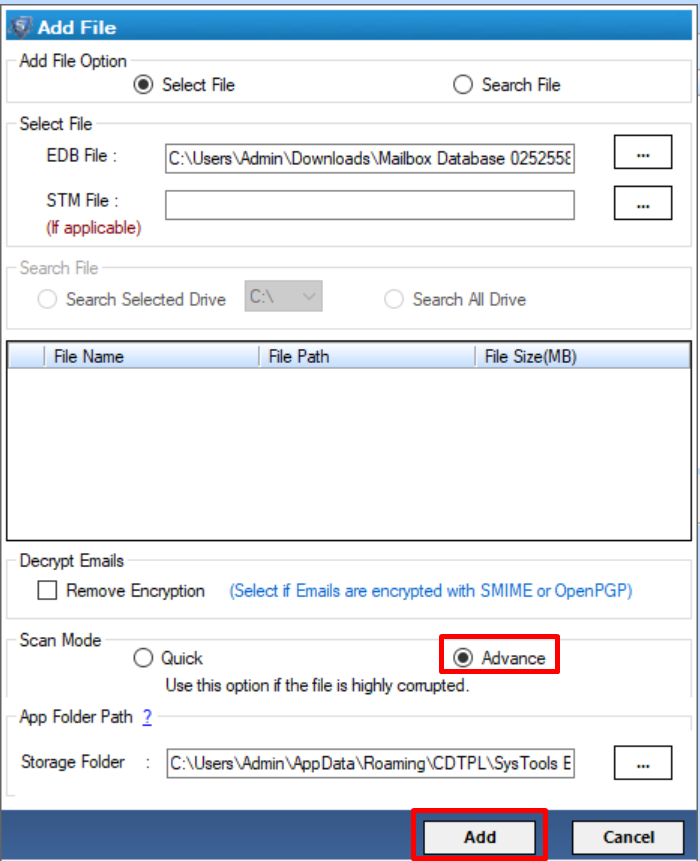 Step 4: Preview recovered offline .edb file public folder > Click export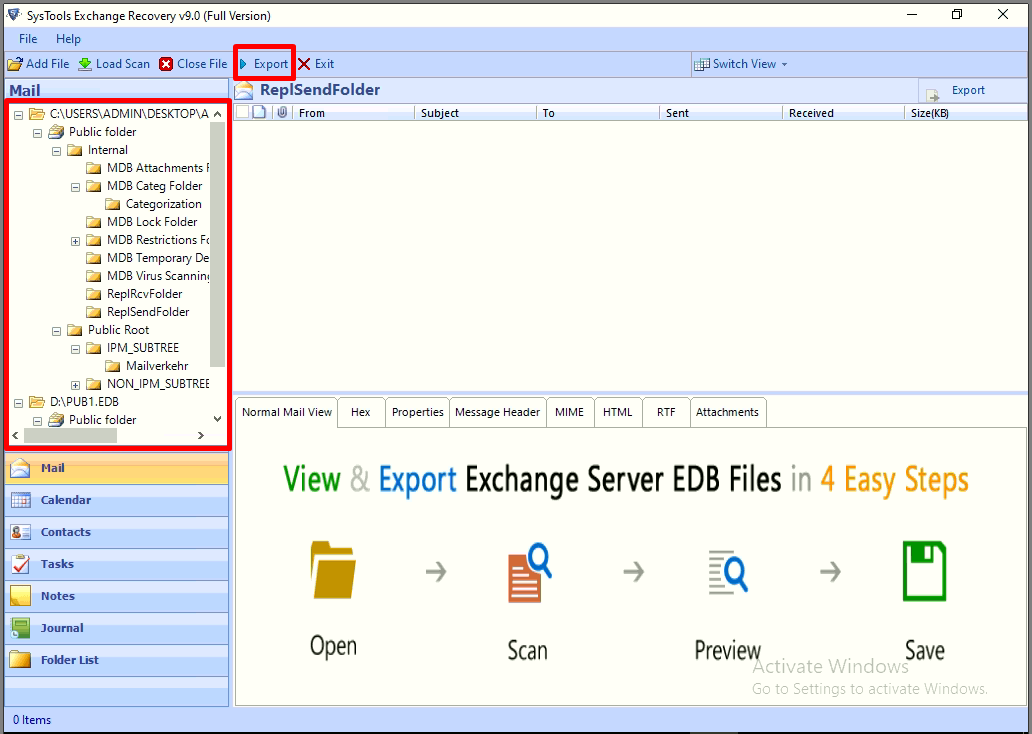 Step 5: Select public folder > Click on Live Exchange Server > Select advance settings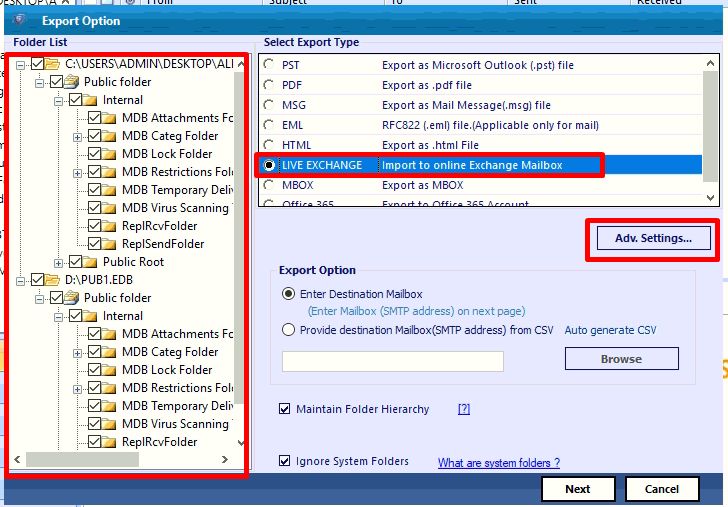 Step 6. Enter Exchange required details > Click on the save button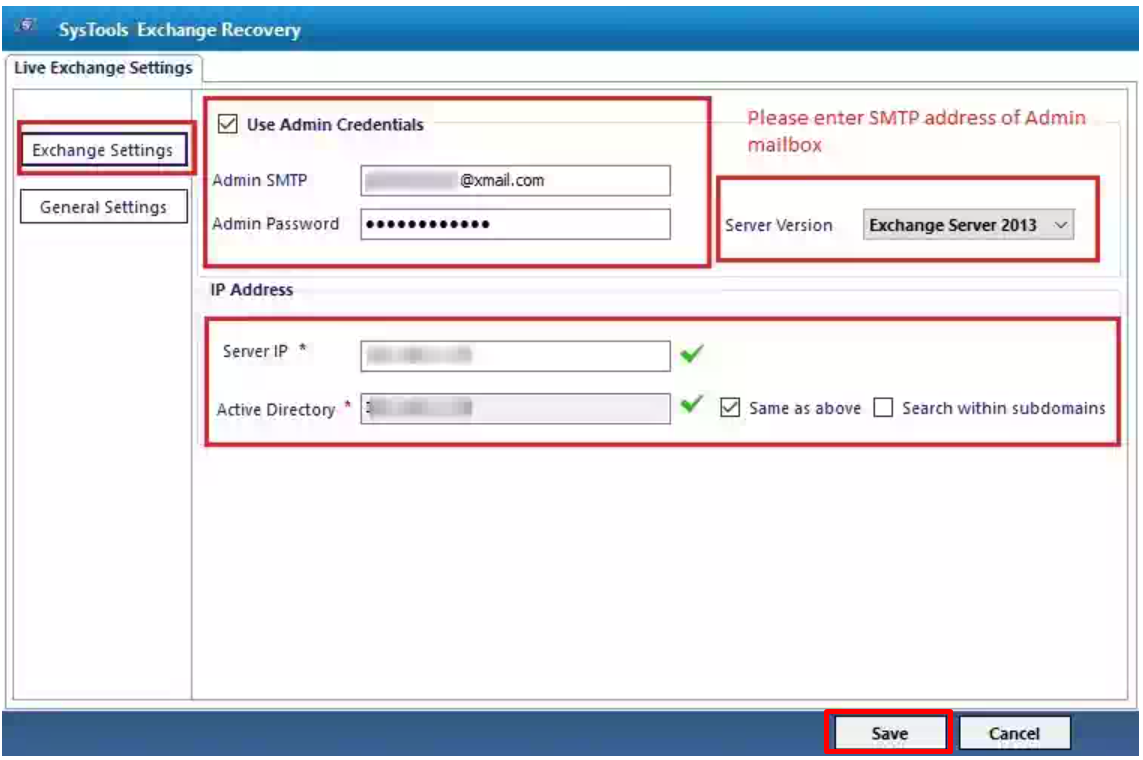 Step 7: Click on destination mailbox radio button > Click on next button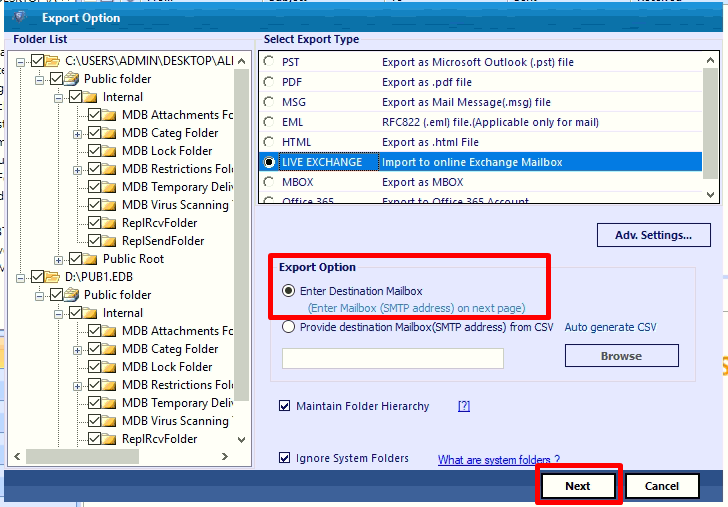 Step 8: The Exchange mailboxes is being validated > Click on the export button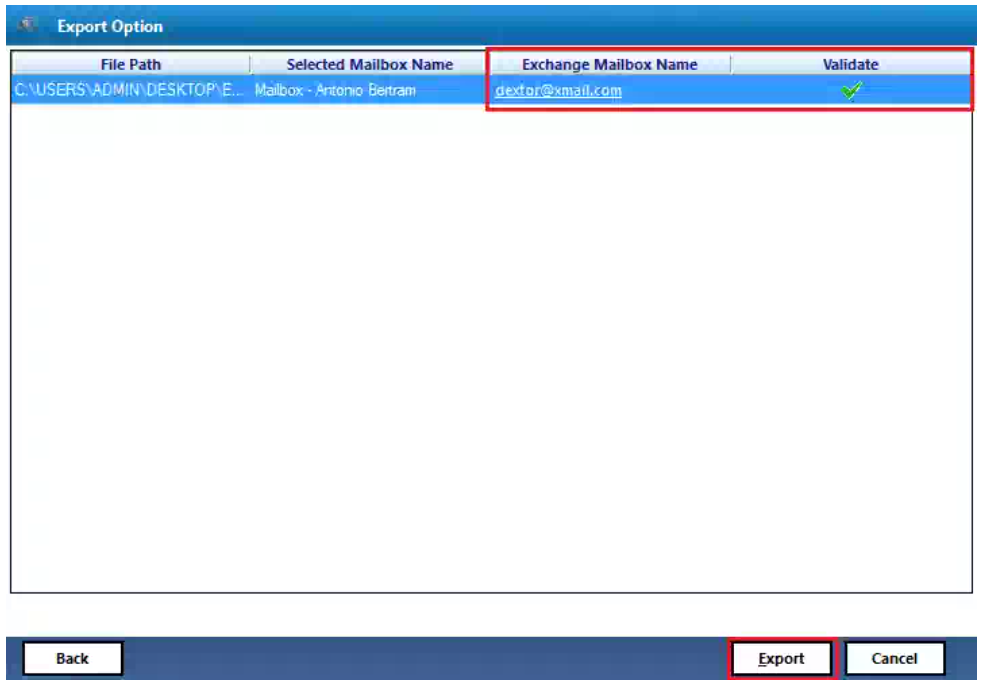 Finally, the recovered public folder is successfully exported to the selected Live Exchange Server.
More About Exchange Public Folder Backup
To safeguard data saved within .edb files against various threats, that's why it is advised that DBAs must follow a strict public folder backup schedule. Public folder Backup tasks may seem tedious, but its real worth in the instance of failure.
Even no one can predict the date and time when the server becomes down or the Public Folders databases cannot access. Therefore, public folder backup is the only key to restore the Exchange database deleted public folder in case of serious corruption and Exchange Server mailbox failure.
Manual Solution to Restore Deleted Public Folder?
All of sudden, users have deleted or lost the important public folders databases from the Exchange server mailbox by mistake. Thus, they need to recover lost mailbox them by following the below steps such as:
Through Windows Server public folder Backup and restore Exchange mailbox to a distinct location from initially stored public folder backup database.
Then, Launch the Exchange Management Console and choose the Microsoft Exchange.
Next, select the Server Configuration and click on the Exchange server Mailbox.
Now, You will search the Server list within the center. Choosing the Server on which to recover lost mailbox database resides to repair lost database.
After that, select the exchange mailbox Database, which you need to restore the deleted public database.
Next, click on the Dismount Exchange Server Database and choose the properties where you have to dismount.
 You will get a checkbox, which shows This database can be overwritten by a restore, mark on it and press on Apply.
 Now, in Windows Explorer navigate to the directory where you have to restore deleted public folder and then, find the public folder database.
Remember: The usual path of the restore public folder database is: \Program Files\Microsoft\Exchange Server\Mailbox\\
Now, Copy the retrieved Public Folder Database file and navigate to the public folder that you want to dismount.
Next, rename the original database and then, Paste the retrieved exchange mailbox Database file here. Keep in mind that the name of the database is the same.
Finally, choose the Re mount exchange server database option in the Exchange Management Console to restore deleted public database.
This process should continue without any glitches. At one point, this procedure might encounter a problem, is the public exchange mailbox database would not on the mount Exchange server database. If this occurs, you can follow these points:
Under the Exchange Management console Shell, choose the folder where your exchange mailbox database is located.
In last, Retrieved public folder by running the command on cmd prompt: eseutil -p .edb".
After performing these steps, you can easily repair lost database from .edb exchange by using the Exchange Management Console.
Conclusion
Recover lost mailbox database is considered as the primary task of Exchange administrators. In the above section, repair lost database from .edb exchange file was a complex procedure, which includes lots of sub-task such as public folder backup, and Recover lost mailbox. So, it is recommended to use the overall automated procedure to restore deleted Public Folder from the offline/dismounted .edb exchange file without losing any data.