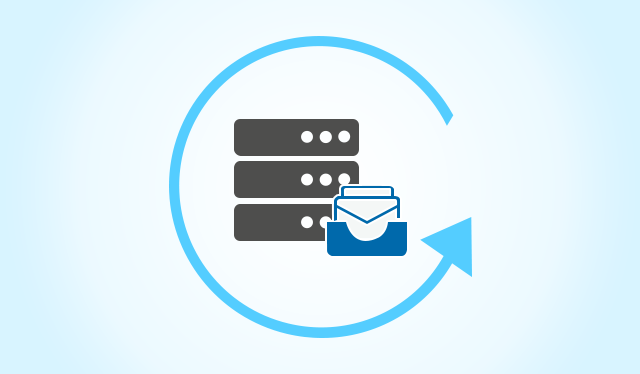 One can't access the recovery database through end-users via Outlook program or any other email client. This would only be accessible to admins who have been liable for performing the mailbox-restore operation with New-Mailboxdatabase recovery in Exchange 2010.
The Exchange allows Database Administrators or DBAs for mounting mailbox database's copy on the Server with the help of recovery-database. This won't be putting any impact on mailbox database's active copy, which is in running mode.
It is possible to mount recovery database of exchange server 2010 that are inside the same entity with the help of recovery-database, as follows:
Instant Solution– If you want to recover corrupted Exchange Server Mailboxes, free download SysTools Exchange Recovery software. This tool easily repair corrupt data from Exchange 2019, 2016, 2013, 2010 and all below versions.
Step #1: Create Recovery Database in Exchange 2010
For creating Recovery-Database, users must use PowerShell's, this cmdlet: new-mailboxdatabase recovery exchange 2010. If EDB file name is known, it can be restored.
For cases where EDB file name is not known or needs modification sometime later, then it can be done at any given point of time after the restoration process initiates.
Now the need is for creating the Recovery-Database and giving that some unique name. For the EDBFilePath parameter, name & database file's storage path can be used; and for the LogFolderPath parameter, recovered log files' location can be used.
Step #2: Restoring of Database's Backup with New-MailboxDatabase Recovery
After the user creates recovery-database, restarting of MS Exchange Information-Store service is always suggested with the help of the cmdlet: "Restart-Service MSExchangeIS"
Then mount recovery database of exchange server 2010. Here, it's crucial to mention that the backup strategy, as well as the software being used, will decide Exchange Server's restoration. Vendor-provided documentation, as well as guidelines, are always helpful to be referred to.
Step #3: Mailbox-Restore-Request Has to Be Run in Exchange
Now, after having done the above mentioned 2 steps for restoring and mounting processes for the New-Mailboxdatabase Recovery in Exchange 2010, the very next step that needs to be done is to execute 1 or more mailbox-restore request or requests for the retrieval of data. 'Get-MailboxStatistics' helps in detecting mailboxes, which get stored inside that recovery-database.
There are several types of restoration tasks, which could be performed on recovery-database, including:
Restoring of the mailbox to the production-mailbox
Restoring of the mailbox into the archive one
Restoring of the mailbox to some other mailbox
Restoring of some selected folders from the mailbox
Excluding folders from this 'Restore' request
Step #4: Removing of the Recovery-Database
After the Exchange database, as well as log files' restoration process, is done in a pretty satisfactory and successful manner, the final step is of removing recovery-database from MS Exchange Server.
For doing this, a database is needed to be dismounted first. And then, removing the database and deleting all of the files associated with it from the file-system to create recovery database in exchange 2010 will help in reclaiming the disk storage space.
An Easy Way Out
This entire process for restoring the mailbox from new-mailboxdatabase recovery in exchange 2010 is intricate on and needs a good amount of know-how about PowerShell cmdlets. And besides this, even one single folly during the execution of the process using these cmdlets could possibly lead to loss of data or even mailboxes' deletion.
For the easy and error-free process of recovery of mailboxes as well as mailbox items, database admins tend to go for the better alternative in the form of third-party tools like Exchange Database Recovery software which can easily recover corrupted Exchange Server EDB files easily.
Quick and Advance scan mode recover corrupt Exchange database files with no data loss. To remove minimal corruption from EDB file select quick scan and for a highly corrupted .edb file click on Advance scan. This option also recovers purged Exchange data items and mailboxes from loaded EDB file.
It supports public as well as private Exchange database file. The software export multiple Exchange mailboxes such as: archive, shared, disconnected, shared, user and items like – notes, journals, contacts, mails, calendars, tasks to Live Exchange Server, PST, EML, HTML, MBOX, PDF, MSG file formats and Office 365.
Users can easily selectively export Exchange archive mailbox to PST file. The categories filter option of this software allows users to export the select EDB mailbox data items to the selected file format. If the user wants to export Exchange contacts to PST Outlook, then click on the contacts option and export to Outlook data file easily.
This utility allows you to export mailbox from offline Exchange database file to the required file format. It automatically generates export report in CSV file format which contains the success and fail count of exported Exchange data.
Using the tool is not just easy, but at the same time, data is secured and speedy as well, with no threats and no apprehensions at all. Best part being, you do not need to be a technical genius to use it, only a little knowledge would do, unlike the manual method that requires a lot of technical expertise and is full of "if nots".
Key Features Of Automated Wizard
Convert pub1.edb to PST along with pri1.edb file
Preview MS Exchange EDB mailbox data items before conversion
Migrate Exchange Mailbox to PST file with no loss of data
Keep metadata intact and preserve on-disk hierarchy
Export Exchange EDB to PST and several file formats
Date filter option export selective Exchange data from a specified date range
Recover permanently deleted emails from Exchange database file using the advance scan option
Suitable with all Microsoft Outlook, MS Exchange Server, and Windows OS version
The End Note
The end-to-end restoration process for Exchange mailbox items or new-mailboxdatabase recovery in exchange 2010 of the whole of the mailbox with the help of New-Mailboxdatabase Recovery method is talked about in this blog. This articledescribed in detail about this complete procedure of restoring mailbox from Recovery-database in MS Exchange Server. Also, when in trouble or when there is an issue of not having any expertise in doing this process, one can always try out the third-party software solutions like SysTools Exchange Recovery software, which is quite a foolproof way of going about such a recovery.